Tag: New Canadiana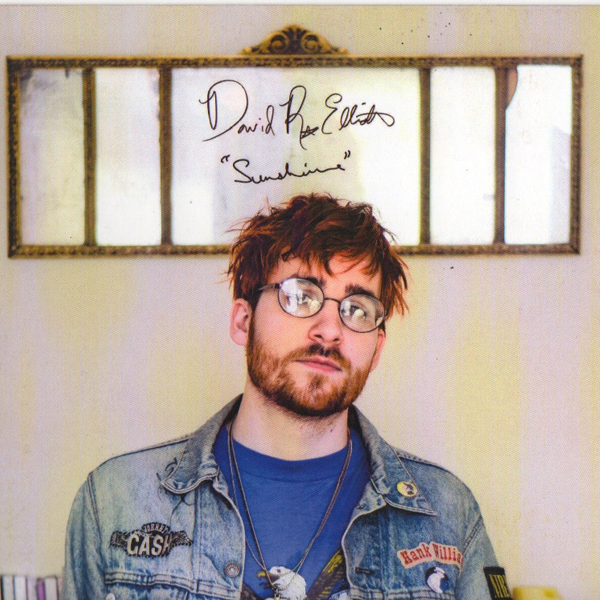 David R. Elliott
Sunshine
(Affordable Art)
Halifax, NS
From the fingernail dirt of Kelly MacNeil:
Like the spring cleaning of a house, windows open to the breeze, birdsong, and smell of new life, David R. Elliott brushes the fog and cobweb from your head. In an active moment, reaching the highest shelf for a good dusting, or sweeping under the bed, something is stretched – whether it be muscle, emotion, or a twist of the face in a sly half-smile. There is a slice of catharsis delivered, and later a well deserved nap in a ray of sun.
De la saleté sous les ongles de Kelly MacNeil:
(Traduit par Aliké Harel)
Comme le ménage de printemps d'une maison, les fenêtres s'ouvrent et laissent entrer la brise, le chant des oiseaux et l'odeur d'une vie nouvelle, David R. Elliott balaie le brouillard et les fils d'araignée de la tête. Dans un regain d'énergie, on atteint les tablettes du haut pour un époussetage rigoureux ou le coup de balai sous le lit, à s'en esquinter, un muscle, une émotion ou le visage contracté en un demi-sourire narquois. Il vous procurera une tasse d'effusion émotionnelle, puis un répit bien mérité sous les rayons du soleil.
David R. Elliott – Believing In Iron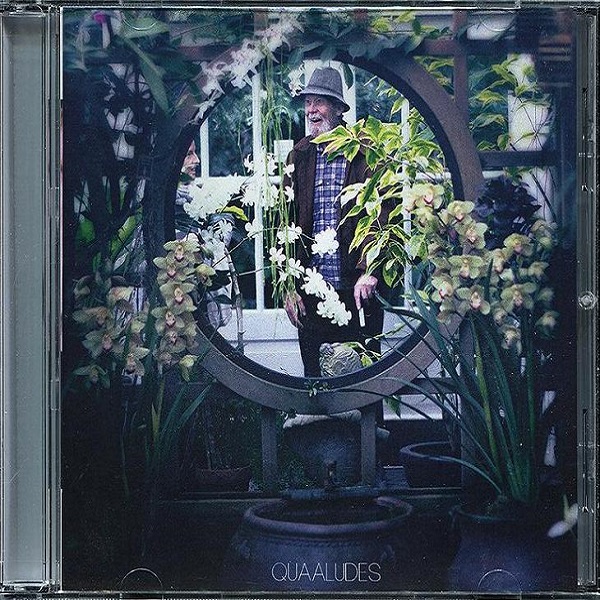 Quaaludes
This Is Your Future We're Talking About
Montreal, QC
From the teenage feelings of Trevor Angst:
Let Quaaludes be your entry portal into a nascent seam of emotive punk. Hailing from Montreal, Quaaludes tips their hat to the clean, trebly noodles of the American Midwest. Antigua twinkles like a Kinsella-scordatura sequel. The brass yearns softly while hoarse throated, coveted monologues are spilt with buff emotion over beefy jagged rhythms. Sporadic, jerking rim shots with mind manipulating tempo changes add underlying complexity to the spindling dragon dance of bright and pretty dual instrumentation of slides and harmonic bends.
Des sentiments adolescents de Trevor Angst:
(Traduit par la croisée des chemins de Julie Mayer)
Que Quaaludes soit votre portail d'entrée vers une couture naissante de punk émotif. Originaire de Montréal, Quaaludes lève son chapeau aux improvisations informelles, aiguës et claires du Midwest américain. Antigua brille telle la suite d'une scordatura à la Kinsella. La trompette soupire doucement pendant que des monologues à la gorge enrouée se déversent avec une émotion musclée sur des rythmes costauds en dents de scie. De sporadiques rimshots accompagnés de changements de tempo qui manipulent l'esprit ajoutent une complexité sous-jacente à la tournoyante danse du dragon qu'est la brillante et jolie instrumentation double composée de glissements et virages harmoniques.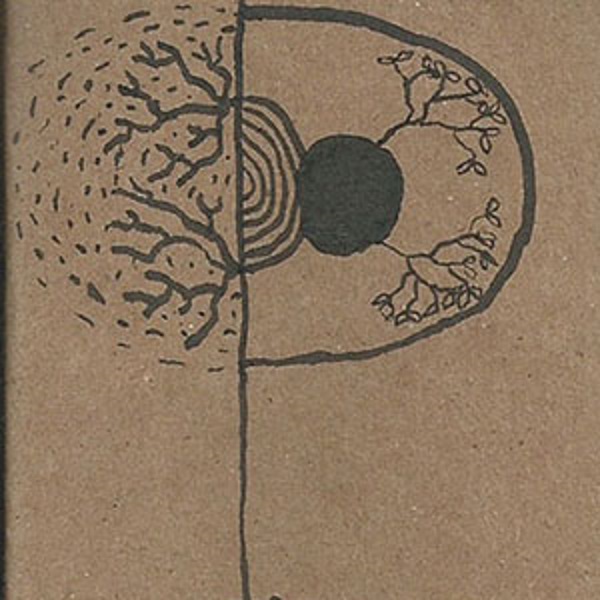 Prairie Fang
Flux/Dust
(Self-Released)
Bashaw, AB
From the fluxed mind of Laura Stanley:
We will all die, decay, and turn to dust. Alone in the cosmic darkness, we long to stop thinking about the end. Prairie Fang pays attention to our cries of "I'm alone, I'm alone" and tells us to rise and fall with the tides. To exist and to fear no more.
De l'esprit en mouvement de Laura Stanley:
(Traduit par l'hémispère gauche de Diane Beaupré)
Nous allons tous mourir, nous décomposer et devenir poussière. Seul dans la noirceur cosmique, nous avons envie d'arrêter de penser à la fin. Prairie Fang nous entend crier « Je suis seul, je suis seul » et nous dit de nous lever et de suivre la marée. D'exister et de ne plus avoir peur.
Prairie Fang -A Void at the Beach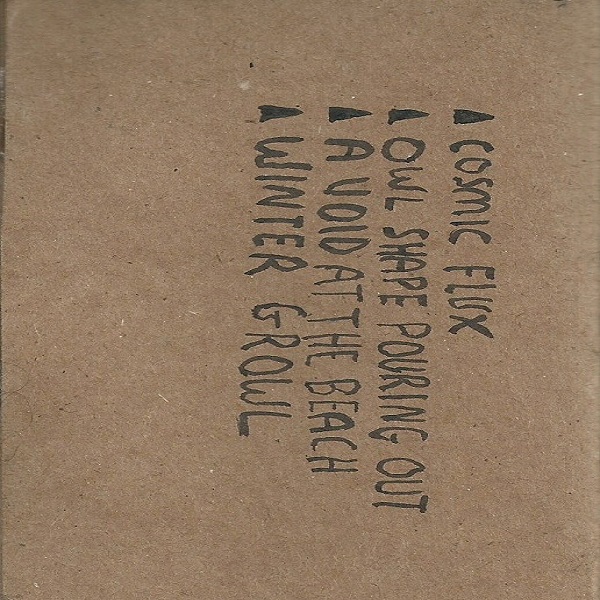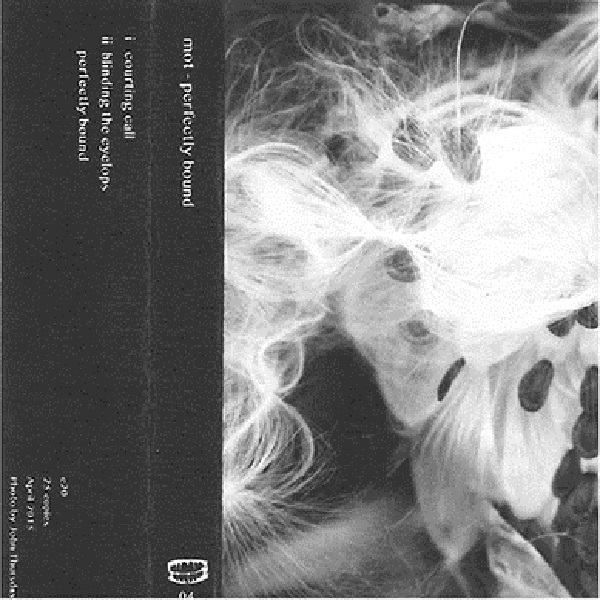 MOT
Perfectly Bound
(Ludamae)
Victoria, BC
From the perfect binding of Bryce Warnes:
Listen to MOT's previous two tapes. In "sands…," released via his Ludamae clearing-house, drones dissolve like dune-tips in the wind. His self-titled recording on Isolated Now Waves is comparatively wetter – throbbing, organic, run through with interstellar communiques, snatches of almost-song. On his latest tape, he flirts with atavistic crunch worship. With admirable self-control, "Courting Call" transitions via air loom transmissions from two-stroke brutalism to an impassable noise wall. Side two moves from an Aghartan festival to a catastrophic tunnel collapse. "Perfectly Bound" is a short ride, but worth the price of admission.
De la reliure parfaite de Bryce Warnes:
(Traduit par le bouchon de cérumen de Julie Mayer)
Écoutez les deux dernières cassettes de MOT. Dans « sands… », lancé par l'entremise de son bureau central dénommé Ludamae, les drones se dissolvent comme la crête des dunes sous le vent. Son enregistrement éponyme produit sous Isolated Now Waves est, en comparaison, plus humide : palpitant et organique, transpercé de communiqués interstellaires et de bribes de quasi-morceau. Sur sa cassette la plus récente, MOT flirte avec un culte du crépitement atavique . Doté d'une maîtrise de soi admirable et transmis au moyen d'une machine à tisser les flux aériens, « Courting Call » passe d'un brutalisme à deux temps à un mur du son infranchissable. La face B passe d'un festival aghartien à un effondrement de tunnel catastrophique. « Perfectly Bound » est une promenade de courte durée, mais qui vaut le prix d'entrée.
PARTLI CLOUDI
Watermelon Cauliflower
Vancouver Island, BC
From the sock puppet hands of Talia Jacob:
Watermelon Cauliflower is a delightfully rotten treat. An odd pleasure come to haunt your weirdest nightmares. Oozing out of the cassette tape, the music begins to take its form: a hissing, lurching mass of absurd found sounds. PARTLI CLOUDI layers aural oddities into a miasmic soundscape where long-lost audio book narrators find their voices caught in a tide of strange tribal rhythms, squelching riffs, and swooning bass.
De la main marionnette-chaussette de Talia Jacob:
(Des miscellanées décomposées de Benoit Arcand)
Amuse-gueule délicieusement pourri, ce Watermelon Cauliflower. Une impression agréable intempestive s'immisce dans tes cauchemars les plus fous. La musique suinte de la cassette, se transmue tranquillement en un amoncellement vacillant, chuintant d'absurdes bruits trouvés. PARTLI CLOUDI empile la bizarrerie sonore, échafaudant des paysages miasmatiques où le spectre du narrateur de livre-cassette resurgit dans un roulis de rythmes tribaux inquiétants, de riffs clapotants, de basses englouties.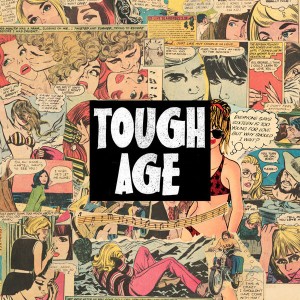 Tough Age
Tough Age
Vancouver, BC
From the dream date of Joel French:
It's a strange feeling to have heard a band's entire catalogue live before hearing a single recorded song. After touring with Tough Age I was afraid to listen to their debut on Mint Records as I thought it would be hard to carry the live energy — now as much a part of the songs for me as the impeccable songwriting itself — to vinyl. I was wrong. Chris Martell's monster drumming, Lauren Smith's neverending smile above driving basslines, Penny Clark's shy mystique and Jarrett Samson's boisterous personality can all be felt just fine on this slab of plastic. What a great pop record by some West Coast pals. Makes me want to eat a sack of 'burgs and dance on some old exercise equipment.
Du rendez-vous galant rêvé de Joel French:
(Traduit par les papillons dans le ventre de Catherine Gaucher)
C'est un sentiment étrange d'avoir entendu en concert le répertoire complet d'un groupe avant même d'avoir écouté un seul de leur enregistrement. Après avoir effectué une tournée avec Tough Age, j'appréhendais l'écoute de leur premier album sur Mint Records pensant qu'il serait difficile de transposer sur vinyle leur énergie live faisant, pour moi, tout autant partie intégrale des chansons que leur impeccable écriture. J'avais tort. Les percussions gargantuesques de Chris Martell, le sourire sans fin de Lauren Smith au contrôle de puissantes lignes de basse, le mystère timide de Penny Clark et la tumultueuse personnalité de Jarrett Samson se ressentent très bien sur cette galette de plastique. Quel grand album pop par quelques-uns de mes copains de la côte ouest. Ça me donne envie de manger un grand sac rempli de hamburgers et de danser sur de vieux appareils d'exercice.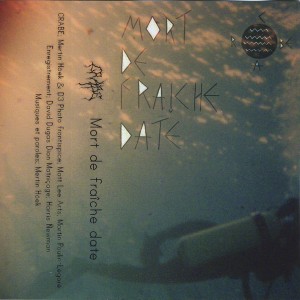 Crabe
Mort de fraîche date
Montréal, QC
From the fresh-to-defness of Benoit Poirier:
(Translated by Benoit Poirier)
This cassette is a punk clutter of no-nonsense and its opposite, packed with Gordian gung ho convulsions between sludgy mire and more sensible blows. Mort de fraîche date is an elastic manifesto of stop-on-a-dime chops, a cut-up epitome of "No man ever steps in the same river twice". Crabe play with a surging propensity, repressing the natural and then welcoming it back, generously and chimerically. This is Quixotic punk for the masses.
De l'excellente fraîcheur de Benoit Poirier:
Une fatrasie punk de non-vacuité et son contraire, aux convulsions gordiennes gung ho entre quelque fange sludge et autres souffles plus sensibles, Mort de fraîche date est un manifeste élastique de se revirer sur un dix cennes, un épitomé de cut-up de "Jamais deux fois dans le même fleuve." Crabe joue d'une déferlante propension à chasser le naturel et à revenir au galop, généreux et chimérique : c'est du punk donquichottesque pour les masses (galop, Don Quichotte, très équestre tout ça).
---