Tag: new age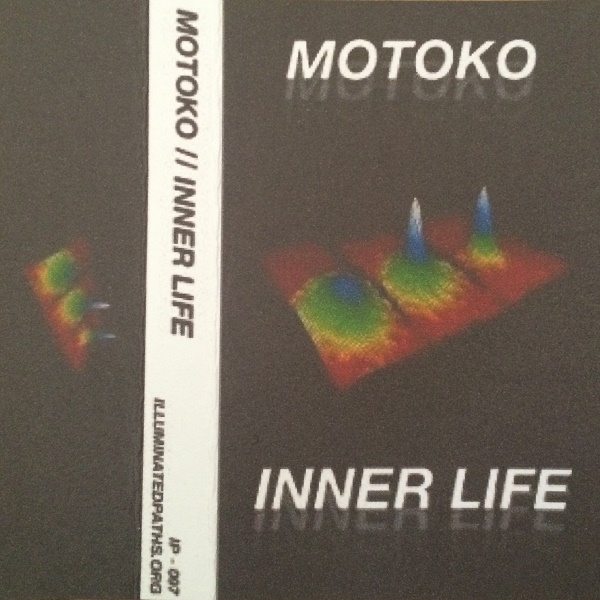 Motoko
Inner Life
(Self-Released)
London, ON
From the drip dry eyes of Julia Dickens:
This instrumental output from the keyboard of Jordan Pearson is the soundtrack to a synthesized contemplative dream state. If your computer screen saver was a shifting stream of consciousness, this current is drifting into a tropical journey, driving top-down down a coastal highway, lounging poolside while a gentle breeze rustles pixilated palms. Wipe your drip dry eyes as you watch phosphorescent waves swell and recede underneath the shimmering cosmos. The scene dissolves into a hazy landscape whizzing by on your sunset drive into the technicolour abyss and reflected on all sides by the shapes and sounds of your own softly aching heart.
Des yeux à séchage spontané de Julia Dickens:
(Traduit au cycle délicat par Julie Mayer)
Cette production instrumentale sortie du clavier de Jordan Pearson est la piste sonore parfaite pour atteindre un état de rêve contemplatif synthétisé. Si l'écran de veille de ton ordinateur était un flux de conscience changeant, ce courant virerait en voyage tropical au cours duquel tu roules avec la capote abaissée sur une autoroute côtière et où tu te détends au bord de la piscine pendant qu'une douce brise bruisse dans des palmiers pixellisés. Essuie tes yeux à séchage spontané pendant que tu regardes des vagues phosphorescentes enfler et refluer sous le scintillement du cosmos. Le tableau, qui se dissout dans un paysage brumeux filant à toute allure lors de ta virée au soleil couchant vers l'abysse technicolor, se reflète de tous côtés par les formes et les sons de ton propre cœur légèrement endolori.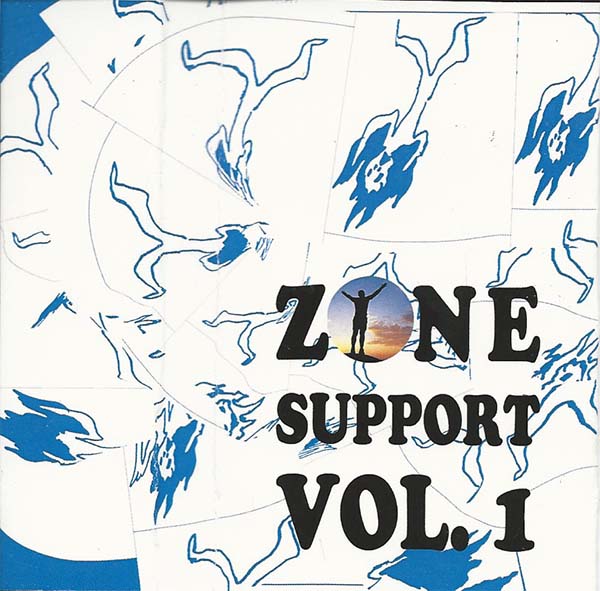 Zone Support
Vol. 1
Toronto, ON
From the truuuuuue feeeelings of Adam Bradley:
Trail close behind your gurus, Kevin Hainey and Randy Gagne as they hover, eyes closed, toward the pale green light of deepest inner repose. Touch with awe the sheer crystalline facets of your true being. Lie placid in a pool of ASMR dyed New Age self-hypnosis, diamonds trickling slowly all around. At the heart of this recording, you are told that you do not neeeed sandwiches, but if you are hungry you should make a light sandwich. To meditate on an empty stomach is not good for your chakras. Heed these wise words and come to know the core of your truuuuue feeeeelings.
Des sandwichs au chakra d'Adam Bradley:
(Traduit par Jessica Grenie)
Suis de près les gourous Kevin Hainey et Randy Gagne alors qu'ils lévitent les yeux fermés vers la pâle lumière verdâtre du repos intérieur profond. Effleure avec émerveillement les facettes cristallines pures de ton moi authentique. Étends-toi dans une mare d'ASMR aux couleurs d'autohypnose New Age pendant que des diamants tombent lentement tout autour de toi. Au cœur de cet enregistrement, on te dit que tu n'as pas vraiiiiment besoin d'un sandwich, mais que si tu as faim, tu pourrais t'en faire un petit. Méditer l'estomac vide n'est pas bon pour les chakras. Écoute ces judicieux conseils pour en venir à connaitre tes véritables sentiments.
Zone Support Vol. 1 – Side 1 (excerpt)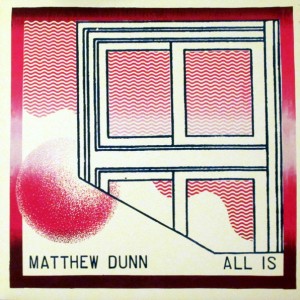 Matthew Dunn
All Is
(Cosmic Range)
Toronto, ON
From the moon gardens of Jesse Locke:
Doc Dunn flings open the shutters of perception on this vinyl-only expedition into the inner cosmos. Switched on to heliocentric frequencies, these home-recorded heatwaves were laid down Portastudio style as the blueprint for future flights in a group incarnation, yet stand alone as a soothing and spellbinding trip. Side A starts off with a series of soft-focus sketches varying in degrees of abstraction, but the pair of longer pieces on the flip is where it really lifts off. The 11-minute "All Is And Ever Will Be" hovers on a hazy organ drone with muted splatter-clatter skimming below the surface like a one-man Flower-Corsano Duo. Closer "Earth House" is the coolest pool of equanimity, layering echoed keys with electronic squelch and a headbobbing rhythm to bring the journey back to Satchidananda.
Des jardins lunaires de Jesse Locke:
(Traduit par la fréquence héliocentrique de Vincent Rondeau)
Doc Dunn ouvre grand les volets de la perception avec ce parcours du cosmos intérieur, disponible exclusivement sur vinyle. Ces vagues de chaleur sonores, réglées sur des fréquences héliocentriques et enregistrées maison à la Portastudio, constituent autant un modèle pour des explorations de groupe futures qu'un voyage en soi, à la fois envoûtant et apaisant. La face A présente une série de vignettes floues à degré d'abstraction variable, mais les deux longues pièces du verso décollent pour de bon. Sur « All Is and Ever Will Be », qui dure 11 minutes, la vibration d'un orgue vaporeux est troublée par le fracas d'une batterie sauvage, évoquant une fusion en un seul être du duo Flower-Corsano. La finale, « Earth House » est un lac frais d'équanimité aux sédiments de claviers réverbérés, de giclements électroniques et de rythmes entraînants qui vous ramènent vers le Satchidananda.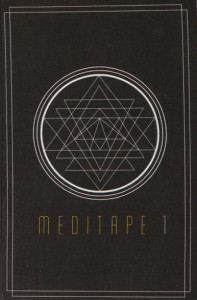 Meditapes
Meditape 1: Disconnection
Ottawa, ON
From the sleepy head of Catherine Debard:
Sometimes some of us are heads on hollow bodies. Our feelings are drained out from our bored, harakiri'd hearts. We are barely ourselves, washed out and evanescent. Floating in an in-between state, we wait for something worth returning to on this earth's strange reality.
Ottawa sound artist Tarek Al-Zand has set down an anchor for all those frail levitating bodies. Listening to the loops of home-made recording textures, tape hiss, profoundly moving guitars, and soothing ethereal voices, roots can dig out of those thick skins and find their way into a lucid meditation. At this exact moment, you think "Fuck my bed" and just lie on the wooden floor, eyes closed, and breathe. Because it is all too important. You suddenly remember how cool it is to live on a planet filled with awesome nature, organic and human mysteries, that every state is ephemera, and that you have a heart.
De la tête endormie de Catherine Debard:
(Traduit par Catherine Debard)
Parfois, certains d'entre nous sommes des têtes posées sur des corps vides. Les émotions s'écoulent de notre coeur las qui s'est fait hara kiri. Nous sommes à peine nous-mêmes, délavés et évanescents. Flottant entre deux états, nous attendons quelque chose qui mérite que nous replongions dans l'étrange réalité de la Terre.
Tarek Al-Zand, artiste sonore d'Ottawa, a jeté une ancre pour ces corps frêles en lévitation. En écoutant ces loops de textures d'enregistrement-maison, hiss de cassette, profondes guitares mouvantes et voix apaisantes éthérées, des racines peuvent transpercer ces peaux coriaces et trouver leur voie vers une méditation lucide. À ce moment précis, vous pensez "Fuck mon lit" et vous vous couchez sur le plancher de bois craquelé, les yeux fermés et vous respirez. Parce que c'est trop important. Vous vous souvenez tout à coup que c'est vraiment génial d'être en vie sur une planète remplie de natureincroyable, de mystères organiques et humains, que chaque état est éphémère et que vous avez un coeur.
Meditapes – Side One [excerpt] Kyle Bobby Dunn
In Miserum Stercus
(Komino)
Belleville, ON
From the yielding grey of Dylan T. Green:
A sleepless night. Outside, trees catch the wind and slowly bend with its weight. A beacon sways. Morning begins and the low hanging light starts to paint the greys pink. Shadows shift and grow. Our environment changes and mutates around us. Look left and right. Round the block again and the pinks become reds. We feel the heat intensify. Look up and let it cover you. The rest of the world wakes up. A clatter of noise surrounds. We're fully engulfed now. The reds yield to blues and blues to greys. Begin again.
Du gris changeant de Dylan T. Green:
(Traduit par Vincent Rondeau)
Une nuit blanche. Dehors, les arbres accrochent au vent et ploient lentement sous sa force. Un flambeau ondule. Au petit matin, la lumière basse repeint le gris en rose. Les ombres mouvantes grandissent. L'environnement se transforme autour de nous. Regarde à gauche, regarde à droite. Un tour du bloc et le rose devient rouge. La chaleur s'intensifie. Lève ton regard et laisse-toi envelopper. Le monde s'éveille. Les bruits nous entourent. Nous sommes complètement engloutis. Le rouge cède au bleu, puis au gris. On recommence.
Kyle Bobby Dunn – In Praise of Tears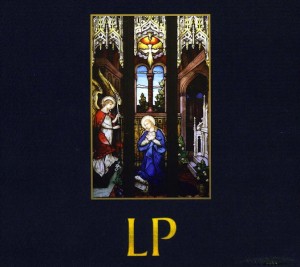 From the of mystic cellphone of Roxanne Navai:
The latest release from this synth-infatuated experimentalist resembles an evolution of sorts. LP sets off on an aural journey, linking the spiritual power of yesterday with the technological influence of tomorrow, and closing with the powerful Abrahamic tune, "Al-Qiyamah". d'Eon's compositions are, comme d'habitude, heavily inspired by a melting pot of genres, harmonized through a mastered use of synthesizers and instrumental genius. And, without sounding too preachy, D'Eon carefully weaves religious and mystic undertones into their lyrics. Final verdict: five bearded, turban-wearing Montréaleans out of five.
Du cellulaire mystique de Roxanne Navai:
(Traduit dans le brouillard par Catherine Debard)
La dernière sortie de ce mage féru de synthés ressemble à une évolution de style. LP décolle dans un voyage sensitif, créant un vortex entre le paganisme ancestral et l'aura technologique du futur, et boucle le périple avec le puissant tube-Abrahamique « Al-Qiyamah ». Les compositions de d'Eon, as usual, puisent amplement dans un bassin foisonnant d'influences et de genres musicaux. Elles s'harmonisent par l'utilisation tout en maîtrise des synthétiseurs et d'une ingénieuse instrumentation. D'Eon réussit également à tisser un délicat assemblage de références religieuses et mystiques dans ses paroles, sans devenir un guru pour autant. Verdict final : cinq Montréalais enturbannés et barbus sur cinq.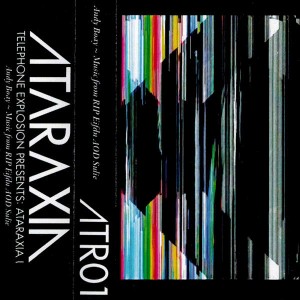 Andy Boay
Music From 'RIP Eifdn AOD Sulie'
(Ataraxia)
Montreal, QC
From the ecstatic piece of Graeme Langdon:
King Andy, The Wicked breaks manacles on this meandering long-take for his RIP Eifdn AOD Sulie video series, which couples deeply delayed 12-string, voice, and responsive video feedback to ecstatic effect. Originally recorded live to VHS for worldwide distro on da Tube, the fine folks at Telephone Explosion's newly-minted Ataraxia imprint have re-mediated this suite—what shone from a room in Montreal last winter—for those keen on the "locking of individual items within a magical circle." That's just fine by me, Boyo, because the synaesthetic qualities of our Boay's music intensify in the absence of the visual track. It's like a Mondo Cale gone Basho in the short hours before you pass-out. Boffo!
De morceau extatique de Graeme Langdon:
(Traduit par le beau bebé de Nicolas Coutlée)
Andy 1er dit Le Monstrueux brise ses menottes sur ce tortueux album issu de sa série de vidéos RIP Eifdn AOD Sulie qui combine 12 cordes à écho éternel, voix et feedback de vidéo réactif pour un effet extatique. Originellement enregistré live sur VHS pour distribution mondiale sur ze Tube, les bonnes gens de chez Ataraxia, la toute nouvelle étiquette de Telephone Explosion, ont réémis cette suite – elle qui brillait depuis une chambre à Montréal l'hiver dernier – pour les ceuses avides « d'enfermer les choses particulières dans un cercle magique ». C'est ben correct avec moi, Bozo, puisque les qualités synesthésiques de la musique de notre Boay s'intensifie en l'absence de la trame visuelle. C'est comme Mondo Cale viré Basho durant les petites heures juste avant que tu tombes dans les vapes. Eh bo-boy…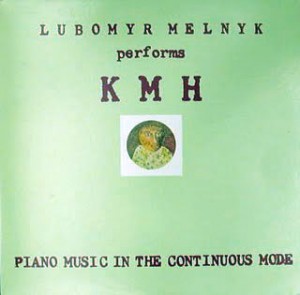 Lubomyr Melnyk
KMH
Winnipeg, MB
Originally Released: 1979
From the astonishing fingers of Darcy Spidle:
In 1979 Manitoba's Lubomyr Melnyk unleashed his "continuous mode" of piano technique with the release of KMH on Toronto's prolific Music Gallery Editions imprint. The "continuous mode" is an extreme exercise in minimalism that involves pounding arpeggios up and down the keyboard at hyper speed. At times he is playing an astonishing 19 notes per second on each hand. According to Melynk, the magnitude of this music and the sonic ghosts that arise from the clashing of notes at such a pace can evoke spiritual experiences for the listener. It is a lofty claim, and one that it is sometimes tossed around too often. But if music of any kind can bring on altered states, this pianist's super-human performances probably can, especially in a live setting.
Writing in the liner notes, Melnyk chastises technology as "a violent yet subtle tearing away from our foundations of peace." He is talking here about his reluctance, at the time, to record this album. Like all of his compositions, KMH is an exercise in physicality, a musical feat that is rooted in a unique space and time. In 1979 Melnyk was barely willing to allow his musical time bending to be recorded, or as he eloquently put it, "handed over to be re-cooked as leftover meat."
A few years back I was fortunate enough to witness Melnyk in concert. And I will say, the enormous wave of sound that washed over the audience that night would certainly not be forgotten by anyone who was in the room. Of course, a record can never quite articulate that level of intimacy and intensity, but KMH is the next best thing. It is a document of potent virtuosity by a musician in his prime who was (and still is) obsessed with exploiting his freakish gifts and affinity for the piano. It is certainly a one-of-a-kind release, and contrary to the artist's concerns, the record's beauty does in fact lay in its ability to capture — however imperfectly — a momentous performance by one of Canada's most unusual talents. Last I heard he still had a few sealed copies of the original 1979 release. So, as they say around here, GRIP OR REGRET.
Darcy Spidle is the founder of Divorce Records, the OBEY Convention festival and recently starred in the film LOWLIFE. He also plays a mean jaw harp as Chik White.
Des doigts étonnantes de Darcy Spidle:
En 1979, Lubomyr Melnyk, originaire du Manitoba, présentait pour la première fois sa technique pianistique du « mode continu » avec l'album KMH, paru sur la prolifique étiquette torontoise Music Gallery Editions. Exercice extrême de minimalisme, le mode continu consiste à jouer des arpèges ascendants et descendants avec force et à vitesse hallucinante, parfois jusqu'à 19 notes par seconde. Selon Melnyk, l'ampleur de cette musique et les fantômes soniques issus du choc constant des notes peuvent mener à des expériences spirituelles chez l'auditeur. Ce genre de déclaration, que l'on entend parfois trop souvent, peut paraître trop ambitieuse, mais si la musique est capable de provoquer des états altérés de conscience, cela s'applique probablement aux performances surhumaines de Melnyk, particulièrement sur scène.
Dans les notes d'accompagnement de l'album, Melnyk accuse la technologie de causer « un déchirement violent et subtil de nos fondements pacifiques ». Il fait ici référence à sa réticence, à l'époque, d'enregistrer cet album. Comme toutes ses compositions, KMH est un exercice physique, une prouesse musicale intimement liée à un point spatio-temporel particulier. En 1979, Melnyk était peu disposé à enregistrer ses exploits musicaux « pour qu'on les réchauffe comme des restants de viande ».
Il y a quelques années, j'ai eu la chance d'assister à un concert de Melnyk. Je dirai ceci : personne qui était présent dans la salle ce soir-là n'oubliera de sitôt l'immense vague de son qui a déferlé sur l'auditoire. Évidemment, un enregistrement ne pourra jamais attester précisément toute l'intimité et l'intensité d'un tel événement, mais KMH est la meilleure alternative. C'est un témoignage de la virtuosité et de la puissance d'un musicien dans la force de l'âge qui était continue d'être voué à l'exploitation de ses dons surnaturels et de son affinité pour le piano. C'est un album unique en son genre, et malgré les inquiétudes de l'artiste, sa beauté vient de sa capacité à capturer, bien qu'imparfaitement, une performance historique d'un des talents canadiens les plus singuliers. Aux dernières nouvelles, Melnyk avait encore quelques copies scellées de l'édition originale de 1979. Comme on dit ici, SAISISSEZ OU REGRETTEZ.
Darcy Spidle est le fondateur de Divorce Records et du festival OBEY Convention et a récemment joué dans le film LOWLIFE. Il est également joueur accompli de guimbarde sous le nom de Chik White.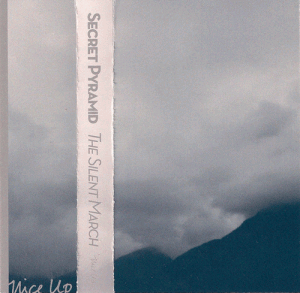 Secret Pyramid
The Silent March
Vancouver, BC

Seven achingly beautiful personal mantras for anyone who has ever wanted to
stare into the sun
painlessly; rapturous
cumulus
emanating from the third eye of Vancouver's Amir Abbey (also of
Solars
). There is a solatium to those who would wander through these insanely dense places: more always lying in the vast periphery, hazily unfolding horizons on the edges of perception. I promised myself that I would get through this without relying on Popol Vuh references, but I dare you to get through
The Silent March
without picturing Kinksi at the end of
Aguirre
, adrift in his search for El Dorado and in the process of being swallowed up by his environment.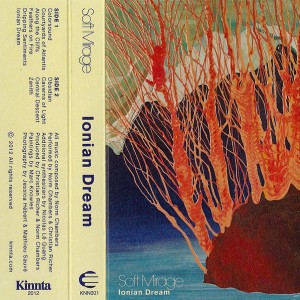 Soft Mirage
Ionian Dream
(Kinnta)
Montreal, QC // Seattle, WA
From the modern mania of Aaron Levin:
Bold enough to ride the crests of sinusoids so soft they make Bruce Cockburn sound like the Dry Heaves, Soft Mirage transfigure every open space into lush, organic hyperbole. The ephemeral git-synth moves of Montreal heavyweight Christian Richer have joined with synthianado Panabrite for a trans-dimensional journey into the event-horizon of cassette culture.
De la manie moderne d'Aaron Levin: (Traduit par Maya Keshav)
Assez osé pour voyager sur les crêtes de sinusoïdes si douces que Bruce Cockburn ressemble les Dry Heaves en comparaison, Soft Mirage transforment chaque espace ouvert en hyperbole luxuriante et organique. Les pas de danse éphémères git-synthé du pilier montréalais Christian Richer se joignent au synthionado Panabrite pour un voyage transdimensionnel dans l'événement-horizon de la culture cassette.
Soft Mirage – Courtyards of Atlantis
---