Tag: nervous talk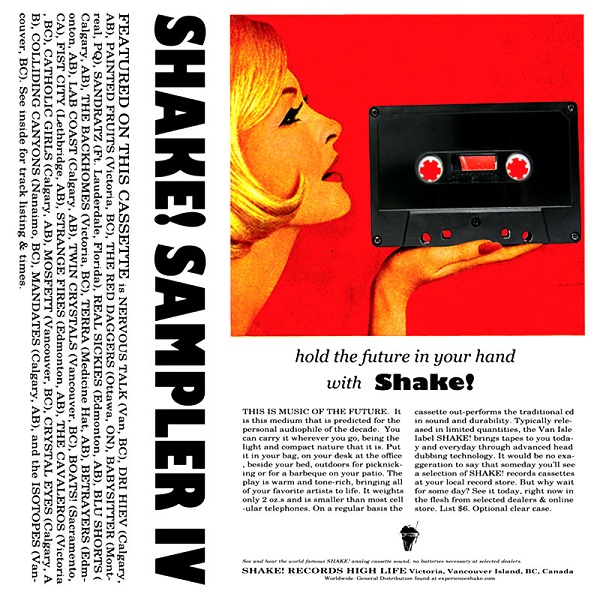 Various Artists
Shake! Sampler IV
Victoria, BC
From the curdling milk of Preacher Katie:
"Hold the future in your hand" while drinking a strawberry milkshake in your other hand that was made by a lady named Ronda from Dennys. No need to leave your lawn chair these days because Shake! Records delivers everything you need, contained into Shake!'s IV sampler cassette is 23 different bands of North America's best. So shake it, twist it, smoke it, squirt it and chug it to this sun-kissed mix tape. Make sure you remember to bring all the boys to the yard.
Du lait caillé de Preacher Katie:
(Traduit par la saveur magnifique de Maya Keshav)
« Tiens l'avenir dans ta main » pendant que de l'autre tu bois un milkshake à la fraise qui a été préparé par une dame qui s'appelle Ronda from Dennys. Pas besoin de quitter ta chaise longue ces temps-ci parce que Shake! Records fournit tout ce dont tu as besoin; la cassette IV de Shake! contient un échantillon de 23 des meilleurs groupes de l'Amérique du Nord. Alors, secoue-le, tourne-le, fume-le, injecte-le et descends-le avec cette compilation bronzée. Assure-toi de ne pas oublier d'amener tous les garçons dans la cour.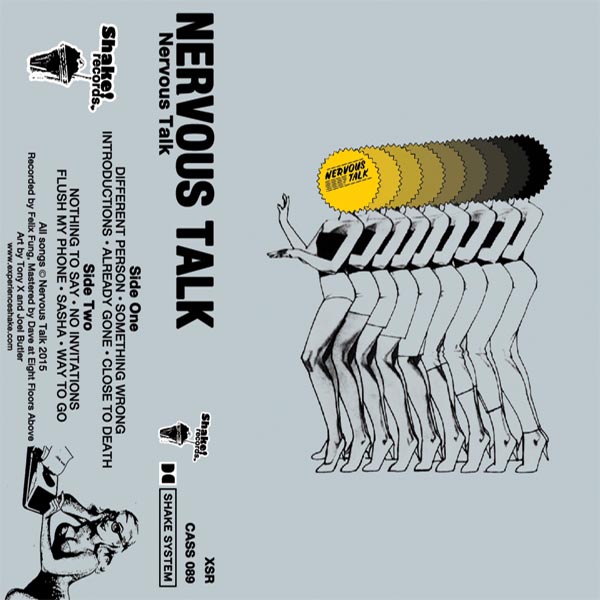 Nervous Talk
Nervous Talk
Vancouver, BC
From the rat face of Kyle Valade:
Nervous Talk's self-titled tape is a violent daydream on a Friday afternoon. Listening at work, you'll have no choice but to play some ferocious air drums while the guitar player throws in tastefully flashy touches all over the place. There's some 60's and 70's ground up and thrown into the mix, but you'll find yourself pining for going from show to show down Hastings. Walking late through the Downtown Eastside with its concrete, rats, and shipping containers, intersecting with pals you only see at shows, heading outside between bands, and listening to the real thing.
De la face de rat de Kyle Valade:
(Traduit par Sergio Calla)
La bande audio éponyme de Nervous Talk est une violente rêverie d'un vendredi après-midi. L'écoute au travail donne le gout de jouer sauvagement à la batterie invisible, alors que le guitariste démontre avec vigueur, son gout « tape à l'œil » charmant. Le mélange des années 60 et 70, donne envie de faire la tournée des spectacles le long du boulevard Hastings. Se promener tard à l'est d'un centre-ville tout en béton, les rats et les conteneurs d'expédition, croisant des copains que vous ne voyez que pendant l'entracte des shows tout en écoutant ce qui est authentique.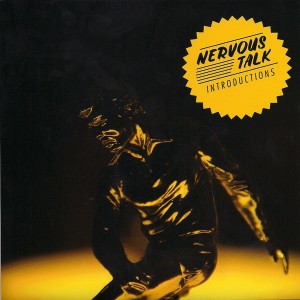 Nervous Talk
Introductions
Vancouver, BC
From the buzzing brain-bin of Alex Hamlyn:
After delightfully fraying nerves and chasing the white whale that is perfect garage pop, Joel Butler has rounded up a new crew of lean, mean West Coast rock 'n' roll veterans. Guitars chug, toms pound and the gang will have you joining in with their "ah ah"s before you know it, but the lyrics come straight from the grand punk tradition of the airing of grievances. These lads are too wise to take any crap, and they want to "introduce you/ to a fist/ that's just been waiting to meet you", so be glad they're on the side of good.
De la poubelle cérébrale d' Alex Hamlyn:
(Traduit par les oeufs catapultés de Nicolas Coutlée)
Après nous avoir délicieusement tapé sur les nerfs et chassé la baleine blanche qu'est la parfaite chanson garage pop, Joel Butler s'entoure d'une redoutable bande de vétérans rockeurs de la côte Ouest. Leurs guitares haletantes et leurs rythmes martelés auront tôt fait de vous faire entonner en choeur leurs « ah ah », même si les paroles s'inscrivent plutôt dans la grande tradition punk d'expression de doléances. Ces gars-là ne se laissent pas marcher sur les pieds et veulent « vous présenter / un poing / qui se meure de faire votre connaissance », alors soyez reconnaissant qu'ils se trouvent du côté des gentils.
---