Tag: music review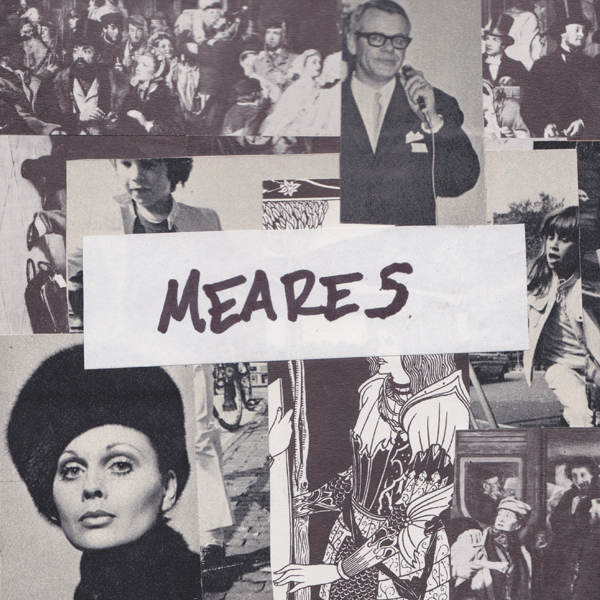 Capital Region
Meares
(Self Released)
Victoria, BC
From the dog-eared pages Johnnie Regalado:
This 10-minute recording by Capital Region is so much more than pure shred. This is what it might've sounded like if Romeo or Jay Gatsby fronted a grunge band. There's a dense drudge of riffs and narrative sustained across the four tracks on Meares that unravels a story of love and thrash that could easily be a drama in four acts with detailed footnotes. Not satisfied with simply naming themselves after the regional government of Southern Vancouver Island, this band of seasoned sonic soldiers named their EP Meares — a reference to both the three best blocks of parking downtown and a storied explorer. There aren't a lot of bands that rock and rep this hard for the way west coast. Bonus points for the fantastic limited edition packaging!
Des pages écornées de Johnnie Regalado:
(Traduit en quatre actes par Dominic Mpilé)
Cet enregistrement de 10 minutes produit par Capital Region offre beaucoup plus que des guitares déchirantes. Ça ressemble un peu à Roméo ou Jay Gatsby au micro d'un groupe grunge. Les riffs densément dynamiques accompagnent une histoire d'amour et de thrash qui se déroule sur les quatre pistes de Meares comme une tragédie en quatre actes. En plus de son nom faisant allusion au gouvernement régional du sud de l'île de Vancouver, ce groupe, composé de soldats sonores chevronnés, a intitulé son EP Meares, en référence aux trois meilleurs stationnements du centre-ville ainsi qu'au légendaire explorateur. Il n'existe pas beaucoup de groupes qui se donnent autant corps et âme à la côte ouest. Bonus pour l'emballage incroyable de l'édition limitée!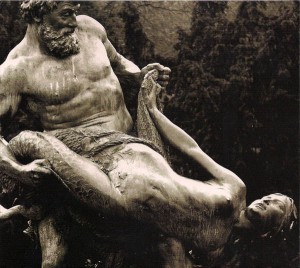 Aidan Baker
Already Drowning
Toronto, ON
From the spectral splash of James Lindsay:
Some surprising moves from Aidan Baker, who sheds much of the weight from his past projects. This new face seems to have taken a keen interest in the subtleties of cinematic noir, while still being haunted by the ghost of Godflesh. Led by a cast of seven singers (one for every song on the album) who each personify an elemental water spirit, the music here exists between myth and the stuff surrealist novels are made of. The opening tracks, "Already Drowning" (with Clara Engel) and "30 Days/30 Nights" (with Jessica Bailiff), have a literal, last confessional quality to them, before fading through a fuzzy focus to the spectral free splashing of "Mélusine" (with Valérie Niederoest and Maude Oswald) and dark Nicoesque folk of "Mein Zwilling, Mein Verlorener" (with Joanna Kupnicka). If Michael Gira and Jarboe ever sat to talk it out over black tea in Berlin on a rainy Sunday afternoon, this is how they would emerge.
Du plouf spectral de James Lindsay:
(Traduit par le remous-méninges de Julie Mayer)
Libéré d'une grande partie du poids de ses projets antérieurs, Aidan Baker emprunte ici une avenue surprenante. Ce nouveau visage, bien qu'il soit encore hanté par le fantôme de Godflesh, se tourne vers les subtilités du film noir. Dirigée par une distribution de sept chanteuses (une pour chaque chanson de l'album) personnifiant chacune une ondine, la musique flotte entre le mythe et le matériau dont on fait les romans surréalistes. Les pistes d'ouverture, « Already Drowning » (avec Clara Engel) et « 30 Days/30 Nights » (avec Jessica Bailiff), prennent des allures de derniers aveux avant de se fondre en une masse confuse et de ressurgir au travers des éclaboussures spectrales de « Mélusine » (avec Valérie Niederoest et Maude Oswald) et du sombre folk nicoesque de « Mein Zwilling, Mein Verlorener » (avec Joanna Kupnicka). Si jamais, par un dimanche après-midi pluvieux à Berlin, Michael Gira et Jarboe se rencontraient pour jaser devant une tasse de thé noir, voilà ce qui émergerait.
Aidan Baker – Tout Juste Sous La Surface, Je Guette (Genevieve Castre)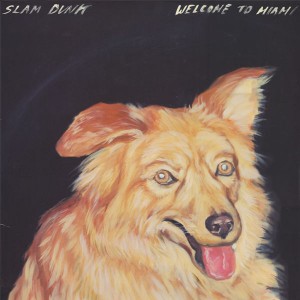 Slam Dunk
Welcome to Miami
Victoria, BC
From the score sheet of Johnnie Regalado:
You'll find one in every town. That rock and roll workhorse that plays so goddamn hard you want to keep it a secret. That band you never want to stop or leave. In Victoria, that band is called Slam Dunk. On their sophomore album Welcome to Miami, Slam Dunk deliver rollicking pop songs about the shortage of scabies cream in pharmacies, their good friends' very average grades, and just about every other demented whim they've ever had a good laugh over. This album is a compilation of all those beautiful things that crowds of sweaty drunks are ready to pump their fists to. Strip away the silliness and you're left with a tight and technical perfection of pop rock that's sure to leave you with a sore neck from excessive thrashing. This album isn't just a two-pointer. It's an all-out, 360, through the legs NBA jam of unprecedented awesomeness.
De la feuille de pointage de Johnnie Regalado:
(Traduit par le culte rodmanien de Nicolas Coutlée)
Il y en a un dans chaque ville. Ce cheval de trait du rock'n'roll qui bûche tellement fuckin' fort que vous aimeriez garder le secret juste pour vous; ce groupe que vous souhaiteriez ne jamais voir arrêter ou disparaître. À Victoria, il s'appelle Slam Dunk. Sur leur deuxième album intitulé Welcome to Miami, Slam Dunk parle dans ses chansons pop-noise de pénuries de crème contre les morpions, des notes plus que moyennes de leurs bons amis et d'à peu près n'importe quelle connerie démente dont ils ont pu rire un jour. Il s'agit d'une compilation de toutes ces belles choses qui font brandir le poing des foules d'ivrognes en sueur. Mais enlevez les pitreries, et vous vous retrouverez avec un petit joyau de pop-rock technique bien taillé sûr de vous donner le torticolis à force de trop mosher. Cet album n'est pas qu'un simple deux-points. C'est un 360 complet de pur brio entre les jambes.
Kitty Rouler
My Boyfriend b/w Version
(Classic Sounds)
Toronto, ON
Originally Released: 1988
From the proto-rhythms of Aaron Levin:
The physical connections between Jamaica and Toronto have been well documented by one Kevin Sipreano. Less known amongst the gripper elite are the abundance of fantastic dancehall singles produced in the heart of TO. Kitty Rouler's stock-label entry on the ubiquitous Toronto imprint Classic Sounds is an addictive conjuring of dancehall-fuzed 80s R&B. Kitty's staccato, pseudo-rap delivery, with pitched melodies, strangely anthemic flow, and relentless pursuit of her lyrical boyfriend, mutates traditional rhythms into a netherworld of clurb bangin' and ep swingin'. It's immediacy and nuanced personality made it an instant classic at WC HQ after Brandon Hocura dropped the bomb on us. "My Boyfriend" pre-dates Mike Jones' telephone # drop by 20 years, making it a proto-Swishahouse classic. Super grip.
Des proto-rythmes d'Aaron Levin: (Traduit par Odile Leclerc)
Les connexions physiques entre la Jamaïque et Toronto ont été bien documentées par un Kevin Sipreano. Moins connu parmi les saisisseurs d'élite est l'abondance de solos de salle de danse fantastique produits au cœur de TO. L'entré du label de stock de Kitty Rouler sur l'empreinte omniprésente Classic Sounds de Toronto est une conjuration addictante de R&B des 80 de salle de danse fusionnée. Le staccato de Kitty, la distribution de pseudo-rap, avec de hautes mélodies, un courant étrangement hymnique et une infatigable poursuite de son petit copain en paroles, se mute en rythmes traditionnels dans un enfer de tapage de clubs et de swing d'EP. Son immédiateté et sa personnalité nuancée l'en a fait un classique instantané au QG de WC après que Brandon Hocura ait lâché la bombe sur nous. ''My Boyfriend'' précède la tombé de telephone # de Mike Jones de 20 ans, en faisant un classique proto-Swishahouse. Super-saisi.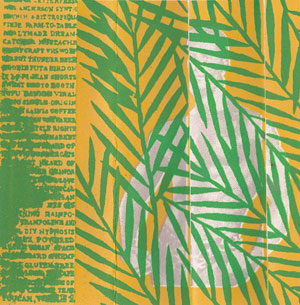 Ocular Gymnastics
Vol. 1
Montreal, QC
From the pedal-jammed meditations of Jesse Locke:
Encased in a squeeze box of screen printed palms, Ocular Gymnastics' debut transmission is as lavishly packaged as it is blissful. Pedal-jammed Casio meditations cast ripples across the mind-pond while the mountain of found-sound percussion clanks and rattles down the cortex. Only Moduli TV could provide suitable visual accompaniment for these C.H.U.D. ravers in a tropical time-warp à la Bamboo For Two.
Des méditations de pédales coincées de Jesse Locke: (Traduit par Odile Leclerc)
Enfermés dans un accordéon de paumes sérigraphiées, la transmission des débuts de Ocular Gymnastic est autant emballé suptueusement que c'est divin. Les méditations de pédale coincée de Casio projettent des ondulations à travers l'étang-esprit pendant que la montage de percussion des sons trouvés cliquète et dégringole dans le cortex. Seul Moduli TV pourrait fournir un accompagnement visuel approprié pour ces raveurs C.H.U.D. dans une dimension parallèle tropicale à la Bamboo For Two.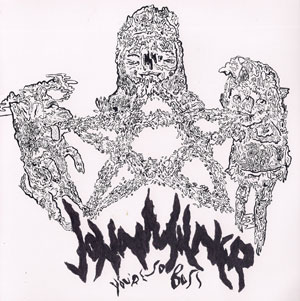 John Milner You're So Boss
7″
Toronto, ON
From the throat hissing of Pam Haasen:
Convenience stores emit sounds so high pitched that adults can't hear to ward off young people from loitering (what we used to call "hanging out"). Reverse this hypothesis and lo, a sound that shakes soil and loam to drag up undergrounders from the deep who can dance with their eyes closed. Metal gates creak open in Sodom to welcome those shunned from the sidewalks and we fall, tripping over cracks. This overtly rude foursome can't help but glue together weirdos and fun-boys, calling the rest of us a bunch of Taquito-eating old folks. If you think you've got it on the wrong speed, it's right.
Du sifflement de gorge de Pam Haasen: (Traduit par Odile Leclerc)
Des dépanneurs émettent des sons tellement aigus que les adultes ne peuvent pas entendre pour empêcher les jeunes gens de flâner (ce que nous avions l'habitude d'appeler ''sortir''). Renverser cette hypothèse et voici, un son qui secoue sol et terreau pour traîner vers le haut les sous-terriens des profondeurs qui peuvent danser avec leurs yeux fermés. Des portes de métal s'entre-ouvrent dans Sodome pout accueillir ceux bannis des troittoirs et nous tombons, trébuchant sur des craques. Ce ménage à quatre ouvertement impoli ne peut s'empêcher de coller ensemble les bizarroïdes et les efféminés, appelant le reste de nous autres une gang de vieillards mangeur de Taquito. Si vous pensez que vous l'avez eu sur la mauvaise vitesse, c'est correct.
John Milner You're So Boss – Side A (Excerpt – Study Service, Meat Shits, Gr3, Wide Mart, Hope Void)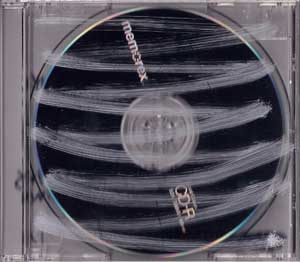 Crabe
(Self Released)
Montreal, QC
From the crustaceous courtesies of Aaron Levin:
Crabe have unleashed a totally blasted and inexplicable artifact from the Montreal underground. Forging undefined links between Archimedean power pop and wasted Ramones covers, their unreadably-titled CDR gives the briefest glimpse into basemental prog conjured by the dialectically adventurous. Quintessentially bizarre. We're not even sure if this is grippable.
Des courtoisies crustacées d'Aaron Levin: (Traduit par la bizarrerie de Maya Keshav)
Crabe ont déchaîné un artéfact complètement explosé et inexplicable de l'avant-garde montréalaise. En façonnant les liens indéfinies entre la power pop Archimedéenne et les reprises camées de Ramones, leur CDR avec un titre illisible donne le plus petit aperçu dans le prog sous-sol que les dialectiquement aventureux font apparaître. C'est essentiellement bizarre. On n'est pas même certain qu'il soit possible de l'acheter.
The Ketamines
Spaced Out
Lethbridge, AB
From the teenage emergencies of Aaron Levin:
Taking their blown-out, wasted pop moves to a new level of blasted riff denial, the darlings of Lethbridge unleash another hyperbolic garage-psych monster within the Canadian ether. Spaced Out soars with wings of farfisa and splattered psychedelics, channeling enough Fred Cole and Ariel Pink to catalyze the ridiculous catch laying in concentrate within their reverberated debut. Finally, an album with enough pop-raunch to satisfy the rolling, sexual hills surrounding southern Alberta's bleakest plateau. Grip++.
Des urgences ado d'Aaron Levin: (Traduit par Maya Keshav)
En dépassant leurs pas explosés et camés dans un nouveau niveau de démenti foutu de riff, les chéris de Lethbridge déchaînent une autre monstre hyperbolique du garage-psych dans le vide canadien. Spaced Out vole avec les ailes de farfisa et de psychédéliques éparpillées, en puisant dans assez de Fred Cole et d'Ariel Pink pour accélérer le catch ridicule qui reste en concentré dans leurs débuts réverbérés. Enfin, un album avec assez de popscénité pour satisfaire les collines déferlantes et sexuelles qui entourent le plateau le plus maussade de l'Alberta du Sud. Achetez ++.
The Ketamines – Teenage Rebellion Time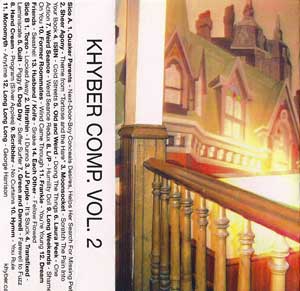 Various Artists
Khyber Compilation II
(Self Released)
Halifax, NS
From the monomythic archways of Alison Lang:
Halifax's most endearing/enduring art space, the Khyber, has once again been feted with a compilation of tape tunes from local artists and musicians, most of whom have played/jammed/come of age under the archways, the ballroom, the turret. As with last year's comp, this is a love letter to something fragile and beautiful and important – moreover, it's massive (27 songs!), thoughtfully curated and brilliant. There are so many meaty, gorgeous gems here – Monomyth's "Anytime" is soaring sweetgaze, while scene vets Scribbler reach achingly fuzzed-out heights with "No Curtains." The winsome youngsters of ISBN donate a slice of grainy, brainy twang-pop and there are similarly tasty outings from the now-defunct Long Long Long and its ashes, Each Other, risen in Montreal to smile and destroy. There's a ripper Dog Day track too, and a song from local supergroup Green and Darnelle that nods at the city's 90's ghosts and then gnashes them to shreds. Look, I could go on for fucking pages about this tape, I really could, but in the end, I'll leave with some words from a particular standout, the haunting lament "Wind Came Through" by Former Roommates (who, I think, actually are former roommates): The Khyber needs your love, always, and these songs do too. Listen and linger: this is a sound of a scene piled with riches.
Des porches voûtés monomythiques d'Alison Lang: (Traduit par les tourelles imaginaires de Maya Keshav)
L'espace d'art le plus attachant et le plus tenance de Halifax, le Khyber, est encore honoré avec une compilation de tounes cassette des artistes et des musiciens du coin, dont la plupart a joué, fait la bœuf, et est devenu majeur sous les porches voûtés, la salle de bal, la tourelle. Comme pour la compilation de l'année passée, celle-ci est un lettre d'amour à quelque chose de fragile et beau et important — en plus, c'est énorme (27 chansons!), brillant et choisi pensivement. Il y a tant de bijoux consistants et superbes ici— "Anytime" de Monomyth est le sweetgaze planeur, alors que les vétérans de la scène Scribbler atteignent les hauteurs fuzzées à pleurer avec "No Curtains." Les jeunes attachants d'ISBN fournissent une pointe de twang-pop granuleuse et futée, et il y a les balades savoureuses de même du maintenant-défunt Long Long Long et ses cendres, Each Other, qui ont apparu à Montréal pour sourire et détruire. Il y a un morceau balançant de Dog Day aussi, et une chanson du supergroupe du coin Green and Darnelle qui fait allusion aux fantômes de la ville des années 90, et puis les déchirent en éclats. Tu vois, je pourrais continuer pour les feuilles et les feuilles à propos de cette cassette, vraiment je pourrais, mais à la fin, je vais te laisser quelques mots d'une chanson remarquable, la lamentation obsédante "Wind Came Through" par Former Roommates (qui, je crois, sont vraiment les anciens colocs): Le Kyhber a besoin de ton amour, toujours, et ces chansons en ont besoin, aussi. Écoute et reste ici plus longtemps: voici un son d'une scène qui déborde de riches.
Green and Darnelle – Farewell to Fuzz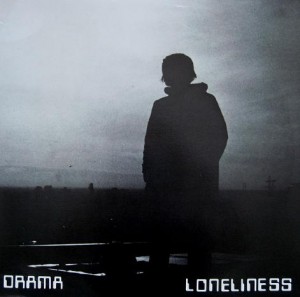 Drama
Loneliness
(Psycho Records)
Toronto, ON
Originally Released: 1979
From the hidden melodies of Brandon Hocura:
Loneliness, despite its title, is an album with a warm heart of wires and at its core is the long-term musical friendship between Don Stagg and Eric Simpson. The duo formely recorded epic home-baked prog under the name VIIth Temple, releasing one hideously rare burnt-orange LP release soaked in gentle Moog, Mellotron and Giant. On Loneliness the pair traded in their plumes, velvet and epic jam band for thin ties and a cheap drum-machine. The LP still carries a whiff of patchouli, but the sound stings of solder and electricity, and inhabits a nascent zone somewhere between krautrock and new-wave. The vocals are all clustered on the a-side, starting with an ode to the inefficiency of the T.T.C. (some things never change!). The dystopian sci-fi themes are par for the League, a highlight is love ballad "Anna King" that sounds like it could be an outtake from Trans. The instrumentals on the b-side feel decidedly more Teutonic, and have a certain CBC charm that sounds like JP Decerf recording for Parry Music. The side even opens with a slinky stoned Pink Panther. About the loneliest thing about this album is the incredible cover photo. Don Stagg told me that he climbed up on a rooftop in St. James Town to take a photo for the sleeve when he came across a young man doing crack. The man was surprisingly obliging and Don snapped this evocative photo as night fell over the cold city. Take hold of this preserved slice of Ontario sprawl if ever you get the chance, it'll probably surprise you to know how little has changed in all these years.
Des mélodies cachées de Brandon Hocura: (Le mode en rafale de Odile Leclerc)
Loneliness, malgré son titre, est un album avec un cœur chaleureux de fils et en son cœur se tient l'amitié musicale au long terme entre Don Stagg et Eric Simpson. Le duo a précédemment enregistré un épic prog fait-maison sous le nom de VIIth Temple, mettant en vente une sortie de LP d'un rare orange brûlé trempée dans du Moog-doux, Mellotron et Giant. Sur Loneliness la paire ont échangé leurs plumes, velours et épic groupe de jam pour de minces cravates et des batteries bon marché. Le LP porte encore des odeurs de patchouli, mais le son pique de soudure et d'électricité et habite une zone naissante quelque part entre krautrock et nouvelle vague. Les chants sont tout amassés sur la face-a, commençant avec une ode à l'inefficacité du T.T.C. (certaines choses ne changent pas!). Les thèmes dystopiens de science fiction sont égaux pour la Ligue, un point culminant est la ballade romantique ''Anna King'' qui sonne comme si ça pourrait être un prélèvement de Trans. Les instrumentaux sur la face-b sont décidément ressentis plus comme Teutonique et avait un certain charme de CBC qui sonne comme l'enregistrement de JP Decerf pour Parry Music. Le côté s'ouvre même une sinueuse Panthere rose défoncée. À propos du truc de solitude de cet album c'est l'incroyable photo couverture. Don Stagg m'a dit qu'il a grimpé sur un toit à St-James Town pour prendre une photo pour la manche quand il a rencontré un jeune homme prenant du crack. L'homme était étonnement aimable et Don a pris cette photo évocatrice alors que la nuit tombait sur la froide cité. Empoignez cette tranche préservée d'étalement d'Ontario si vous en avez la chance, ça va probablement vous surprendre de savoir comment peu de chose ont changé durant toutes ces années.
Drama – As I Breathe On The T.T.C.
---