Tag: music review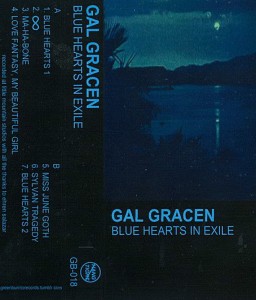 Gal Gracen
Blue Hearts in Exile
Vancouver, BC
From the electrified exotica of Bryce Warnes:
Seven chill communications from Role Mach janglist Gal Gracen make up Blue Hearts in Exile. Alternating between instrumentals and songs – electrified guitar exotica and wavering, soulful proclamations of love – this cassette creates the perfect atmosphere for a romantic night-time beach picnic or basement couch makeout party. "Love Fantasy, My Beautiful Girl" chugs along with an earworming bassline, while "Sylvan Tragedy" glistens with sleazy, falsetto melancholia. These are soft 'n sexy jams for summer '13's Casanovan conquests.
De l'exotisme électrisant de Bryce Warnes:
(Traduit sous la pleine lune par Patrick Du Tremble)
Sept transmissions décontractées par Gal Gracen (projet solo de Patrick Geraghty de Role Mach) constituent Blue Hearts in Exile. En alternant instrumentaux et chansons – entre l'exotisme électrisant de la guitare et les déclarations d'amour chancelantes et émouvantes – cette cassette crée l'ambiance parfaite pour un pique-nique romantique au clair de lune sur la plage ou pour les câlins sur le canapé du sous-sol. La ligne de basse qui transporte "Love Fantasy, My Beautiful Girl" reste ancrée dans la tête, et "Sylvan Tragedy" scintille d'un curieux falsetto mélancolique. La bande sonore douce et sexy des conquêtes casanoviennes de l'été 2013.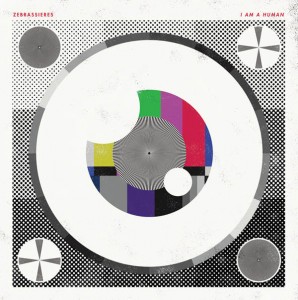 Zebrassieres
I Am A Human
(P. Trash)
Toronto, ON
From the power jam of Michael Deane:
These Ottawa-ian/Torontonian cosmic creeps get all herky-jerky on a synth-heavy, punked-up, spaced-out Devo tip – embodying and busting through the Capital scene's Gates of Steel with bubble-gum hooks, frenetic pacing and otherworldly energy. The Zebs power jam one-to-two-minute songs to their breaking point and seem borne from crowded, rafter-hanging basement blow-outs. Their maxed out synthusoids™, hooks set to stun and relentless rhythms will leave you lost in space with no way of getting back.
Du jam puissant de Michael Deane:
(Traduit de la plume punk de Dominic Mpilé)
Ces énergumènes cosmiques venus d'Ottawa et de Toronto s'excitent le synthé et vont rejoindre Devo dans un trip spatial punk et déjanté. Parfaite incarnation de la scène musicale de la Capitale, ils défoncent ses portes d'acier avec leurs mélodies saccharinées, leurs rythmes frénétiques et leur énergie venue d'ailleurs. Depuis les tréfonds suants d'un sous-sol sens dessus dessous, les Zebs se jettent à corps perdu dans leurs courtes chansons d'une minute ou deux. Leurs synthusoids ® dans le tapis, leurs refrains renversants et leurs rythmes endiablés vous perdront dans l'espace sans voie de retour.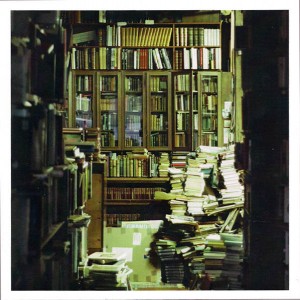 Zen Mystery Fogg
Racoon b/w Detour
Vancouver, BC
From the foggy dome of Kyle Valade:
Sweet but far too short, the party that is the Racoon 7" burns fast, fuzzily and with a hint of sentimentality. Chase Franson's vocals don't layer on top of the noise but come from right inside it, like a democratic haze of sound that also harbors a banshee, floor tom, and some real good garage rock. The lyrics are difficult to pick out, but that seems to be calculated, enhancing the dream-like substance that Zen Mystery Fogg has created. Not dream-like in a Mazzy Star kind of way, more like when you're trying to remember one of those odysseys that happens once every couple of years after last call. Kingfisher Bluez sure knows how to pick 'em.
Du foyer brumeux de Kyle Valade:
(Traduit dans la rêverie par Audrey Roy)
Douce, mais clairement trop courte, la fête que nous propose le Racoon 7po s'embrase rapidement en fumée avec une certaine touche d'émotions. La voix de Chase Franson ne couvre pas la chanson, mais vient plutôt de l'intérieur, comme un son sortant d'une épaisse brume qui hébergerait également une banshee, un tom sur pied et du bon vieux rock de garage. La difficulté à comprendre les paroles semble avoir été prévue par Zen Mystery Fogg dans le but d'intensifier l'essence rêveuse de leur création. Ce n'est pas comme le type de rêverie que nous donnerait Mazzy Star, mais plutôt comme lorsqu'on essaie de se souvenir de ces odyssées, à la sortie des bars, qui n'arrivent qu'une fois aux quelques années. Kingfisher Bluez a un talent incontestable pour les dénicher.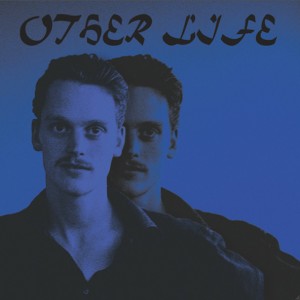 Sean Nicholas Savage
Other Life
Montréal, QC
From the believable pop of Michael Deane:
I could easily go on about Sean the man and Sean the artist all day, but there's one piece of advice that I always give to people who have a hard time with Sean's music: believe him, because he is sincere in what he's doing. His genre ADD can lead listeners to think that Sean's music is merely a vehicle to keep him entertained, but the harder you listen, the cohesiveness of his recordings comes out. The more you listen, and the more credit you give to this artist, the more you will be rewarded; the Savage world is a world all its own, and if you allow yourself access to it by dropping your defences and letting Savage in, you're opening yourself up to a satisfying, bewildering, amazing and sometimes off-putting experience – delighting the senses, boggling the mind, and sticking in your forever.
Sean has taken a fantastic voyage from his early days as an acoustic-pop crooner in Edmonton, and WC's been there the whole time – celebrating (almost) everything the wunderkind produces. Though it can be tough to stay aboard the pitching ship that is Savage's career trajectory, we all try to hold on and watch him progress, mutate and make good on all of the genius he possesses. Sean is an artist that has rarely made his way into the indie-majority's ears, and thanks to the success of Arbutus, it's immensely satisfying that SNS is now dazzling the populace, while surely leaving them confused and uncomfortable.
Writing about Sean's songs is a sucker's game, because you have to hear them and feel the way that they unfold and encompass the hyper emotional reality that pop music introduced and has been made believable by Savage. From Summer 5000 to Other Life, Sean's evolution in 5 years outshines most artists' entire careers, and it's rare to have someone so confident and original in their aping/misshaping and adoption of the softness of '80s studio pop, synth-soaked ballads and sympathetic serenading.
On Other Life, Sean's quivering falsetto and cheesy synths can come off, for some, as a sort of performance art, but Sean is never winking – he believes whole heartedly in what he's doing, and the sooner you accept that the sooner you can immerse yourself in the world of Savage's love.
Serious, thrilling, sad, amusing, beautiful:
"You would think a man like me could swim all by myself / I got so used to being on your shore, I forgot how the water felt / I got so used to being your man, I forgot how to be myself."
"Everything changes, and if you don't, too, before you know it you're not even you."
"How can I live with myself when I need you more? I need your body more than I need my own; I need to live with you more than I need a home. And if it's over, it's true that I always loved you more than I loved myself."
De la pop croyable de Michael Deane:
(Traduit par l'autre vie de Benoit Poirier)
Je pourrais facilement parler de Sean le gars et de Sean l'artiste toute la journée, mais il y a une chose que je dis toujours aux gens qui ont de la difficulté avec sa musique : croyez-le, parce qu'il fait ça sincèrement. Son ADD des genres peut mener les auditeurs à penser que sa musique est simplement un véhicule pour le garder amusé et diverti, mais, plus on écoute, plus on ressent la cohésion de ses enregistrements. Plus on écoute, plus on donne du crédit à cet artiste, et plus on en est récompensé; le monde de Savage est un monde en soi, et si vous vous permettez d'y accéder en baissant votre garde, vous vous ouvrez à une expérience satisfaisante, déconcertante, étonnante et parfois rebutante – qui délecte les sens, qui ahurit l'esprit, et qui colle pour toujours.
Sean a entrepris un fantastique voyage depuis ses débuts en tant que crooner folk-pop à Edmonton, et WC l'a toujours suivi – célébrant (presque) toutes ses prodigieuses parutions. Même s'il peut être ardu de rester sur le navire tanguant qu'est la trajectoire professionnelle de Savage, on essaie tous de tenir bon et de l'observer progresser, se transformer et convertir tout le génie qu'il possède. Sean est un artiste qui a rarement fait son chemin jusque dans les oreilles de la majorité indie, et grâce au succès d'Arbutus, il est immensément satisfaisant que SNS éblouisse désormais la populace, tout en les laissant assurément confus et mal à l'aise.
Écrire à propos des chansons de Sean est un coup fourré, parce qu'il faut entendre et ressentir la façon dont ces chansons se déploient et englobent la réalité hyper-émotionnelle que Savage présente et rend crédible avec la musique pop. De Summer 5000 à Other Life, l'évolution de Sean en seulement 5 ans éclipse l'entière carrière de la plupart des artistes, et il est rare de voir quelqu'un d'aussi confiant et original dans sa contrefaçon, sa distorsion et son adoption de la douceur de la pop studio des '80s, des ballades gorgées de synths et des sympathiques sérénades.
Sur Other Life, le fausset frémissant et les synths ringards de Sean peuvent sembler tenir de l'art de performance pour certains, mais Sean ne leurre personne – il croit de tout son cœur en ce qu'il fait, et plus tôt on l'accepte, plus tôt on pourra s'immerger dans le monde amoureux de Savage.
Sérieux, passionnant, triste, amusant, beau :
"You would think a man like me could swim all by myself / I got so used to being on your shore, I forgot how the water felt / I got so used to being your man, I forgot how to be myself."
« Tu pensais qu'un homme comme moi pouvait nager seul / Mais je m'étais tellement habitué à ta rive, j'en avais oublié l'eau / Je m'étais tellement habitué d'être ton homme, que j'en avais oublié d'être moi-même »
"Everything changes, and if you don't, too, before you know it you're not even you."
« Tout change, et si tu ne le fais pas toi aussi, avant que tu ne t'en rendes comptes tu n'es plus toi-même »
"How can I live with myself when I need you more? I need your body more than I need my own; I need to live with you more than I need a home. And if it's over, it's true that I always loved you more than I loved myself."
« Comment puis-je vivre avec moi-même quand j'ai davantage besoin de toi? J'ai besoin de ton corps comme du mien; j'ai besoin de vivre avec toi comme d'une maison. Et si c'est terminé, ce sera vrai que je t'aurai toujours aimé plus que je ne m'aimais moi-même »
Sean Nicholas Savage – Other Life
Chairs
The Droning of an Insect Wing
(Self Released)
Montréal, QC
From the indestructible machine of Christina Bell:
Ian Jarvis dives into the depths of the soul, reemerging with complex contradictions. The Droning of an Insect Wing fuses industrial noise-scapes with folk-rock strums and harmonic vocals, simultaneously polished and rugged, pop and drone, hopeful and lonely. Jarvis displays playfulness on "Three in the Morning/Breath Underwater" with his dreamlike reverbed voice echoing from a cool, calm lake. Following the original CD self-release, Kinnta's cassette re-dub will hopefully find its way to fresh ears.
De la machine indestructible de Christina Bell:
(Traduit par les nouvelles oreilles de Vincent Rondeau)
Ian Jarvis plonge dans les profondeurs de l'âme et en ressort chargé de contradictions complexes. The Droning of an Insect Wing est un mélange d'atmosphères industrielles, de guitares folk-rock et d'harmonies vocales, à la fois poli et rude, ambiant et pop, solitaire et optimiste. Jarvis se montre ludique sur « Three in the Morning/Breath Underwater », sa voix onirique se répercutant doucement aux rives fraîches d'un lac calme. Après la sortie originale sur CD, souhaitons que cette réédition cassette sur l'étiquette Kinnta tombe dans de nouvelles oreilles.
Chairs – Indestructible Machine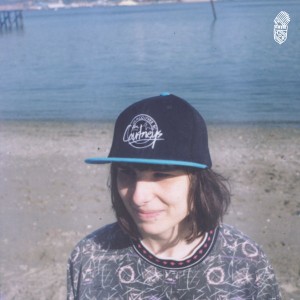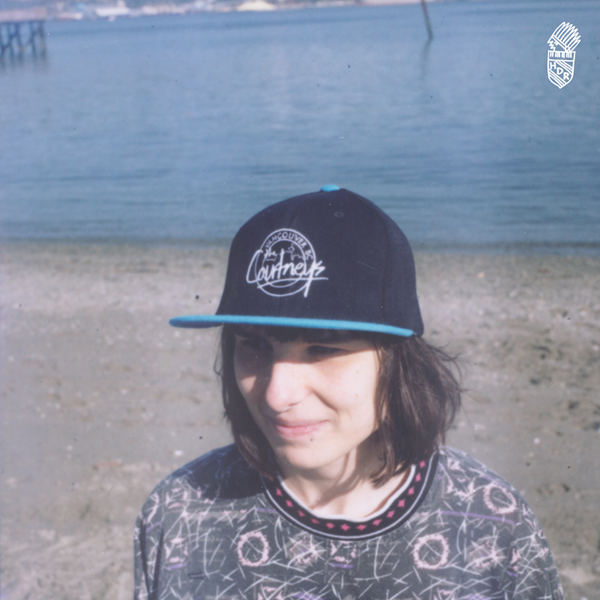 The Courtneys
The Courtneys
Vancouver, BC
From the debauched summer of Chris Sayer:
The Courtneys drift back to the sound of the early '90s while reflecting a fun-in-the-sun west coast mentality. Heavy repeating basslines and snare/kick combos form a punk backbone, while dreamy guitar riffs add a timeless pop element. This is the soundtrack for surfing with beach babes in Tofino, all night dance parties by the bonfire and other fun debauchery. The Courtneys make you forget your worries and hand you a cold beer instead.
De l'été de débauche de Chris Sayer:
(Traduit en revenant de la plage par Hugo Hyart-Dauvergne)
The Courtneys retrouvent le son du début des années 90 avec une mentalité côte ouest très fun-in-the-sun. Lourdes lignes de basse répétitives et combos caisse claire/grosse caisse mettent en place une charpente punk sur laquelle se greffent des riffs de guitare oniriques qui ajoutent une touche de pop intemporelle. C'est la bande-son parfaite pour surfer avec des beautés de plage à Tofino, danser toute la nuit autour du feu de camp et autres jeux débauchés. The Courtneys vous font oublier vos soucis et vous tendent plutôt une bière fraîche.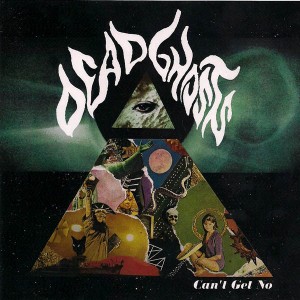 Dead Ghosts
Can't Get No
Vancouver, BC
From that old feeling of Jesse Locke:
The ghosts with the most can do no wrong. Between a smokin' single from Kingfisher Bluez and this boss LP on Burger, Vancouver's titans of blown-out twist 'n' twang are on time like Karl Malone. Hooks on hooks, honky tonkin' pianos, sad Joey jams and all the shouty, sweaty sass you can handle. Quintessential cover art from CM Ruiz, blah, blah, blah. You already know you need the grip…
Des vieux sentiments de Jesse Locke:
(Traduit par le bla bla de Hugo Hyart-Dauvergne)
Les meilleurs fantômes ne se trompent jamais. Entre un single du tonnerre chez Kingfisher Bluez et ce LP de malade sur Burger, les titans vancouvérois du twist nasillard et démesuré sont aussi fiables que Karl Malone. Airs entraînants à n'en plus finir, pianos honky tonk, chansons tristes à la Joey, cris, sueur et culot à volonté. Couverture essentielle de CM Ruiz, bla bla bla. Vous savez déjà que vous devez le saisir.
Dead Ghosts – That Old Feeling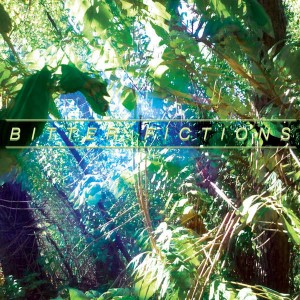 Bitter Fictions
Bitter Fictions
Calgary, AB
From the drifting cacophony of David Ferris:
For a guy who spends all day selling / writing about records — working at the much beloved Sloth and penning his weekly column for FFWD, Calgary's arts and news rag — Devin Friesen must relish the opportunity to revel in the disruption of the self-repressive fictions of "one-person/one-guitar," which he lays to waste in his Licht-ian/Niblock-ian efforts. Instead of singer-songwriter sensitivities, post-rock's predictable set-plays of major key peaks and valleys (or anything else generally expected), we are given eight patient and slow-burning pieces for chiming guitars, stochastic piles, negative space, extended technique, needles and pins, dense haze, ringing tones and expansive drones. Unpredictable, but not frenetic: one man's love affair with feedback, documented with the discerning expertise of when to dog-pile sounds and when to let them breathe.
De la dérive cacophonique de David Ferris:
(Traduit par Vincent Rondeau)
Pour quelqu'un qui passe ses journées à vendre des disques au comptoir bien-aimé de Sloth et à écrire des critiques musicales hebdomadaires pour le magazine culturel de Calgary FFWD, Devin Friesen doit se délecter de pouvoir détruire à souhait les fictions auto-répressives qui entourent « un homme et sa guitare », ce qu'il fait avec un effort lichtien, voire niblockien. Plutôt qu'une sensibilité d'auteur-compositeur-interprète ou de post-rockiste prisonnier des accords majeurs, des crêtes et des creux propres au genre, on a droit à huit pièces, à combustion lente et délibérée, pour guitares sonnantes, accumulations stochastiques, espaces négatifs, techniques étendues, fourmillements, brouillards denses, sonorités brillantes et bourdonnements. Le tout est imprévisible, mais pas frénétique. C'est l'histoire d'amour passionnée entre un homme et le feed-back, ayant pour pierre d'assise l'expertise judicieuse de Friesen, qui sait quand empiler les sons et quand les laisser respirer.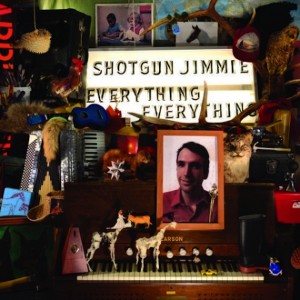 Shotgun Jimmie
Everything, Everything
Brandon, MB
From the slight smirk of Dylan T. Green:
Shotgun Jimmie is a national treasure. Ever since the break up of the criminally underrated Shotgun and Jaybird, he's been honing his effortless, lo-fi rock songs over the course of several albums. The latest, Everything Everything, is perhaps his most focused work. Clocking in at a lean 39 minutes, these 16 tracks are perfect, to-the-point songwriting. The subtle wit of "Sum of my Parts" and "Skype Date" are classic examples of how Jimmie has managed to incorporate a slight smirk into his music as elegantly as Nick Lowe or Jonathan Richman. "Adventure in the Heart" and "Carry On" are fuzzed out 4-track gems. These are endless summer vibes cut into acetate grooves.
Du petit sourire moqueur de Dylan T. Green:
(Traduit par Joannie Pharand)
Shotgun Jimmie est un trésor national. Depuis la séparation de Shotgun & Jaybird, qui sont sérieusement sous-estimés, il perfectionne au fil de plusieurs albums ses chansons rocks Lo-fi facilement. Sa plus récente, Everything Everything est peut-être l'œuvre où il est le plus concentré. Il se met au travail à la 39e minute et fait des 16 pièces des compositions parfaites qui vont droit au but. La subtilité de son intelligence sur « Sum of my Parts » et « Skype Date » sont des exemples typiques de la façon dont Jimmie réussit à incorporer un petit sourire satisfait dans sa musique avec la classe de Nick Lowe et Jonathan Richman. Les pièces « Adventures in the Heart » et « Carry on » sont des bijoux embrouillés de format 4-pistes. Elles représentent les ambiances d'un éternel été coupées en rainures sur un disque vinyle.
Shotgun Jimmie – Standing in a Line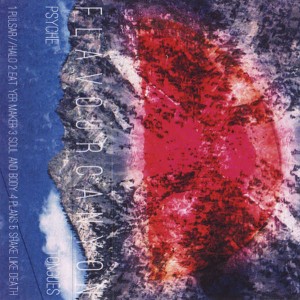 Psyche Tongues
Flavour Canyon
Toronto, ON
From the space-taste of Bryce Warnes:
Psyche Tongues' orange slice of psych-pop confection is a tightly planned astral daytrip. "Eat Yer Maker"'s relentless snare and gamboling bassline set the scene for an expedition to Titan's shores, and the call-and-response chorus of "Soul and Body" recalls certain mutants. "Shake Like Death" is a slowly unfolding, acoustic-picked hymn suitable for summer worship of our local yellow dwarf. None of these tunes clocks in past four minutes, making for a concise and all-too-brief sunburst of citrine space-taste. Juicy!
De l'arôme spatial de Bryce Warnes:
(Traduit par la concision juteuse de Vincent Rondeau)
Ce bonbon pop-psychédélique en forme de tranche d'orange est une excursion astrale hautement planifiée. Le snare insistant et la basse sautillante de « Eat Yer Maker » préparent le terrain pour une expédition sur les rivages de Titan et le refrain à répondre de « Soul and Body » rappelle un certain groupe de mutants. « Shake Like Death » se déroule tranquillement en forme d'hymne acoustique propice à la vénération de notre naine jaune locale. Aucune piste ne dépasse les quatre minutes, donnant une concision juteuse à cette explosion, peut-être trop brève, d'arôme spatial citronné.
Psyche Tongues – Eat Yer Maker
---