Tag: music concrete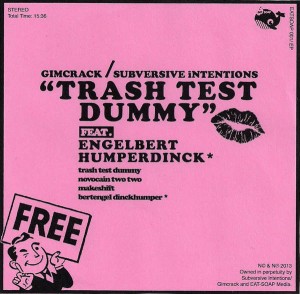 Gimcrack / Subversive Intentions
Trash Test Dummy
(Eat Soap)
Lachute, QC
From the novocain stain of Jesse Locke:
Interrupting the natural harmony of the Rivière du Nord, the unhinged experiments of these basement scientists bubble over the top of the Erlenmeyer to cause acidic insta-melt. Trash Test Dummy's speaker-shattering splice and dice techniques come straight from the textbook of Zuckerman and Seeger, complete with pop culture plunderfonia (in this case, pure '60s schmaltz ). Gimcrack deems these dome-scramblers "original derivatives" but they're as unique as anything you're likely to hear this side of the Pacific Northwest.
De la tache de novocaïne de Jesse Locke:
(Traduit par le savant fou Audrey Roy)
L'harmonie naturelle de la Rivière du Nord se retrouve interrompue par des scientifiques de sous-sol et leurs expérimentations chaotiques qui, bouillonnant dangereusement près du bord de l'Erlenmeyer, causent un débordement immédiat de bile acide. Provenant directement du manuel de Zuckerman et de Seeger, l'effet du haut-parleur fracassé de Trash Test Dummy décompose les sons, complété par un collage plunderphonique de la culture pop, dans ce cas-ci, de la pure gibelotte des années '60. Gimcrack considère ces brouilleurs de dôme comme étant des dérivés originaux, mais de ce côté du Nord-Ouest Pacifique, ils sont aussi uniques que d'autres.
Gimcrack/Subversive Intentions – Novocain Two Two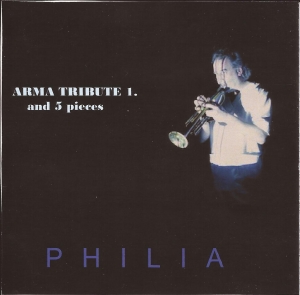 Philia
Arma Tribute 1. and 5 Pieces
(Self Released)
Winnipeg, MB

Not all of us can take the trip that is the
Assiniboine Music Armada
, canoeing from Brandon to Winnipeg with psych-folk band
Twin
to communities through wilderness, but some can certainly admire the spirit, for those of us who believe in spirits anyhow. Phantom embodied, Greg Hanec's tribute to the tour (performed and recorded at Twin's return show to Winnipeg) plays like an
NFB nature doc
— expansive, quiet stretches, sounds of water splashing, and birds chirping — accompanied by Philia's concentrated atonal arsenal. Elsewhere, he's making music out of whatever he can get his hands on: cello samples, the open back of a piano, and his own field recordings of a bus door opening and closing. What's at play is what usually isn't played, and the subdued floats on down, up, and by.
[audio:http://weirdcanada.com/binary/Weird_Canada-Philia-arma.mp3|titles=Philia – Arma Tribute 1] Philia – Arma Tribute 1
[audio:http://weirdcanada.com/wp-content/uploads/2012/01/02-Cellogroove.mp3|titles=Philia – Cellogroove] Philia – Cellogroove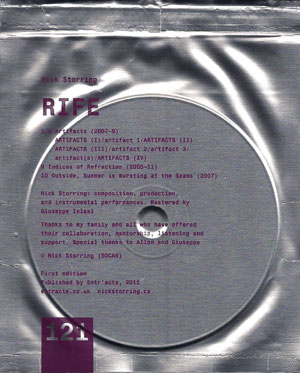 Nick Storring
Rife
Toronto, ON

As a compilation of Storring's electroacoustic variété,
Rife
hints at the hidden majesty lurking within his many mental membranes. The searing vision lies between the strung wisdom of his violin and the electroacoustic prowess harnessed by modern digitalia; dense
ethnographic
footprints imprinted within our curious minds. The heavy THX moves coalesce within beds of a private world processed for our unguided meditation. A valiant expression of creative experimentalism worth all the honours stowed upon him.
Freeze-dried
for a gripper's safe keeping.
[audio:http://weirdcanada.com/wp-content/uploads/2011/12/artifact-2.mp3|titles=Nick Storring – artifact 2] Nick Storring – artifact 2
[audio:http://weirdcanada.com/wp-content/uploads/2011/12/artifact-3.mp3|titles=Nick Storring – artifact 3] Nick Storring – artifact 3
---