Tag: moss lime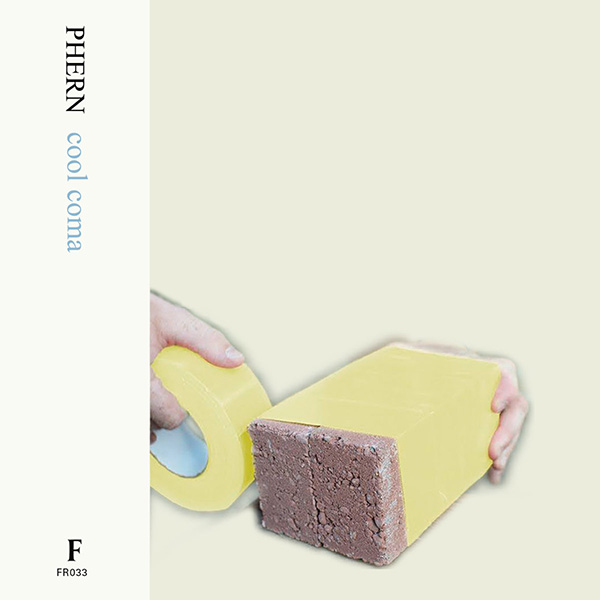 Phern
Cool Coma
Montréal, QC
From the chipped tooth of Katie Jensen:
Pass the sticky note salad. Chomp on words to compensate for gaps in conversation. A dinner party in honour of bobbing guitar necks, bratty bass lines and sloppy-kiss snares. Guests swapping Canadian Post Punk All Starz™ trading cards under the table. Vocals pushed backwards through a cigarette filter until they plant feet firmly on the nose. Serve a second helping of sour tones with angular guitars that lodge sideways. A miserable, memorable meal served on chipped ceramic and splintered toothpicks.
De la dent ébréchée de Katie Jensen:
(Traduit par Hugo Hyart-Dauvergne)
Passe la salade de note toute collante. Mache bruyamment les mots pour compenser les trous dans la conversation. Un dîner de gala en l'honneur des manches de guitares qui se balancent, des lignes de basses qui crânent et des caisses claires au baiser feignant. Les invités s'échangent des cartes à collectionner du jeu du All Starz™ du post-punk canadien sous la table. Les voix sont poussées derrières à travers un filtre de cigarette jusqu'à ce qu'elles plantent fermement leurs pieds dans le nez. Deuxième service en renfort de tons acides avec des guitares anguleuses qui se logent dans le trottoir. Un repas misérable, mémorable servi sur de la céramique ébréchée avec des cure-dents éclatés.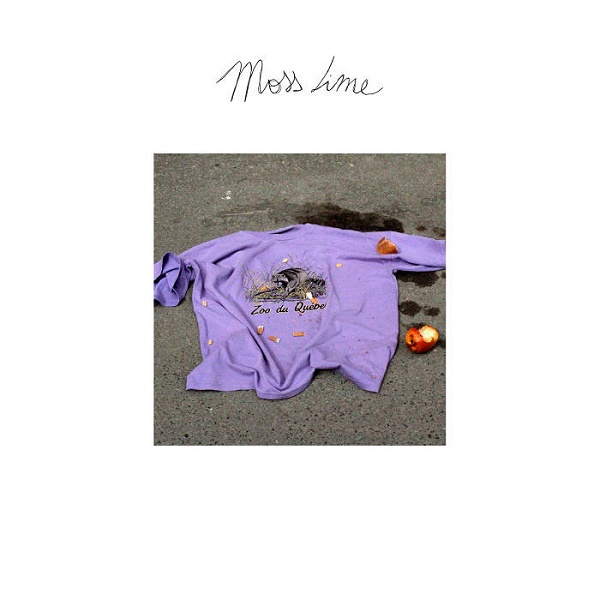 Moss Lime
Zoo du Québec
Montreal, QC
From the memoire footnotes of Rolf Klausener:
The canon of popular music is a thick and robust map of nascent islands and ancient territories. Among them is a land inhabited by the unconscious bass grooves of E.S.G. and the twisted innocence of Beat Happening and the Raincoats; Moss Lime run an eclectic thrift store on its outermost borders. Zoo du Quebec is a furtive tidal wave of immediacy and joy. We're living through a time when vocals are auto-tuned to Adele-ish heights, or stripped of any intimacy by the fog of reverb; singer Hélène Barbier offers glorious contrast. Her dry and dadaist storytelling, sounds like a new friend quietly letting you know, over the din of a packed and sweaty bar, that there's a quiet, late-night cafe around the corner, and it has the best veggie poutine in town; Moss Lime takes your hand, walks you out of the bar, and guides you far from the fray.
Des notes en bas de page de mémoire de Rolf Klausener:
(Traduit par la carte géographique fluorescente de Mackenzie Smedmor)
Le critère de la musique populaire est une carte géographique épaisse et robuste d'îles naissante et d'anciens territoires. Parmi eux se trouve une terre habitée par les grooves de basse inconsciente d'E.S.G. ainsi que l'innocence tordue de Beat Happening et de Raincoats; Moss Lime entretient un magasin d'occasion éclectique sur ses frontières les plus éloignées. Zoo du Québec est un tsunami furtif d'immédiateté et de joie. On vit dans une ère où les chants sont autoaccordés aux apogées à la Adele, ou bien dépourvus d'intimité par le brouillard de réverbération; la chanteuse Hélène Barbier offre un contraste glorieux. Sa narration sèche et dadaïste résonne comme un nouvel ami qui te prévient doucement, au-delà du vacarme du bar bondé et moite, qu'il y a un café nocturne tranquille au coin de la rue qui a la meilleure poutine végétarienne de la ville; Moss Lime te prend la main, t'accompagne hors du bar et te guide loin de la mêlée.
Moss Lime – I Always Get What I Want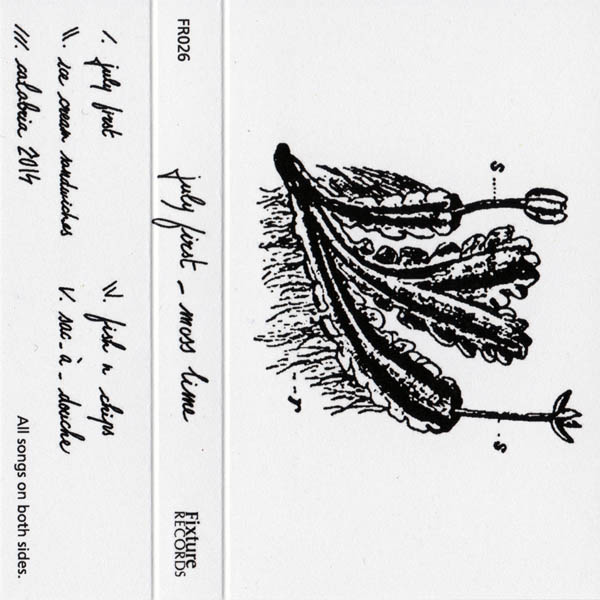 Moss Lime
July First
Montréal, QC
From the lounging sprawl of Evan Matthews:
Moss Lime are a characteristicly cosmopolitan Montreal crew, formed in spare time while hanging through the city's playground summer. Murmuring chants calling back and forth over angle-surfing guitars and an ESG-sensible rhythm section recall double dutch tall cans in a parc before a late night swim in someone else's pool. These songs have an influence-honest, naturalistic vibe. From the call & response lilt of "Ice Cream Sandwiches" to the tape-delay drone of "Fish N Chips" to the reimagining/improvement of Euro-pop song "Calabria", each one will charm you with a shared memory of wet heat, cutoffs and iced coffee.
Du divan où est avachi Evan Matthews:
(Traduit par l'orteil étiré vers la télécommande de Jessica Grenier)
Moss Lime est un groupe montréalais typiquement cosmopolite, formé lors des temps libres passés à profiter des terrains de jeu urbains durant l'été : des murmures se répondent par-dessus des guitares qui surfent en équilibre ainsi qu'une section rythmique rappelant ESG évoquent une soirée dans un parc à boire des grosses cannettes de Double Dutch avant d'aller squatter la piscine de quelqu'un d'autre. Ces chansons exhalent des ondes de naturalisme et d'honnêteté. De la cadence question-réponse de « Ice Cream Sandwiches » au drone en boucle de « Fish N Chips » en passant par la reprise/amélioration de la chanson pop européenne « Calabria », chaque pièce vous séduira en partageant un souvenir de chaleur humide, de shorts en jean et de cafés glacés.

Moss Lime – Ice Cream Sandwiches
---