Tag: Mosfett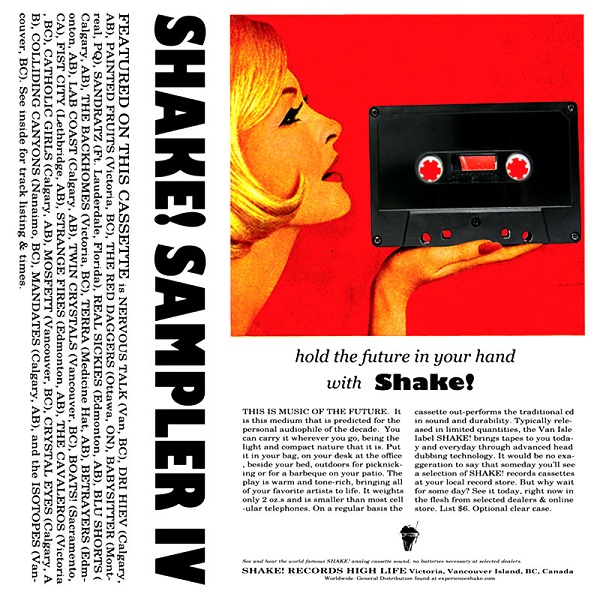 Various Artists
Shake! Sampler IV
Victoria, BC
From the curdling milk of Preacher Katie:
"Hold the future in your hand" while drinking a strawberry milkshake in your other hand that was made by a lady named Ronda from Dennys. No need to leave your lawn chair these days because Shake! Records delivers everything you need, contained into Shake!'s IV sampler cassette is 23 different bands of North America's best. So shake it, twist it, smoke it, squirt it and chug it to this sun-kissed mix tape. Make sure you remember to bring all the boys to the yard.
Du lait caillé de Preacher Katie:
(Traduit par la saveur magnifique de Maya Keshav)
« Tiens l'avenir dans ta main » pendant que de l'autre tu bois un milkshake à la fraise qui a été préparé par une dame qui s'appelle Ronda from Dennys. Pas besoin de quitter ta chaise longue ces temps-ci parce que Shake! Records fournit tout ce dont tu as besoin; la cassette IV de Shake! contient un échantillon de 23 des meilleurs groupes de l'Amérique du Nord. Alors, secoue-le, tourne-le, fume-le, injecte-le et descends-le avec cette compilation bronzée. Assure-toi de ne pas oublier d'amener tous les garçons dans la cour.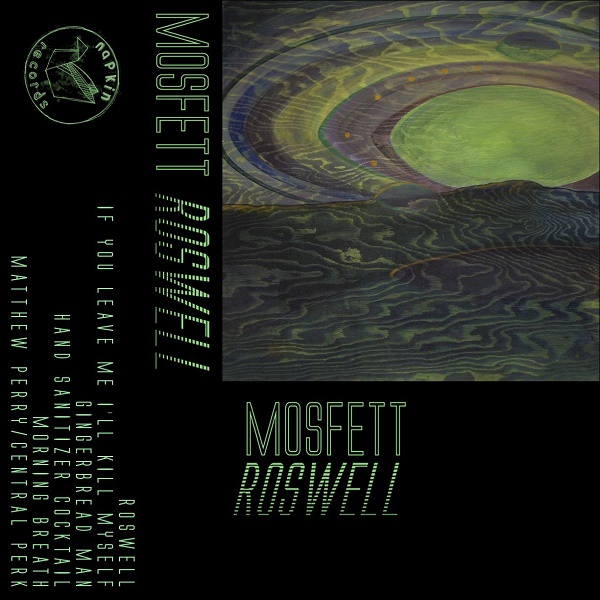 MOSFETT
Roswell
Vancouver, BC
From the metal–oxide–semiconductor field-effect transistor of Bryce Warnes:
MOSFETT (née Hemogoblin)'s name is a bastardization of the acronym for a type of transistor that, if you believe science, can make stuff louder. And rest assured, the Vancouver three-piece has arrayed their components to produce maximum hesh. It's like someone spiked Sleep's weed butter with bathsalts. The titular track is an extraterrestrial head trip laced with naked tenderness. The closer, "Matthew Perry/Central Perk," could play in the background of that lost episode of Friends where Chandler finally just, like, snaps. And between these two wailers? Plenty of greasy, freaked-out crunch. Get amped.
Du transistor à effet de champ métal-oxyde semi-conducteur de Bryce Warnes:
(Traduit par Jessica Grenier)
Le nom MOSFETT (anciennement Hemogoblin vient de l'acronyme dénaturé d'un type de transistor qui, si on en croit la science, permet d'amplifier les choses. Et c'est certain que le triptyque de Vancouver a arrangé ses composantes pour produire un maximum de hesh. C'est comme si quelqu'un avait ajouté des bathsalts dans le beurre au pot de Sleep. La piste éponyme de l'album est un trip extraterrestre hallucinant rempli de tendresse pure. La dernière, « Matthew Perry/Central Perk », pourrait servir de trame sonore pour l'épisode perdu de Friends où Chandler pète enfin sa coche. Et entre ces deux gueulards? C'est follement croquant et graisseux. Soyez prêts.
MOSFETT – Hand Sanitizer Cocktail
---