Tag: moonwood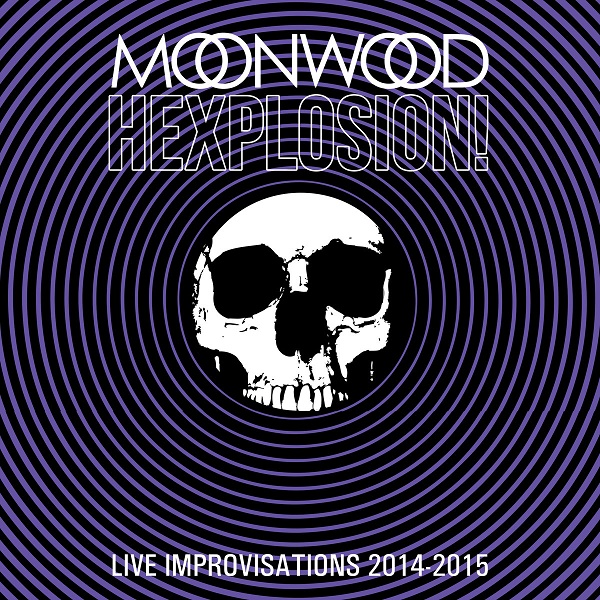 Moonwood
Hexplosion
Toronto, ON
From the impro-drone of Gabe Girard:
The world of improvised drone tends to employ the services of laptops, prerecorded samples and electronics in favour of live instrumentation. The world of impro-drone in the West is, for the most part, a digitized wonderland of electronics, synths and CPUS. Moonwood certainly use their share of binary vibrations, but to come across a live instrumental band that achieves that level of heart BPM reducing, out-of-body experience inducing, whimsically meandering drone that we all know and love is a rare thing indeed.
Par le drone-impro de Gabe Girard:
(Traduit par le méandrement fantasque d' Émily Traichel)
Le monde du drone improvisé a tendance à utiliser les services des ordinateurs portables, des échantillons pré-enregistrés et de l'électronique au profit de l'instrumentation en direct. Le monde du drone-impro dans l'ouest est, pour la plupart, un pays des merveilles de l'électronique, des synthés et des UCs. Moonwood se servent certainement de leur part de vibrations binaires, mais le fait de croiser un groupe live qui atteint un tel niveau de drone réducteur-de-BPM-du-coeur, inducteur-d'expérience-extra-corporelle et fantasquement méandre, que nous connaissons et aimons tous, est effectivement une chose rare.
Moonwood – Cosmic Ratio (2015.5.29)
Moonwood – Set the Overdrive For The Dark Side of the Nile (2015.01.09)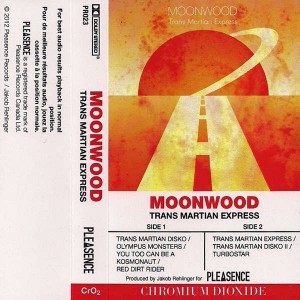 Moonwood
Trans Martian Express
Toronto, ON
From the shakra shake of Jared Majeski:
Who is this mysterious alien creature and where is he taking us? Moonwood is a perpetual concept from Toronto's Jakob Rehlinger, and these numerous EPs, splits and live takes straddle the rhythms and hypnoses of global obscura: shakra shakes, erotic drones and German-American soul for mushy-minded transcendentalists. The latest kaleidoscopic signpost on the new highway of life is Trans Martian Express. The silked-out analog of "You Too Can Be a Kosmonaut" is more Hallo Gallo than Mother Sky, and "Red Dirt Rider" crunches endlessly between tape echo slap-backs. Nothing less than cosmic grippage – there's plenty of road and the sun ain't quite up yet.
Du trémoussement des chakras de Jared Majeski:
(Traduit par le pouceux pas sûr de Nicolas Coutlée)
Quelle est cette mystérieuse créature extraterrestre et où nous amène-t-elle? Moonwood est un concept perpétuel du Torontois Jakob Rehlinger, et ces innombrables EP, splits et enregistrements live raccordent les rythmes et les hypnoses de l'obscurantisme mondial : trémoussement des chakras, bourdonnements érotiques et soul germano-américain pour transcendantalistes à l'esprit nébuleux. Le plus récent panneau kaléidoscopique sur la nouvelle autoroute de la vie est Trans Martian Express. L'analogisme dépouillé de « You Too Can Be a Kosmonaut » fait plus Hallo Gallo que Mother Sky et « Red Dirt Rider » crisse incessamment entre l'écho répété de la cassette. À agripper rien de moins d'une poigne cosmique – il y a en masse de route à faire et le soleil n'est pas tout à fait levé encore.
Moonwood – You Two Can Be a Kosmonaut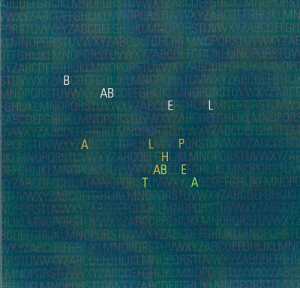 Babel
Alphabeta
Toronto, ON
From the glass museum of James Lindsay:
Jakob Rehlinger (a.k.a. Moonwood and proprietor of Arachnidiscs) has to be one of the most ambitious and prolific conceptual composers in Canada today. Alphabeta, his third release of 2012 and second under the Babel moniker, is an experiment in translating musical notation to words to actual music. By creating a sort of musical Boggle, he, for example, finds a path for the notes A, C, D, E, G to spell C-A-G-E-D, and following that staff, produces a spiritual tribute to the composer. The liner notes include brief biographies of all 17 (!) pieces, written in a charmingly self-conscious tone, where he worries abut whether he is just chasing a gimmick, praises the creative stimulus of working under such strict constraints, and namedrops some artists who lent inspiration to the album's post-rock sound (Cage, Swans, Rhys Chatham, Tortoise, etc). Alphabeta is impressive not only because Rehlinger succeeds in his experiment, but by clocking in at just under an hour with every piece feeling fully realized, the sheer epic scope is a dizzying triumph onto itself.
Du musée de verre de James Lindsay: (Traduit par Maya Keshav)
Jakob Rehlinger (alias Moonwood et le propriétaire d'Arachnidiscs) devrait être un des compositeurs conceptuels les plus ambitieux et prolifiques au Canada aujourd'hui. Alphabeta, son troisième morceau de 2012 et le deuxième sous le nom de Babel, est un essai dans la traduction de la notation musicale en les mots en la musique. En créant une sort de Boggle musical, il trouve, par example, un chemin pour les notes A, C, D, E, G pour épeler C-A-G-E-D, et avec cette mélodie, il produit un hommage spirituel au compositeur. Les textes sur la jaquette incluent les courtes biographies pour tous les 17 (!) morceaux, écrites avec un ton délicieusement gêné, où il s'inquiète pour la possibilité qu'il ne pourchasse qu'un gadget, où il fait l'éloge du stimulus créatif de travailler avec les contraintes si lourdes, et où il balance les noms connus de quelques artistes qui lui ont donné de l'inspiration pour les sons post-rock de l'album (Cage, Swans, Rhys Chatham, Tortoise, etc). Alphabeta est impressionnant non seulement parce que Rehlinger réussit avec son essai, mais grâce à la duration (moins d'une heure) et au fait que chaque morceau a l'air d'être complètement réalisé, l'énorme étendue est un triomphe vertigineux.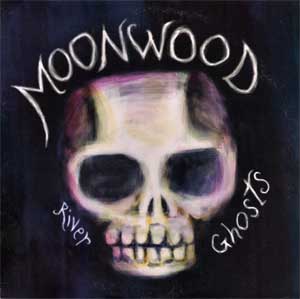 Moonwood
River Ghosts
Etobicoke, ON
From the choleric woes of Aaron Levin and Jesse Locke:
Borne on the fever dreams of aquatic explorers, Moonwood journey fringeward through the fourth underworld. Their mesmerizing pursuit of exotic minimalism is peppered with gourd flutes, lap harps and ekatantari to give their forlorn excursions final entry within nature's infinite drone. Music for water borne disease, indeed. Clear-blue vinyl for the pure of grip.
Du malheur cholérique d'Aaron Levin et de Jesse Locke: (Traduit par Maya Keshav)
Porté par les hallucinations à la fièvre des explorateurs aquatiques, Moonwood voyagent vers la marge à travers la quatrième pègre. Leur poursuite hypnotique du minimalisme exotique est tacheté par les flûtes de gourde, les harpes qui tiennent sur les genoux, et les ekatantari pour donner enfin à leur excursions mélancoliques l'entrée dans le drone infini de la nature. C'est de la musique pour les maladies d'origine hydriques, bien sûr. De vinyle bleu clair pour ceux qui sont les vrais acheteurs.
Moonwood – Drawing Water From a Poisoned Well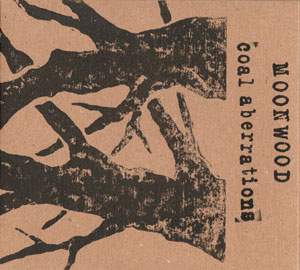 Moonwood
Coal Aberrations
Toronto, ON
From the mitigated burial grounds of Aaron Levin
Meditative ritual-waves emanate freely from this ethnic-laced excursion into the disparate recesses of freeform sonic consciousness. The aggregation of psychic minds centered around Jakob Rehlinger coagulate and form Moonwood, which includes Weird Canada favorite Andrew MacGregor amongst a plethora of freaks from the North American underground. Droning psychedelic guitars, piercing bursts of free-jazz angularity, and elastic harmonies resonate within a tomb of religious reverb, committing grande sins against our modern digitalis. The trip lasts 70 minutes and is available in a limited edition of 25 lino block printed and hand-stamped discs. GRIPPED.
De la cimitière atténué d'Aaron Levin
(Traduit par la pléthore de Maya Keshavs)
Les ondes rituelles et méditatives émanent librement de cette sortie trempé d'ethnicité aux replis disparates de la conscience sonique libre. Le masse des têtes psychiques autour de Jakob Rehlinger coagulent et forment Moonwood, qui inclut le préféré de Weird Canada Andrew MacGregor parmi une pléthore des excentriques de l'avant-garde nord-américaine. Les guitares psychédéliques et bourdonnantes, les éclats perçants d'angularité free-jazz, et les harmonies élastiques résonnent dans un tombeau de réverbération religieuse, en commettant de gros péchés contre notre digitaline moderne. Le trip dure 70 minutes et il est disponible dans une édition limitée de 25 disques imprimé avec lino et estampillées à la main. ACHETEZ.
---