Tag: montreal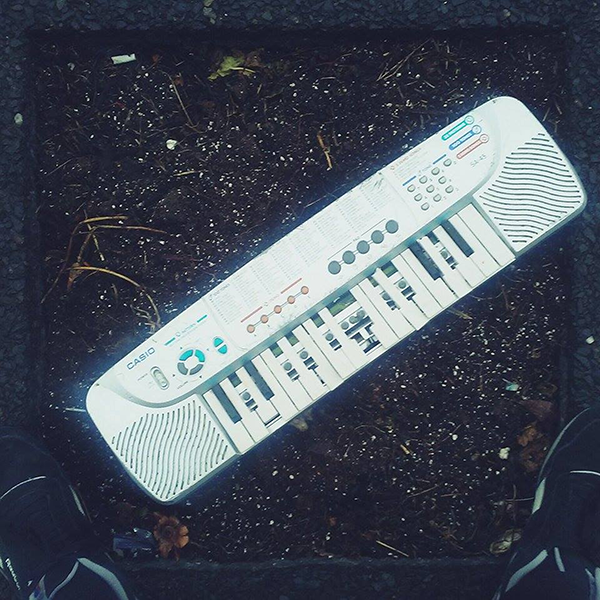 Bone Marrow
A Spiritual Blur / Someone New EP
Self-released
Montréal, QC
From the basement thoughts of Katie Jensen:
You sent yourself a text message last night: "Seeking aural healing. Receiving heaven. Swallowed whole." You must have interfaced with an angel last night. 1080p eyes probe the velvet dark. The room shifted overnight, or maybe just when you got home; piles of clothes heaped on keyboards, jeans weighing down oscillator keys, an organ flipped over and screaming. The phone screen glows, a cheap jellyfish sending tentacles into contact lists. Your long nails catch on the fibres of the blanket, pulling out synthetic fabric in squiggly fibres. It reminds you of shredding dandelions at the lake, feet swinging like Red Rover, slipping on wet wood, splinters gathering in palms, your peach body disappearing into indigo depths.
Des pensées souterraines de Katie Jensen:
(Traduit par l'écharde incrustée dans l'index de Jessica Grenier)
Tu t'es envoyé un message texte hier : « Recherche guérison auditive. Reçois le paradis : engloutissement total. » Tu as dû communiquer avec un ange hier soir. Des yeux en 1080p qui sondent le velours de l'obscurité. La pièce a changé cette nuit, ou peut-être juste quand tu as ouvert la porte de la maison. Des piles de vêtements jonchant des claviers, des jeans appuyant sur les touches d'un oscillateur, un orgue renversé qui se lamente. L'écran du cellulaire brille – une méduse en toc étirant ses tentacules à travers la liste de contacts. Tes longs ongles s'accrochent dans une couverture, tordant ses fibres synthétiques. Ça te rappelle les pissenlits s'effilochant au lac. Tes pieds se balançant comme pour Red Rover, qui glissent sur du bois mouillé; les échardes qui s'accumulent dans tes paumes. Ton corps de pêche qui disparaît dans les profondeurs indigo.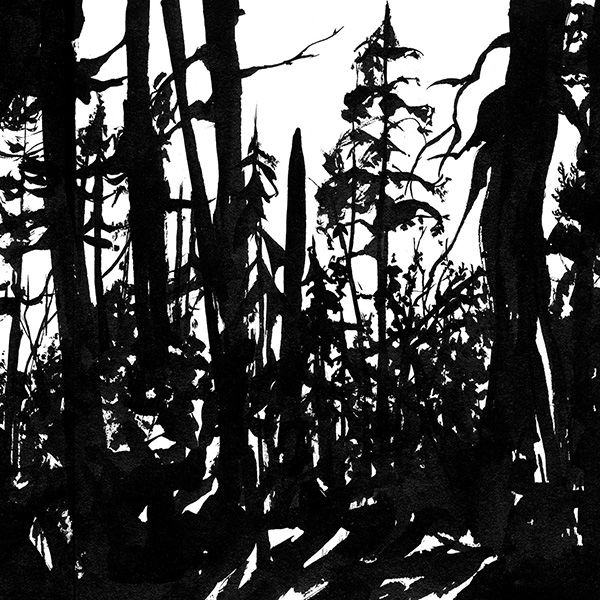 Totenbaum Träger
Ouverture du cadavre de Sade
Montréal, QC
De la kabbale morbide de Mathieu Bédard:
Replaçant Sade dans le contexte néolibéral, Ouverture du cadavre de Sade est un livre-disque qui se soustrait au ton gourmand des chercheurs de scandale et souligne plutôt le caractère sinistre du banquet. Dans son requiem pour trompette au « souffle malade » et pulsations de guitare lancinantes, Totenbaum Träger nous offre la trame sonore d'un saccage planétaire du point de vue de ses échos. Les collages des éditrices juxtaposant bribes d'actualités économiques et images dérangeantes forment quant à eux une kabbale morbide qui révèle, entre des pages que le lecteur doit déchirer, la réalité abjecte de nos pulsions collectives : des coulées d'or se substituent au sang, au sperme et aux larmes des illustrations de tortures. Le tout nous propose une alchimie renversée qui nous pousse jusque dans les derniers retranchements de la chair, là où de toute part ça crie « non ».
From the morbid Kabbalah of Mathieu Bédard:
(Translated by L. Langille)
Replacing Sade in a neoliberal context, Ouverture du cadavre de Sade is a book-album which focuses less on the gourmet elements of those looking for scandal and underlines instead the sinister character of the banquet. With its requiem for sick trumpet and darting guitar pulsations, Totenbaum Träger signs this sonic fabric with a planetary plunder from the point of view of its echos. The collages of the books juxtapose snippets of business news and deranged images to form a morbid Kabbalah which has, within the pages that the reader must tear apart, the abject reality of what we collectively draw on; streams of gold replace streams of blood, sperm and tears in these illustrations of torture. It is a reversed alchemy which pushes us until the edge of flesh, where we scream no from all sides.
Totenbaum Träger – Offertorium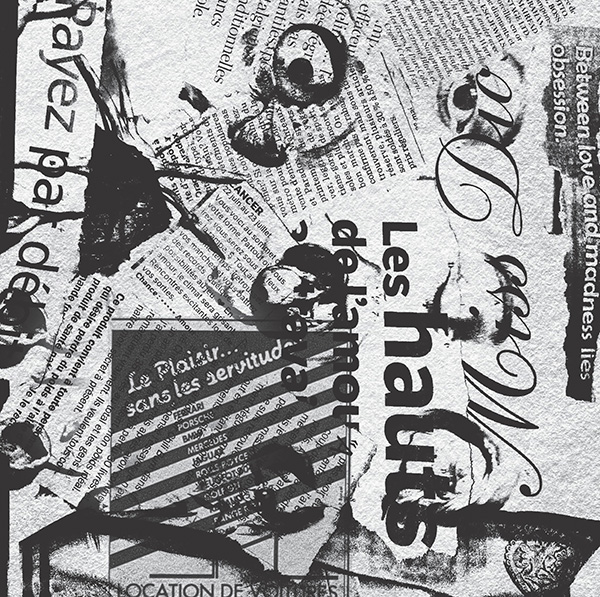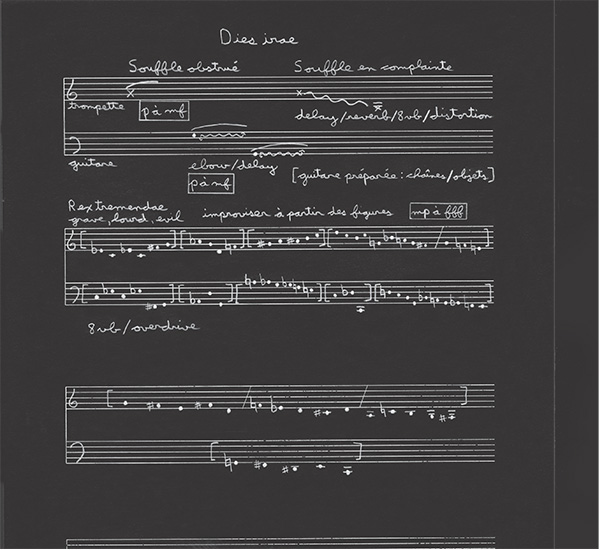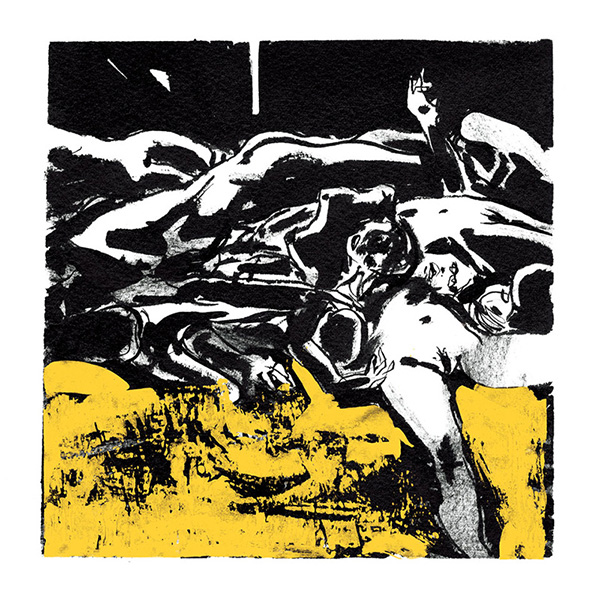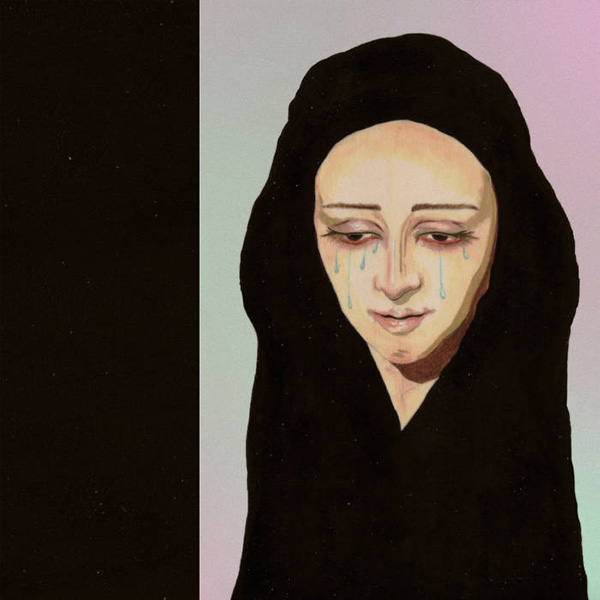 Piith
Sweet Sweet Morning
Montréal, QC
From the cat's cradle tangled fingers of Mackenzie Smedmor:
Crystal-coated electric rhythms are the magnetic lure. Through the cracking glass slowly seeps a beckoning amorphous warmth. Love's voice spins you into a beautifully contorted spiderweb of glistening digital morning dew. Synths and guitars shiver whispers like a holographic brook through the land of the silver birch. A dream is delicately yet so masterfully suspended by silk threads, you believe reality has finally uttered its tantalizing secrets in an escalating impenetrable epic.
Piith's *Sweet Sweet Morning* marvelously slithers electronic dark pop fantasies into consciousness.
Des doigts empêtrés de la toile d'araignées:
Le leurre magnétique est recouvert de cristaux. À travers le verre cassant s'infiltre lentement une chaleur amorphe séduisante. La voix de Love te pirouette dans une toile d'araignée merveilleusement contorsionnée de rosée matinale numérique luisante. Des synthétiseurs et des guitares frissonnent des chuchotement comme un ruisseau holographique à travers le pays du bouleau argenté. Un rêve est délicatement, mais si habilement, suspendu par des ficelles de soie, que tu crois que la réalité a finalement verbalisé ses secrets tentants dans une impénétrable épopée qui s'intensifie.
*Sweet Sweet Morning* de Piith glisse merveilleusement des fantaisies de musique pop sombre électronique jusque dans la conscience.
Piith – Song I Wrote About UUUU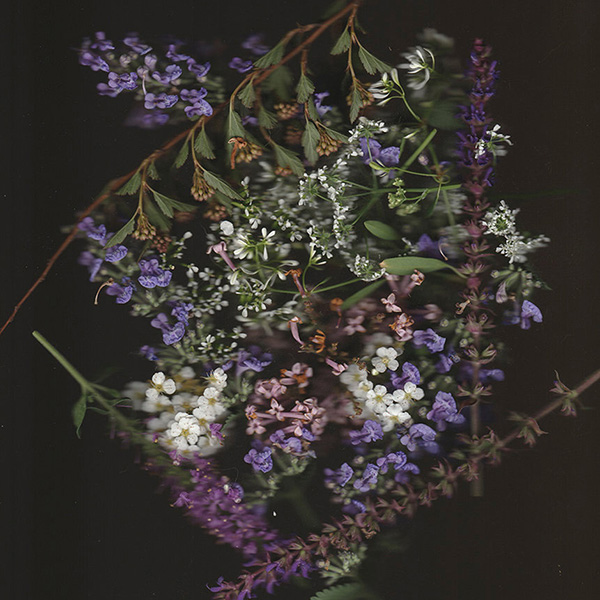 Pyramid//Indigo & SKIN
Split
Self-Released
Edmonton, AB // Montréal, QC
From the ever-expanding skies of Brian Fauteux:
Radio static is how we'll know we're eventually alone. That everything is over. Here is where Pyramid//Indigo's "Lydian Grains" begins. A slight crescendo, disconcerting, leads to "Hands, Bursting with Light." Sounds gleaned from frosted prairie fields build atmospheric swells that call the wild. A long final glance of pink and gold before the graying of sky.
Flip the split.
SKIN calls forth a soundscape marked by the hum of arthropod wings, wind seeping through a window's breach, and the lure of a music box melody. Perhaps there are signs of life after all.
Des cieux toujours grandissants de Brian Fauteux:
(Traduit par les lèvres gercées de Julie Mayer)
Des bruits parasites, voilà comment nous saurons que nous sommes éventuellement seuls. Que tout est fini. C'est ici que « Lydian Grains » de Pyramid/Indigo commence. Un léger crescendo, déconcertant, mène à « Hands, Bursting with Light ». Des sons glanés dans les champs de prairie givrés érigent des remous atmosphériques interpellant la campagne : un long coup d'œil ultime rose et or avant que le ciel vire au gris.
Changez de face.
SKIN évoque un paysage sonore marqué par le bourdonnement d'arthropodes ailés, le vent s'infiltrant par la craque d'une fenêtre et l'attrait suscité par la mélodie d'une boîte à musique. Peut-être y a-t-il des signes de vie après tout.
Pyramid//Indigo – Lydian Grains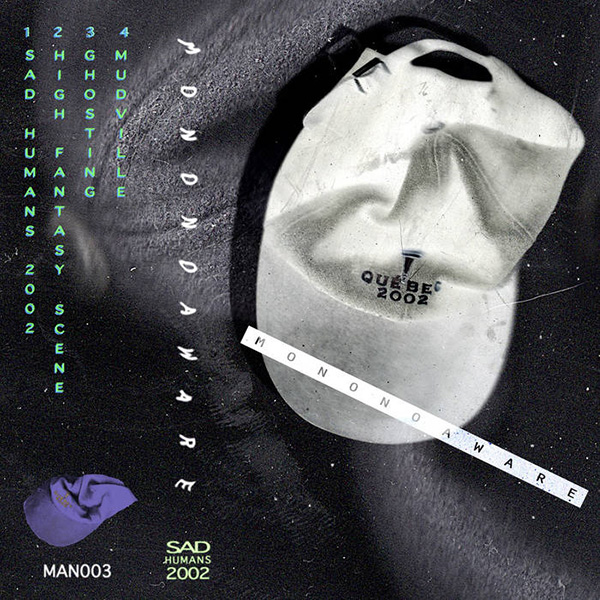 Mono No Aware
SAD HUMANS 2002
Mannequin Tan
Montréal, QC
D'un triste café de banlieue:
Il pleut, la serveuse du café prépare tristement des cupcakes qui seront jetés à la fin de la journée. L'odeur du ruban magnétique encombre mystérieusement les narines des trois clients. Ils s'arrêtent de lire le Journal de Montréal et constatent, en coeur, la fluidité des belles choses. Soudainement, la chanson s'arrête sans crier gare et on retourne à la normalité. 2002 n'aura duré que 6 minutes.
From a sad suburban café:
(Traduit par Alison McReynolds)
It's raining, the café waitress sadly prepares cupcakes that will be thrown out at the end of the day. The scent of a cassette tape mysteriously fill the nostrils of three patrons. They stop reading Le Journal de Montréal and make note of, in their heart of hearts, the fluidity of good things. Suddenly, the song stops without warning and things return to normality. 2002 didn't last more than 6 minutes.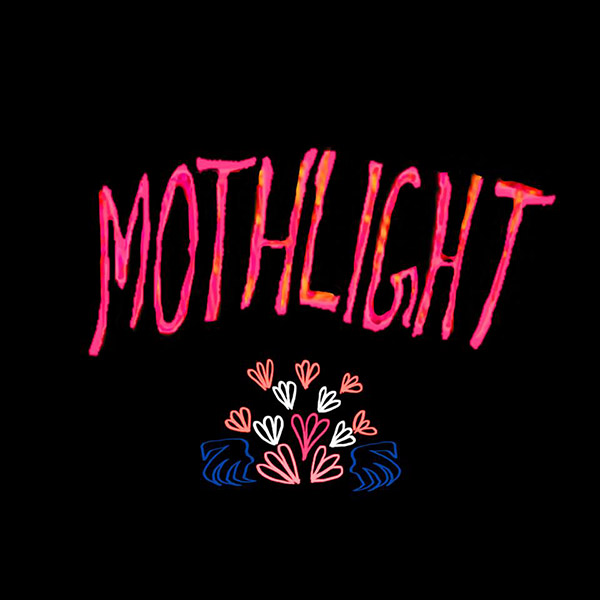 Mothlight
Daniela Madrid
(Photo credits: Chelsea Sweetin, Cecilia B., Kate Mada, Daniela Madrid & Jonathan Pawis)
Montréal, QC
From the safe happy heart of Gabe Girard:
Mothlight has been a fixture in the Montreal independent DIY music scene for years. Booking house shows, festivals, tours and sold out concerts in Montreal and across Canada, Mothlight has adhered to the vision of hosting community-oriented, not for profit events that showcase talent in relaxed, inclusive and safe(r)spaces. Not being able to distinguish whether you're in a friend's kitchen or at a concert has its advantages. We caught up with Daniela Madrid – the shadowy mastermind behind Mothlight – to shed some light on her creation.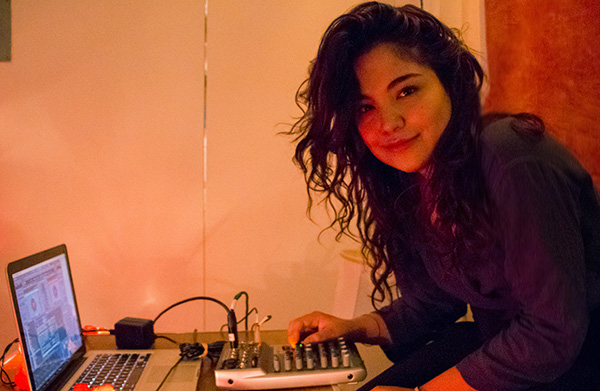 How did Mothlight begin?
Mothlight started out in November 2014, mostly as a house show concert series. We wanted to make an inclusive and serene space for people to play. The more shows we booked, the more a sense of community it started to build. From then on we branched out in Montreal with different DIYs and established organizations, communities, venues and galleries to book events. Some of these spaces were Le Plante, Poisson Noir, Articule and our own personal home that had a jam space in the basement (mothlight ☷ ʇɥƃılɥʇoɯ), . We also put on shows with local promoters Blue Skies Turn Black and Suoni per Popolo this past summer. We booked tours during that time and still continue to help bands touring Canada who reach out to us. Our latest event was in Vancouver at the Red Gate Arts Society on January 5th with Hallow Moon, Kim Gray & Zuzu's Petals.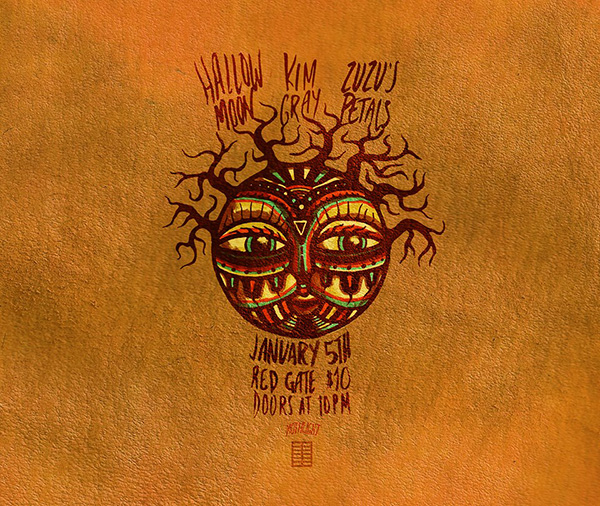 What are the motivating factors behind what you do?
I'm a freelance graphic designer, so it's a foundation for that. To be happy – Laughs – Our goal has always been to create an inclusive, comfortable performance space so that people who are anxious about displaying their music feel comfortable. We tend to focus on new and emerging musicians – Women/men, POC, non-binary people. We try to make a platform for artists, allowing them to be themselves. Having a safer space really helps the growth and evolution of music/arts. The music really blooms as a result.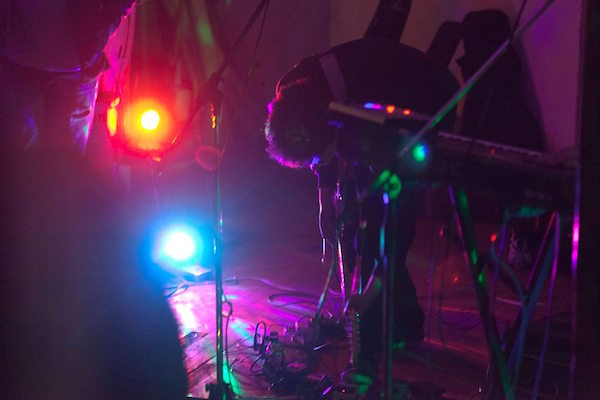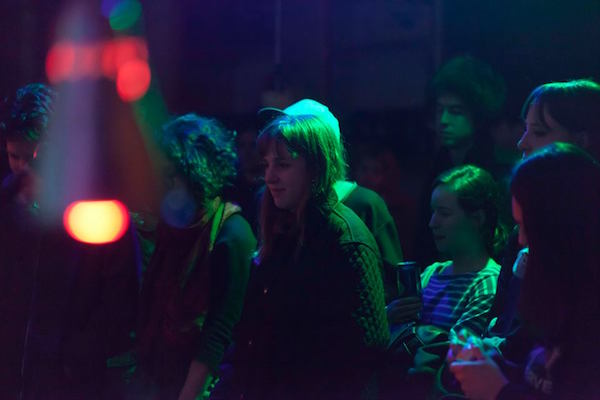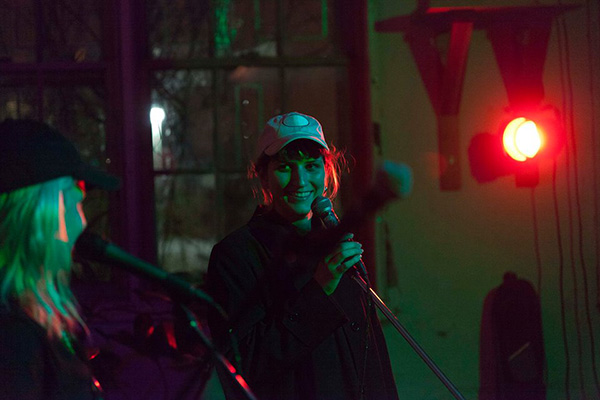 The intimate house show concept seems to really help with that.
We try to create a serene, vital setting. The atmosphere is important which is why each event brings in some aspects of herbal and aromatic medicine to set that ideal state. Very dim lighting with candles and herbal incense. It makes for a good feeling in the space for people to come into and makes them feel very much at ease. When people come in they talk about how relaxed they feel and sometimes even ask what is being used. We are bringing our lifestyle to the community in a sense — the shows draw from a lot of different crowds, every show is different. It's not just focused on one scene, there is a lot of variety.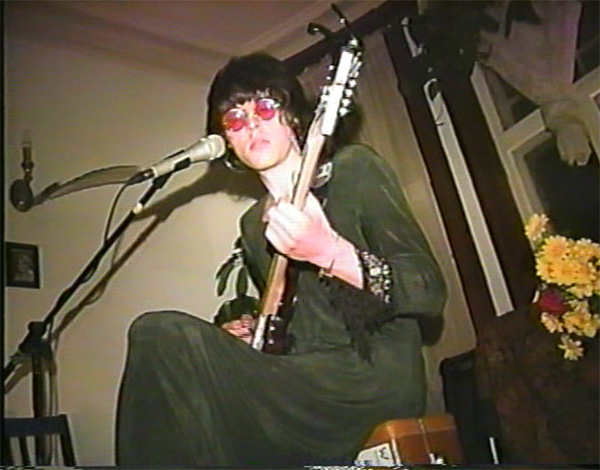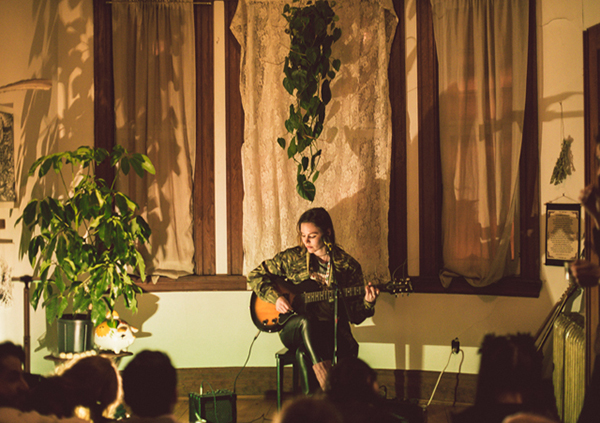 Is the house show aesthetic something you're still focused on?
Yes, a bit. Right now we're focused on booking events both in Montreal & Vancouver. Helping with bands who need assistance with their tours as well as new artists that would like to branch out. It's nice to help and makes it easier for emerging bands to make it across the country. The more we are expanding, the harder it can be to strictly adhere to the house show aesthetic – but whenever possible we bring the laid-back-calm atmosphere back, especially in Montreal which already has such a beautiful art community.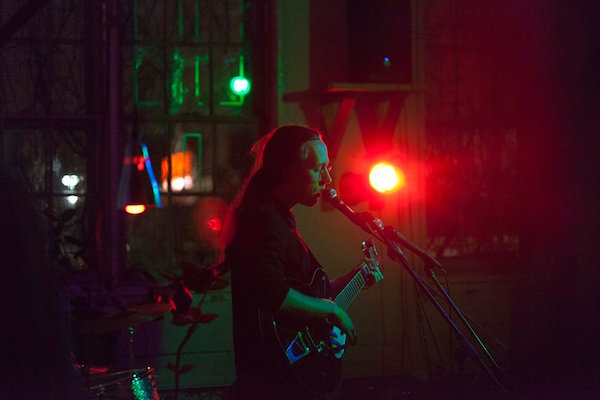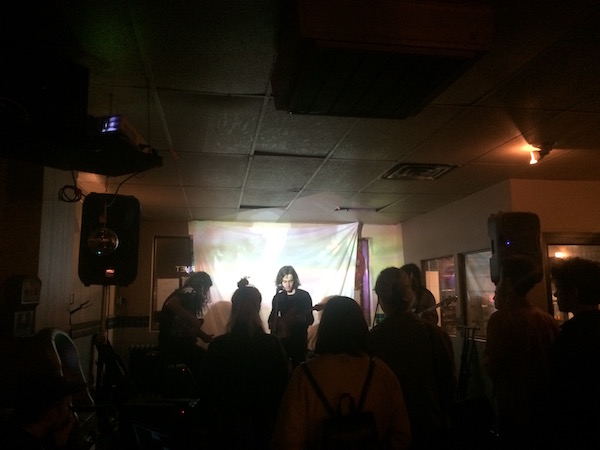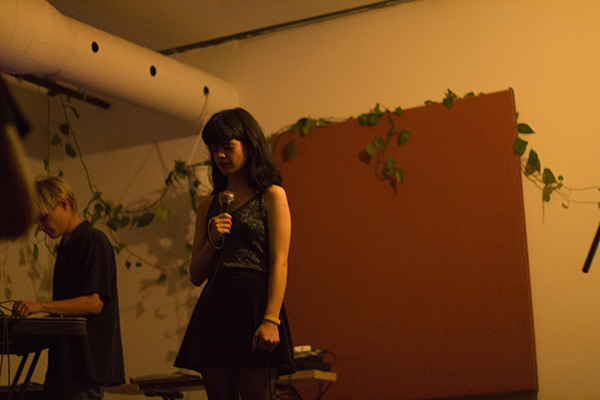 You decided to donate all of the proceedings from a recent show to the protestors at Standing Rock. Not a lot of bookers would do such a thing. Kudos!
Yes, fundraising is definitely something we are doing more and more of. The last show at Casa del Popolo with Kristian North was great! One of the members is about to head to the protest. I wanted to show support for their journey, the movement as a whole and in solidarity. In that same week we had also collaborated with the artist-run center known as Articule for a Feminist Cocktail Party fundraiser. One of the curators had mentioned that it was a first for the gallery to host music there and now we're looking forward to working with them again in the new year. At the end of the day, we pay all the artists as well as we can, trying to keep in mind the professional aspect and the artist's values. Having it DIY also makes it a lot easier.
If one were interested in booking a show with you, how could they get in touch?
If you're interested in booking a show or tour you can reach out to Daniela Madrid and her business partner SK (wishes to be anonymous but responds as well) at [email protected]
Website
FB Page
♡
Droit du coeur saint et sauf de Gabe:
(Traduit par les canicules de drone de Wyrd)
Mothlight représente un pilier de la scène musicale indépendante DIY de Montréal depuis des années. En organisant des « house shows », des festivals, des tournées et des concerts bondés à Montréal et à travers le Canada, Mothlight a maintenu sa vision d'origine, c'est-à-dire de promouvoir des talents émergents au sein d'évènements communautaires et sans but lucratif, toujours dans des environnements inclusifs, sécuritaires et détendus. Il y a des avantages à ne pas pouvoir distinguer si on est dans la cuisine d'un ami ou dans un véritable concert. On a rencontré Daniela Madrid – le génie énigmatique derrière l'opération Mothlight – afin d'y jeter un peu de lumière.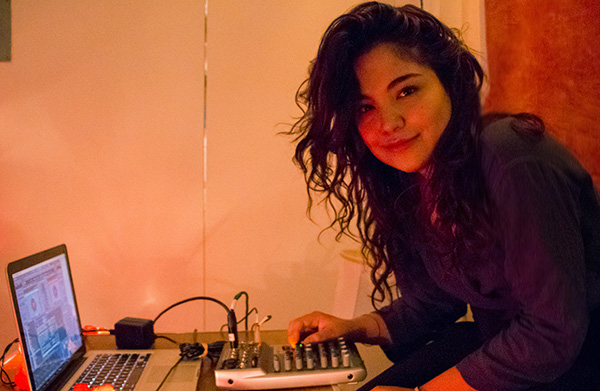 Comment Mothlight est né?
Mothlight a débuté en Novembre 2014, tout d'abord comme une série de « house shows. » On voulait créer un espace plus inclusif et serein pour que les gens puissent jouer. Plus on organisait des shows, plus on ressentait qu'on était en train de bâtir une communauté. De fil en aiguille, on a créé des liens avec d'autres organismes DIY, ainsi qu'avec des salles et des galeries plus établies. On a mis sur pied des shows à La Plante, au Poisson Noir, à Articule, et dans notre propre sous-sol, où il y avait un espace pour jammer (mothlight ☷ ʇɥƃılɥʇoɯ), On a aussi collaboré avec des promoteurs locaux comme Blue Skies Turn Black et Suoni per Popolo l'été passé. On a organisé des tournées, et on continue à aider des bands qui nous contactent lors de leur passage au Canada. Notre évènement le plus récent a eu lieu au Red Gate Arts Society, le 5 janvier avec Hallow Moon, Kim Gray & Zuzu's Petals.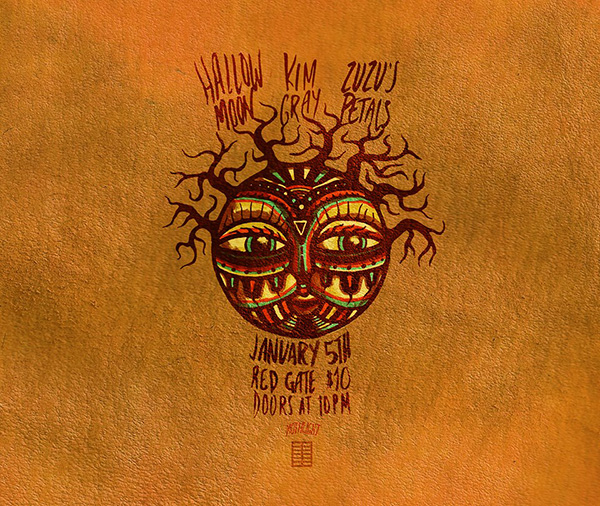 Quels sont les facteurs qui vous motivent à poursuivre Mothlight?
À la base, je suis conceptrice graphique indépendante. Afin d'être heureux – (rit) – notre but a toujours été de créer des espaces de concert inclusifs et confortables, pour que ceux qui sont anxieux d'afficher leur musique se sentent plus à l'aise. On se concentre sur les musiciens nouveaux et émergents – femmes/hommes, personnes racisées, personnes non-binaires. On essaie de créer une plateforme qui permet aux artistes d'être eux-mêmes. Plus les espaces sont sécuritaires, plus ils favorisent la croissance et l'évolution de la musique et des arts. Ça permet à la musique d'éclore.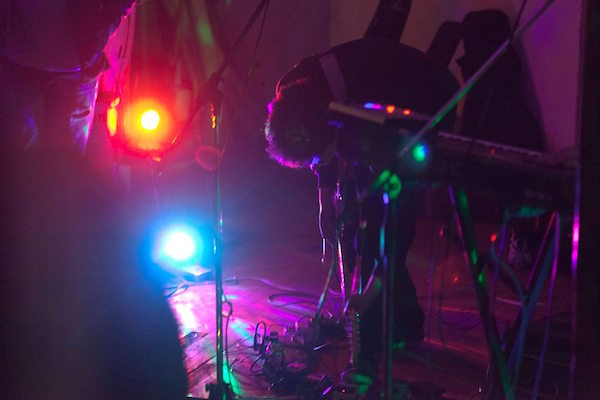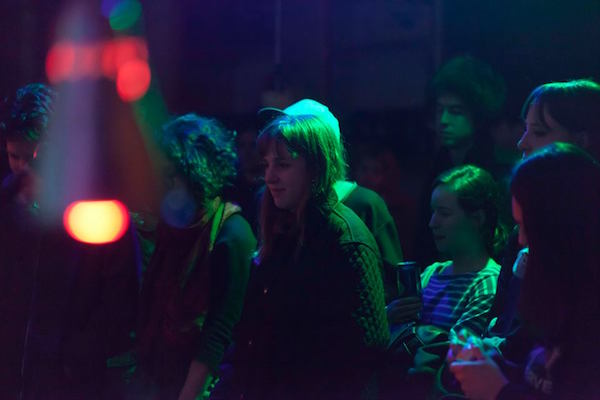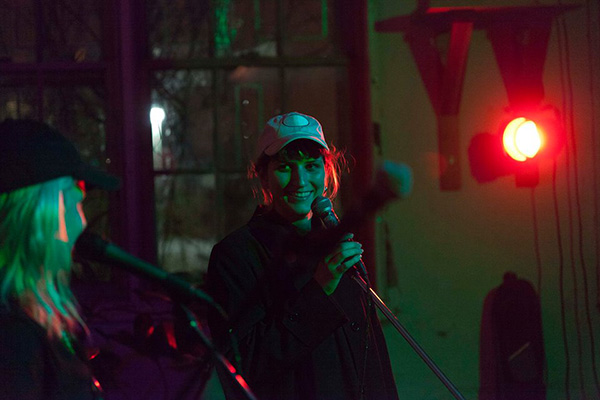 Le concept de « house show » intime semble aider avec ça…
On essaie de créer un contexte serein et vital. L'ambiance est primordiale – c'est pour cette raison qu'on agrémente chaque événement de plantes médicinales et aromatiques. On veut fournir les conditions idéales : lumière tamisée, chandelles, encens. Ça amène un bon feeling dans l'espace et ça met les gens à l'aise. Les gens nous parlent du fait qu'ils se sentent détendus et nous demandent le nom des herbes que nous utilisons. De cette façon, on intègre notre style de vie dans la communauté. Les shows rassemblent des gens de contextes divers, et chaque évènement est différent. On essaie de ne pas trop se restreindre à une seule scène, mais plutôt d'encourager la variété.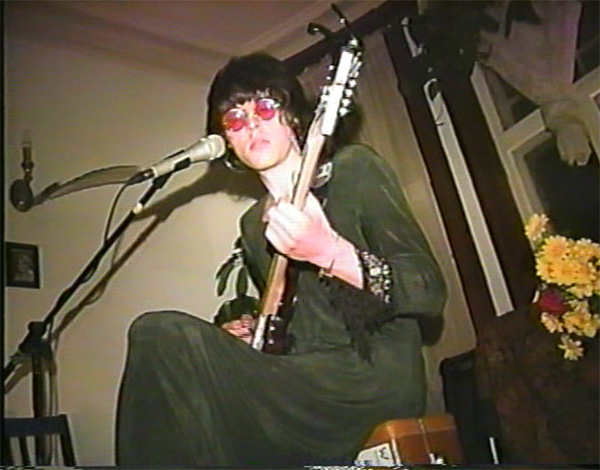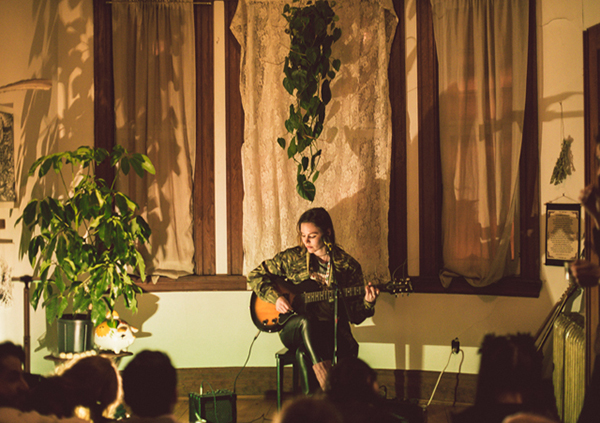 Êtes-vous toujours attachés à l'esthétique du « house show »?
Oui, un peu. Pour l'instant, on concentre nos efforts sur la planification d'évènements à Montréal et à Vancouver. Aider les bands qui ont besoin d'un coup de main avec leurs tournées, ainsi que les nouveaux artistes qui veulent se lancer. Ça fait du bien d'aider, et ça permet aux bands émergents de traverser le pays. Plus on grandit, plus c'est difficile d'adhérer strictement au model du « house show » – mais autant que possible, on ramène l'atmosphère décontractée et calme. C'est particulièrement simple à Montréal où il y a déjà une si belle communauté artistique.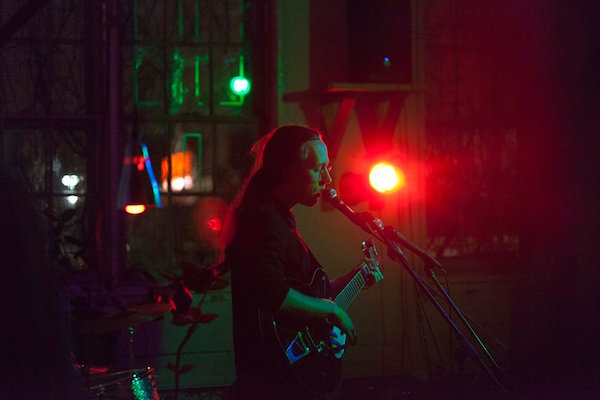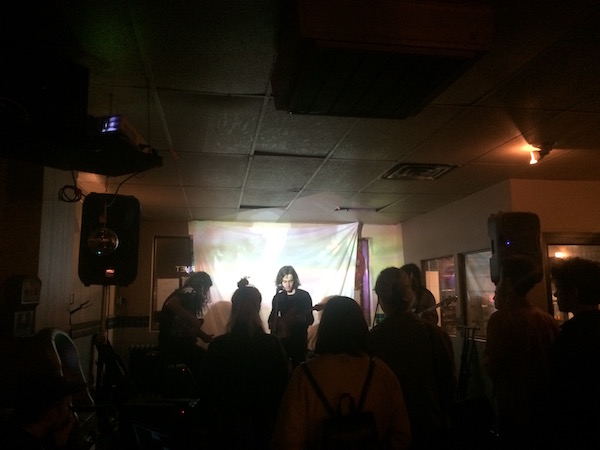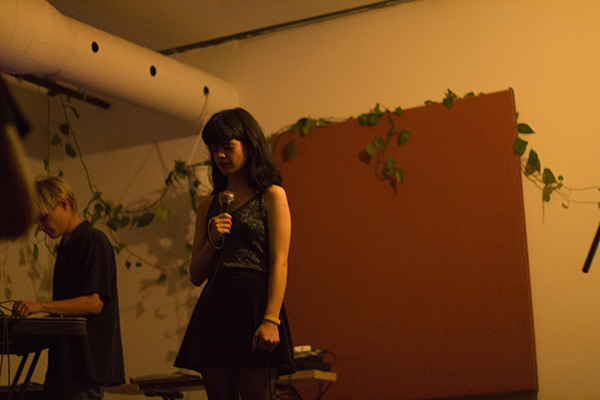 Vous avez décidé d'offrir tous les revenus d'un show récent aux manifestants de Standing Rock. Rares sont les bookers qui poseraient ce genre de geste. Kudos!
Oui, on entreprend de plus en plus de levées de fonds. Le dernier show à Casa del Popolo avec Kristian North était incroyable! Un des membres du band allait se joindre à la manif de Standing Rock. Je voulais soutenir son voyage et démontrer ma solidarité avec le mouvement en entier. Cette même semaine, on a collaboré avec le centre d'artistes autogéré connu comme Articule pour un cocktail party féministe – une autre levée de fonds. Une des curatrices a mentionné que c'était la première fois que la galerie accueillait un show. On a hâte de poursuivre notre collaboration avec eux dans la nouvelle année. Au bout du compte, on paie les artistes autant qu'on peut, en restant professionnels et en gardant les valeurs de l'artiste en tête. La vibe DIY facilite les choses.
Si quelqu'un veut booker un show avec vous, comment il/elle vous contacterait?
Si vous voulez organiser un show ou une tournée, vous n'avez qu'à contacter Daniela Madrid et son partenaire d'affaires SK (désire rester anonyme mais répondra aux courriels) à [email protected]
Site web
Page FB
♡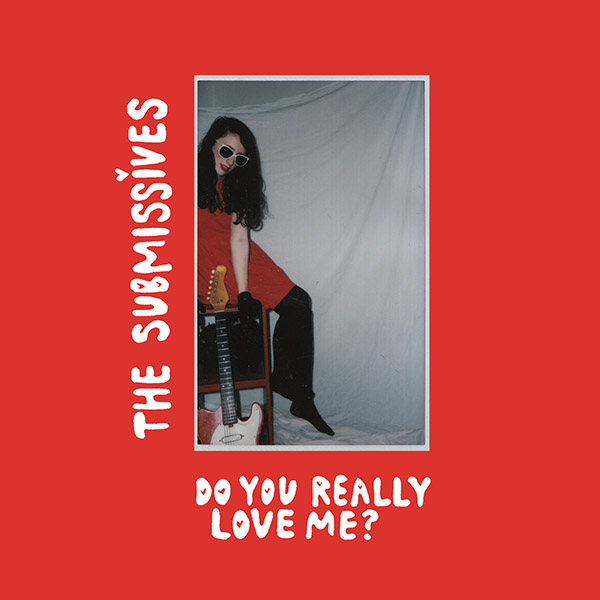 The Submissives
Do You Really Love Me?
Montréal, QC
From the Lovesick Daydream of Eleanor Wearing:
The Submissives' Do You Really Love Me? is the soundtrack to a never ending road trip towards an unreachable destination. Sun beats through dirty car windows. Soft air conditioning hums and sighs as the passengers do the same. Heat melts from a lazy blue expanse, conjuring highway mirages and lucid daydreams. Sweet stale air seeps and suffocates, whispering secrets to the reluctant beat of hands against knees. Finally, the sun slinks out of sight. Stars clatter and clink into place. But there is no rest for the lovesick so the car surges ahead, towards an elusive paradise.
Du rêverie languit d'amour du Eleanor Wearing:
(Traduit par Alison McReynolds)
Do You Really Love Me? de The Submissives est la bande-originale d'un road trip ayant une destination hors de portée. Le soleil tapait à travers des vitres sales. Un climatiseur doux chantonnait et soupirait pendant que les passagers faisaient de même. La chaleur fondait d'une étendue bleue et paresseuse évoquant des mirages de la grande route et de rêveries lucides. L'air doux et rassis coule et nous étouffe chouchotant des secrets aux battements réticents de mains qui frappent sur les genoux. Finalement, le soleil s'éclipse de vue. Les étoiles cliquettent et tintent en place. Mais il n'y a pas de repos pour celui qui souffre d'amour alors la voiture continue de l'avant vers un paradis élusif.
The Submissives – Do You Really Love Me?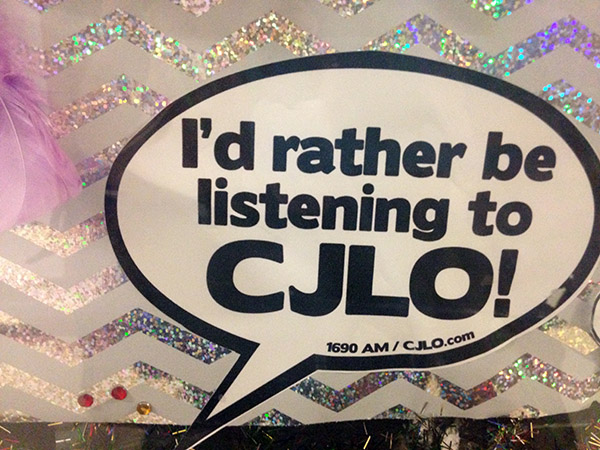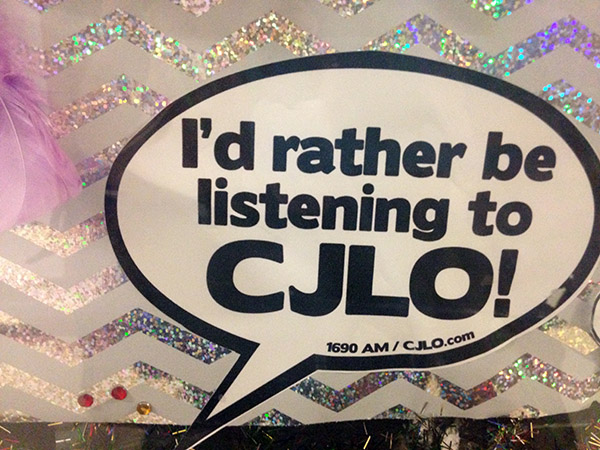 Frequencies :: CJLO 1690 AM (Montréal)
Montréal, QC
(Photos by: Carol Fraser)
From the drowned-out dronefields of Carol Fraser:
Concordia University's campus/community radio station may be a bit hard to find, but it sure isn't hard to love. When not having their Fundrive or just plain having fun, the team at CJLO is hard at work making soundscapes for their city and the world to enjoy.
Recently I met up with three magic-makers: Omar Husain, CJLO's hard-listening Music Director; Denis Arsenault, "Dirty Work" host and CJLO Board member; and Lucy Marshall-Kiparissis, CJLO's Volunteer Coordinator. We met in The Oven, CJLO's recording studio, for a conversation about the station, the state of radio, and never giving up.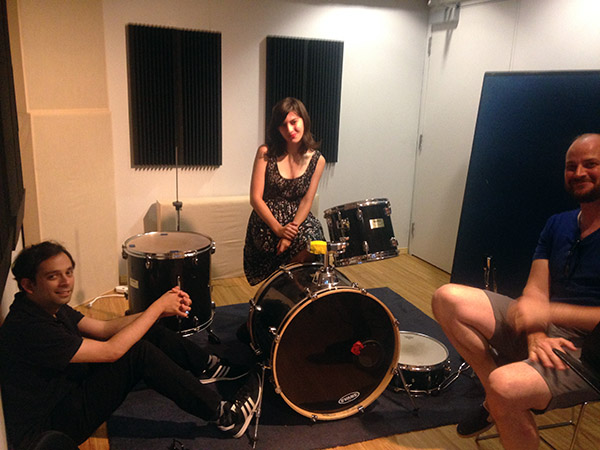 What are the origins of CJLO?
Omar Husain: There were two campus radio stations initially, one on the Sir George Williams campus and one on the Loyola campus, who merged together to become CJLO, which was given this space by the University. From that point onwards, the space has taken different shapes.
When I first started volunteering, this room, The Oven, was offices, and the production studios were all in the small control room (now the on-air studio). The DJ booth, production studios and offices have moved around quite a bit. A few years into CJLO, they decided to turn this room into a full fledged production studio. The odd thing was they were using this as the control room and using a much smaller room as a production studio. I remember being here with the production director at the time, before I was volunteering here, and I just mentioned, "Why don't we switch this?" It was like a lightbulb went off in his head. We took carpets from the station manager's grandma's basement and made it soundproof, even more soundproof than it is today, in my opinion. That's when we started getting bands in to do sessions in it.
There was a lot of charm to how things were run back then. There was a true DIY aesthetic. We had a small group of people, and we just wanted to make a radio station, so we did.
It usually takes much longer for a station to develop a culture, a reputation, quality programming, and to get on air. In a weird sort of way, we've done a lot of that backwards. We had quality programming before we got an AM frequency in 2008, back when we were online-only. We used to say, "If we can only be online, then let's really focus on programming, and push the online aspect." That really helped, because when we flipped the switch to go on AM, we already had professional DJs.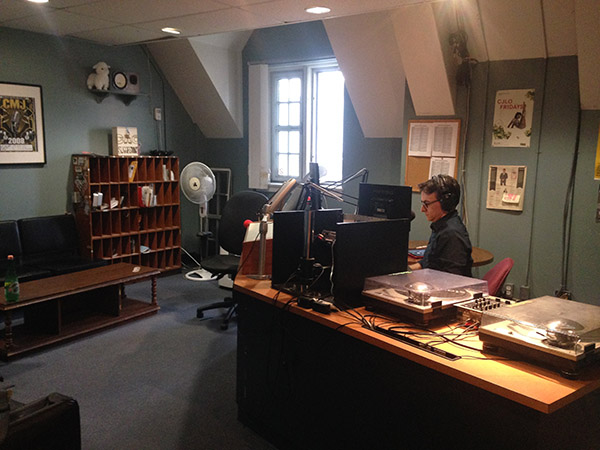 How and why do people get interested and involved in CJLO?
Lucy Marshall-Kiparissis: A lot of the student volunteers and DJs who come in, they've found us by chance. They haven't really found anywhere else on campus or in the city where they can develop their interests or their skills. Campus radio really just attracts a certain kind of person, and that makes for a very vibrant community.
OH: Weirdos is what she means!
LMK: It's people who are bored and restless and want to find an outlet. We're young – we don't have a super rigid structure. If you want to go on air, we have the space for people to really develop what they want to be doing.
How do you think that CJLO supports Weird Canada artists? Where do you see cross-over between CJLO and Weird Canada?
OH: A lot of the bands that are featured on Weird Canada are left of the dial compared to what's on regular radio. That's exactly our mandate: to play new, non-mainstream artists that are doing something interesting, original, weird. A lot of the bands that we catch wind of through Weird Canada are eventually played on CJLO's shows, and many of our volunteers' bands get featured on Weird Canada. There is very much a symbiotic relationship.
LMK: I name-drop Weird Canada a lot on my show, because any given week, if I'm coming up empty, Weird Canada is my first resource, and I know it's the same with a lot of other DJs. A few of us really jumped on getting involved in Drone Day here at CJLO for the past couple of years. Julie Matson of Echo Beach, a long time DJ at the station and a CJLO Board Member, was organizing it here in Montreal. I know she promoted it a lot through CJLO, and I did as well, and there was the Drones against Drones mixtape, too.
What's the relationship between radio and other media? Why do people listen to CJLO specifically?
OH: Radio is where you go to hear a variety of things with human connection instead of an algorithm. I never really liked radio stations where there are no talk spots. What's the point? I might as well just put my WinAmp on shuffle.
LMK: Even if you're listening to us online, you're making the conscious choice to listen to something you don't control. Kids who grew up on being able to curate their music are now choosing to let go. There can be a lot of value in letting someone else choose the music for you. It's something that a lot of young people, who never knew anything but making their own Youtube playlists, are really revelling in.
What's the relationship of CJLO to Montreal, the rest of Canada, and to other campus-community radio stations?
OH: To Montreal, it provides a way for Concordia students and community members to get involved in making radio in the area they want to learn: if they want to go on air, they can come and learn how to do that; if they want to record bands, they can learn that, too. Locally and nationally, it provides a medium for musicians and artists to get their art out to people, another way to help promote it. Sharing your music on Bandcamp or Facebook can only go so far.
LMK: There's a media monopoly in Canada right now. There's just not that many campus-community radio stations in Canada, and we all play an extremely valuable part in the alternative landscape. Not even just for alternative culture – anything slightly beyond the mainstream: we're keeping that alive. The internet has been a boon to music outside of these pre-selected playlists, but you can't rely entirely on the blogosphere.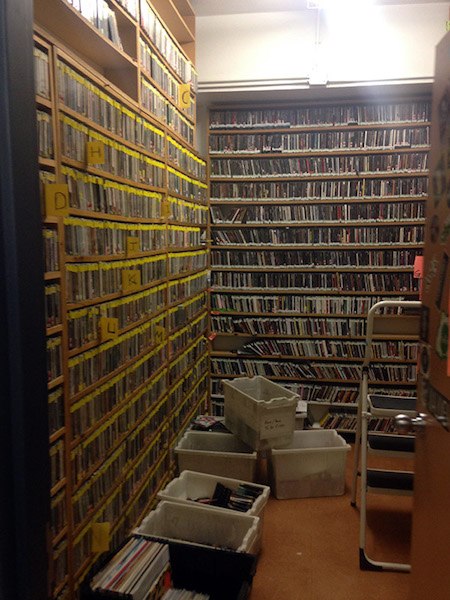 How have you seen the station change and grow in your time here?
OH: It's grown like crazy. When I started it was just a handful of us cobbling things together. Now we have a volunteer base of about 200 people. I don't even know many of their first names, whereas before everyone knew each other and we all hung out together.
It's become what we were hoping it might become. At the same time, there's always room for improvement. It's not quite at the stage where it's exactly how we want it, which is good, because that means there's room to grow.
What advice do you have for radio programmers and musicians?
Denis Arsenault: Don't expect money!
OH: Do it because you love it. 'Cause if you don't love it, you're going to hate yourself. I'm giving you the straight dope here! Honestly, if you're not passionate about it, if you don't love it, if you're doing it 'cause you think it's cool, if you're doing it to get on Pitchfork or Weird Canada or something, you're going to end up hating it and you're not going to keep doing it.
When you put out a record, you don't know how people are going to react. People might love it. People might not even pay attention to it. That can be discouraging. But at the end of the day, it's your art. Are you putting that art out there for yourself? Are you happy with the finished product? Is it something you can look back on and be proud of? If so, you're doing it for the right reasons.
Par les champs de drones étouffés de Carol Fraser:
(Traduit par L. Frank)
Ça se peut que la station de radio communautaire universitaire de Concordia soit difficile à trouver, mais elle n'est pas difficile à aimer. Quand ils ne sont pas en train de faire leur « Fundrive » ou tout simplement de s'amuser, les membres de l'équipe de CJLO sont en plein action créant des paysages sonores pour que leur ville et le monde entier puissent en profiter.
Récemment, j'ai pu rejoindre trois supervedettes de la station: le directeur de musique Omar Husain, l'animateur de « Dirty Work » et membre du conseil d'administration Denis Arsenault et la coordonatrice des bénévoles Lucy Marshall-Kiparissis. On s'est rencontrés dans la salle d'enregistrement de musique de CJLO qui s'appelle [«le four»] On a parlé de la station, de l'état de la radio et de motivation.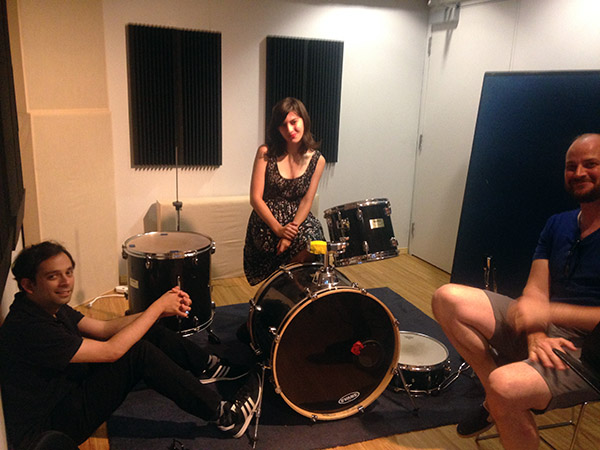 D'abord, parle-moi des origines de CJLO…
Omar Husain: Au début, il y avait deux stations de radio communautaire. La station au campus Sir George Williams et l'autre au campus Loyola se sont fusionnés pour devenir CJLO. L'endroit pour mettre le radio était un don de l'université. D'ici-là, l'espace à pris plusieurs formes.
Quand j'ai commencé, cette salle le four était plusieurs bureaux et les studios de production étaient tous dans la petite salle de contrôle (qui est maintenant le studio en direct). L'espace DJ, les studios de production et les bureaux on tous été déplacés. Quelques années après le début de CJLO une décision a été prise pour que cette salle devienne un véritable studio de production. En fait, c'était bizarre que cette salle ait été utilisée comme salle de contrôle et l'autre comme salle de production même si cette dernière était plus petite. Avant que je me sois impliqué, je me souviens que j'étais ici avec le directeur de production à l'époque et je me suis demandé: « pourquoi pas échanger les salles? ». Pour lui, c'était comme une révélation. On a pris des tapis qui était dans le sous-sol de la grand-mère du gérant et on a insonorisé la salle. À mon avis, la salle était encore plus insonorisé à l'époque qu'aujourd'hui. C'est à ce moment-là qu'on a commencé à avoir des sessions d'enregistrement avec des groupes de musique.
À l'époque, on a géré la station avec beaucoup de charme. Disons que l'esthétique était DIY. Nous étions un petit groupe qui voulait faire une station de radio, alors on l'a fait.
Généralement, ça prend beaucoup plus de temps qu'il nous a fallu pour développer une culture, une réputation, la programmation de qualité et à se mettre en ondes. On l'a fait de façon inverse, ce qui est un peu bizarre. On avait la programmation de qualité avant qu'on soit diffusé sur la fréquence AM en 2008. Auparavant on était diffusé en ligne seulement. On disait, «Si notre seule moyen d'exister est en ligne, concentrons-nous là-dessus et allons au-delà de nous-mêmes. Un fois qu'on a démarré la fréquence AM, on avait déjà des DJ professionnels.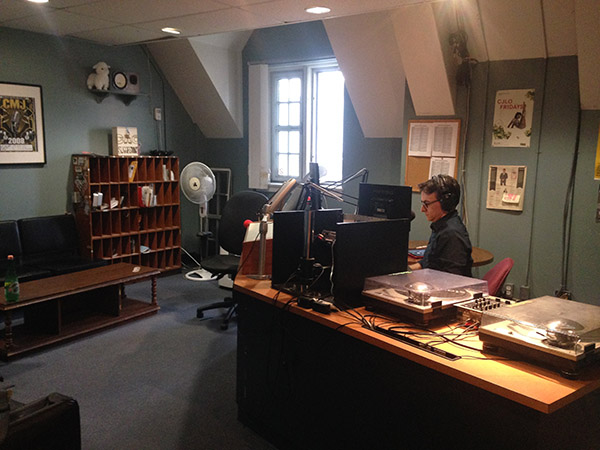 CF: Pourquoi est-ce que les gens peuvent s'impliquer à CJLO? Comment le faire?
Lucy Marshall-Kiparissis: Quant aux bénévoles de la station, un grand nombre d'entre eux sont des étudiants et des DJs qui se sont impliqués incidemment. Ils n'ont pas trouvé d'endroits ni au campus ni en ville où ils pouvaient développer leurs intérêts et leurs talents. Bref, les radios du campus attirent un certain genre de citoyen.ne et ces personnes deviennent le nœud de cette communauté qui est tout à fait vibrante.
OH: La radio communautaire attire des personnes bizarres. C'est ça qu'elle veut vraiment dire!
LMK: Ce sont des gens ennuyés et agités qui veulent trouver une façon de se débarrasser de cette animosité. La plupart d'entre nous sont jeunes et nous n'avons pas vraiment de structure rigide. En effet, si vous voulez vous impliquer, c'est possible: il y a de l'espace pour que les gens puissent vraiment développer ce qu'ils veulent faire.
CF: Est-ce que CJLO soutient des artistes-interprèts de Weird Canada? Est-ce qu'il y a un croisement entre les deux organisations?
OH: Plusieurs groupes qui sont presentés par Weird Canada sont à gauche du cadran quand on les compare avec la radio conventionnelle. C'est notre mandat de jouer des artistes de la relève qui font des choses intéressantes, bizarres et originales. Plusieurs groupes de musique qui ont été médiatisé initialement grâce à Weird Canada sont diffusées à travers nos ondes. De façon inverse, il y a plusieurs groupes de musique de nos bénévoles qui sont publiées par Weird Canada. Il y a vraiment une relation symbiotique.
LMK: Je mentionne Weird Canada souvent pendant mes émissions. Si je n'ai pas de contenu, je consulte Weird Canada et je suis pas mal certaine que bien d'autres DJs de CJLO le font aussi. Depuis quelques années, plusieurs gens se sont impliqués dans [DRONE DAY]. Julie Matson de [Echo Beach] est membre du conseil exécutif et, comme une autre DJ à CJLO, elle était organisatrice de Drone Day ici à Montréal. Elle promouvait l'événement à travers nos ondes, comme je le faisait, et il y avait aussi un mixtape Drones contre Drones.
CF: Pourriez-vous m'expliquer la relation entre la radio et d'autres médias? Plus précisément, pourquoi choisit-on d'écouter CJLO?
OH: La radio est un nœud où on peut y entendre diverses choses qui viennent d'un être humain et non d'un algorithme. Je n'aime pas les stations de radio qui n'ont pas d'espace pour que le monde puisse s'exprimer. À quoi sert-il d'entendre que de la musique? Je préférerais jouer des chansons au hasard de mon WinAmp!
LMK: Même si vous écoutez CJLO en ligne, vous effectuez le choix conscient d'écouter quelque chose qui est hors de votre contrôle. Même ceux et celles qui ont grandi en fabriquant leur propre listes de chansons veulent maintenant l'abandonner. Ça se peut qu'il y a une véritable valeur quand on laisse quelqu'un d'autre choisir. Effectivement, c'est quelque chose que plusieurs jeunes apprécient beaucoup puisque avant ils ne savaient que créer leurs propres playlists Youtube.
CF: Serait-il possible de décrire la relation entre CJLO et Montréal, entre CJLO et le reste du Canada et entre CJLO et d'autres stations de radio communautaires?
OH: Ici, à Montréal, la station offre un moyen de s'impliquer non seulement pour les étudiants de Concordia, mais aussi pour des membres de la communauté. Ceux et celles qui veulent s'impliquer peuvent profiter d'une opportunité dans le domaine qu'ils veulent, soit en direct, soit pour enregistrer de la musique. Il y a plusieurs avenues pour apprendre. Au niveau local et au niveau national la station fourni un moyen aux artistes, aux musiciennes et aux interprètes de promouvoir leurs oeuvres. Au bout du compte, Bandcamp et Facebook ont des limites.
LMK: Présentement, il y a un monopole au Canada. Il n'y a pas grand nombre de stations de radio communautaire et on joue tous un rôle précieux dans le paysage médiatique alternatif. En effet, on offre une bouée non seulement à la culture alternative, mais aussi aux gens qui sont à peine hors de la culture dominante. On ne peut pas se fier absolument à la blogosphère, même si L'Internet a agi comme un coup de pouce pour un genre de musique qui existe hors de ces listes présélectionnées.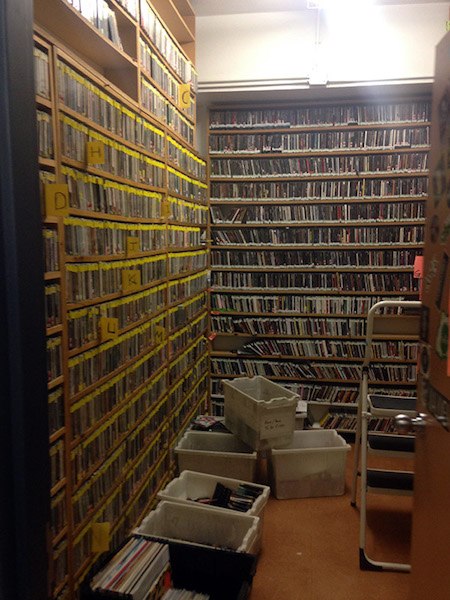 CF: Est-ce que vous avez aperçu des changements à CJLO? Est-ce que la station a connu une importante croissance?
OH: Elle a beaucoup grandi. Au début, c'était une petite poignée de personnes qui bricolaient une station. Maintenant, on a une base de 200 bénévoles. Je ne suis plus au courant des prénoms de la plupart, alors qu'avant je connaissais tout le monde et nous nous soutenions tous.
C'est devenu ce qu'on avait espéré, même si on peut toujours s'améliorer. On pourra dire que nous ne sommes pas arrivés là où on voulait, ce qui est une bonne nouvelle selon moi, parce que ça veut dire qu'il y a quand même du potentiel.
CF: Avez vous des conseils pour des programmeurs radio et/ou pour des musiciens?
Denis Arsenault: Ne vous attentez pas à faire de l'argent!
OH: Faites-le par amour. Si vous n'aimez pas ça, vous allez finir par détester ça. Honnêtement, si vous n'êtes pas passionnés par la radio, si vous le faites parce que vous pensez que c'est à la mode, si vous le faites pour obtenir une revue de Pitchfork ou de Weird Canada, enfin vous détesterez ce que vous faites et peu après vous arrêterez.
Quand vous sortez un disque, la réaction du grand public est toujours inconnue. Peut-être les gens seraient ravis du disque. Peut-être que personne ne tiendra compte du fait que le lancement a eu lieu. Vu que le monde est précaire, on ne sait jamais. Ça peut être décourageant, mais en fin de compte, c'est votre art. Est-ce que vous le faites pour vous-même? Êtes-vous satisfait de l'effort et du processus? Avec le recul, est-ce que vous êtes fier? Si oui, vous le faites pour la bonne raison.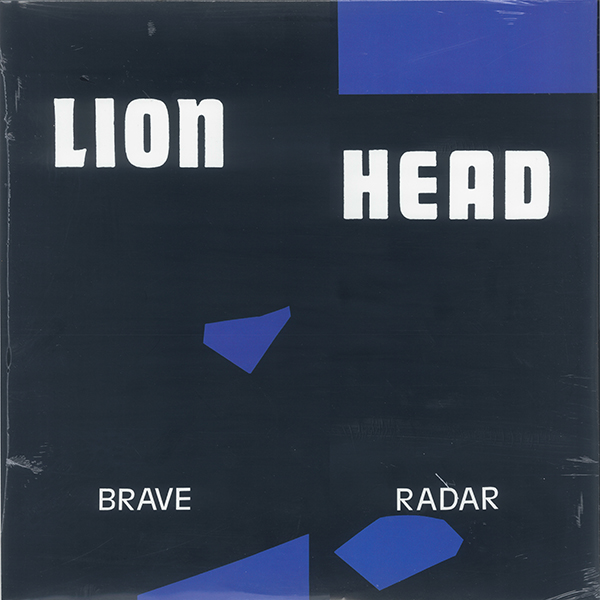 Brave Radar
Lion Head
Montréal, QC
From the littered desk of Laura Donohue:
The elevator's interior is so reflective it is hard to tell when the door has opened. Stepping inside, a million different versions of yourself extend radially from each corner. Tilting sideways to glimpse your other selves, one figure splits from the lattice. The rogue steps forward and presses an arm through the fluid pane. Your fingers almost touch. The elevator chimes the arrival of the 6th floor, ending the fever dream. Where do you go from here?
Du bureau encombré de Laura Donohue:
(Traduit par le voyage en ascenseur de Maya Keshav)
L'intérieur de l'ascenseur est si réfléchissant qu'il est difficile de remarquer que la porte s'est ouverte. En entrant, un million de versions de toi-même se répand en étoile de chaque coin. Tu te penches de côté pour entrevoir tes autres toi, quand un des toi se sépare du treillis. L'intrus s'approche et pousse un bras à travers le carreau fluide. Vos doigts se touchent quasiment. L'ascenseur sonne l'arrivée du sixième étage, mettant fin aux hallucinations. Où tu vas maintenant?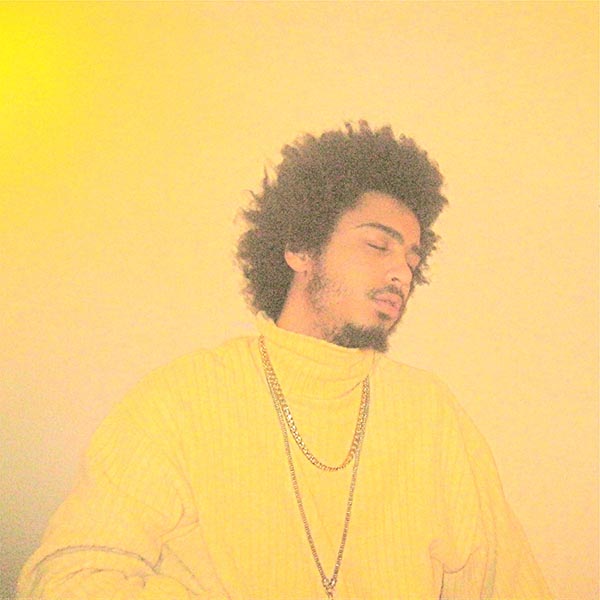 Un Blonde
Good Will Come To You
Montréal, QC
From the rusty sextant of Rolf Carlos:
Mythologies aren't reserved for dusty volumes, or shallowing scriptures on windswept sandstone; new legends are being furtively created by your next door neighbour, in their noisey downtown apartments, long after you've gone to bed. Good Will Come To You, the second in a trilogy of exploratory folk-gospel by Montréal's elusive Jean-Sébastien Audet offers just that. Laying naked at the crossroads of Art&B, spirituals, and Jobim, Un Blonde is reaching into the deep pockets of tradition, but pulling up his own currency. A cow-licked Phil Elverum, heartbroken, layering endless guitars as he builds The Glow Pt. 2; D'Angelo, possessed, determined to break the backbone of harmonic possibility as he croons 16-tracks deep on Voodoo; David Longstreth, strangling impossible chords from his Stratocaster with his middle finger aimed at Yale. This isn't comparison, so much as orientation. Triangulate your compass, and let it lead you to a new mythology; just trust your judgement.
Du sextant rouillé de Rolf Carlos:
(Traduit par le voisin élusif de Maya Keshav)
Les mythologies ne sont réservées ni pour les tomes poussiéreux, ni pour les textes sacrés qui déteignent sur le grès battu par le vent; les nouvelles légendes sont en train d'être créées en catimini par votre voisin d'à côté, dans son appartement bruyant du centre-ville, bien après que vous vous serez couché. Good Will Come To You, le deuxième dans une trilogie de folk-gospel exploratoire de l'élusif Jean-Sébasiten Audet de Montréal vous offre justement cela. Allongé nu au carrefour de l'Air&B, du spirituel et de Jobim, Un Blonde met les mains dans les poches profondes de la tradition, mais il en tire sa propre monnaie. Un Phil Elverum avec une rosette et un coeur brisé, qui étale des guitares interminables pendant qu'il construit The Glow Pt. 2; D'Angelo, possédé, résolu à casser l'épine dorsale de la possibilité harmonique quand il chante 16 morceaux de Voodoo profond; David Longstreth, qui étrangle les accords impossibles avec son Stratocaster en faisant un doigt d'honneur à Yale. Ceci n'est pas une comparaison, c'est plutôt une orientation. Triangulez votre boussole, et laissez-la vous mener à une nouvelle mythologie; faites-vous confiance.
---