Tag: moduli tv
Silver Dapple
(Pauses)
[Directed by: Moduli TV]
Montreal, QC

Cut up collage comp vids of found footage and cable access standouts are good even when they're done lazily, and they're endlessly entertaining when someone puts in the effort.
Moduli TV
has done it well for
Silver Dapple
, infusing random clips with a thematic narrative. There's purpose and flow in the shaking, distorted images, and it's matched by fuzzed-out shoegazing guitars plus stomping and running drums. With strange breaks, disconcerting dance and exercise videos and quick excerpts of
VHS garbage
, the video is a stand-out on its own; it changes enough to keep you guessing, and every frame seems picked for intrigue and discomfort. The song itself is a mild drug that slowly builds dependence. Female vox soar over thick guitars and bass and the punctuating drums make you pay attention. Altered collage rock done right, and a full-length coming out soon. Get ready to grip, or
grip now
in advance.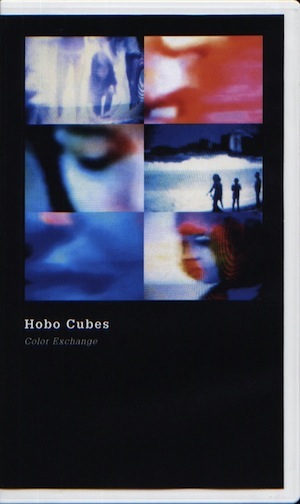 Hobo Cubes
Color Exchange
Montreal, QC
From the VCR dungeon of Jesse Locke:
It's hard to pinpoint any kind of hallmark in the ever-swelling body of Hobo errata, spawning endless outgrowths from the hyperactive hands of Cult leader Frank Ouellette. Yet one thing you can count on across the awe-inspiring multitude of multi-format releases, solo/collab projects and transfixing videos is a hazy atmosphere of unease filtering in like night terrors at the edges of sleep. The Color Exchange VHS feels like a culmination of sorts in its 30-minute voyage through the liminal realms of late night transmissions as pan and scanned visions of distressed facial close-ups, sinister statues and bikini-clad beach babes get the creeper treatment with a stomach-churning synth soundtrack to match. 50 copies! Get it while it's hot…
Du dongeon VCR de Jesse Locke::
(Traduit par Odile Leclerc)
C'est difficile de définir une quelconque sorte de marque dans l'éternellement corps enflant d'Hobo errata, faisant naître des excroissances infinies de mains hyperactives du leader de culte Frank Ouellette. Encore une chose sur laquelle vous pouvez compter à travers la multitude de sorties multi-format inspirante de fascination, des projets solo/ en collaboration et de vidéos pétrifiants est une atmosphère brumeuse de malaise s'infiltrant à l'intérieure comme des terreurs nocturnes aux bords du sommeil. Le VHS de Color Exchange est ressenti comme un genre de culmination dans son voyage de 30-minutes à travers les royaumes liminaux des transmissions tard dans la nuit alors que des plateaux et des visions scannées des conclusions faciales en détresse, de sinistres statues et des minettes de plage en bikini obtiennent le traitement d'obsédé avec une bande sonore de synth à qui retourne l'estomac à égaler. 50 Copies! Attrapez le pendant que c'est chaud…
The Haiduks
Use Up My Time
(Directed By: Moduli TV)
Montreal, QC
From the time wastidity of Jesse Locke:
Like a third generation DGC, Rarities boot melting on Kevin Shields' dashboard, the debut transmission from Montreal's Haiduks is the sound of a popsicle turned to sweet, sweet sugar juice. Switching planes from the ambient bliss-out of his primary project, Élément Kuuda, Christian Richer kicks his amp into overdrive with this unstoppably awesome shoegaze pop fist-pumper. The accompanying visuals from Frank "Hobo Cult" Ouellette flick through sun-bleached memories from a found-footage family vacation, serving up a pitch-perfect song/video combo. I want to jump in a lake.
De la perte du temps de Jesse Locke:
(Traduit par les vacances d'été de Maya Keshav)
Comme une botte DGC, Rarities troisième génération qui fond sur le tableau de bord de Kevin Shields, la première retransmission de Haiduks de Montréal est le son d'une glace à l'eau qui se transforme en jus sucré, sucré, sucré. En changeant dimensions depuis l'ambiance bienheureuse de son principal projet, Élément Kuuda, Christian Richer accélère son amplificateur avec cette chanson poing-agitant shoegaze et irrésistiblement génial. Les visuels qui l'accompagne de Frank "Hobo Cult" Ouellette montre rapidement un flot de souvenirs décolorés par le soleil du found footage des vacances en famille, en créant une combinaison parfaite chanson/vidéoclip. J'ai envie de sauter dans un lac.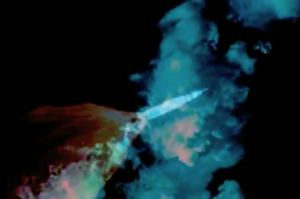 ARCSECONDS
Astronauts
(Directed By: Moduli TV)
Calgary, AB
From the astro-pop sounds of Aaron Levin:
Moduli TV, the videophonic arm of Hobo Cult Records, has been pumping out eye-piercing visual manipulations at an astounding rate; fifty videos (and counting) in the last nine months, an average of almost two videos a week. Their latest, for Calgary-artist ARCSECONDS, transcends the beat-up betamax manipulation, mutating the moon-lading granular into electronic waves of cosmic debris. The trip is a brilliant match to the ascending harrow of "Astronauts," whose mellow genesis gradually descends into ambient revelations.
Des sons astro-pop d'Aaron Levin:
(Traduit par Odile Leclerc)
Moduli TV, le bras vidéophonique d'Hobo Cult Records, a fait couler à flot d'éblouissante manipulations visuelles à un rythme étonnant: cinquante vidéos (et comptant) dans les derniers neuf mois, une moyenne de presque deux vidéos par semaines. Leur plus récent, pour l'artiste de Calgary ARCSECONDS, transcende la manipulation usagée betamax, mutant le chargement lunaire granuleux en onde électroniques de débris cosmiques. Le voyage est un brillant assemblage vers la herse ascendante de "Astronauts", dont la douce genèse descend graduellement vers des révélations ambiantes.
---