Tag: mixtape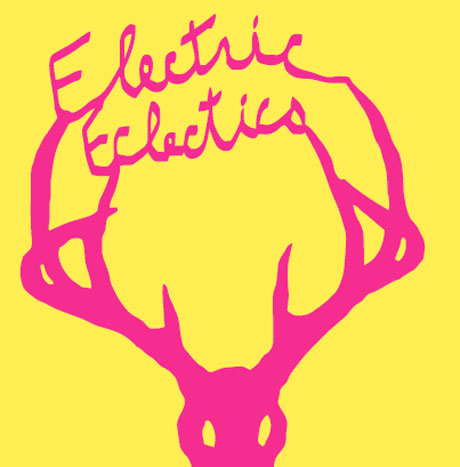 Various Artists
Electric Eclectics
(August 1-3, 2014)
Meaford, ON
From the shimmering delight of Julia Dickens:
Picture a neon soaked field rave with all of your best friends in glitter and gold, sleepy afternoons, noisy meditative drones and sheer shimmering musical delights, all within the solemn beauty of a southern ontario farm. Sweet folky sets, layering landscapes of sound evolving to clashing, smashing dissonance, wild hip shakers bringing you into a night of lysergic drenched dance jams under a sky full of stars.
Electric Eclectics, the avant garde festival of experimental music and art is upon us. Sweet warm winds off the great lakes pull freaks and dreamers away from city exhaust fumes to the quiet magic of Meaford. Absorb a smattering of off-kilter sounds and strange pop from the likes of WTCHS, Ice Cream, Hoover Party, Fresh Snow, Erin Sexton, Jef Barbara, Not the Wind Not the Flag, Loom, Blunt Chunks, and Paul Dutton.
Soak in the synaesthetic bliss of sonic installation and aural sculptures; bask in the waters of the Meaford beach; devour Nepalese treats and food truck BBQ delights. Snatch a spot at the screening of Public Slaw, a film from the wizard brains of Andrew Zukerman and Winston Hacking. In the dark shadows of the night, the glimmering DJ sets of HVYWTR, Petra Glynt and HIGHWORLD will spiral you through the fourth wall and onto the astral plane, protected under the watch of Vanessa Rieger's Nightlifeguard.
Bring camping gear and expect to sleep at sunrise.
Un aperçu d'Electric Eclectics du délice miroitant de Julia Dickens:
(Traduit des têtes ensoleillées de Catherine Debard and Marcin Lasinski)
Imaginez un rave dans un champs trempé de soleil néon avec vos meilleurs amis en costumes étincelants et baignés d'or. Des après-midis ensommeillés, du drone noise mais méditatif et des délices musicaux chatoyants, tout ça dans la beauté solennelle d'une ferme dans le sud de l'Ontario. Des prestations folk douces, des couches de paysages sonores qui évoluent et se frictionnent, dissonance magnifique, des danseuses sauvages qui vous guident vers une nuit lysergique gorgée de danse et de mouvements libres sous un ciel rempli d'étoiles.
Electric Eclectics, le festival avant-garde de musique expérimentale et d'art commence bientôt. Les vents doux et frais balayent les grands lacs et poussent les rêveurs et les weirdos hors des fumées que transpire la ville vers la magie tranquille de Meaford. Aspirez les sons détraqués et le pop étrange avec WTCHS, Ice Cream, Hoover Party, Fresh Snow, Erin Sexton, Jef Barbara, Not the Wind Not the Flag, Loom, Blunt Chunks, and Paul Dutton.
Laissez-vous baigner dans la béatitude synesthésique des installations sonores et des sculptures orales; faites-vous dorer au soleil sur les plages de Meaford; dévorez des mets népalais et des délices de BBQ de rue. Câlez-vous dans un siège à la projection de Public Slaw, un film tiré des cerveaux de mages de Andrew Zukerman and Winston Hacking. Dans les sombres ombres de la nuit, les sets de DJ étincellants de HVYWTR, Petra Glynt et HIGHWORLD vont vous aspirer dans la quatrième dimension et vous attirer dans un avion astral, protégé par la sauveteuse nocturne Vanessa Rieger. Apportez votre équipement de camping et attendez-vous à vous coucher au lever du soleil.
Electric Eclectics Preview by Wyrd on Mixcloud
Tracklist:
1. "In the province of the mind, there are no limits" – Not the Wind, Not the Flag
2. ")" – Erin Sexton
3. "We are at the fucking beach" – Gambletron and Johnny Nawarcaj
4. "Special Special For YOU" – Gambletron
5. "3" – Hoover Party
6. "Wholesome" – LOOM
7. "Pray For My Love To Find Me" – Blunt Chunks
8. "Overkilmer/Some Girls" – WTCHS
9. "Saturation Complete" – Fresh Snow
10. "Plastic" – Ice Cream
11. "I Know I'm Late" – Jef Barbara
Thom Huhtala Band
Mixtape III
(Self Released)
Toronto, ON
From the time-be coherence of V. Rachel Weldon:
Wavering in devotionally, the organ mumbles an introduction for our speaker. Smoke fills the air as he joins the congregation in the First Church of Jam. The sermon is hypnotizing. It wanders around wraith-like, losing us. Drifting, we are drawn to and fro in currents of improvised guitar riffing and chaotic dream-like noises, into pools of time-be coherence. They too dissolve into others. Passing through doors of perception in the hall that grows and shrinks, and stepping out onto the infinite shore.
Ed's Note: This mixtape is intended to flow as a single track, but Thom gave us permission to break it down into excerpts for the purpose of this post. Seek out the CD-R for the uninterrupted experience.
De la cohérence momentanée de V. Rachel Weldon:
(Traduit de la perception permanente de Catherine Gaucher)
Oscillant avec dévotion, l'orgue marmonne une introduction pour notre orateur. La fumée remplit l'espace alors que ce dernier se joint à la congrégation de la Première Église du Jam. Le sermon est hypnotisant. Il erre autour de nous tel un spectre, jusqu'à en perdre nos repères. En dérive dans l'océan de la cohérence occasionnelle, nous sommes entraînés çà et là parmi les courants d'accords de guitares improvisés et l'onirisme des bruits chaotiques. Aussi, se dissolvent-ils les uns dans les autres. Passant par les portes de la perception, traversant un couloir qui s'allonge puis rétrécissit pour déboucher sur un rivage infini.
Note de l'éditeur : Ce mixtape est destiné à être écouté d'un seul morceau, toutefois, dans le but de cet article, Thom nous a permis de le décomposer en extraits. Pour une expérience ininterrompue, partez à la recherche du CD-R.
Thom Huhtala Band – Mixtape III [excerpt 1]
---