Tag: mint records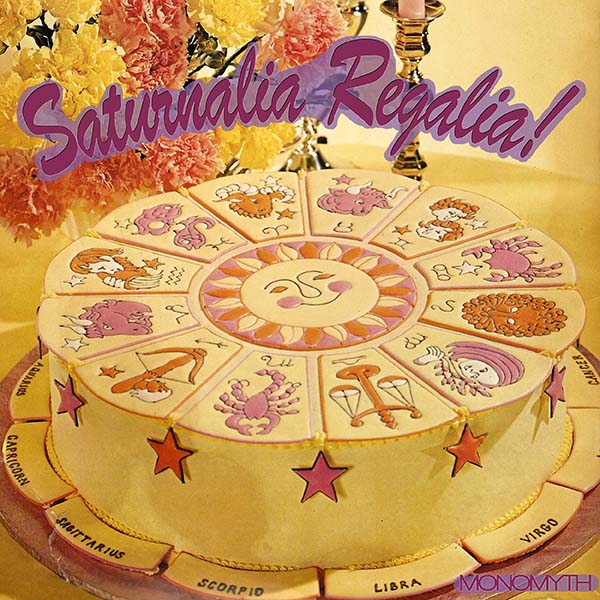 Monomyth
Saturnalia Regalia!
Halifax, NS
From the pac ambition of Stephen Guy:
Monomyth return to the varied whimsy of their earliest offerings, following a flirtation with tougher strutting and waggier frugging. The hooks dig sharply into your mind and till the ground where memories of the explosive Haligonian glory years are buried, but there are lots of other fresh and woozy nutrients. It's very difficult to project credible good vibes in these dark times, but Monomyth deliver another melodious affirmation.
De la pac ambition de Stephen Guy:
(Traduit par Jessica Grenier)
Monomyth retourne vers les fantaisies changeantes de ses premières offrandes, tout en continuant de flirter avec un strut plus dur et un frug plus frétillant. Les accroches incisives s'enfoncent dans le cerveau, à travers les nutriments couvrant le sol, frais et suintants, jusqu'aux souvenirs de la belle époque haligonienne. En ces temps sombres, il est très difficile de projeter autant de vibrations positives, mais Monomyth livre une autre affirmation mélodieuse.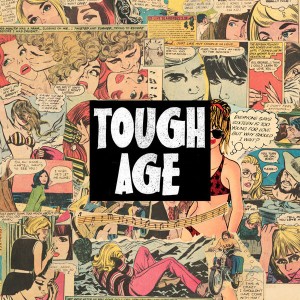 Tough Age
Tough Age
Vancouver, BC
From the dream date of Joel French:
It's a strange feeling to have heard a band's entire catalogue live before hearing a single recorded song. After touring with Tough Age I was afraid to listen to their debut on Mint Records as I thought it would be hard to carry the live energy — now as much a part of the songs for me as the impeccable songwriting itself — to vinyl. I was wrong. Chris Martell's monster drumming, Lauren Smith's neverending smile above driving basslines, Penny Clark's shy mystique and Jarrett Samson's boisterous personality can all be felt just fine on this slab of plastic. What a great pop record by some West Coast pals. Makes me want to eat a sack of 'burgs and dance on some old exercise equipment.
Du rendez-vous galant rêvé de Joel French:
(Traduit par les papillons dans le ventre de Catherine Gaucher)
C'est un sentiment étrange d'avoir entendu en concert le répertoire complet d'un groupe avant même d'avoir écouté un seul de leur enregistrement. Après avoir effectué une tournée avec Tough Age, j'appréhendais l'écoute de leur premier album sur Mint Records pensant qu'il serait difficile de transposer sur vinyle leur énergie live faisant, pour moi, tout autant partie intégrale des chansons que leur impeccable écriture. J'avais tort. Les percussions gargantuesques de Chris Martell, le sourire sans fin de Lauren Smith au contrôle de puissantes lignes de basse, le mystère timide de Penny Clark et la tumultueuse personnalité de Jarrett Samson se ressentent très bien sur cette galette de plastique. Quel grand album pop par quelques-uns de mes copains de la côte ouest. Ça me donne envie de manger un grand sac rempli de hamburgers et de danser sur de vieux appareils d'exercice.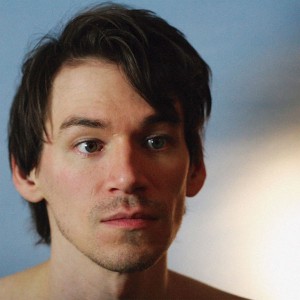 Jay Arner
Jay Arner
Vancouver, BC
From the shattered mirror of Jesse Locke:
Sweet Jay comes correct on his long-play solo debut. This is no mere vanity trip for the Van City staple, as the unassuming mug on the cover laid down every note, lick and casual drum fill. Swoon-inducing New Romanticism and feather-banged bombast is the top down, drive time soundtrack for summer '13. Vancouver +++.
Du miroir brisé de Jesse Locke:
(Traduit par Vincent Rondeau)
Ce gentil Jay a trouvé la note juste pour son premier album en solo, et ce n'est pas une question de vanité si son visage humble se présente sur la couverture, car c'est bien lui qui a enregistré chaque note, chaque phrase, chaque roulement de batterie. Entre les doux vertiges du nouveau romantisme et la lourdeur emphatique, c'est la bande sonore parfaite pour les promenades à toit ouvert de l'été 2013. Vancouver +++.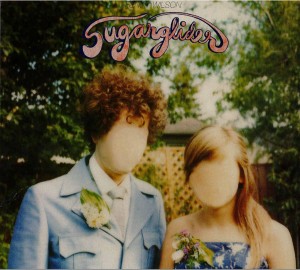 Renny Wilson
Sugarglider
Edmonton, AB
From the powdered blue suit of Jared Majeski:
Don't be fooled by what you've heard: Renny Wilson's newly-Minted Sugarglider is much more than Vaseline-filtered disco daze. Sure, you feel the smoothness, the drip, the ecstasy; the hand-plucked basslines tickle your dancin' regions. But there is so, so much more goodness here. From the opening sax whisper to the quaint Canterburian exeunt, Wilson slip n slides between primal Euro synth, art project lounge lizards and into the glimmery dancefloor stars twinkling with sequin-ensconced mirror singers. He's a young man going it alone, splitting subatomic particles of inspirations, conquests and rejections of the dance floor doyenne. Thrown through the druggy, sweaty nebula of the somnolent House that Jack built, you won't feel nothing, and you'll feel all things that are good. Grip now, and try spinning this on 45 rpm for a whole new exxxperience.
Du complet bleu poudre de Jared Majeski:
(Traduit par les méninges vaselinées de Nicolas Coutlée)
Ne vous laissez pas tromper par les ouï-dire : Sugarglider, le nouvel opus de Renny Wilson, est bien plus qu'un vertige disco enduit de Vaseline. Bien sûr, on sent l'onctuosité, l'écoulement, l'extase; les lignes de basse jouées à la main chatouillent les régions dansantes de votre corps. Mais il y a plus, beaucoup plus à se mettre sous la dent ici. Du murmure de sax en ouverture à l'étonnante tombée du rideau canterburienne, Wilson glisse tête première entre synthé Euro primitif et répertoire de lézards de boudoir pour rejoindre les étoiles miroitantes de la piste danse scintillant auprès des chanteurs à armures de paillettes se mirant. Il s'agit d'un jeune homme qui évolue en solitaire et divise les particules subatomiques d'inspiration, de conquêtes et de rejets essuyés aux mains de la doyenne de la piste de danse. Propulsé au cœur de cette nébuleuse narcotique et suante s'élevant d'un house party somnolent, vous ne sentirez rien, mais ressentirez tout ce qui est bon. Emparez-vous-en maintenant et faites-le tourner à 45 tours/minute pour une exxxpérience totalement nouvelle.
Renny Wilson – Could've It Been Me
---