Tag: minimalism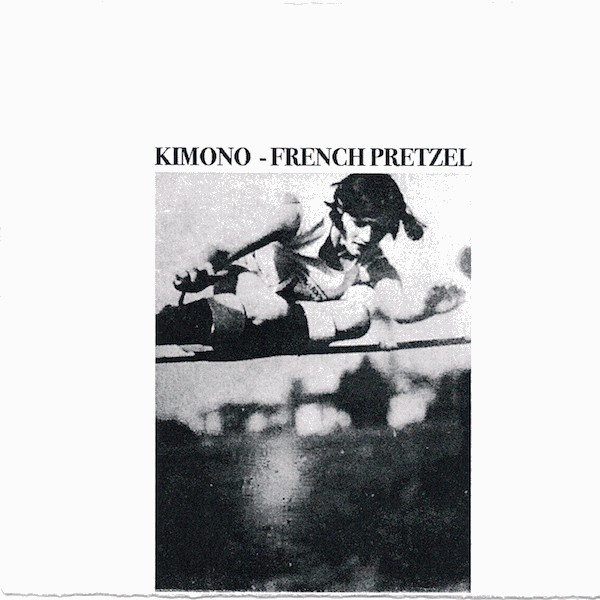 French Pretzel
Kimono
(Self-Released)
Halifax, NS
From the darkroom of Katie Jensen:
A militaristic march into a dark grove of trees, javelin spikes raised into the soft underbelly of clouds. Teeth bared, glinting like nacreous, dripping stalactites throwing diffused ire. Black trees shift like bad photocopies; migrating clusters of inky drops probe into smeared mountains and craggy falls. A metallic whirring tears open the sky, giving the thrumming bass and persistent drum cadence empyrean breathing room. Inside the forest, the mossy soil exhales into the folded hands of the canopy. A creeping mist wanders through spindly trunks, collecting samples that echo and absorb.
Par la chambre noire de Katie Jensen:
(Traduit par la forêt vrombissante d' Émily Traichel)
Un défilé militariste dans un bois sombre, pointes de javelots levées dans le bas-ventre doux de nuages. Les dents dévoilées, scintillantes comme des stalactites ruisselantes et nacrées, lançant de l'ire diffusée. Des arbres noirs se déplacent comme des photocopies ratées; des amas migrants de gouttes obscures sondent des montagnes brouillées et des falaises escarpées. Un bourdonnement métallique déchire le ciel, donnant à la basse vrombissante et à la cadence persistante de la batterie de l'oxygène empyréenne. À l'intérieur de la forêt, le sol moussu expire dans les mains repliées de la canopée. Une brume glissante erre à travers des troncs filiformes, recueillant des échantillons qui résonnent et absorbent.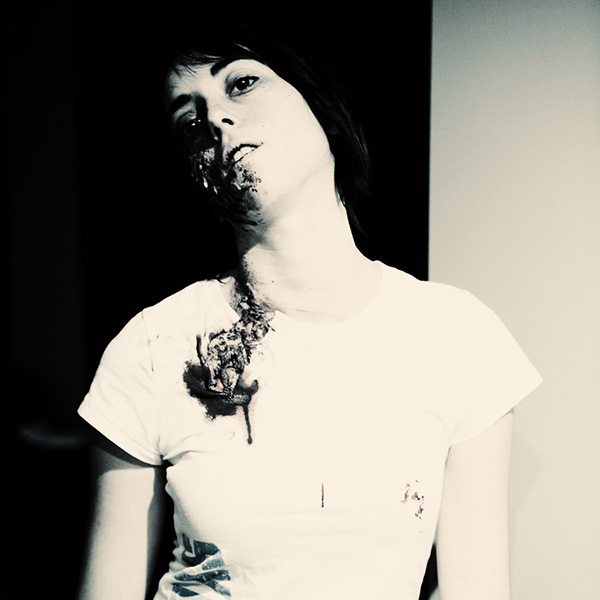 Le Poisson d'Argent
Youth EP
(Self Released)
Montréal, QC
From the rusted tilt-a-whirl of Alexandra Jaworiwsky:
Le Poisson d'Argent orchestrate a carnival of sounds that fall together to create a beautifully disjointed melody. A ferris wheel rocks back and forth but does not spin; the paint of the merry-go-round has gone grey and cracked from the elements. The amusement has seeped out of the park. But there is magic in these memories. Sneaking in to forgotten places early in the morning, dreaming of what once was. Closing your eyes, you can hear the rumblings of a roller coaster, vendors calling, and the looped cackles from the horror house. Youth is a memory of sounds, bringing back a simpler time while walking boldly in the future.
Du manège rouillé d'Alexandra Jaworiwsky:
(Traduit par la poussière de barbe à papa de Jessica Grenier)
Le Poisson d'Argent orchestre un carnaval de sons qui s'emboitent pour former une mélodie joliment déglinguée. Une grande roue qui se balance d'avant en arrière, mais qui ne tourne pas, la peinture du carrousel qui a été déteinte et craquelée par les éléments : le parc a perdu tout amusement, mais les souvenirs restent magiques. Se faufiler dans cet endroit oublié tôt le matin pour rêver de ce qui a déjà été; fermer les yeux, puis entendre le grondement des montagnes russes, le cri des vendeurs, le ricanement en boucle des maisons hantées. La jeunesse, c'est se souvenir des sons pour réanimer un passé plus simple tout en marchant résolument vers l'avant.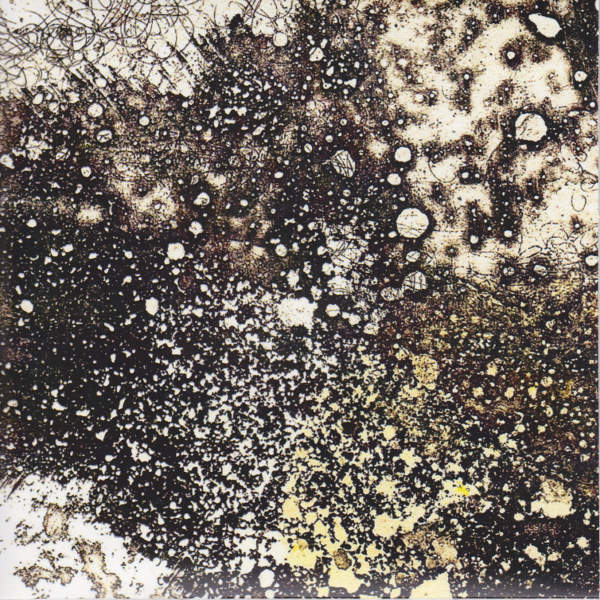 Le Pélican Noir
Le silence tendu au-dessus de nos têtes comme un orage en suspens
(Faff Records)
Montréal, QC
From the fulgent telescope of Joshua Robinson:
Celestial circumflexes as astral bodies collide to the subterranean syntax of voices registering an instrumental intonation, with arms and heads tilting skywards as the commiseration of the night wraps itself about the day. Take sartorial solace as bodies sway to the reassurances of the timbred phonetics that dance loosely on floors of imagined terrestrialism. The sky breathes heavily, exhaling a dusk that renders moot the muggy light emanating from dimly lit doorways, as denizens of Krautrock propinquities are captured in motion, swaying to the post-rock sepia of slow-form stellar dramatics. Projections of these asymptotic stargazers stand ghostly and translucent before the break of reverie, as the firmament collapses under the weight and provocation of stylistic convergence. Colours bleed into one another as telescopes turn inwards to capture the sights that are the sounds of the nothernly whispering amongst themselves.
Du brillant téléscope de Joshua Robinson:
(Traduit par les pulsations galactiques de David Kohler)
Circonflexes célestes pendant que des corps astraux entrent en collision avec la syntaxe souterraine de voix qui enregistrent une intonation instrumentale, avec bras et têtes inclinés en direction du ciel, alors que la commisération de la nuit s'enveloppe autour du jour. Consolez-vous alors que ces astres se balancent aux timbres phonétiques rassurants qui dansent nonchalamment sur des planchers au terrestrisme imaginé. Le ciel a le souffle lourd; il exhale un crépuscule qui rend discutable la lumière moite émanant des portes faiblement éclairées, tandis que les proches de Krautrock sont capturés dans le mouvement, balançant aux sépias post-rock d'un lent drame stellaire. Les projections fantomatiques et translucides de ces astronomes asymptotiques se tiennent à l'aube de rêveries alors que le firmament fléchit sous le poids et la provocation de convergences stylistiques. Les couleurs déteignent les unes dans les autres tandis que le téléscope se retourne contre soi pour capturer les vues que constituent les sons des chuchotements du Grand Nord.
Les Pélican Noir – …Et Les Arbres Déserteront Les Champs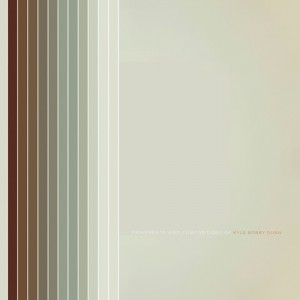 Kyle Bobby Dunn
Fragments and Compositions of Kyle Bobby Dunn
Montréal, QC
From the sedentary lifestyle of Javier Fuentes:
Sedimental strings and pianos lend their voices to the silence of a melting glacier. Extending their warmth to the lowest points on a sullen horizon, the melting compositions stretch themselves out over the vast imaginary spaces we fill with regret and sorrow. Time turns to stillness as we sit entranced by the moving textures that seem so distant yet personal. A suspension of worries and anxieties speaks to our suppressed language of sensitivity. What happens after the stillness belongs to the unknown, but the fragments are all we need right now.
Du mode de vie sédentaire de Javier Fuentes:
(Traduit par les ennuis et les angoisses de Raphaël Foisy)
Les cordes et les pianos de Sedimental prêtent leurs voix au silence d'un glacier en fonte. Prolongeant leur chaleur jusqu'aux points les plus bas d'un horizon nuageux, les compositions en fusion s'étirent au-dessus des vastes espaces imaginaires que nous remplissons de regret et de chagrin. Le temps s'immobilise, alors que nous nous asseyons, exaltés par les textures en mouvement qui semblent si distantes et pourtant si personnelles. La suspension des ennuis et des angoisses parlent à notre sensibilité linguistique étouffée. Qu'arrive-t-il lorsque l'inertie appartient à l'inconnu, mais les fragments sont tout ce dont nous avons besoin pour l'instant.

Kyle Bobby Dunn – Tout Voyeurs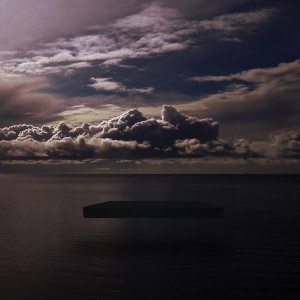 Black Walls
Communion
Toronto, ON
From the PTSD march of Jesse Locke:
Arising from the Paleolithic mist, one-man monolith Ken Reaume (a.k.a. Black Walls) obscures all hints of sunshine and big spins with his latest saga of overcast elegies. This funereal march floats above fields of headstones, stretching blackened tone poems to the point of oblivion. Strong contender for cover art of the year, and Liz Harris-level heartrend.
Du cortège de SSPT de Jesse Locke:
(Traduit dans l'ataraxie par Benoit Arcand)
Émergeant du brouillard paléolithique, l'homme-monolithe Ken Reaume (alias Black Walls) annihile toute possibilité d'ensoleillement ou de big spins avec sa dernière épopée d'oppressantes élégies. Cette marche funèbre plane sur un champ de stèles, étalant ses poèmes enténébrés jusqu'à l'amnésie. Prétendant sérieux au titre de pochette de l'année et porteur d'un accablement digne de Liz Harris.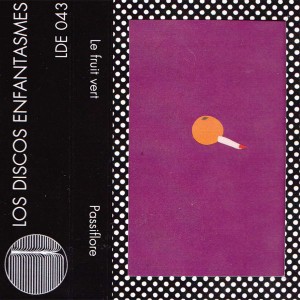 Le fruit vert
Passiflore
Montréal, QC
From the misted eclipse of Nick Schofield:
This rapt cassette of forlorn vocal incantations wades into myriadical mires of keyboard vexations. Honourary enchantresses-de-Montreal, Andrea-Jane Cornell et Marie-Douce St-Jacques, raise our gaping eyes to a misted sonic eclipse while slowly uncloaking their sounds of the witching hour at the pace and shade of pitch itself. Mood-wise, gravity is buoyed by sprite celestial baby giggles and earthly cricket chirps amid improvised urban modes. For this release, eeriness abounds and melodies bow down. Take the time to reap the passionfruits of this labour.
De l'éclipse dans la brume de Nick Schofield:
(Traduit à l'heure de la sorcellerie par Hugo Hyart)
Cette cassette contemplative imprégnée d'incantations vocales désespérées patauge dans une myriade de vexations de clavier. Les enchanteresses honoraires de Montréal Andrea-Jane Cornell et Marie-Douce St-Jacques lèvent nos yeux béants vers une éclipse solaire embrumée tout en dévoilant lentement leurs sons ensorcellants au rythme et à la nuance du pas. Du côté de l'humeur, la gravité est balisée par des éclats de rires de bébés farfadets célestes. Pour cette parution, le frisson abonde et les mélodies se courbent. Prenez le temps de cueillir les fruits de la passion de ce labeur.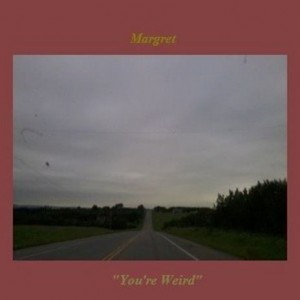 Margret
You're Weird
(Self Released)
Calgary, AB
From the Nowhere of Joseph Stephenson Taylor:
Perhaps it was you, the invisible finger hooked in our belt loop, suspending us for no more than a blink at our downswing on the swing set. Or were you the antique bellows working hard to knit together sparks that would yield for us, a fire to share? Could it be that you are the impossible plume of smoke that hangs in the cold night air as we toke under none light but the moon and stars? We could identify you as the leisured amble to Nowhere, while at the same time it is painfully clear that you are the Nowhere. You're odd; lost in the light. You're strange; unmissable in the foggy dark. You've made us comfortable with not knowing, but also set us at ease with our new favourite feeling: Anticipation. You used to be darker, then you got lighter, then you got dark again. You're weird, Margret, and we love you.
Du nulle part de Joseph Stephenson Taylor:
(Traduit par les doigts aimantés de Julie Forget)
C'était peut-être toi, le doigt invisible accroché à notre boucle de ceinture, nous suspendant le temps d'un clignement des yeux à notre descente sur la balançoire. Ou bien étais-tu le soufflet antique travaillant fort pour unir des étincelles qui cèderaient la place à un feu à partager ? Serais-tu la colonne de fumée impossible qui flotte dans l'air froid nocturne alors que nous prenons une bouffée à la seule lumière de la lune et des étoiles ? Nous pourrions t'identifier comme étant la promenade vers Nulle part, bien qu'il soit en même temps douloureusement clair que tu es ce Nulle part. Tu es bizarre; perdue dans la lumière. Tu es étrange; inratable dans la noirceur brumeuse. Tu nous as mis à l'aise avec le fait de ne pas savoir, mais tu nous as aussi mis à l'aise avec notre nouveau sentiment favori : l'Anticipation. Tu étais plus sombre, tu es devenue plus clair et tu es devenue sombre à nouveau. Tu es étrange Margret, et nous t'aimons.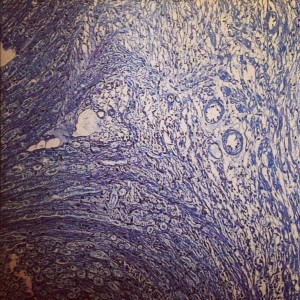 Mad/Mod
Neurinomes
Montréal, QC
From the nocturnal tones of James Lindsay:
Montreal drone duo Mad/Mod make music with a massive vista on their latest beautifully packaged release on Arachnidiscs. Touching on a wide variety of influences, from free-jazz to 20th century minimalism to electric folk, and clocking in at 78 minutes, Mad/Mod embrace ambition with the kind of confidence reserved for serious people who know they are making serious music. Similar to some sounds found in their city's orchestral post-rock scene, but lacking the crescendo-bravado and personnnel often found in those collectives, these compositions work on a softer level with moods more difficult to articulate. Neurinomes is not made to heard in the cavernous cathedral, but in the confines of an apartment, where the nocturnal tones can feel intimate and safe sharing their subtle secrets.
Des tonalités nocturnes de James Lindsay:
(Traduit par Hugo Hyart)
magnifique et plus récente parution sur le label Arachnidiscs, le duo drone montréalais Mad/Mod produit de la musique avec une vision énorme. Embrassant une grande variété d'influences sur cet album de 78 minutes, allant du free-jazz au minimalisme du 20ème siècle, en passant par le folk électrique, Mad/Mod épouse l'ambition avec le genre d'assurance réservée aux gens sérieux qui savent qu'ils font de la musique sérieuse. Rappelant certains sons de la scène post-rock orchestrale de leur ville, mais sans les crescendos fanfaronnants et les éléments personnels souvent retrouvés dans ces collectifs, ces compositions jouent à un niveau plus doux, avec des humeurs plus difficiles à articuler. Neurinomes n'est pas fait pour être écouté dans une cathédrale caverneuse, mais dans les confins d'un appartement où les tonalités nocturnes peuvent se sentir proche et en sécurité alors qu'elles partagent leurs subtils secrets.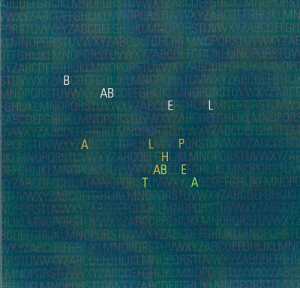 Babel
Alphabeta
Toronto, ON
From the glass museum of James Lindsay:
Jakob Rehlinger (a.k.a. Moonwood and proprietor of Arachnidiscs) has to be one of the most ambitious and prolific conceptual composers in Canada today. Alphabeta, his third release of 2012 and second under the Babel moniker, is an experiment in translating musical notation to words to actual music. By creating a sort of musical Boggle, he, for example, finds a path for the notes A, C, D, E, G to spell C-A-G-E-D, and following that staff, produces a spiritual tribute to the composer. The liner notes include brief biographies of all 17 (!) pieces, written in a charmingly self-conscious tone, where he worries abut whether he is just chasing a gimmick, praises the creative stimulus of working under such strict constraints, and namedrops some artists who lent inspiration to the album's post-rock sound (Cage, Swans, Rhys Chatham, Tortoise, etc). Alphabeta is impressive not only because Rehlinger succeeds in his experiment, but by clocking in at just under an hour with every piece feeling fully realized, the sheer epic scope is a dizzying triumph onto itself.
Du musée de verre de James Lindsay: (Traduit par Maya Keshav)
Jakob Rehlinger (alias Moonwood et le propriétaire d'Arachnidiscs) devrait être un des compositeurs conceptuels les plus ambitieux et prolifiques au Canada aujourd'hui. Alphabeta, son troisième morceau de 2012 et le deuxième sous le nom de Babel, est un essai dans la traduction de la notation musicale en les mots en la musique. En créant une sort de Boggle musical, il trouve, par example, un chemin pour les notes A, C, D, E, G pour épeler C-A-G-E-D, et avec cette mélodie, il produit un hommage spirituel au compositeur. Les textes sur la jaquette incluent les courtes biographies pour tous les 17 (!) morceaux, écrites avec un ton délicieusement gêné, où il s'inquiète pour la possibilité qu'il ne pourchasse qu'un gadget, où il fait l'éloge du stimulus créatif de travailler avec les contraintes si lourdes, et où il balance les noms connus de quelques artistes qui lui ont donné de l'inspiration pour les sons post-rock de l'album (Cage, Swans, Rhys Chatham, Tortoise, etc). Alphabeta est impressionnant non seulement parce que Rehlinger réussit avec son essai, mais grâce à la duration (moins d'une heure) et au fait que chaque morceau a l'air d'être complètement réalisé, l'énorme étendue est un triomphe vertigineux.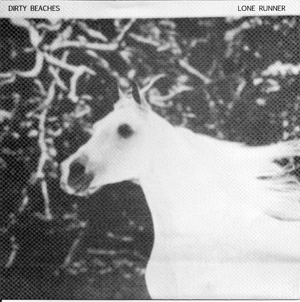 Dirty Beaches
Lone Runner b/w Stye Eye
Vancouver, BC
From the honkey-tonk minimalism of Jared Majeski:
Plodding along the unending hallways and caves of life, we lust for the sedatival inspyrations of happiness slung to the souls, throats and pasts of others. Alex Hungtai stars as Dirty Beaches and has for the past few years laid bare the minimalism that the over-saturated (that's you!) and inundated generation(s) crave. This new 7" (the haunting "Lone Runner" and a reissue of "Stye Eye") lets you slink into chicken wire honky-tonk darkness; like reverberated leather, Bakersfield-cum-Nayshville yelps all set to a comfort-drug soundtrack. With two, sometimes three psychedelic tongue-wagging crooners and percussive mutants as accompaniment, it's time for you to think less, listen more and step out from behind that beautiful shell into the great divide.
Du minimalisme honky tonk de Jared Majeski: (Traduit par les cavernes infinies de Maya Keshav)
En marchant dans les couloirs et les cavernes infinis de la vie, on a envie des influences soporyfiques du bonheur dans les âmes, les gorges et les passés des autres. Alex Hungtai est mis en vedette en tant que Dirty Beaches et depuis quelques années il dévoile le minimalisme dont les trop-saturés (c'est toi!) et les générations inondées ont envie. Ce nouveau 7" (le "Lone Runner" obsédant et une reprise de "Stye Eye") t'enveloppe dans le noir à la grillage honky tonk; comme le cuir réverbéré, Bakersfield-devenu-Nayshville jappe à une bande-son de drogue-confort. Avec deux, parfois trois chantonneurs psychédéliques et les mutants de percussion comme accompagnement, il est temps que tu penses moins, écoutes plus, et sortes de cette belle coquille pour entrer dans le grand vide..
---