Tag: minimal synth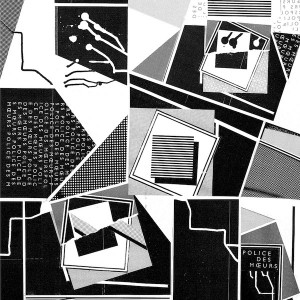 Police des Moeurs
Police des Moeurs
Montréal, QC
From the last chance of Hugo Hyart:
(Translated by Hugo Hyart)
Police des Mœurs further their Euro connections with the Mannequin Records coldwave cartel. On their first full-length LP, the Montreal group expand on their synthetic anthems of dark/luminous feelings. Under the guise of an Orwellian aesthetic, they declaim slammed observations on the floating air of the current era with dark and sumptuous synth-pop attacks. Tightrope-dancing moves on the verge of the void make you feel like running away from your troubles or into them head on.
This is the secret score for a grey, urban wasteland in the making, a natural environment for doom-blessed lives. Everyone wears a mask in the public space, leaping into their fortress of worried solitude. These internalized dances externalize thoughts to escape the unease. Mistakes meditated over and over enable an elevation. You are invited to soundtrack your anxieties and simultaneously escape.
De la dernière chance de Hugo Hyart:
Police des Moeurs étendent leurs connexions européennes avec le cartel de la coldwave Mannequin Records. Sur leur premier long jeu, le groupe de Montréal prolongent leur hymnes aux sentiments clair-obscur. Sous le couvert d'une esthétique orwellienne, ils déclament des observations claquantes sur l'air ambiant de l'ère actuelle au milieu d'attaques synthpop toujours sombres et somptueuses. Des mouvements funambulistes dansants au bord du gouffre vous donne envie de courir pour fuir ou aller faire face à vos problèmes.
Ce disque est une bande-son secrète pour des pays urbain gris, champs de ruines en puissance, environnement naturel pour des vies condamnées-bénies. Tout le monde porte un masque dans l'espace public et s'enfonce dans sa forteresse de solitude inquiète. Ces danses interiorisées là exteriorisent des réflexions pour échapper au malaise. Les erreurs méditées continuellement permettent de s'élever. Vous êtes priés de nourrir vos anxiétés pour leur échapper.
Police des Moeurs – Dernière Chance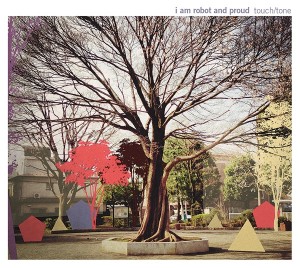 I Am Robot and Proud
Touch/Tone
Toronto, ON
From the curious daydream of Josefa Cameron:
Electronic artist and video game designer Shawn-Han Liem a.k.a. I Am Robot And Proud has released his latest album. Opener "Kresna" is drenched with cheerful robot bubbles and drubbing drums, while "Circles" blends a brimming resonance of electro house, trap-influenced beats and classical transience. If you can imagine a more tropical Boha, less moody Kontravoid or trendier Balmorhea, you can envision the direction Leim's creation veers. Touch/Tone comes across as a mad composer directing an orchestra of robots on synths, drum machines and mixers. A tasteful blend of classy piano harmonies and chirpy computerized sounds swirl to a danceable beat. "Summer Colour" plays in mystical humility with dreamy waves of flute, harp, and piano. The album ends with "Slow Reaction", a four-minute tune of generous melodies layered on the next, almost like a Ratatat sans guitars or a less stoned Shlohmo.
Traduit du somnambulisme de Josefa Cameron:
(Du curieux songe diurne de Catherine Gaucher)
L'artiste électronique et concepteur de jeux vidéo Shawn-Han Liem, alias I Am Robot And Proud, a fait paraître son plus récent album. En ouverture, "Kresna" baigne dans des bulles robotiques de bonne humeur et des drums percutants. De son côté, "Circles" allie une résonance débordante d'électro-house à des influences trap et à un classicisme éphémère. Imaginez un Boha plus tropical, un Kontravoid moins maussade ou un Balmorhea plus au goût du jour, vous pourrez alors avoir une idée de la direction de la création de Liem. Touch/Tone fait apparaître un compositeur fou dirigeant un orchestre de robots affairés sur des synthés, des boîtes à rythmes et des mélangeurs. Avec bon goût, un mélange d'harmonies de piano chics et de sons informatisés entrainants tourbillonnent sur un rythme dansant. "Summer Colour" transpose une humilité mystique avec ses vagues rêveuses de flûte, d'harpe et de piano. L'album se termine avec "Slow Reaction", une pièce de quatre minutes composée d'une superposition de couches généreuses de mélodies, ressemblant à Ratatat sans guitares ou bien Shlohmo sans l'influence d'hallucinogènes.
Marie Davidson
Marie Davidson
Montréal, QC
From the tranquil disquietude of AnneMarie Papillon:
(Translated by AnneMarie Papillon)
It's the lack of tranquility of a dark alleyway. It's the weak glow of lamp posts attempting to reassure an inevitably dark city night, trapped in a perpetual urgency. These synthetic sounds, spatial and skillfully executed, bear a certain disquietude. Existence becomes precarious and uncertain à la Laura Palmer. With her self-titled EP, Montreal-based songstress Marie Davidson crafts a mischievious surrealism in the likeness of French suspense movies acid-washed by the 1960s. Eerie fantasies and reflections, brilliantly recited; a life lived in a constant state of obscure truthfulness.
Du tourment tranquille d' AnneMarie Papillon:
Il y a un manque de tranquillité dans cette sombre ruelle. Cette nuit froide est d'une noireté inévitable tintée des lueurs de lampadaire d'une ville plongée dans une perpétuelle urgence. Ses sons synthétiques, quasi spatiaux et habilement exécutés, sèment l'inquiétude. L'existence devient précaire et incertaine, à la Laura Palmer. Avec son EP éponyme, la muscienne montréalaise Marie Davidson crée du surréalisme vériste, comme la bande sonore d'un suspense français rincé à l'acide des années soixante. Des fantaisies, des tourments récités où ne semble rester que l'obscure vérité.
Marie Davidson – Le Lieu Où Vous Voulez Vous Rendre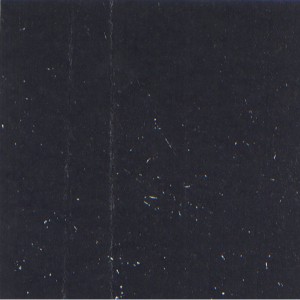 Femminielli Noir
L'Éveil
Montréal, QC
From the modest gabber of Jesse Locke:
The cavernous blackness of this cassette sleeve is the gateway to a yawning abyss. Bad boys of the Montreal subterrain Bernardino Femminielli and Jesse Osborne-Lanthier welcome us into their sonic sepulcher to reveal themselves as altered beasts. Here, the sensual whispers and spectral Italo disco of Femminielli's past masterworks are dispersed across an expressionistic soundscape of desolate ambience, garbled electronics and punishing four-on-the-floor. Only on side b's "Semence En Moi, Le Danger" do we see a glint of light through the darkness, as a haunted music box melody twirls away in an empty room.
Du papotage modeste de Jesse Locke:
(Traduit par le côté italo-spectral de Mathieu Bédard)
La noirceur caverneuse de la jaquette de cette cassette est une passerelle menant à un abysse béant. Les mauvais garçons du Montréal souterrain, Bernardino Femminielli et Jesse Osborne-Lanthier, nous invitent dans leur sépulture sonique où ils se révèlent à nous en tant que bêtes altérées. Ici, les chuchotements sensuels et l'italo disco spectral des dernières oeuvres de Femminielli se dispersent à travers un paysage sonore expressionniste à l'ambiance désolée, aux textures électroniques embrouillées et à la rythmique punitive. Seulement sur « Semence En Moi, Le Danger », sur le côté B, apercevons-nous une faible lueur à travers l'obscurité, tandis qu'une mélodie de boîte à musique tournoie au loin dans une pièce vide.
Femminielli Noir – Semence En Moi, Le Danger
Processor
Processor
Toronto, ON
From the hedge maze of James Lindsay:
Freezing, sweeping vistas of electromechanical modularism nonchalantly drift by on this cassette from some of Toronto's most exciting new experimenters. Processor is the duo of M. Joakim and Lorenz Peter, Corpusse collaborator, top T.O. gripper, and owner of one of the city's best new record stores, LP's LPs. Together, they specialize in hypnotic industrial environments that patiently build on themselves like an overgrown hedge maze of TG's tenderness. Be prepared to spend some time enjoying exploring the way out.
Du labyrinthe de haies de James Lindsay:
(Traduit par le détour de Julie Forget)
Des visions de modularisme électromécanique gelées et avançant rapidement dérivent nonchalamment sur cette cassette provenant de certains des nouveaux expérimentateurs torontois les plus passionnants. Processor est le duo de M. Joakim et de Lorenz Peter, collaborateur de Corpusse, top gripper torontois et propriétaire de l'un des meilleurs nouveaux magasins de disques de la ville, LP's LPs. Ensemble, ils se spécialisent dans les atmosphères industrielles hypnotiques qui se construisent patiemment sur elles-mêmes comme un labyrinthe de haies de la tendresse de TG envahi par les mauvaises herbes. Soyez prêts à vous amuser à explorer la porte de sortie.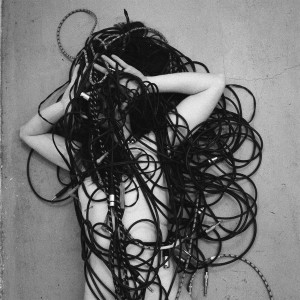 From the black market wetware of Bryce Warnes:
Koban's semi-automatic goth punk paints an image of a Gibsonian nightmare world. Britt of Lié fame's synth crashes and moans from the mouth of a dark alley, while Samuel's drum machine crackles with poisonous needlegun rhythms. All the cyberpunk kids are getting messed up on black market wetware and making out to "L'Ombre". "Re-entry" rattles flesh-prison bars and "Not Broken" longs for an escape to the wide-open expanse of the flat field. Welcome to the future. Everything is amazing and nobody is happy.
Des pouvoirs bioniques du marché noir de Bryce Warnes:
(Traduit depuis la prison gothique d'Andréanne Dion)
Le punk gothique semi-automatique de Koban peint le portrait d'un monde gibsonien cauchemardesque. Le synthétiseur de Britt, connue pour son rôle dans Lié, s'écrase et gémit depuis l'entrée d'une ruelle sombre, alors que la boîte à rythme de Samuel grésille avec des cadences empoisonnées de poivrière. Tous les cyberpunks se défoncent aux pouvoirs bioniques du marché noir et se tripotent au son de « L'Ombre ». « Re-entry » secoue les barreaux des prisons de chair et « Not Broken » aspire à s'évader dans la vaste étendue des plaines. Bienvenue dans le futur. Tout est extraordinaire et personne n'est heureux.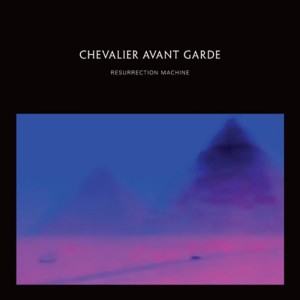 Chevalier Avant Garde
Resurrection Machine
Montréal, QC
From the bedroom goth-disco of Pavan Brar:
Melancholy and bliss permeate the entirety of Resurrection Machine, infiltrating the body via the auditory organs and spreading throughout. On their newest release, Chevalier Avant Garde show a great command of the ability to transduce lows into mid-tempo grooves, a transformative process impelling one to both dance and sulk. A composite of ambient electronics and reverbed post-punk vocals, the band's collective consciousness echoes from within to without, emitting cold psychical waves which set up a suitable aura to welcome the arrival of fall.
De la chambre disco gothique de Pavan Brar:
(Traduit par l'inspiration de Julie Forget)
La mélancolie et le bonheur imprègnent Resurrection Machine en entier, en infiltrant le corps par les organes auditifs et en s'y étendant d'un bout à l'autre. Dans leur plus récente parution, les membres de Chevalier Avant Garde maitrisent parfaitement l'art d'accélérer les grooves lents, un processus de transformation qui incite autant à danser qu'à se renfrogner. Mélange de musique électronique ambiante et de voix post-punk reverbérée, la conscience collective du groupe résonne de l'intérieur vers l'extérieur en émettant de froides vagues psychiques qui créent une ambiance propice à l'accueil de l'automne.
Chevalier Avant Garde – Rose Rider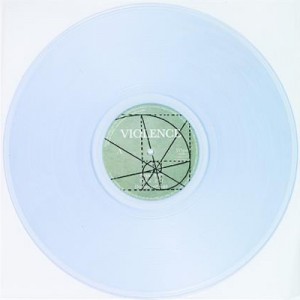 From the weird silence of Jesse Locke:
Montreal's Visage Musique has become a go-to source for sub-zero heaters. The label's latest stunner is this sublime synth-pop 12" from Ottawa duo Violence that could be equally mistaken for a lost cut from BIPPP, the soundtrack to a Molly Ringwald montage, or a regular Thursday at Sex Laser. These visitors of the night are welcome at any party.
Du silence occulte de Jesse Locke:
(Traduit par l'amour et la violence de Benoit Poirier)
Le label montréalais Visage Musique, devenu une référence de bouillonnement sous-zéro, propose ce sublime 12″ synth-pop du duo franco-ottavien Violence, qu'on pourrait réputer – à juste titre – être une session perdue de l'essentielle compilation française BIPPP, la trame sonore d'un montage de Molly Ringwald, ou juste un jeudi soir normal au Sex Laser. Ces visiteurs de la nuit sont les bienvenus à n'importe quel party.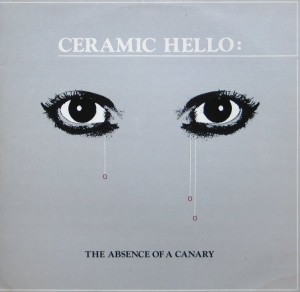 Ceramic Hello
The Absence of a Canary
(Mannequin Records)
Burlington, ON
Originally Released: 1980
From the bedroom breeding ground of Matthew Samways:
My initial instinct to spotlight of one of Canada's most outstanding and unique records was an epic approach, analyzing its prominent contributions to music – cultural and suburban influence, inspirations, aspirations, tools used. I even went to the extent of contacting Brett Wickens – the main songwriter on this truly wonderful masterpiece – to conduct a small interview. Yet as I collected this information, I realized it would prove to be a total contradiction of what makes the album so beautiful: its minimalism.
The Absence of a Canary was originally issued in 1980 by the now defunct Mannequin Records (not to be confused with the great contemporary Italian/German Wave label Mannequin) out of Burlington by-way-of Toronto, Ontario. It has since has seen two comprehensive reissues. The first was a deluxe box set issued by the soon to be legendary boutique label Vinyl on Demand with elaborate, alternate artwork and bonus material. The most recent edition comes from Canadian imprint Suction, whose owner is also the brain behind Solvent and producer of the upcoming modular synth documentary, I Dream Of Wires.
This LP was released in a time where mail order via catalogue was one's only option. You couldn't go to Ceramic Hello's shows, because they never played live. You could find these two young men hiding in their bedrooms at their parents' houses exchanging Kraftwerk LPs, listening to Gary Numan singles on the radio, and of course paying their respects to Brain Eno, whose influence is likely the most prominent, particularly 1974's Taking Tiger Mountain (By Strategy). Wickens later went on to do graphic design for the inimitable Factory Records, notably working on Orchestral Manoeuvers in the Dark's third album Architecture & Morality.
With respect to the up and coming artists chasing a vision based on what was accomplished by groups like Ceramic Hello, I do believe the majority are simply overlooking what makes this music unique – organic creation, naivety, lack of resources – a true dystopia. It's not complicated. Bedrooms were the breeding grounds for the beginning of this era, using affordable pieces of equipment that were available at the time – notably the Korg MS-20, Roland CR-78, Polymoog and Minitmoog. In fact, the whole record was recorded on a borrowed Teac 8-track. Not to sermonize my beliefs, but in my opinion this time was Ground Zero for what is now considered a revived sound. There were no impulses for Brett Wickens and Roger Humphrey to create a groundbreaking sound that would escalate the charts, they were only doing what was natural to them. For that, we will always be grateful for Ceramic Hello's sole LP, which will be celebrated for years to come.
Matthew Samways is the owner and primary operator of Minimal Electronic/Wave imprint Electric Voice Records. He is also the assistant director of Halifax fringe music and arts festival OBEY Convention as well as developing his solo musical endeavour under the moniker Amour Noir.
De la musique de chambre de Matthew Samways:
(Traduit par l'encre minimaliste de Dominic Mpilé)
Ma première idée pour rendre hommage à l'un des plus remarquables et uniques disques canadiens était d'adopter une approche exhaustive à l'extrême et d'analyser ses contributions majeures à la musique – son influence culturelle et banlieusarde, ses inspirations, ses aspirations, les moyens utilisés. Je suis même allé jusqu'à contacter Brett Wickens, le compositeur principal de cet incroyable chef-d'œuvre, pour une petite entrevue. Cependant, alors que je recueillais toute cette information, je me suis rendu compte que ma démarche était en parfaite contradiction avec ce qui faisait la beauté de cet album : le minimalisme.
The Absence of a Canary a été à l'origine lancé en 1980 par la défunte Mannequin Records (à ne pas confondre avec l'étiquette germano-italienne de renom Mannequin) basée à Burlington par l'entremise de Toronto. L'album a depuis fait l'objet de deux rééditions augmentées. Un premier coffret de luxe distribué par le légendaire label à en devenir Vinyl on Demand comprenait une nouvelle pochette et des bonus. On doit la plus récente édition à l'étiquette canadienne Suction, dont le propriétaire est aussi le cerveau derrière Solvent et le producteur du documentaire à paraître I Dream Of Wires sur le synthé modulaire.
Ce LP est paru à une époque où la seule option pour se le procurer était de le commander par catalogue. On ne pouvait pas non plus assister aux concerts du groupe parce qu'il n'en donnait tout simplement pas. Les deux jeunes hommes pouvaient être trouvés dans leur chambre chez leurs parents s'échangeant des albums de Kraftwerk, écoutant du Gary Numan à la radio et bien sûr louangeant Brain Eno, dont l'influence est probablement la plus marquante, en particulier son album de 1974 Taking Tiger Mountain (By Strategy). Plus tard, Wickens travaillerait comme designer graphique pour l'inimitable Factory Records, notamment sur le troisième album de Orchestral Manoeuvers in the Dark Architecture & Morality.
Avec tout le respect que je dois aux artistes de la relève en quête d'une vision s'inspirant de ce que des groupes comme Ceramic Hello ont accompli, je crois que la plupart se méprennent sur ce qui rend cette musique unique : la création organique, l'innocence, les moyens limités – une véritable dystopie. Ce n'est pas compliqué. Les chambres à coucher ont été les terreaux fertiles des débuts de cette ère où on utilisait de l'équipement bon marché disponible à l'époque – notamment le Korg MS-20, le Roland CR-78, le Polymoog et le Minitmoog. D'ailleurs, l'album a été enregistré au complet grâce à un enregistreur à huit pistes Teac emprunté. Je ne voudrais pas porter atteinte à mes convictions, mais à mon avis cette époque était la préhistoire de ce qu'on qualifie aujourd'hui de son remis au goût du jour. Brett Wickens et Roger Humphrey ne cherchaient pas à créer de la musique innovatrice qui gravirait les sommets des palmarès, ils ne faisaient que ce qui leur paraissait naturel. C'est pour cela qu'on aimera toujours l'unique album de Ceramic Hello, lequel sera encore encensé pour bien des années à venir.
Matthew Samways est propriétaire et homme à tout faire de l'étiquette électro minimal Electric Voice Records. Directeur adjoint du festival de musique et d'arts parallèles OBEY Convention, il s'aventure également en des territoires musicaux inexplorés sous le pseudonyme d'Amour Noir.
Ceramic Hello – Climactic Nouveaux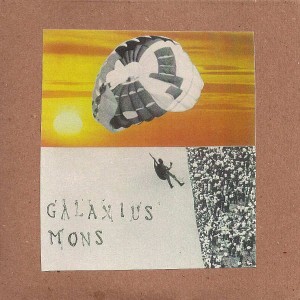 Galaxius Mons
Galaxius Mons
(Self Released)
Montreal, QC
From the galactic quest of Alt Altman and Andrew Pulsifer:
Montreal's Galaxius Mons takes two already-excellent solo artists and merges them into something incredible. Matt LeGroulx (EXPWY) and Ian Jarvis (Chairs) perform in each other's projects' live incarnations, so it's no surprise that they've teamed up as a duo. Chairs dabbles a bit in electronic pop but EXPWY is strictly bossa, so it was surprising to hear they'd made a straight-up psychedelic synth-pop record. Happily, they immediately prove themselves to be masters of the form. Recording the entire thing using a couple of Moog Rogues, the two have created a landscape we very much want to explore, and perhaps permanently inhabit. The sounds they discover on this album could be considered the Platonic Ideal of synthesis, with the two skilled songwriters penning memorable singsong melodies over hypnotic drum loops. This meeting absolutely constitutes a supergroup in our books.
Alt Altman and Andrew Pulsifer are the masterminds behind Silent Shout, a Toronto-based website and live music series dedicated to sounds that go bump in the night.
De la quête intergalactique de Alt Altman et Andrew Pulsifer:
(Traduit par l'extraterrestre de compagnie de Nicolas Coutlée)
Galaxius Mons, c'est deux excellents artistes solos de Montréal fusionnés en une seule entité incroyable. Matt LeGroulx (EXPWY) et Ian Jarvis (Chairs) partageaient déjà la scène lors de leurs prestations live respectives, ce n'est donc pas une surprise de les voir ici s'unir. Alors que Chairs s'aventure un peu en eaux électro-pop, EXPWY ne fait que de la bossa; c'était donc surprenant d'apprendre qu'ils en étaient venus à produire ensemble un pur album de pop synthétique et psychédélique. Heureusement, ils se sont tout de suite avérés des maîtres du genre. À partir de deux claviers Moog Rogue se dessine un paysage qui appelle à l'exploration, peut-être même à la colonisation permanente. Les sons qu'ils débusquent sur cet album pourraient être considérés comme l'idéal platonicien de la synthèse; deux compositeurs de talent accouchant de mélodies mémorables sur fond de boucles de batterie hypnotique. Dans notre livre à nous, on a ni plus ni moins affaire à un supergroupe.
Alt Altman et Andrew Pulsifier sont les têtes pensantes derrière Silent Shout, un site web et une série de soirées musicales dédiés aux sons qui frayent dans la nuit.
Galaxius Mons – Aquarium Domes
---