Tag: midori records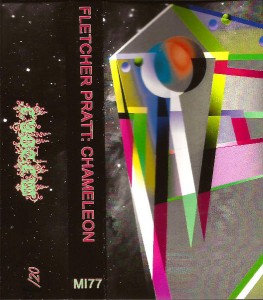 Fletcher Pratt
Chameleon
Winnipeg, MB
From the stereoscopic eyes of Taylor Benjamin Burgess:
Ever changing, Fletcher Pratt keeps swaying on, making his kaleidoscope way through the ever-spooling landscape. Departing from early tape collages, he drove rhythmic noise over the edge, steered into and out of squealing absurdity, and rolled the top down to show off his spacey reggae. Chameleon returns to the arrhythmic, sounding every bit as disorienting (yet charming) as stereoscopic eyes and chromatophores. It's like a sentient Nintendo cartridge finally took one too many blows, broke up and said, "Y'know what? Fuck it," and went far, far off the grid. Into the woods, to prance and creep around. For the glam chameleon
Des yeux stéréoscopiques de Taylor Benjamin Burgess:
(Traduit par le regard ondoyant de Joannie Pharand)
En perpétuelle évolution, Fletcher Pratt continue son déhanchement, traçant son passage de façon kaléidoscopique à travers la bobine éternelle du paysage. Commençant par des premiers collages audios, il a poussé le rhythmic noise par-dessus bord, conduit à l'intérieur et à l'extérieur d'une absurdité grinçante, pour enfin rouler les fenêtres baissées et faire rayonner son reggae planant. Le Caméléon retourne à l'arythmie, sonnant tout aussi désorienté (quoique charmant) que des yeux stéréoscopiques et des chromatophores. C'est comme une cassette de Nintendo douée de sens qui, après avoir reçu trop de coups, s'était brisée et s'exclamait finalement : « Tu sais quoi ? D'la marde, » et dégageait de la place, s'en allait bien loin. Dans les bois, pour se pavaner et rôder. Pour qu'il sonne de cette façon, ce caméléon glamour devra tout d'abord se transformer en soupe primaire.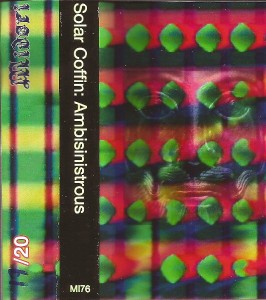 Solar Coffin
Ambisinistrous
Winnipeg, MB
From the time-lapse cocoon of Taylor Burgess:
Clicking in this cassette will be your final nail. It shall shunt you off into deep, lifeless space. No prospect of a return trip. And as you drift further, so does Ambisinistrous; it's a time-lapse cocoon, building the oscillating void around and within you. The duo makes use of all oscillations, creating rapt crowds in their great audiovisual din. It should be no surprise that Fletcher Pratt is half of the droning bliss behind this small-run cassette, with Erik Larsen taking the rest of the knob-twisting to the stars.
Du moment de cocon de Taylor Burgess:
(Traduit par Jacinthe Laplante)
Cliquer sur cette cassette sera votre coup de grâce. Elle vous mènera aux confins d'un espace sans vie. Sans possibilité de retour. Comme vous, Ambisinistrous dérive plus loin, un moment dans un cocon, créant un vide vibrant autour et à l'intérieur de vous. Ce duo utilise toutes les oscillations, captivant les foules avec leur grand boucan audiovisuel. Il n'est pas surprenant que Fletcher Pratt soit derrière le bonheur bourdonnant de cette courte cassette avec Erik Larsen qui nous porte jusqu'aux étoiles en jouant avec les boutons de réglage.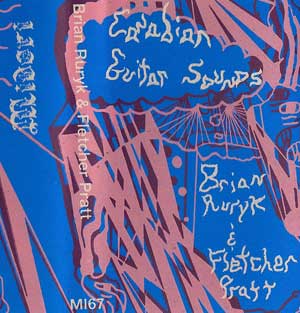 Brian Ruryk and Fletcher Pratt
Canadian Guitar Sounds
Toronto, ON // Winnipeg, MB
From the hate, guitar, etc. of Jesse Locke:
Toronto's storied six-string weakling and Winnipeg's notorious nightmare machinist junk it up on this flesh-crawling collab. The plainspoken title does little to prepare for the onslaught of shreddery lost in the tempest of tape loops and R2-D2 squeals. Bill Orcutt getting down with Bernard Bonnier is a start, but this is more like Mutant Concrète.
De la haine, la guitar, etc. de Jesse Locke: (Traduit par les cauchemars acoustiques de Maya Keshav)
L'avorton légendaire de six cordes de Toronto et le machiniste cauchemardesque mal famé de Winnipeg balancent grave avec cette collaboration qui nous donne des frissons. Le titre franc fait rien pour nous préparer pour l'assaut de shred perdu dans la tempête de boucles de cassette et de cris à la R2-D2. Si Bill Orcutt niquait Bernard Bonnier, ça serait un début, mais ceci est plutût comme Mutant Concrète.
Brian Ruryk and Fletcher Pratt – Canadian Guitar Sounds (excerpt)
---