Tag: michael deane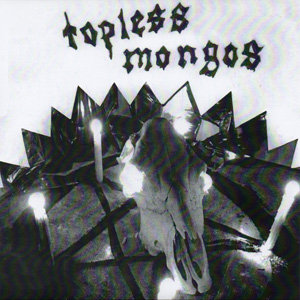 Topless Mongos
Hey My My b/w Theme from Human Centipede
Calgary, AB
From the human centipede of Mike Deane:
These mongos mix furiosity, intensity, hooks, throw back and right now! You'll fall in love with your tormentor. Hard boiled garage punk on the A-side, full of slurred, straight-up, brief-and-rough hooks that'll dig deep into your brain. Side B is similarly grimy and tight, with some pervey muffled vox over old-but-new gar(b)agey riffs, with nods to the sickest flick. After 60 years, rock 'n roll is still exciting, and you have bands like the Topless Mongos to thank.
Du mille-pattes humain de Mike Deane:
(Traduit par Odile Leclerc)
Ces mongos mixent la furiosité, l'intensité, les accroches, les retours et tout de suite! Vous allez tomber en amour avec votre bourreau. Du punk de garage bouilli dur sur la face A, plein d'accroche à peine articulées, honnêtes, brèves et rudes qui vont creuser profondément dans votre cerveau. La face B similairement sale et serré, avec quelques voix perverses étouffées par-dessus les vieux mais nouveaux riffs de pou(b)elle, avec des hochements de tête au film le plus malade. Après 60 ans, le rock and roll est encore excitant et vous avez des groupes comme les Topless Mongos à remercier.

Topless Mongos – Hey My My


Topless Mongos – Rowena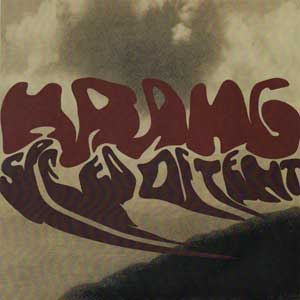 Krang
Speed of Tent b/w Spirit Animal
Edmonton, AB
From the wormhole of Mike Deane:
Fall back into a hazy groove and get enveloped in Krang's tangible smog. Soulful, desolate, driving, soaring, otherworldly – the Edmonton band is in a constant state of psych-flux, but you're able to completely absorb the sonic explosion; picture spiraling through a wormhole while being aurally blasted from all sides. From meandering builds to garage energy to Sabbath-styled riffioso, you're always involved and immersed. Krang goes full on, so don't feel this fringe from the fringe – dive deep into these murky waters.
Du trou de ver de Mike Deane: (Traduit par l'explosion sonique de Maya Keshav)
Allonge-toi sur un brouillard balançant et envelope-toi dans le smog palpable de Krang. Émouvant, désolé, battant, planant, surnaturel— le groupe d'Edmonton est toujours dans une phase évolutive et psychédélique, mais on est capable d'absorber complètement l'explosion sonique; imagine s'élever en spirale à travers un trou de ver pendant qu'on est abattu auralement de tous les côtés. Depuis les builds vagabondants jusqu'au riffioso façon Sabbath, on est toujours impliqué et immergé. Krang va jusqu'au bout alors écoute pas cette marge de la marge— saute dans ces eaux troubles.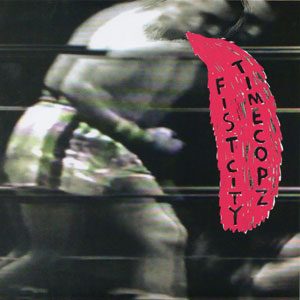 Fist City // Timecopz
Split 7″
Lethbridge, AB // Vancouver, BC
From the post-storm sun of Michael Deane:
It's like someone told both of these bands: "You only have five minutes to say everything you have planned for the next year," and they nailed it into the ground. Fist City's side has an amazing mix of precision and shambles, of dissonant guitar lines and totally uplifting sun-after-the-storm, muddy-voiced melodies. The trampling, mangled, spit-out warbling verses give way to trebly, simple guitar lines backing catchy-as-all-hell choruses. Timecopz keep pace with bratty, chunky, screamy garage-punk that stays away from all gimmick, giving nothing but two songs full of noisy, in-the-red energy. Group choruses and infectious verses mix punk's past with punk's future and give you punk rock for right now. MUST GRIP.
Du soleil après l'orage de Michael Deane:
(Traduit par Maya Keshav)
C'est comme si quelqu'un a dit aux les deux groupes: "Vous avez seulement cinq minutes pour dire tous ce que vous avez l'intention de dire cette année," et ils ont tapé dans le mille. La face de Fist City a un mélange incroyable de la précision et de la pagaille, des riffs dissonantes de guitare, et des mélodies embrouillées, soleil-après-l'orage, et complètement exaltantes. Les vers piétinants, lacérés, crachants et gazouillants cèdent aux mélodies aiguës et simples de guitare derrière les refrains trop entraînants. Timecopz tient le rythme avec le garage-punk gâté, trapu, et hurlant qui évite tous les stéréotypes, en donnant deux chansons trempées d'énergie bruitiste et dans le rouge. Les refrains de groupe et les vers entraînants mélange le passé du punk avec l'avenir du punk et vous donne le punk pour juste maintenant. ACHETEZ.

Timecopz – Shit City

Fist City – Iggy Pup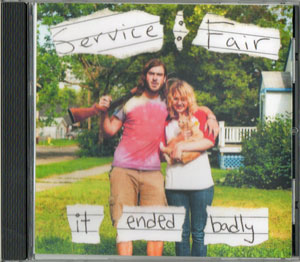 Service:Fair
It Ended Badly
Edmonton, AB
From the revisionist pop grunge of Michael Deane:
Killing it with laid-back breezy, catchy downers and high-strung musical exclamations, Catlin Kuzyk and co. create an immensely addictive mix of swamp-sheened pop-rock gems. Evincing energetic melancholy and homemade warmth, this Brazilian Moneyennaire effortlessly belts out strangled wails and powerful vocal refrains that are always on the move between sadness and excitement. Though it's ostensibly a contemplation on failed romance, It Ended Badly is a colossal success. The best way to listen to this driving semi-sloppy hook-filled revisionist pop grunge is on repeat.
Du grunge pop révisionniste de Michael Deane: (Traduit par Odile Leclerc)
N'en déchirant avec de jovial et décontracté relaxants accrocheurs et des exclamations musicales agitées, Catlin Kuzyk et co. créer un mix immensément addictant de merveilles pop-rock de marais lustré. Démontrant une mélancolie énergique et une chaleur faite maison, cet argentennaire brésilien fait sortir sans effort des hurlements étranglés et de puissants refrains vocaux qui sont toujours entrain d'osciller entre tristesse et excitement. Malgré que c'est prétendument une contemplation sur de la romance échouée, It Ended Badly est un succès colossal. La meilleure façon d'écouter cet entraînant grunge pop révisionniste rempli d'accroche et semi-maladroit est sur répéter.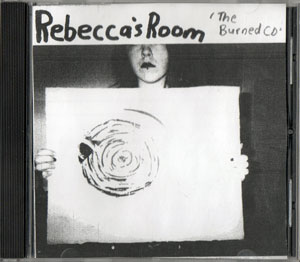 Rebecca's Room
The Burned CD
(Self Released)
New Waterford, NS
From the shambling slackertude Michael Deane:
New Waterford's bedroom-punk heeds no boundaries. Fuzzed-out mono-pop, warped keyboard layers and oscillating noise behind shambling slackertude all play together, seamlessly blending the last 20 years of college rock, lo-fi jams and punk aggression. Rebecca's Room keep it interesting and surprising, and this CD's eight songs don't even seem to scratch the surface of the band's anthemic, monotonically drawled out bangers. "Cherry" embodies youthful exuberance and wasted nights of ingested meaning, while "All That You Say" has Dylan-esque blasé and hooks for days. These upper-downer jams mix with more contemplative fare to bring a full serving of the frantic but bored, laid back psych-acoustic numbers and blown-out noise pop.
De l'attitude feignante de Michael Deane: (Traduit par la cerise de Maya Keshav)
Le bedroom-punk de New Waterford fait attention à aucune limite. La mono-pop super-floue, les couches déformées du clavier, et le boucan oscillant derrière l'attitude feignante et traînante jouent tous ensemble, en mélangeant sans heurt les derniers 20 ans du college-rock, des boeufs lo-fi et de l'agression punk. Rebecca's Room continuent d'être intéressant et surprenant, et les huit chansons de ce CD n'ont même pas l'air d'effleurer le sujet des succès hymnaux et monotones du groupe. "Cherry" incarne l'exubérance juvénile et les nuits gâchées des sens ingérés, alors que "All That You Say" est blasé façon Dylan et a les accroches qui duront pendant des journées. Ces tounes stimulantes-sédatives mélangent avec celles qui sont plus songeuses pour fournir une portion complète des morceaux frénétiques mais qui s'ennuient, des pièces relax de psych-acoustique, et la pop bruitiste bourrée.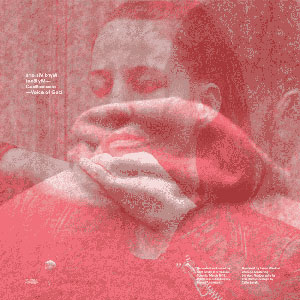 Wyrd Visions // Castlemusic
My Boat b/w Voice of God
(Blue Fog)
Toronto, ON
From the (blue) fog bath of Michael Deane
The Bog Lord and Haunting Pixie return to add to each other's tales, but gently, with contemplative, (blue) fog-bathed, repetitively folk-essed meditations. Side Wyrd finds Colin Bergh reveling in single guitar riffs that cascade from their centre into softly sung Nordic tales. Finger-plucked medieval guitar patterns sit in the back while a four-note bass line twists and repeats. Bergh's voice brings you further into a trance, struggling to find the beginning and end. When Jennifer Castle joins him, the waves combine and the tide swells, prepping you for Queen-like vocal stabs that bring this to new levels of acoustic-black-metal-folk-prog. Side Castle flips the script with a delicately plucked minor guitar pattern and soulfully smooth, airy vocals examining the powers above. Sporadic toms fill in the emptiness to give a surprisingly lush start to this solo-turned-strange-duet. Bergh re-enters the fold, echoing CM's questioning of the voice of God. Together, they create an epically surreal musical landscape. Grip Hurr..
Du bain de brume (bleue) de Michael Deane:
(Traduit par Odile Leclerc)
Le Bog Lord et Haunting Pixie reviennent pour ajouter à chacun de leurs contes, mais gentiment, avec de répétitives méditations folklorisées contemplatives baigné de brume (bleue). Side Wyrd trouve Coling Bergh savourant des riffs de solo de guitare qui cascadent de leur centre vers des contes Nordique doucement chantés. Les motifs de guitare médiévale grattée s'assoient en arrière pendant qu'une ligne de basse à quatre notes se tort et se répète. La voix de Bergh vous apporte plus profondément dans une transe, se démenant pour trouver le début et la fin. Quand Jennifer Castle le rejoint, les vagues se combinent et la marée se gonfle, vous préparent pour des coups de couteau de chants comme Queen qui apportent ceci à d'autres niveaux de métal noir de folk progressif acoustique. Side Castle retourne le script avec une suite mineure de guitare délicatement pincée et d'attendrissant, doux et agréable chants examinant les pouvoirs d'en haut. Les sporadiques toms emplissent le vide pour donner un surprenant et riche début à cet anciennement solo-tourné-étrange duo. Bergh revient parmi nous, faisant écho au questionnement de la voix de Dieu de CM. Ensemble, ils créent un épique paysage musicale surréel. À attraper. Hurr.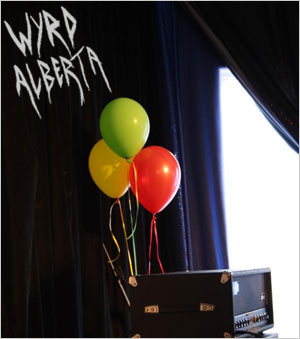 Wyrd Alberta
Wrap-Up
Alberta
I spent a few days trying to figure out a way to summarize the behemoth that became the Wyrd Alberta Traveling Festival. Yesterday it dawned on me that I don't have the time to go through every minute detail of the event. Instead, I'm just going to talk it out (see 2:42).
What started out as a phone call between Paul Lawton and myself on the successes of Mammoth Cave Fest and Wyrd Fest, quickly turned into a mad-hatted idea to both showcase Alberta's burgeoning talent and bring bands from Canada's abundant East to our beautiful, desolate West. Thus the Wyrd Alberta Traveling Festival was born; a traveling caravan of our favorite, genre-bending bands whose schedule permitted them to make it westward.
Paul and I proceeded to write up a list of "dream bands." After a number of e-mails, deals, hand-shakes, phone calls, and deliberation, the first "final draft" of bands was concocted. We were lucky to work with Calgary's premier indie-music festival Sled Island, granting us a Calgary date for the whole ordeal. Boom! We thought all the work was done there! Press releases went out, tickets went on sale, and my partner Marie LeBlanc Flanagan embarked on the unsane task of ensuring I didn't work myself to death. In the interim we had some unfortunate drops (Dead Ghosts and Grand Trine) but we had some very fortune replacements (MYTHS and D'EON). The festival seemed on track…
After about a hundred hours of phone calls, venue cancelations, billeting, postering, painting, advertising, interviewing, soliciting and organizing volunteers, and trying to ensure the whole operation didn't collapse under a pile of promoter entropy, the festival happened. There were many times I thought the whole thing would implode, nevertheless, it actually happened. Before my own eyes the whole thing unfolded like a chromatic Mobius strip undulating within some cosmic explosion. What an experience!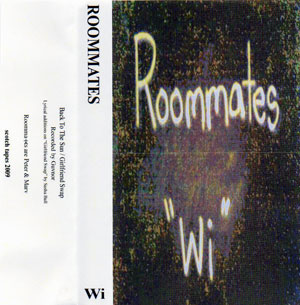 From the polyamorous disaster of Michael Deane
Looking onto the mid-northern thunderous tundra puts me in a perfect place to relate to the Roommates' "Back to the Sun," the latest in a flurry of side-projects from Fucked Up guitarist Ben Cook. The breezy, straightforward pop hooks tinged with melancholy and longing speak directly to me. "Back to the Sun" is self-conscious, with sun-yearning lyrics matched by the sweetly sad vocals and tom-heavy thumping we're used to from Young Governor. The flip of this cassingle is the slightly creepy, slightly goofy anthem that follows two dudes trying to talk their gals into a "Girlfriend Swap". Infectious hooks and an entertaining story-line make it repeatable power pop magic. "Don't roll your eyes at me / Let's do things differently / We're all just one big family / So let's give it a try." I'm not quite convinced by their logic, but you can't deny these hits.
[Levin's Note: I'm very convinced. Hit me on my beeper.]
De la catastrophe polyamoureuse de Michael Deane:
(Traduit par Maya Keshav)
En regardant la vue de la toundra mi-nord et tonitruante me laisse s'identifier facilement à "Back to the Sun" des Roommates, le dernier dans une série de projets supplémentaires du guitariste Ben Cook de Fucked Up. Les accroches pop légères et simples teintées de la mélancolie et d'envie me parlent directement. "Back to the Sun" est complexé, avec les paroles doucement triste et les frappements de tam-tam qu'on a l'habitude d'entendre de Young Governor. L'autre face de cette cassingle est l'hymne un peu louche, un peu rigolo qui raconte l'histoire de deux gars qui essayent de convainre leurs blondes de faire "un échange de copines". C'est la magie power pop réitérable grâce aux accroches entraînantes et une intrigue amusante. "Don't roll your eyes at me / Let's do things differently / We're all just one big family / So let's give it a try." [Ne leve pas les yeux au ciel/ Faisons les choses différemment/ On est juste une seule grande famille/ Alors laissons-nous essayer] Bon moi je suis pas entièrement persuadé, mais tu peux pas nier ces hits.
[Levin ajoute: Moi j'suis persuadé. Fais-moi signe!]
---