Tag: metal
From the cult of Aaron Levin:
In the valley between post-apocalyptic nihilism and ritual suicide resides a devastating sonic philosophy bred for mental undoing. Push the needle into AHNA's polyvinyl debut and let this doomic celebration course through your mental veins. As the threads of fybre binding your consciousness burn away, AHNA's desolate bellowing will forge new paths within the fermented entrails of your guttural chaos. Sip the froth of your own undoing and relinquish AHNA's morose gin. \m/GRIP\m/
De la culte d'Aaron Levin:
(Traduit par Maya Keshav)
Dans la vallée entre le nihilisme post-apocalyptique et le suicide rituel il existe une philosophie sonique accablante pour la dissolution de santé mentale. Remplis ton aiguille des débuts polyvinyl d'AHNA et laisse couler dans tes veines mentales cette fête de morosité. Pendant que les fils de fybre qui attachent ta conscience sont consumés, le beuglement désolé d'AHNA va façonner des nouveaux chemins dans les entrailles fermentées de ton chaos guttural. Sirote l'écume de ta propre perte et savoure le gin morose d'AHNA. \m/ACHETE\m/

AHNA – I Saw You
PiG
Tragic Venus b/w Immanent Deity
Truro, NS
From the diocese of Aaron Levin:
On (possibly) their last release, PiG drill into a heady mix of miscreant-skiddery and Lorca-era Tim Buckley. It's sundown at the crest of oblivion and PiG remain defiant, twisting the threads of their home-brewed, basement psychedelia for your voyeuristic pleasure. Their spastic death-punk has fermented into an outerworld sonomoly; a dialectic entombed by Matt Samways' fearless mantra. "Tragic Venus"' piercing bass and shimmering clamour populate your neural pathways with the lysergic elements required to process the droning "Imminent Deity." This new, indivisible sound is surrounded with "Outro"'s industrial racket and solidifies their shrine within Canada's fringe vortex. PiG remain a huge inspiration for Weird Canada. For that, and so much more, we will miss them dearly. XOXOGRIPXOXO.
Du diocèse d'Aaron Levin:
(Traduit par Maya Keshav)
Avec (peut-être) leur dernier enregistrement, PiG perçent dans un mélange grisant du débardage scélérat et de Tim Buckley à l'époque Lorca. C'est le crépuscule à la crête de l'inconscience et PiG restent irrévérencieux, en tordant les fils de leur psychédélisme fait-maison du sous-sol pour votre plaisir voyeuriste. Leur death punk crétin a fermenté jusqu'à devenir une sonomalie de l'espace; une dialectique enterrée par le mantra intrépide de Matt Samways. La basse perçante et le chahut dansant de "Tragic Venus" peuplent votre réseau neuronal avec les éléments lysergiques qui sont nécessaires pour faire face au morceau bourdonnant "Imminent Deity". Ce nouveau son indivisible est entouré de boucan industriel d'"Outro" et il solidifie leur autel dans le tourbillon fringe du Canada. PiG reste une énorme inspiration pour Weird Canada. Pour ça, et pour beaucoup plus, ils nous manqueront énormément. xxxx Achetez xxxx.

PiG – Tragic Venus

PiG – Immanent Deity

PiG – Outro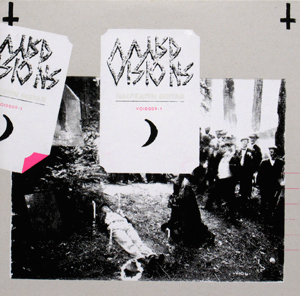 Wyrd Visions
Half-Eaten Guitar
(Bluefog)
Toronto, ON
From the nostalgic words of Aaron Levin:
It's precious that a folk record can prove to be most metal recording I've heard. My problem with metal is that I went to a Christian Junior-High school and spent a year in the library devouring books on the occult. I want metal to bring me back to the musty ambience of the library I spent so many lunch-breaks. Which means I don't care how many pentagrams and crude logos you draw on your record; unless you bring the bog-drenched, harrowing mysticism of Wyrd Visions' stripped guitar, double-tracked Swedish vocals, and breathless, frozen air: you have nothing. So, for all you aspiring metal-heads out there: take your cues from this minimal folk departure that will surely solidify Satan's reign and bring victory to the Whore of Babylon. It also helps that he does a Mayhem cover and has Castlemusic sing with him.
Des mots nostalgiques d'Aaron Levin:
Il est précieux qu'un enregistrement de folk peut se montrer être l'enregistrement le plus métal que j'ai entendu. Mon problème avec le métal est que je suis allé à une école secondaire chrétienne et j'ai passé un an dans la bibliothèque à dévorer des livres sur l'occulte. Je veux que le métal me ramène dans l'ambiance à l'odeur de vieux de la bibliothèque dans laquelle j'ai passé tant de pauses-déjeuner. Ce qui veut dire que me fiche de combien de pentagrammes, de logos vulgaires vous dessinez sur votre enregistrement; à moins que vous apportiez le poignant mysticisme marécageux de la guitare rayée de Wyrd Vision, les chants suédois à deux pistes et l'air gelé irrespirable; vous n'avez rien. Alors, pour tous les aspirants métalleux du monde, prenez exemple de ce minime départ de folk qui va sûrement solidifier le règne de Satan et apporter la victoire à la Prostitué de Babylone. Cela aide aussi qu'il fait une couverture destructrice et il fait chanter Castlemusic avec lui.
---