Tag: mellow burner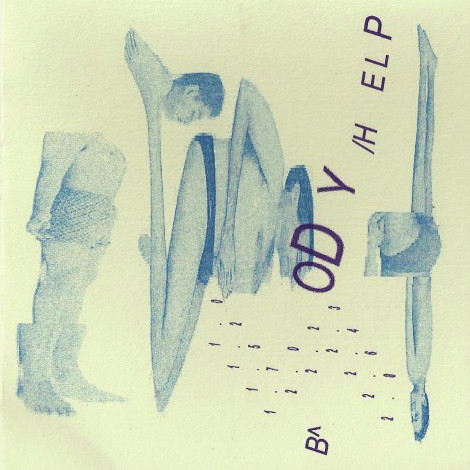 Body Help
Body Help
(Love Nation)
Toronto, ON
From the élan vital of Javier Fuentes:
Transcendent glimmers push back fading shadows on the streets of Toronto. The trio of Kieran Adams, Josh Cole, and Colin Fisher burns through the unwarped mind, leaving a scorched trail of smooth havoc. Self-help books crumple on the ground as the instrumental hums in the back make their way to the foreground. Profound exercises of consciousness descend on our bodies to the sounds of lysergic energy being drained from the spirit of each instrument. They give back as much as they take, leading flight patterns into places beyond our radar. There's nothing left to do but head further into the noise. Another crucial grip from Love Nation.
De l'élan vital de Javier Fuentes:
(Traduit par les ombres de Julie Forget)
Des miroitements transcendants font reculer les ombres qui s'effacent dans les rues de Toronto. Le trio de Kieran Adams, Josh Cole et Colin Fisher brûle dans l'esprit redressé, laissant une trace noircie de doux chaos. Des livres de développement personnel s'effondrent au sol pendant que les fredonnements instrumentaux en arrière-plan se rendent vers l'avant. Des exercices profonds de conscience descendent sur nos corps au son de l'énergie lysergique drainée de l'esprit de chaque instrument. Ils donnent autant qu'ils reçoivent, dirigeant leurs déplacements en vol à des endroits qui vont au-delà de notre radar. Il ne reste plus qu'à se rendre plus loin dans le bruit. Voici une autre fascination déterminante de la part de Love Nation.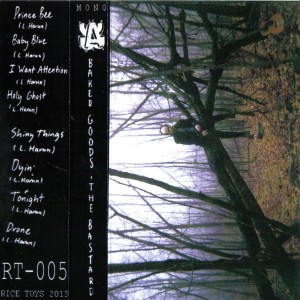 Baked Goods
The Bastard
(Rice Toys)
Montréal, QC
From the shiny things of Gabe Girard:
Getting something of substance across with limited materials seems to be a hallmark of Baked Goods. Their latest release is a stripped-down, bluesy affair with the ambience, loops and effects of previous releases taking a back seat to more structured, gritty rock and roll reverie. The Bastard tells tales of wear and tear, bringing listeners into a world where love is not what it seems. Pop sensibilities left in the street for passers-by, only to be found again — weathered but still working — are all over this tape.
Des objets brillants de Gabe Girard:
(Traduit par la mitaine perdue de Benoit Arcand)
Créer quelque chose de substantifique à partir de peu de matière semble être la marque de commerce de Baked Goods. Leur dernier album est une aventure bluesy dépouillée qui fait passer l'ambiance, les loops et autres effets conjurés sur les précédents efforts sur la banquette arrière à la faveur d'une rêverie rock n' roll rauque plus structurée. The Bastard raconte l'usure et la fatigue, invite l'auditeur dans un monde où l'amour est faux-semblant. Cette cassette est traversée d'une sensibilité pop laissée à l'abandon en pleine rue, érodée mais toujours agissante, attendant d'être retrouvée par un passant.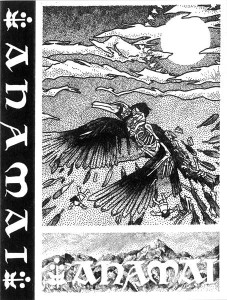 Anamai
Anamai EP
Toronto, ON
From the helpless gospel of Trevor Blumas:
Anamai is the solo side project of Anna Mayberry, guitarist/vocalist for Toronto's industrial sludge warlocks HSY. This effort sees Mayberry continuing to roam the same haunted gothic corridors as her noisier counterpart, but this time armed with a candelabra and a crucifix rather than a torch and a chainsaw. As such, she emits a type of disillusioned nun-folk that whispers out a helpless gospel for the no age. The minimal, moody intimacy of the album seems to re-invigorate certain chamber music conventions, which in a way lends even more credit to the small rooms that helped birth out the scene this project finds itself within. Paradoxically, however, the vast expansiveness of the reverb-drenched instrumentation and ghostly cooing of the vocals manage to harness the same natural sorcery of the aurora borealis. The presence of a higher power here is both iconoclastically diminished and powerfully embraced.
De l'évangile impuissant de Trevor Blumas:
(Traduit du rayonnement électromagnétique de Catherine Gaucher)
Anamai est le projet solo d'Anna Mayberry, guitariste/chanteuse de HSY, sorciers torontois du garage punk industriel. Bien que Mayberry poursuive son errance dans les mêmes couloirs gothiques et hantés que son plus bruyant homologue, elle s'arme cette fois d'un candélabre et d'un crucifix plutôt que d'une torche et d'une tronçonneuse. De ce fait, elle produit un genre de nun-folk désabusé murmurant un impuissant évangile pour le no-age. L'intimité minimale et maussade de cet album semble donner un nouveau souffle à certaines conventions de la musique de chambre, ce qui donne encore plus de crédit aux petites salles qui ont donné naissance à la scène même au sein duquel ce projet se retrouve. Paradoxalement, la vaste expansivité de l'instrumentation baignant dans des réverbérations et les chants éthérés parviennent à recréer la sorcellerie naturelle d'une aurore boréale. Ici, en un même temps, la présence d'une force supérieure est à la fois symboliquement diminuée et puissamment assumée.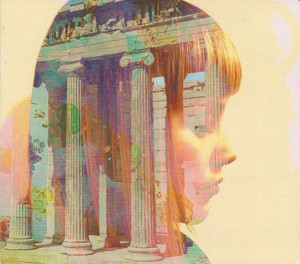 White Poppy
White Poppy
Vancouver, BC
From the post-existential reverie of Adam Bradley:
For White Poppy's eponymous Not Not Fun LP, Crystal Dorval transmutes the soft, grey clay of her shimmering ambience into sparkling, etch-textured gold. A splendorous idol aloft an ionic column, she looms down and imparts the power to dance upon its worshipers through the fog of a post-existential reverie. An impermanent rave in purgatory. The air becomes honey, sparks crackle from footfalls and the stirring clouds whorl with a pastel palette. Here, there is a distant joy and an eternal promise of beautiful things.
De la rêverie post-existentielle d' Adam Bradley:
(Traduit par l'instruction éphébique de Nicolas Coutlée)
Sur l'album homonyme de White Poppy paru chez Not Not Fun, Crystal Dorval transmue l'argile grise et friable de ses ambiances chatoyantes en lingots d'or ciselés et étincelants. Telle une idole sublime perchée sur une colonne ionique, elle pose son regard sur ses adorateurs et leur accorde le pouvoir de danser à travers le brouillard de cette rêverie post-existentielle. Un rave éphémère au purgatoire. L'air devient miel, des étincelles jaillissent de sous les pieds nus et des nuages s'élèvent en tourbillons pastels. Ici, le bonheur n'est jamais loin et promet à jamais la beauté infinie.
White Poppy – Darkness Turns To Light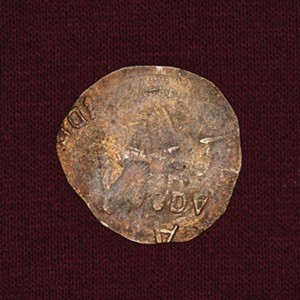 Absolutely Free
UFO
Toronto, ON
From the flying object of Pavan Brar:
With their new 12″ release, Absolutely Free (which consists of 4/5ths of now defunct dd/mm/yyyy) transfigure the aesthetic ethos of their former project into a new shape characterized by distorted beats, polyrhythms, and layers of warm synth tones. The stories told by the dynamic transformations of "UFO" and "Glass Tassle" waver along a continuum of inter-related-emotional-states, crafting a harmonious balance between subdued, tranced out grooves and chaotic, intensive releases. Algorithms for programming space age computers translate into rhythmic patterns of information composed of shifting time signatures, creating a computer program meant for human dancing IRL.
De l'objet volant de Pavan Brar:
(Traduit par Nicolas Coutlée)
Avec la sortie de leur nouveau 12″, Absolutely Free (formé des 4/5e de feu dd/mm/yyyy) transfigure l'éthos esthétique de leur ancien projet en une forme nouvelle caractérisée par des beats distordus, des polyrythmes et de chaudes couches de synthétiseurs. Les récits contés au travers des transformations dynamiques de « UFO » et « Glass Tassle » vacillent le long d'un continuum d'états émotionnels interreliés, façonnant un équilibre harmonieux entre les grooves apaisants propices à la transe et les poussées chaotiques intenses. Les algorithmes de programmation des ordinateurs de l'ère spatiale se traduisent en configurations de données à signatures rythmiques changeantes, créant un logiciel destiné à la localisation de protocole de danse humaine.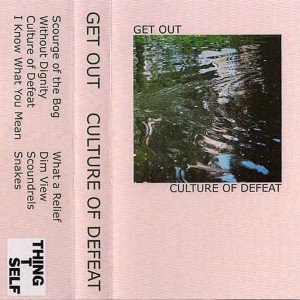 Get Out
Culture of Defeat
Toronto, ON
From the bog scourge of Bryce Warnes:
Get Out is the self-described "downer literary pop" offshoot of Kingston hypno-noise crew False Face. In his sung-spoken missives, our psychopomp/vocalist alludes to Plato's Cave, flexes his muscles in the mirror, morphs into a glacier, and name-drops E.J. Pratt's ghost. With Culture of Defeat's eight songs alternating between march-along pop jams and tremulous introspection, this schlub-rock chapbook achieves a limping, sleep-cycle rhythm. Sound poetry for the footsore flâneur.
Du fléau des marais de Bryce Warnes:
Get Out est une filiale du groupe hypno-noise de Kingston False Face qui s'auto-proclame de la « pop littéraire déprimante ». Dans ses missives chantées-déclamées, notre chanteur-psychopompe fait allusion à la caverne de Platon, fait jouer ses muscles dans le miroir, devient un glacier et fait référence au fantôme d'E. J. Pratt Avec les huit chansons de Culture of Defeat, allant de la chanson pop entraînante à l'introspection tremblante, ce livret de rock maladroit avance à un rythme claudiquant et circadien. C'est de la poésie sonore pour les flâneurs aux pieds endoloris.
---