Tag: meghan sangster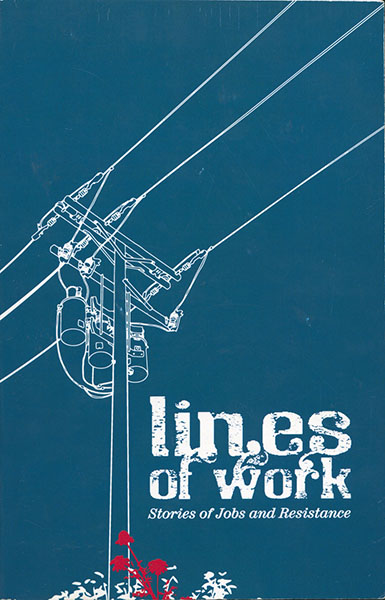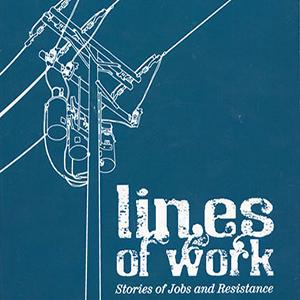 Lines of Work: Stories of Jobs and Resistance
Various Authors
Edited by Scott Nikolas Nappalos
236 pages; soft cover, perfect bound
Edmonton, AB
From the working class hands of Meghan Sangster:
Fuck work. Fuck feeling like shit and falling asleep at the wheel and almost crashing your truck. Fuck chronic pain and its accompanying short fuse that affects your relationships with friends, family, and lovers. Fuck not having a dental plan. Fuck the capitalist mechanization of care work that generates worker apathy and ableist assumptions about the elderly. Fuck depression, but first fuck the job insecurity and hounding poverty that keeps it so strong. Fuck the colonial borders that divide and destroy so many families. Fuck not-for-profits that mistake their neoliberal ethos for radical subversion. Fuck the managerial decisions that force genderqueer people to use washrooms that are not of their choosing (fuck gender binaries). Fuck racism and its constant, bone grinding assaults. Fuck misogyny and its ever-close companion patriarchy. Fuck how exploitive managerial techniques echo the emotional abuse and economic vulnerability that so often traps people in domestic violence. And fuck the alienation that tells workers there is nothing they can do about any of the above.
Misogyny is everyone's labour issue. Racism is everyone's labour issue. The continued colonization of Canada and the maintenance of colonial borders is everyone's labour issue. Lines of Work is a collection of beautiful testaments from people who are working everyday, constantly negotiating these tandem oppressive systems lodged in the sludge of capitalist machinery. Lines of Work shares what workers do against the deadening, indefinite assaults of labour's daily grind and the possibility for resistance in the very process of encountering something unknown and seemingly limitless. We can look at Goliath and tremble – sometimes there is no other choice – but well aimed rocks can accomplish incredible things.
Des mains ouvrières de Meghan Sangster:
(Traduit par la soif de justice de Louis-Félix Pellerin)
Fuck la job. Fuck manqué avoir un accident en s'endormant au volant parce qu'on se sent comme de la marde. Fuck la douleur chronique qui nous rend agressifs avec nos proches, nos amis et nos amants. Fuck pas avoir d'assurance dentaire. Fuck la mécanisation des services de santé qui entraîne l'apathie chez les employés et les préjugés découlant du capacitisme à propos des personnes âgées. Fuck la dépression, mais surtout, fuck la précarité d'emploi et la pauvreté rampante qui la nourrissent. Fuck les frontières coloniales qui divisent et détruisent un nombre incalculable de familles. Fuck les groupes sans but lucratif qui prennent leur philosophie néolibérale pour une subversion radicale. Fuck les décisions administratives qui forcent les personnes genderqueer à utiliser des salles de bain qui ne correspondent pas à leur identité (fuck le binarisme des genres en passant). Fuck le racisme et ses attaques qui nous broient les os. Fuck la misogynie et son horrible p'tit copain le patriarcat. Fuck la façon dont les techniques de gestion exploitatrices font écho à l'abus émotionnel et à la vulnérabilité économique qui confinent trop souvent les gens dans une situation de violence familiale. Et fuck le cynisme qui fait croire aux travailleurs qu'ils ne peuvent rien faire contre tout ça.
Nous sommes tous concernés par la question de la misogynie dans le monde du travail. Nous sommes tous concernés par la question du racisme dans le monde du travail. Nous sommes tous concernés par la colonisation constante du Canada qui maintient les frontières coloniales. Lines of work est une collection de poignants témoignages de gens qui luttent chaque jour contre ces systèmes oppressifs qui se chevauchent, embourbés dans la gadoue du capitalisme. Ce recueil parle du combat quotidien mené par les travailleurs contre les assauts incessants et abrutissants de la corvée qu'est le travail, ainsi que de la possibilité de résister face à quelque chose d'inconnu et d'apparemment sans limites. On peut continuer de trembler devant Goliath, on peut rarement faire autrement; mais parfois, une roche bien placée peut accomplir de grandes choses.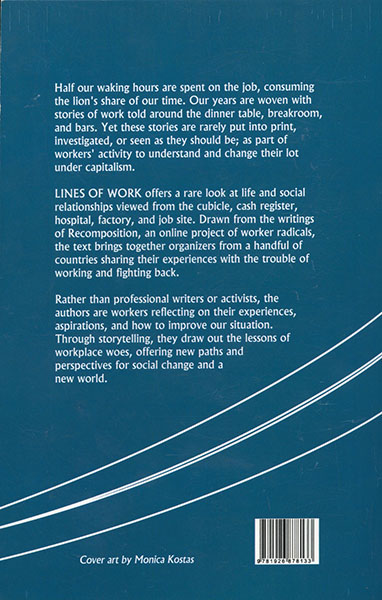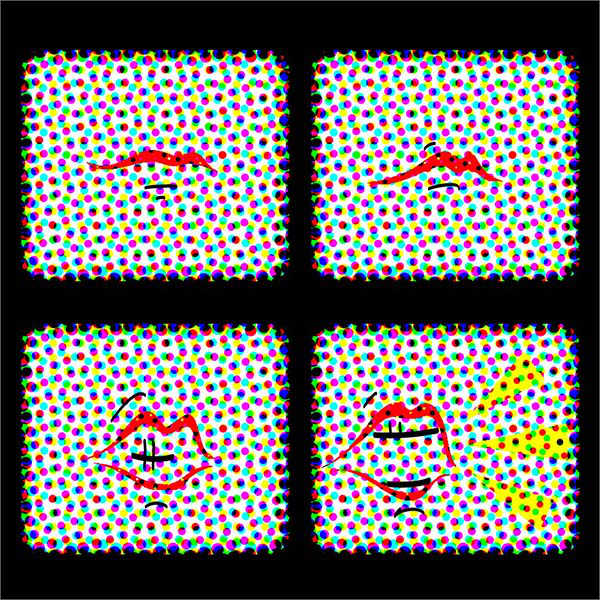 I Don't Know What to Do With My Doubt and I Don't Know Who it Benefits
Meghan Sangster
Toronto, ON
Abstract:
Re: I Want to Give You the Benefit of the Doubt
Event: The Beverleys EP and Video Release at the White House Studios in Kensington, November 29th 2013

This piece is written in response to I Want to Give You the Benefit of the Doubt, by Marie LeBlanc Flanagan. It engages with my own experiences of doubt in relation to gender based violence.
From the picked scabs of Meghan Sangster:
For the most part I go to events alone. When I moved to Toronto my Mum bought me a whistle for my keychain. My housemate and I joke about what pocket size defense tools we can order for cheap off eBay. Many people have told me I should be careful about where I go alone, especially at night, thinking that if I change my behaviors in the correct ways I will avoid experiencing sexual assault or rape. These warnings often preface my nights out in Toronto's music scene.
At this particular show the Beverleys played the third set. I was feeling drained that night and didn't muster the energy to really dance for Wants or Sam Coffey and the Iron Lungs. I love to dance simply because rhythmic movement provides a physical release that allows me to feel grounded in my body, I get out of my head and stop thinking about the significance of the song "Lose that Bitch" being performed by a group of men. Last time I had the word bitch directed towards me was roughly two years ago when my abuser sent me an e-mail trying to explain how stupid I was for leaving him. Bitch was probably the kindest word in the message.
About halfway through the Beverleys' set a guy from the crowd got very close to one of the guitarists. Venues get crowded, pushes and crowd movement shift where people can stand, and I know that sometimes things get tight and all space becomes shared. There was a very comfortable amount of space between this guitarist and the crowd, but, the guy thought it was necessary to get as close as he physically could to this performer. He stood staring and cupping a hand to his ear while leaning closer towards the mike and the guitarist's mouth as though he couldn't hear her singing.
I don't know if this made her uncomfortable but I can say that I have seen that closed body posture before. It's the hunched shoulders, turned away eyes, anywhere-else-but-here look that my friends have when they are uncomfortable around someone. It was the look my friend gave her abuser when he was violating the restraining order and trying to get past myself and another female bodied friend to "talk" to the woman he spent years beating. It's a look I learned to read when I was very young and one that has smothered my own body a number of times.
The lead singer from Wants was the first person to do something. She approached the guy and started talking to him. I couldn't hear what she said but she quickly disappeared into the crowd, looking for someone or something after the guy wouldn't budge. I stood for a few moments watching him get closer and realized that I felt like dancing. For clarification, when I say "dancing" I am referring to a loose limb flailing skank movement that pulls looks of concern and shared enthusiasm in equal measure. I moved my body between him and the mic. I am a physically small person, and danced my body into his forcing him to move backwards. Two other people stepped forward and also put their bodies between this man and the guitarist. The singer from Wants joined us soon afterwards, all while the performance continued uninterrupted. I later learned her intervention and the support of other people from White House got him kicked out of the event.
Many concerned individuals have said I need to take greater caution when I confront men because my refusal to accept harassment in any form is an action that risks being assaulted or raped. I know other female-bodied people who have received the same cautions. This caution is often driven by a fear that the attacker is always a (male) stranger and intervention is best left to male-bodied people. Depending on what I am wearing or how I am moving these cautions can also include slut shaming and victim blaming, in addition to the assumption that my femininity is a signifier of weakness. I know four men and fifteen women who have been raped, and each of them knew their respective attacker(s) as a friend(s), a boyfriend or husband, or a family member. The potential violence I am cautioned against became meaningless when I began listening to the bodies and minds that experience this gender based violence. The cautions are based around myths at best and rape culture at worst; they are not helpful on the walk home and in many respects these cautions support the violence they attempt to prevent.
Words have immense power. Shared conversation is one of the most vital tools in anti-oppression work, but the body cannot be forgotten. A community can understand their privileges and respective oppressions while remaining passive when confronted with an action of oppression. It is encouraging to know people will step forward when acts of misogyny occur, and it is encouraging to know critical conversations around oppressions are affecting the Weird Canada Arts community. Conversation is not an end, it is an important beginning that opens possibilities for continued anti-oppression work beyond the internal self within direct public interventions. These public interventions are vital if private conversations are to have impact beyond individual art practices to instead affect broader structures of oppression that manifest as micro-aggressions or violence in arts communities.
It is not up to those who are marginalized in/by arts communities to come forward and generate change. Individuals and communities who experience oppression have no obligations to patiently sit and teach people 101 sessions on cultural appropriations or systemic violence. For those who have the energy and resources, coming forward with experiences of oppression can generate moments of conversation that are vital to ensuring continued community anti-oppression work. Every community needs these conversations, what is encouraging about Weird Canada is that many people within this community are responsive and willing to listen when these conversations occur.
To Jen from Wants, thank you for your fierce and immediate willingness to do something. To the people who put their bodies beside mine, thank you for dancing with me.
Résumé :
Re : Je veux te donner le bénéfice du doute
Événement : Sortie d'un EP et d'une vidéo des Beverleys au White House Studios à Kensington, le 29 novembre 2013

Cet article est rédigé en réponse à Je veux te donner le bénéfice du doute de Marie LeBlanc Flanagan. Il s'engage avec mes expériences de doute par rapport à la violence fondée sur le genre.
Des plaies grattées de Meghan Sangster:
(Traduit par Wanying Zhang)
La plupart du temps, je vais aux évènements toute seule. Quand j'ai déménagé à Toronto, Maman m'a acheté un sifflet pour mon porte-clés. À la blague, mon coloc et moi, nous nous demandons quels outils d'autodéfense en format poche nous pouvons acheter pas trop cher sur eBay. De nombreuses personnes me disent que je devrais être prudente quand je sors seule, surtout la nuit, en croyant que si j'adopte de bons comportements, j'éviterai l'agression sexuelle ou le viol. On me sert souvent ces avertissements les soirs où je sors fréquenter la scène musicale de Toronto.
Au spectacle en question, The Beverleys étaient les troisième à jouer. J'étais épuisée ce soir-là et je ne trouvais pas l'énergie pour danser avec *Wants* ou *Sam Coffey and the Iron Lungs*. J'aime danser simplement parce que les mouvements rythmiques me donnent une liberté physique qui me permet de me sentir en symbiose avec mon corps. J'ai fait le vide dans ma tête, et j'ai cessé de penser au sens de la chanson « Lose that Bitch » jouée par un groupe d'hommes. La dernière fois qu'on m'a traitée de « bitch », c'était il y a environ deux ans et demi quand mon agresseur m'a envoyé un courriel pour m'expliquer à quel point j'étais stupide de l'avoir quitté.
Vers le milieu de la prestation des Beverleys, un gars de la foule s'est approché très près de l'une des guitaristes. Les salles sont bondées de monde, la foule pousse et les endroits où les gens peuvent se tenir debout changent au gré de ses mouvements. Je sais que parfois l'espace est restreint et qu'il devient un lieu commun. Il y avait un espace *très* confortable entre cette guitariste et la foule, mais le gars trouvait nécessaire de s'approcher aussi près que possible de la musicienne. Il restait là, la fixant, la main à l'oreille tout en se penchant plus près du micro et de la bouche de la guitariste comme s'il ne pouvait pas entendre la chanson.
Je ne sais pas si ce comportement l'a dérangée, mais je sais que j'ai déjà vu cette posture. Celle des épaules courbées, des yeux détournés, le regard qui dit « n'importe où sauf ici » que mes amies lancent quand elles ne se sentent pas à l'aise avec quelqu'un. C'était le même regard lancé par mon amie qui voyait son agresseur violer l'ordonnance restrictive, en me contournant moi et un autre corps féminin afin de « parler » à la femme qu'il frappait depuis des années. C'est un regard que j'ai appris à reconnaître très jeune, le même qui a couvert mon corps à quelques reprises.
La chanteuse principale de Wants a été la première à réagir. Elle s'est approchée du gars et s'est mise à lui parler. Je n'entendais pas ce qu'elle disait, mais elle a rapidement disparu dans la foule, en cherchant quelqu'un ou quelque chose puisque le gars ne bougeait pas. Je suis restée immobile quelques instants, en le regardant se rapprocher, et j'ai réalisé que j'avais envie de danser. Une précision, quand je dis « danser », ça ressemble plus au mouvement sale d'un membre mal fixé qui s'agite et qui attire des regards à la fois inquiets et enthousiastes. Je me suis placée entre lui et le micro. Physiquement, je suis petite, et je dansais de façon à me projeter contre lui, le forçant à reculer. Deux autres personnes se sont avancées et se sont placées entre cet homme et la guitariste. La chanteuse de Wants nous a rejoints peu de temps après, sans que le concert soit interrompu. J'ai appris plus tard que grâce à son intervention et à l'aide d'autres personnes du White House, l'homme a été expulsé de l'événement.
De nombreuses personnes inquiètes m'ont dit que je devrais faire plus attention lorsque je confronte les hommes, car mon refus d'accepter toute forme de harcèlement est une action qui pourrait mener à l'agression ou au viol. Je connais d'autres gens nés avec un corps féminin qui ont reçu les mêmes avertissements. Cet appel à la prudence est souvent motivé par la peur que l'agresseur soit toujours un (homme) inconnu, et qu'il soit préférable de laisser les gens nés avec un corps masculin intervenir. Selon le genre de vêtements que je porte ou la manière dont je me comporte, on me met aussi en garde contre les insultes (« slut shaming ») et la stigmatisation des victimes, en plus de supposer que ma féminité est un signe de faiblesse. Je connais quatre hommes et quinze femmes qui se sont fait violer, et chacun connaissait son ou ses agresseurs respectifs comme ami(e-s), petit ami ou mari ou membre de la famille. La violence potentielle contre laquelle on me mettait en garde perdait tout son sens quand j'ai commencé à écouter les corps et les esprits qui ont subi cette violence fondée sur le genre. Ces avertissements découlent, au mieux, de mythes et, au pire, de la culture du viol. Ils ne sont d'aucune aide quand je retourne chez moi à pied, et, à de nombreux égards, ils soutiennent la violence qu'ils essaient d'éviter.
Les mots possèdent un pouvoir immense. Le partage et la conversation font partie des outils les plus importants du travail contre l'oppression, mais il ne faut pas oublier le corps. Une communauté peut comprendre ses privilèges et ses malaises respectifs tout en restant passive au moment d'être confrontée à un geste d'oppression. Il est encourageant de savoir que certains prendront position lorsque confrontés à des gestes misogynes, et il est encourageant de savoir que les conversations cruciales concernant l'oppression touchent la communauté de Weird Canada Arts. La conversation n'est pas une finalité, c'est un début important qui ouvre la porte au travail continuel contre l'oppression au-delà de notre être intérieur au moyen d'interventions publiques directes. Ces interventions publiques sont essentielles afin de permettre aux conversations privées d'avoir une incidence au-delà des expressions artistiques individuelles, et de viser les structures plus larges de l'oppression qui se manifestent comme des microagressions ou de la violence dans les communautés artistiques.
Il n'appartient pas aux gens marginalisés dans et par les communautés artistiques de prendre position et de provoquer le changement. Les gens et les communautés qui subissent l'oppression n'ont aucunement l'obligation de s'asseoir patiemment et d'enseigner les rudiments de l'appropriation culturelle ou de la violence systématique. Ceux qui ont subi l'oppression, et qui ont l'énergie et les moyens, peuvent inciter des moments de discussion qui sont essentiels afin d'assurer la pérennité du travail de la communauté contre l'oppression. Toute communauté doit avoir ses conversations. Il est encourageant de voir beaucoup de membres de la communauté de Weird Canada être réceptifs et disposés à écouter ces conversations.
À Jen, de Wants, merci pour ta réaction impitoyable et immédiate. À ceux qui ont placé leurs corps à côté du mien, merci d'avoir dansé avec moi.
---