Tag: megan arnold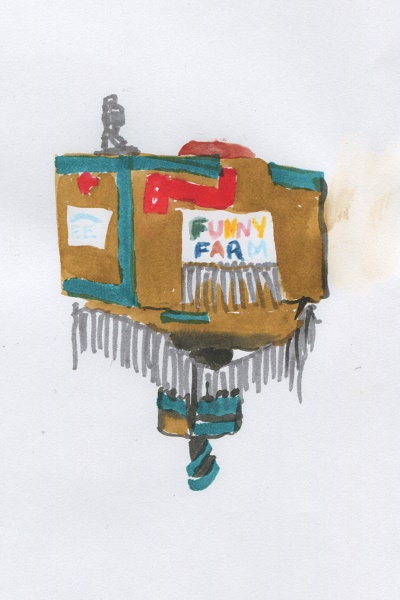 Electric Eclectics
(Illustrations by: Megan Arnold // Photos by: Josh Cwintal)
Meaford, ON
Various Artists: Jennifer Castle, Scott Hardware, Castle If, Ice Cream, Sourpussy, Darknesses, HSY, Bile Sister, Scattered Clouds, Doom Tickler, Xuan Ye
From the mydriasis of Sara Bortolon-Vettor:
We are at the peak of Scotch Mountain. Beings of the weirdo variety, charming locals of Meaford and the artists within us all are called to the funny farm to gather. As the sun sets, beautiful beings adore the fuscia lit sky while our auditory senses are tickled with wonder. Electric Eclectics is a fantasy world to many who seek to escape their concrete surroundings and experience artistry in nature.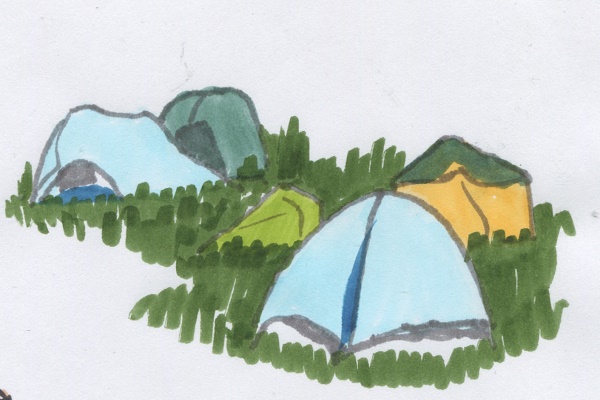 Camping on top of Scotch Mountain.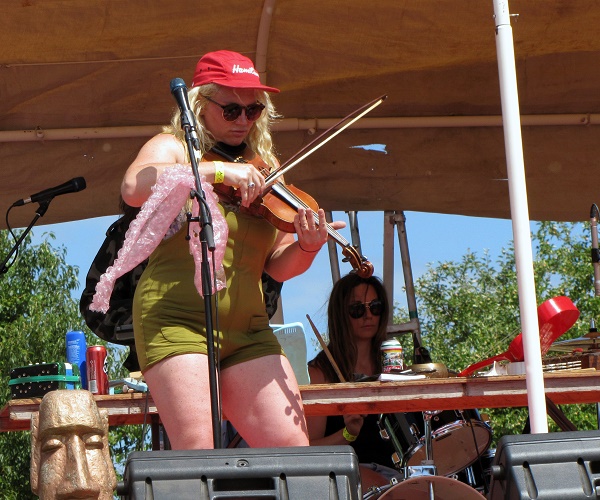 Sourpussy brings humor and cacophony to any willing ear.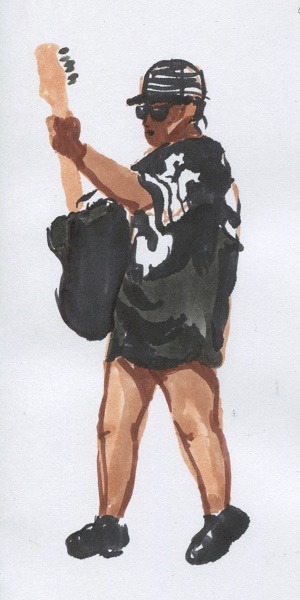 Darknesses performs a noisy-sludge of dark-pop on the EE mainstage.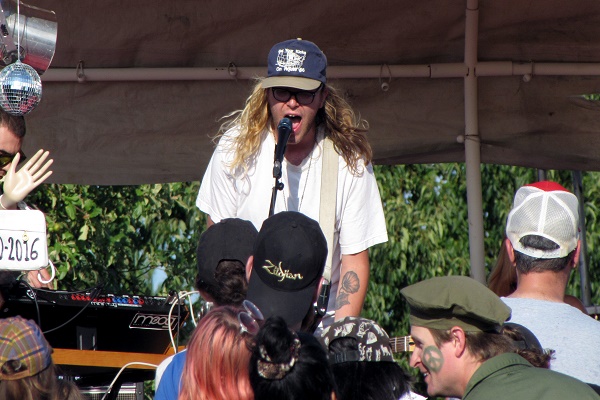 HSY coaxed the relaxed crowd into a captivated fervor.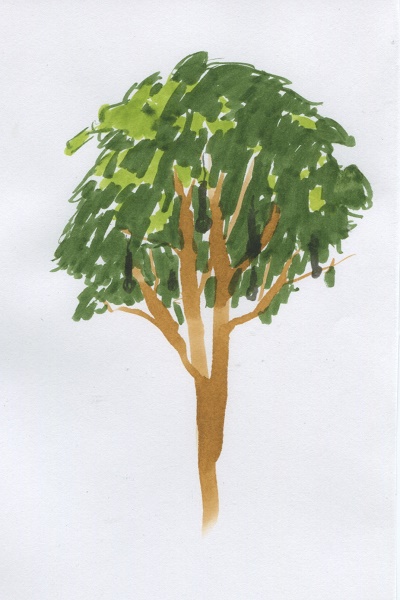 A single tree amidst the fields of wheat and grass.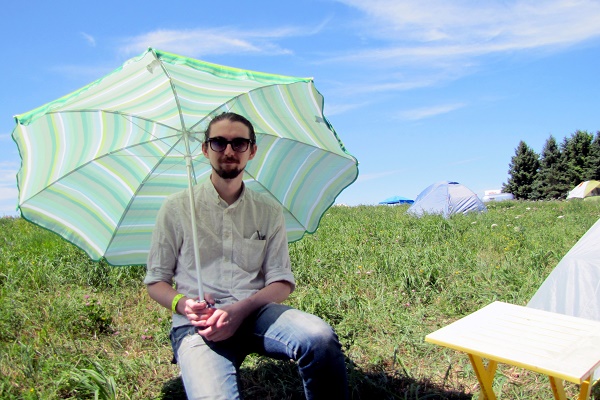 Taking a much needed retreat from the unrelenting heat rays.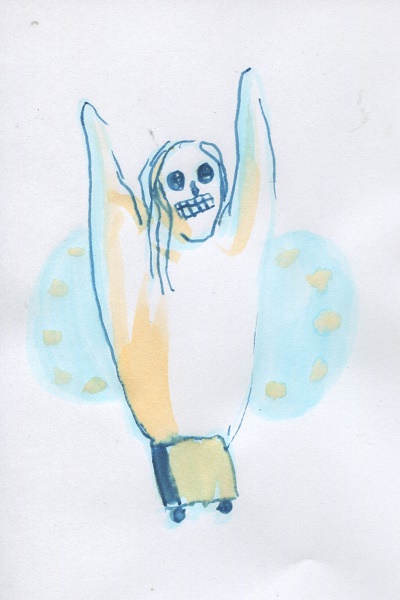 Apetechnology's ghostly being welcomes the crowd at EE mainstage.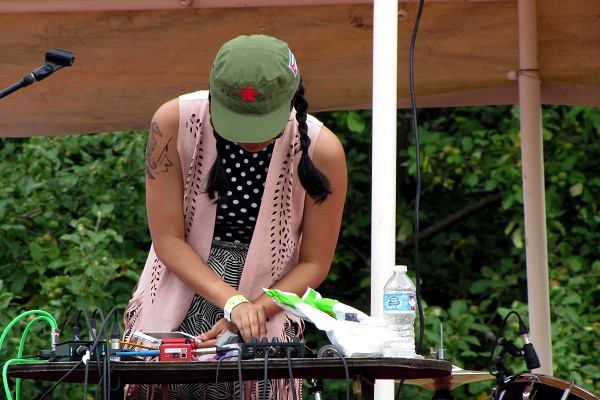 "This isn't working" Xuan Ye said right before leaving the knobs behind and asking the crowd if she should sing instead.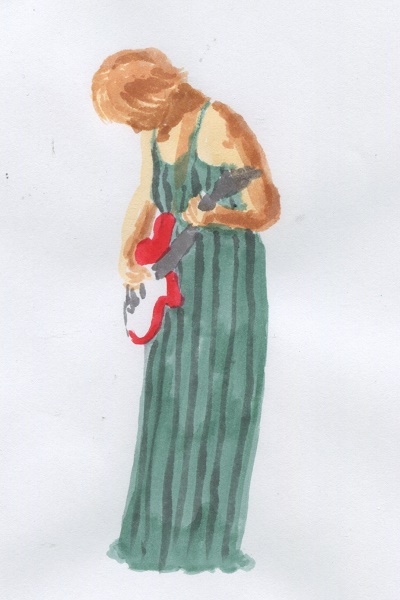 Audience members listen intently to the warm voice of Jennifer Castle.
EE's curation by Chris Worden (Co-director/Natural Thirst) is eccentrically diverse and distinctive. Thanks to the incomparable artists, Gordon Monahan (Co-director/Sound Artist/Owner) and Laura Kikauka (Performance Artist/Owner) for welcoming us all to their funny farm.
De la mydriase de Sara Bortolon-Vettor:
(Traduit par le paysage sonore de Maya Keshav)
On est au sommet de Scotch Mountain. Les drôles d'êtres, les résidents charmants de Meaford et les artistes que nous conservons à l'intérieur se ressemblent à la maison de fous. Au coucher du soleil, les belles âmes adorent le ciel illuminé en fuchsia, pendant que nos sens auditifs sont chatouillés par l'émerveillement. Electric Eclectics est un monde fantastique pour ceux qui cherchent à échapper leurs environs en béton pour vivre l'art dans la nature.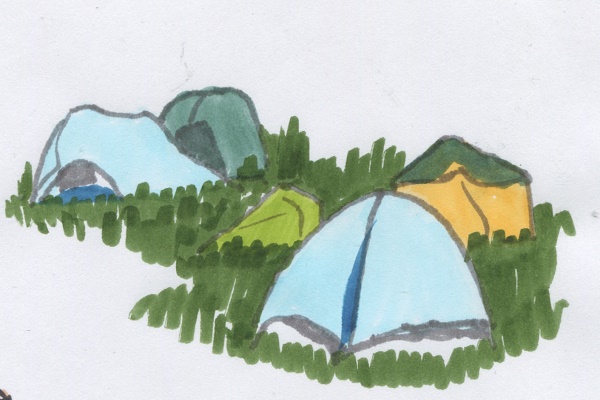 Le camping au sommet de Scotch Mountain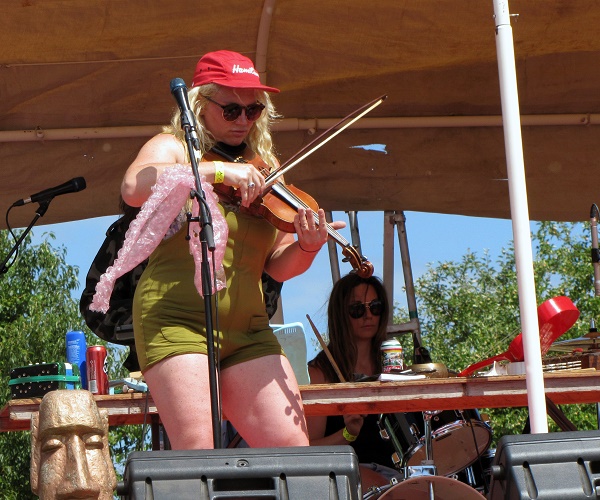 Sourpussy apporte l'humour et la cacophonie à n'importe quelle oreille enthousiaste.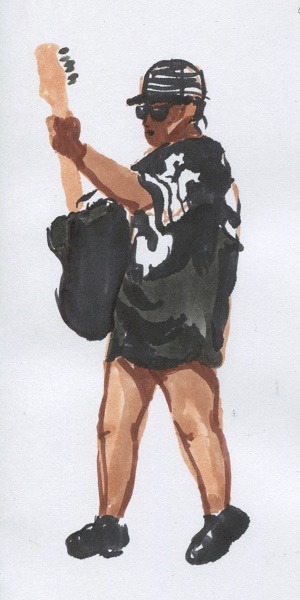 Darknesses joue une boue bruyante de dark-pop sur la scène principale d'EE.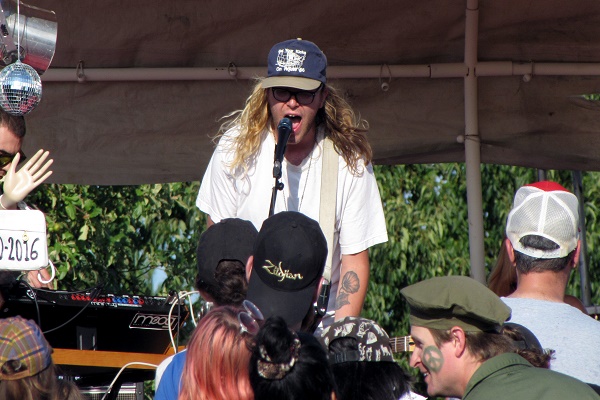 HSY provoque une ferveur captivée dans la foule détendue.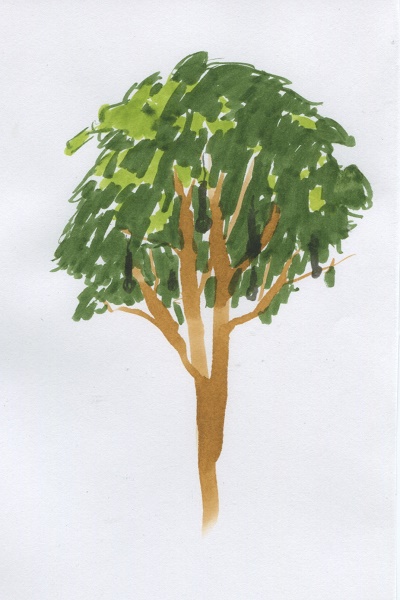 Un seul arbre parmi les champs de blé et d'herbe.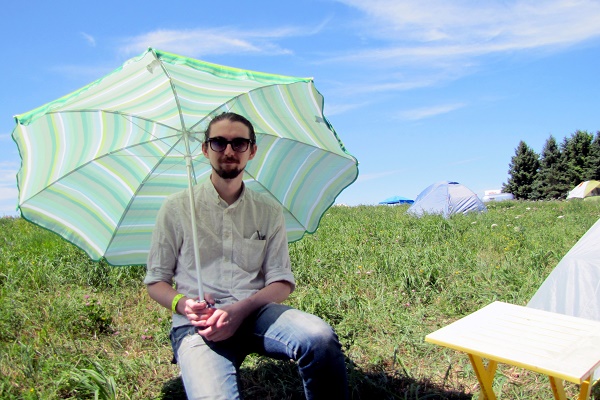 En faisant une pause bien nécessaire de la chaleur continuelle.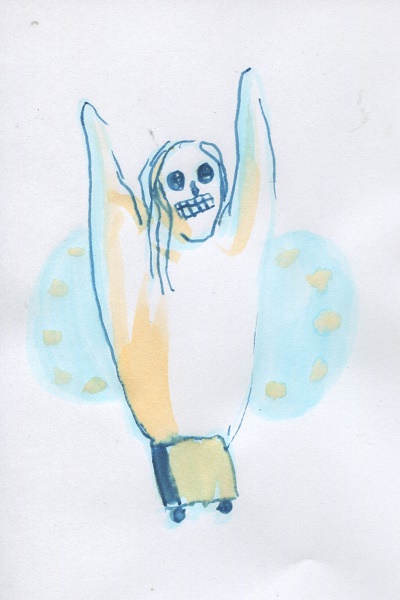 L'être fantomatique d'Aptechnology accueille la foule sur la scène principale d'EE.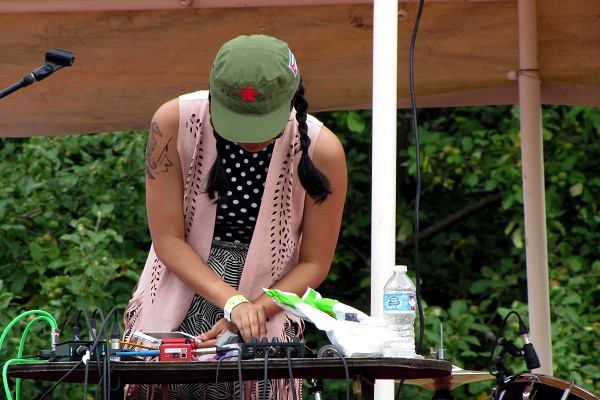 Xuan Ye a dit « Cela ne marche pas » avant qu'elle ait quitté les boutons et demandé à la foule si elle pouvait chanter à la place.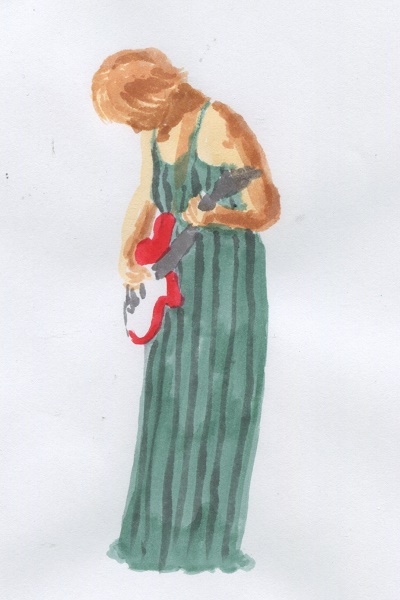 Les membres de l'auditoire écoutent attentivement la voix chaleureuse de Jennifer Castle.
Conclusion— La gamme de musique à EE organisée par Chris Worden (co-réalisateur/ Natural Thirtst) est excentriquement diverse et distincte. Merci aux artistes incomparables, à Gordon Monahan (co-réalisateur/ artiste sonore/ propriétaire) de nous avoir accueilli à leur maison de fous.
Matt King, Sam Mogelonsky, and Bree Zorel
Extra Ordinary
(Forest City Gallery)
London, ON
From the wastepaper basket of Megan Arnold:
Extra Ordinary was contained within the walls of Forest City Gallery – Canada's first established artist-run-centre – in April 2014, and it's still fresh gum under the desk. Curated by tiny cyclist Jenna Faye Powell, the exhibition showcased three Toronto-based artists: Bree Zorel, Matt King (of Absolutely Free), and Sam Mogelonsky.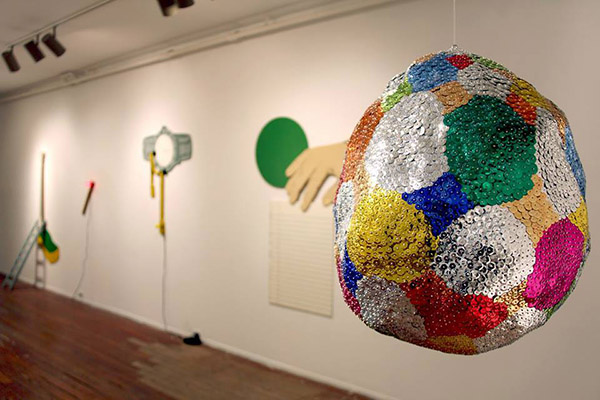 Mogelonsky's pin-stuck cylinders and Shiny Spinning Thing (pictured) demanded to be touched and twirly-whirlied. This was no stay-a-metre-back and don't-you-dare-touch-the-art kind of exhibition, but a temporary playground. The work was devoid of function, but invited viewers to play as well as look.
The title of Extra Ordinary was a clever summation of the show. Everyday objects (books, a ladder) and simple materials (sequins, paper, pins) presented a more playful version of reality, transforming the ordinary into the extra-ordinary. It zapped away at daily life and transformed the viewers into curious children, once again excited about little things. Look at this – life is cool! Life is fun!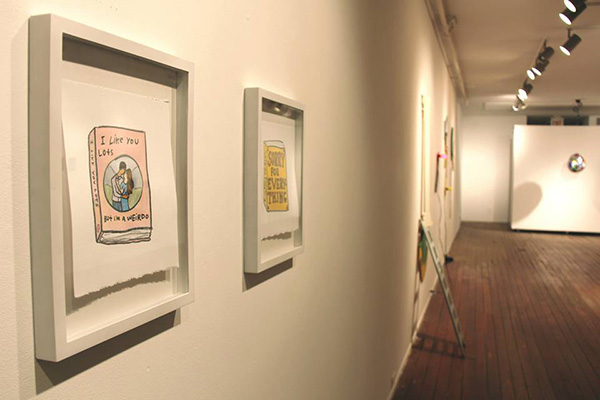 Zorel's I Like You Lots But I'm A Weirdo (pictured) was available for free in postcard form. Fall in love with its Harlequin-esque smoochie cover and send it to your honey.
De la corbeille à papier de Megan Arnold:
(Traduit par Mylène Gump Quevillon)
Extra Ordinaire a été présentée à l'intérieur des murs de la galerie Forest City – le premier centre dirigé par des artistes au Canada – en avril 2014, et c'est encore tout chaud comme un pain fraîchement sorti du four. Réalisée par la toute petite cycliste, Jenna Faye Powell, l'exposition nous fait découvrir trois artistes travaillant à Toronto : [Bree Zorel], Matt King (membre du groupe[Absolutely Free]), et [Sam Mogelonsky].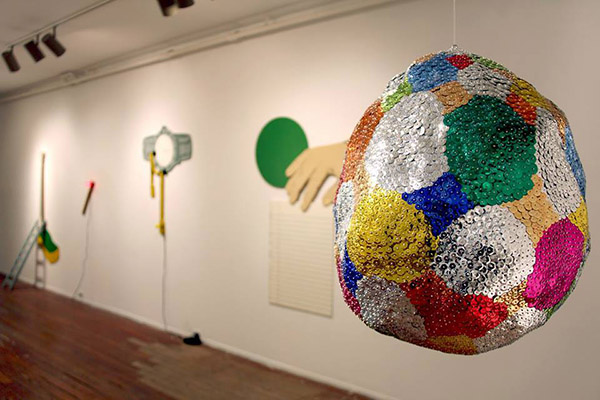 Les créations de Mogelonsky, que ce soit le cylindre enchâssé dans sa base et la chose brillante qui tourne (illustrée), exigeaient qu'on les touche et les fasse tourbillonner. Ce n'était pas une exposition froide où il est interdit de toucher aux oeuvres, mais plutôt un terrain de jeux temporaire. Les oeuvres n'avaient aucune fonctionnalité particulière, mais elles conviaient plutôt les visiteurs à s'amuser autant qu'à regarder.
L'appellation Extra Ordinaire était un résumé intelligent de l'exposition. Des objets utilisés quotidiennement (livres, échelle) et des matériaux simples (paillettes, papiers, épinglettes) ont servi à présenter une version plus ludique de la réalité, transformant l'ordinaire en extraordinaire. La vie quotidienne a été occultée par cette présentation qui a métamorphosé les visiteurs en enfants curieux, émerveillés par les petites choses simples : La vie est cool! La vie est amusante!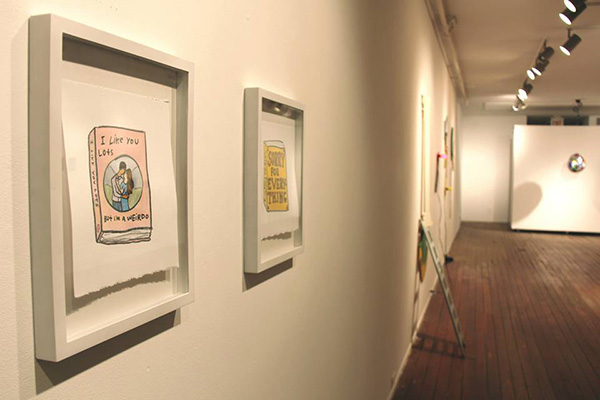 L'oeuvre de Zorel I Like You Lots But I'm A Weirdo (photographiée) était disponible gratuitement sous forme de carte postale. Laissez-vous tomber en amour avec son look « Harlequin-lover » et envoyez-en une à votre chéri(e).
---