Tag: meager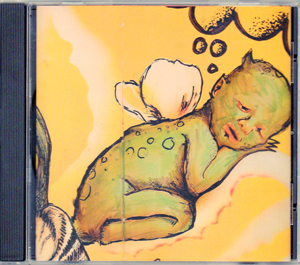 PIG / !Kung San / Scribbler
S/Pl/It
(meager / radiator)
(all over), NS
Aaron Levin:
PIG continues to deliver their strange brew of time-lapse-weird-punk on this interesting document of Nova Scotia's experimental-everything scene. Splitting the bill with PIG are !Kung San, a somewhere-between pastoral noodling and post-hardcore endeavor from Westville, and Scribbler, Halifax's gravity-lens for experimental-anything in the Maritimes. Scribbler's six contributions seem to be cut-ups from an insane live-set full of atonal screaming and guitar shreddery; relentless stuff. And, man, I just can't get enough of PIG; the three tracks from them were not enough!
Aaron Levin:
PIG continue de fabriquer leur strange brew de voyage-dans-le-temps-punk-bizarre avec ce reportage intéressant de la scène toute-éxperimentale de la Nouvelle-Écosse. En partageant la cassette avec PIG il y a !Kung San, quelque chose quelque part entre les boeufs pastoraux et l'entreprise post-hardcore de Westville, et Scribbler, la lentille gravitatonnelle pour tout ce qui est expérimental aux Maritimes. Les six morceaux de Scribbler ont l'aire d'être des bribes d'une spectacle dingue remplie des hurlements atonaux et les lambeaux de guitare; c'est incessant. Et, ouf, j'aurai jamais assez de PIG; ses trois morceaux n'étaient pas assez!
PIG
Elbow Witch
(Meager / Radiator)
??, NS
Basements are the best breeding grounds for disparate menageries, and PIG is no exception; Eastern Canada being the only possible locale able to produce such a strange cocktail of Terminal-Boredom-approved adjective-punk and disturbing walls of slow-noise leaking into Sonic Youth territory. So, let me summarize: elbow witch is a boundary-pushing, genre-tom-fuckery likely to induce face-melting and mind-damage. PIG are young and rad and you better jump on their bandwagon before they explode (i.e. start gripping their soon-to-be-massive back-catalog before it's too late).
Les sous-sols font le lit des ménageries disparates, et PIG ne fait pas d'exception; l'Est du Canada est le seule endroit qui peut produire un tel bizarre cocktail d'adjectif-punk approuvé-par-Terminal-Boredom et des murs troublants du boucan lent qui fuit au terrain Sonic Youth. Alors, laisse-moi résumer: elbow witch c'est une genre-absurdi-merde-ité barrière-poussante qui va probablement provoquer fusion de visage et dommages au cerveau. PIG sont jeunes et génial et tu dois prendre leur train en mouvement avant qu'ils explosent (i.e. commence de découvrir leur bientôt-immense collection des anciens enregistrements avant qu'il ne soit trop tard).
---