Tag: maya keshav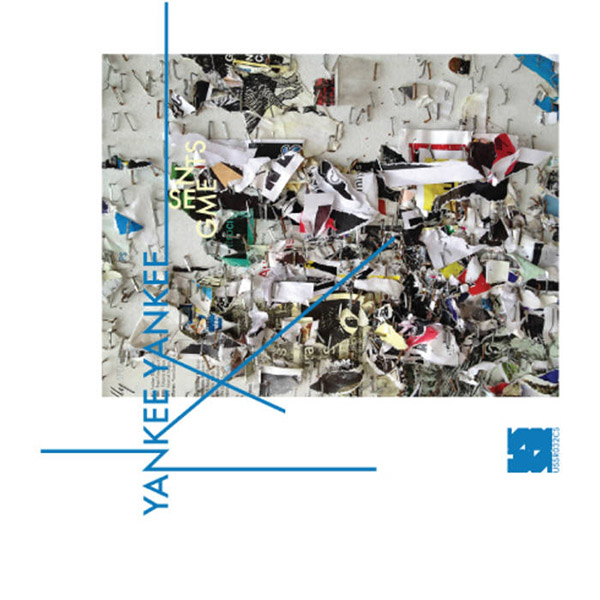 Yankee Yankee
Segments
Calgary, AB
From the guilty conscience of Katie Jensen:
Scram, scramble, flail. Slip into the grimy alley outside the reactor. Fingers digging into swirling space, mouths opening like dry fish. Waves of liquid synthesizers glide across polyphonic keys, drifting mercury desperately seeking cinnabar. Splintered chips making a slow transit across the sun, skin blistering, crust puckering. Rainbowed teeth floating into silicon space. Isolated letters tugged into orbit, tethered by minted floss. Thumbprint craters, alkaline water pooling in the hollows of eyes, a rippled disturbance, wobbling, tilted, reversing orbit. Eject into deep space via Calgary with the harsh ambient synths of Yankee Yankee's Segments.
De la conscience coupable de Katie Jensen:
(Traduit par les poissons de Maya Keshav)
Dégage, défile-toi, débats-toi. Passe dans la ruelle sale en dehors du réacteur. Les doigts puisent au fond de l'espace tourbillonnant, les bouches ouvrent comme des poissons secs. Les vagues de synthé liquide planent à travers les touches polyphoniques, le mercure vagabond qui cherche désespérément le cinabre. Les éclats qui font un voyage lent à travers le soleil, les ampoules sur la peau, les plis dans la croûte. Les dents arc-en-ciel qui volent dans l'espace en silicium. Les lettres isolées qui sont attirées à l'orbite, attachées à la soie dentaire à la menthe. Les cratères d'empreinte, l'eau alcaline qui s'accumulent dans les creux des yeux, un tapage ondulé, l'orbite chancelant, penchée, contraire. Propulse-toi en espace lointain via Calgary avec les synthés crus et enveloppants de Segments de Yankee Yankee.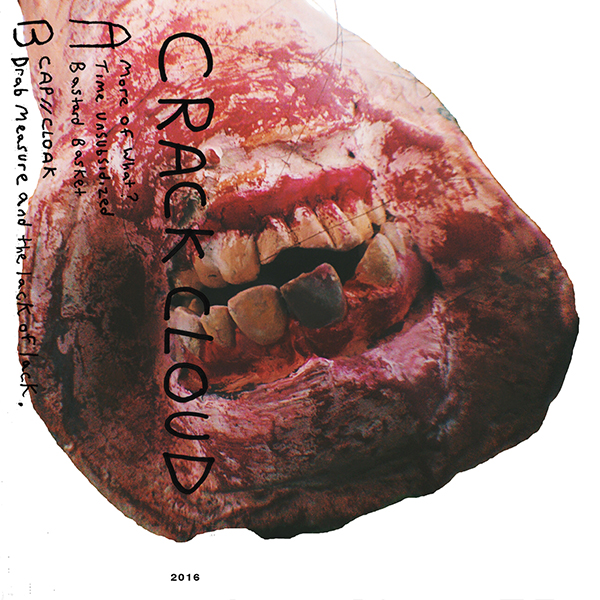 Crack Cloud
Crack Cloud
(Self-Released)
Calgary, AB
From the elixirs of Hailey Celesse McCarthy:
Suspending thick, substantial bass in acidic solutions of jagged, angular guitar strokes and stabilizing percussive rhythms, Crack Cloud achieves an emulsive substance, like mayonnaise, on their self-titled EP. Radiating, the scattering of sonic droplets throughout Crack Cloud's EP gives it a Tyndall hue. The dispersive and continuous phases of the album coalesce on the boundary track Cap//Cloak, with its initial post-punk whip and its wind out drone, the preceding and following elements focus and reflect inward and out.
Des élixirs de Hailey Celesse McCarthy:
(Traduit par la mayonnaise sonique de Maya Keshav)
En suspendant la basse épaisse et solide dans les solutions acides de coups de guitare dentés et angulaires et de rythmes équilibrants de percussion, Crack Cloud atteignent une substance émulsionnable, comme la mayonnaise, avec leur EP éponyme. Rayonnant, les gouttelettes soniques éparpillées à travers l'EP de Crack Cloud lui donnent une couleur Tyndall. Les phases dispersives et continues de l'album se fondent dans le morceau hybride Cap//Cloak, avec son fouettement initial de post-punk et le drone de sa fin, les éléments précédents et suivants se focalisent et réfléchissent vers l'intérieur et l'extérieur.
Crack Cloud – Time Unsubsidized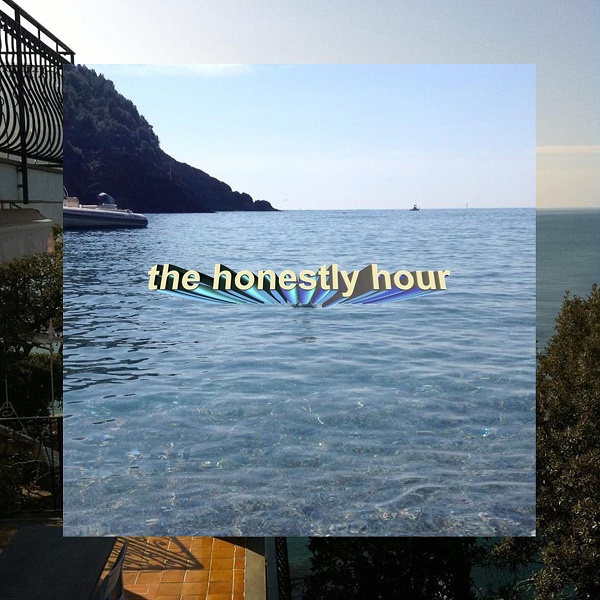 No Problem
The Honesty Hour
(Self-Released)
Halifax, NS
From the flu saturated state of Caleb John Schriver:
No Problem's college rock leanings and post-teenage yearnings equate to a back-to-school fever dream in the honestly hour. From purchasing shoes to inviting Kurt Inder to after parties, these young Truro boys conjure up a delirium where things like "cheapcruise.dad.com" can only make sense. No Problem couples songwriting prowess and their own "popsicle rock" to create a serenity, likened to waking up from a mid-day nap, dehydrated with one sock on and barely still on the bed. This nap is satisfying, like unrolling the cuffs of your pants and only finding a little bit of lint.
De l'état saturé de la grippe de Caleb John Schriver:
(Traduit par l'angoisse adolescente de Maya Keshav)
Les tendances de rock à l'université et les désirs postadolescence de No Problem équivalent à un rêve fiévreux de la rentrée scolaire dans the honestly hour. De l'achat de chaussures jusqu'à l'invitation de Kurt Inder aux afters, ces jeunes garçons de Truro font apparaître un délire où les choses comme "cheapcruise.dad.com" ont du sens. No Problem couple la prouesse parolière à son propre "popsickle rock" pour créer une sérénité, qui nous fait penser à quand on se réveille d'une sieste de iournéei, déshydraté avec seulement une chausette et tout juste sur le lit. Cette sieste est satisfaisante, comme quand on déroule ses revers de pantalons et on trouve juste un petit peu de peluche.
No Problem – She Can't Help Herself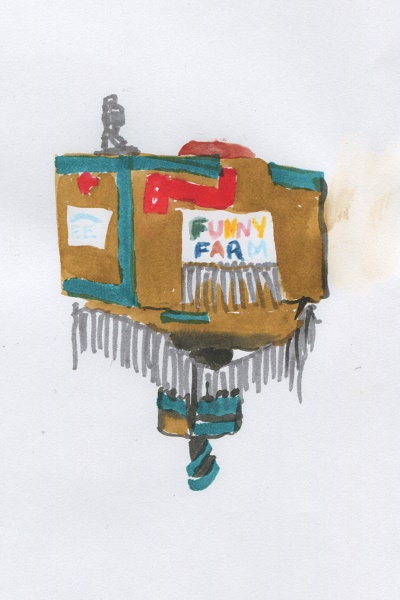 Electric Eclectics
(Illustrations by: Megan Arnold // Photos by: Josh Cwintal)
Meaford, ON
Various Artists: Jennifer Castle, Scott Hardware, Castle If, Ice Cream, Sourpussy, Darknesses, HSY, Bile Sister, Scattered Clouds, Doom Tickler, Xuan Ye
From the mydriasis of Sara Bortolon-Vettor:
We are at the peak of Scotch Mountain. Beings of the weirdo variety, charming locals of Meaford and the artists within us all are called to the funny farm to gather. As the sun sets, beautiful beings adore the fuscia lit sky while our auditory senses are tickled with wonder. Electric Eclectics is a fantasy world to many who seek to escape their concrete surroundings and experience artistry in nature.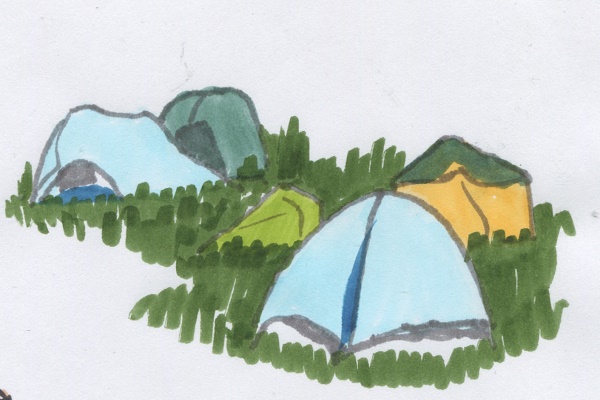 Camping on top of Scotch Mountain.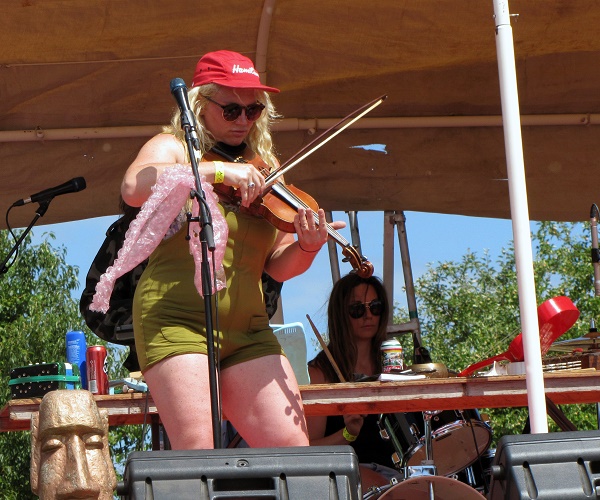 Sourpussy brings humor and cacophony to any willing ear.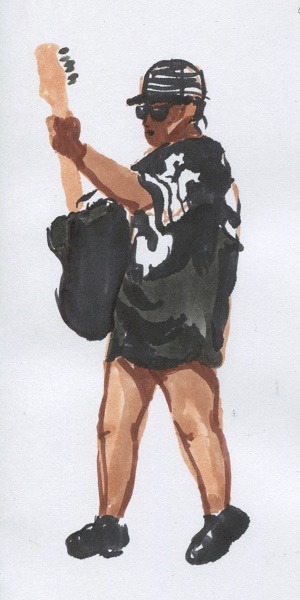 Darknesses performs a noisy-sludge of dark-pop on the EE mainstage.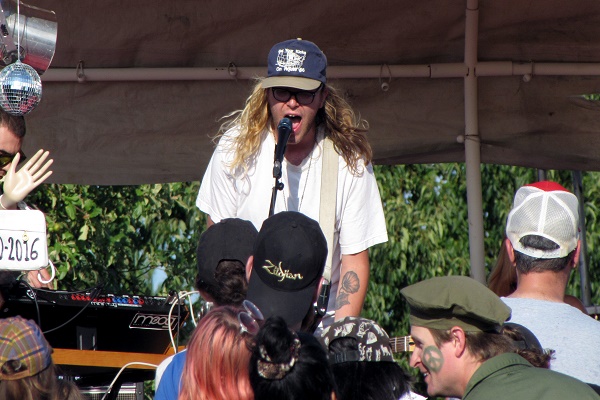 HSY coaxed the relaxed crowd into a captivated fervor.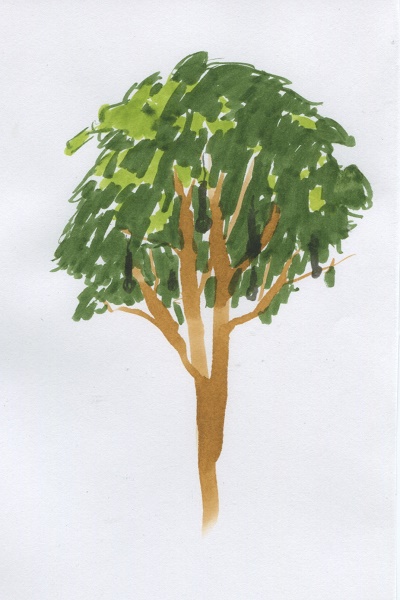 A single tree amidst the fields of wheat and grass.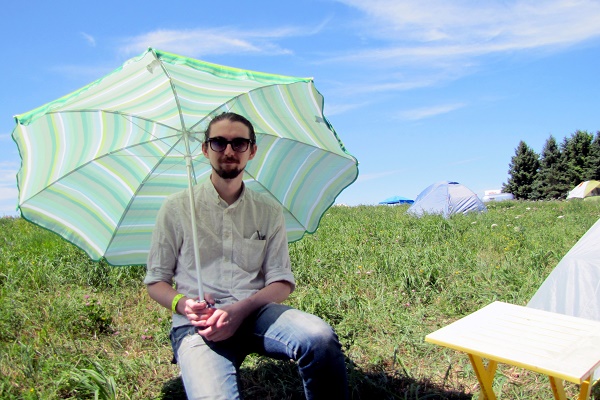 Taking a much needed retreat from the unrelenting heat rays.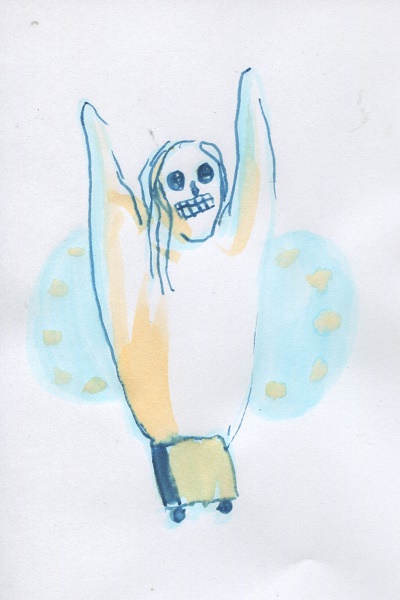 Apetechnology's ghostly being welcomes the crowd at EE mainstage.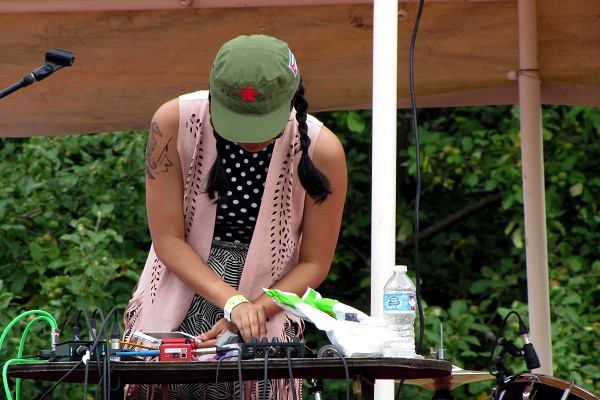 "This isn't working" Xuan Ye said right before leaving the knobs behind and asking the crowd if she should sing instead.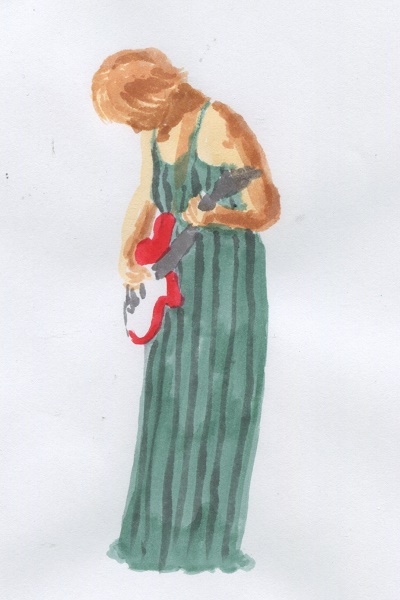 Audience members listen intently to the warm voice of Jennifer Castle.
EE's curation by Chris Worden (Co-director/Natural Thirst) is eccentrically diverse and distinctive. Thanks to the incomparable artists, Gordon Monahan (Co-director/Sound Artist/Owner) and Laura Kikauka (Performance Artist/Owner) for welcoming us all to their funny farm.
De la mydriase de Sara Bortolon-Vettor:
(Traduit par le paysage sonore de Maya Keshav)
On est au sommet de Scotch Mountain. Les drôles d'êtres, les résidents charmants de Meaford et les artistes que nous conservons à l'intérieur se ressemblent à la maison de fous. Au coucher du soleil, les belles âmes adorent le ciel illuminé en fuchsia, pendant que nos sens auditifs sont chatouillés par l'émerveillement. Electric Eclectics est un monde fantastique pour ceux qui cherchent à échapper leurs environs en béton pour vivre l'art dans la nature.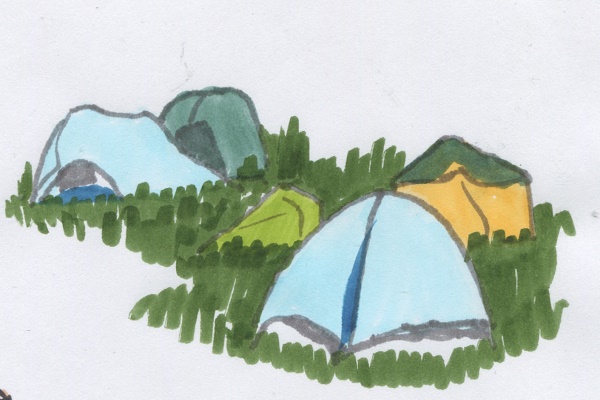 Le camping au sommet de Scotch Mountain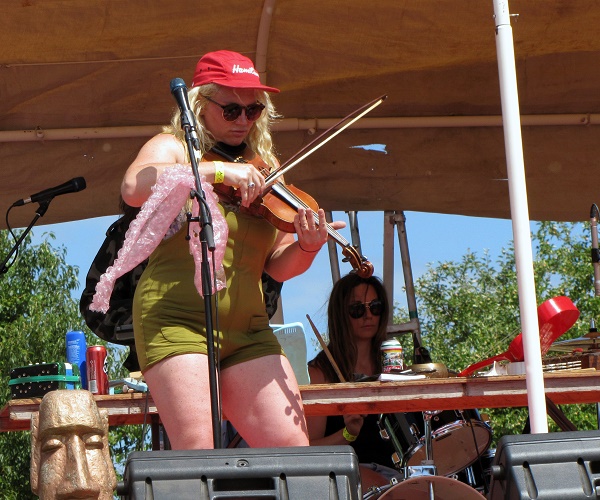 Sourpussy apporte l'humour et la cacophonie à n'importe quelle oreille enthousiaste.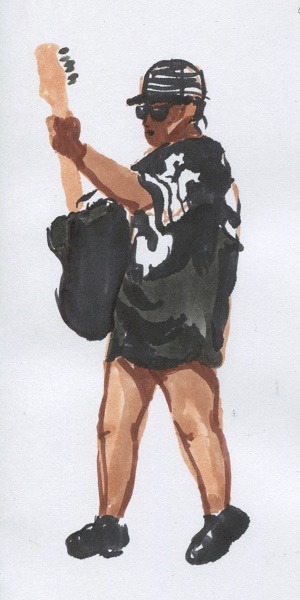 Darknesses joue une boue bruyante de dark-pop sur la scène principale d'EE.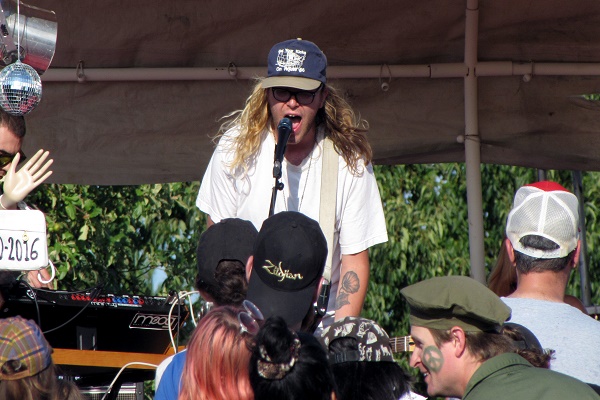 HSY provoque une ferveur captivée dans la foule détendue.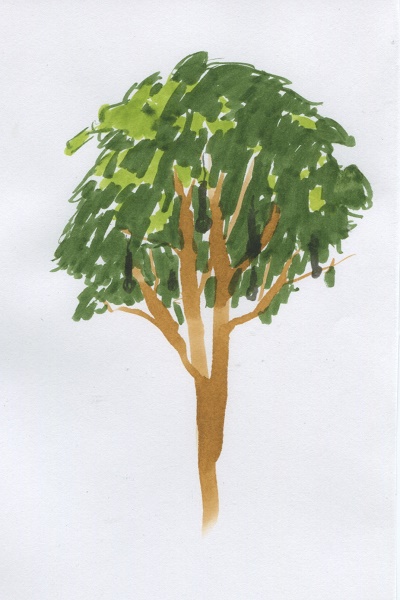 Un seul arbre parmi les champs de blé et d'herbe.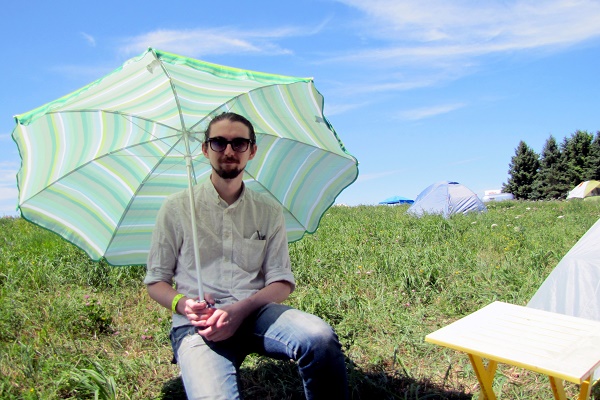 En faisant une pause bien nécessaire de la chaleur continuelle.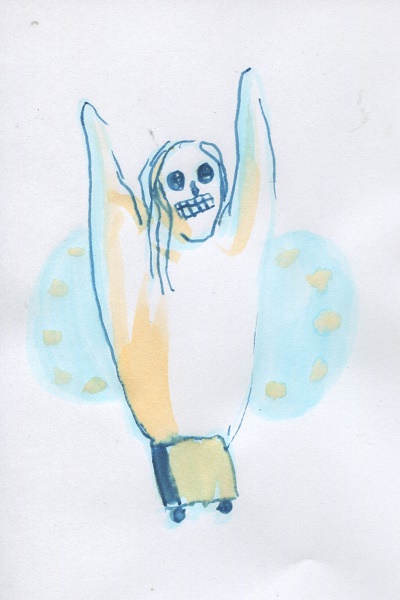 L'être fantomatique d'Aptechnology accueille la foule sur la scène principale d'EE.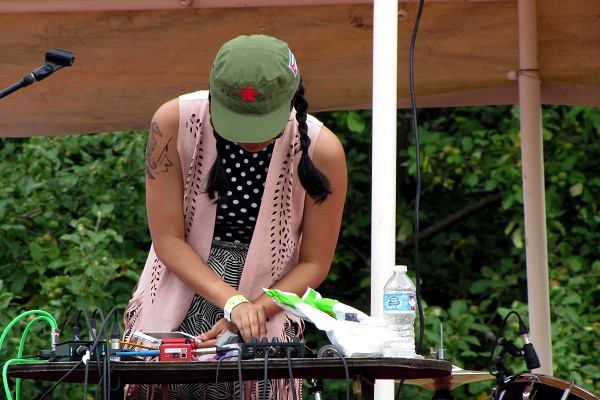 Xuan Ye a dit « Cela ne marche pas » avant qu'elle ait quitté les boutons et demandé à la foule si elle pouvait chanter à la place.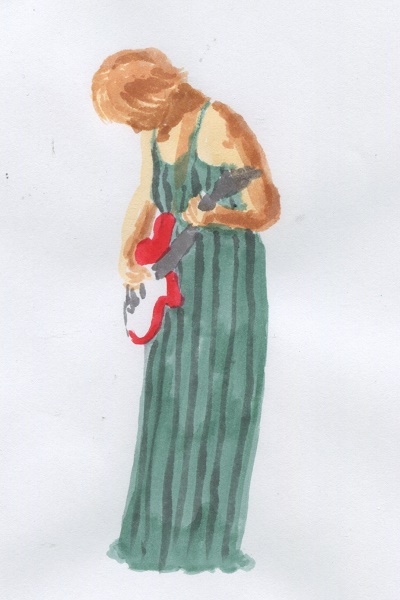 Les membres de l'auditoire écoutent attentivement la voix chaleureuse de Jennifer Castle.
Conclusion— La gamme de musique à EE organisée par Chris Worden (co-réalisateur/ Natural Thirtst) est excentriquement diverse et distincte. Merci aux artistes incomparables, à Gordon Monahan (co-réalisateur/ artiste sonore/ propriétaire) de nous avoir accueilli à leur maison de fous.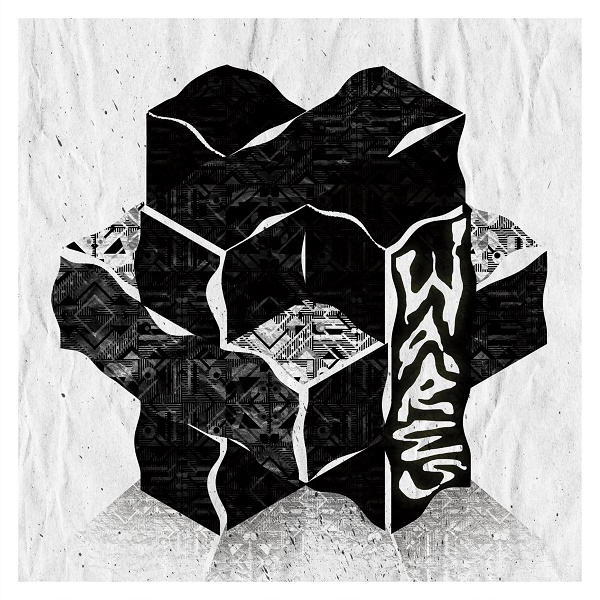 Wares
Missed the Point b/w Beach Date
Edmonton, AB
From the curtained catharsis of Josh Rohs:
School's in, city kids, and attendance is compulsory. On "Missed the Point", Wares' opening salvo of ring mod punk rock capitulates to capital-p Power pop. On the b-side: brass-coupled lakefront nostalgia, sunbleached ivories sufficiently tickled – now with extra curtain-drawn catharsis. Knock down the door and, fuck it, let 'em see you bleed.
De la catharsis garnie de rideaux de Josh Rohs:
(Traduit par la nostalgie académique de Maya Keshav)
L'école est ouverte, les enfants de la ville, et la présence est obligatoire. "Missed the Point" de Wares s'ouvre sur une salve de modulation en anneau (ring mod) punk rock qui capitule jusqu'à p-majuscule Power pop. Sur la face B: la nostalgie du bord du lac conjuguée aux cuivres, les ivoires blanchis au soleil assez chatouillés – maintenant avec plus de catharsis rideaux-fermés. Défoncez la porte et d'la marde, laissez-les vous voir saigner!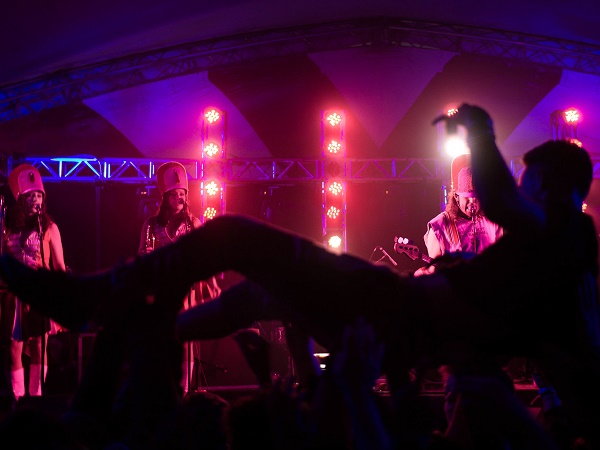 Dawson City Music Festival (DCMF)
Dawson City, YK
From the frost bitten toe of Preacher Katie:
Set in the whiskey drinking miner's heart, Dawson City Yukon gathers travellers, gamblers, ramblers, huskies and artists alike to celebrate the 38th annual Dawson City Music Festival. Once the epicentre of the Klondike Gold Rush, Dawson City's scenery hasn't changed too much. Smoke a cigar while the piano is drunk because you're in a surreal dream set in 1896.
Walk from venue to venue on the dirt roads in the midnight sun with a backdrop of colourful saloons, mountains and the vast Yukon river. Get tipsy and listen to the festival's all-Canadian line-up, either in an old stain glassed church, a circus tent, a grassy knoll by the river, or stroll to other offbeat stages scattered throughout Dawson City. With a familial sideshow of eccentric characters, this music festival is one for the rusty bucket list.
"I love how very extraordinary lives are lived so casually here" Mozart's Sister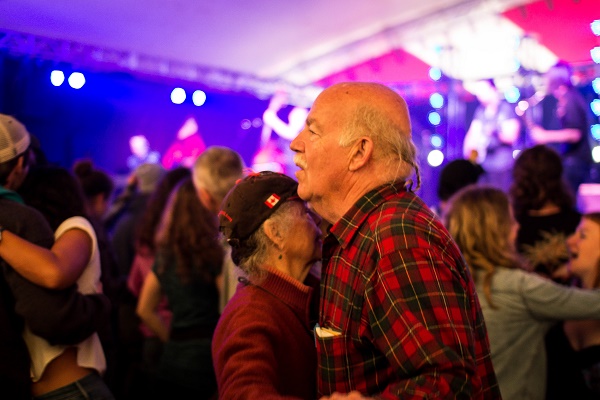 Photo Credit: Preacher Katie
A stolen intimate moment at the Minto Park Mainstage tent area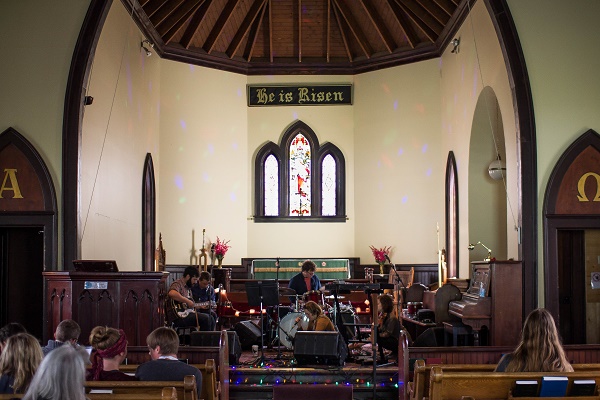 Photo Credit: Preacher Katie
During an Effective Effects performance, Merganzer, Mozart's Sister and Old Cabin joined forces for an experimental set where they asked the crowd to tell them about a dream they have had, then the musicians interpreted the audience member's dream through unique sounds. This session resonated through St. Paul's Anglican Church with beautiful acoustic.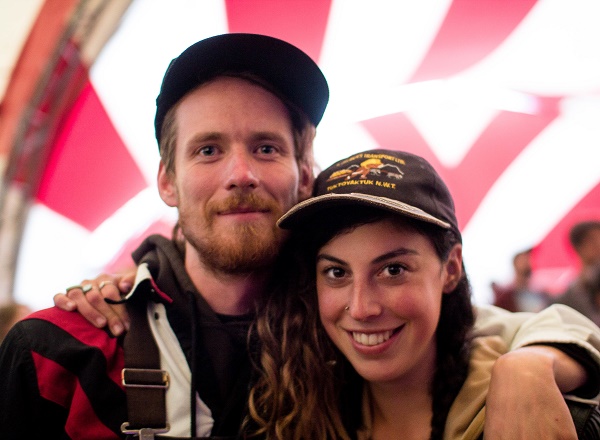 Photo Credit: Preacher Katie
Two locals' perspective on the festival Justin Apperley (Left) Emily Cypher (Right).
Justin Apperley (Local attendee) "The festival always brings a massive influx of people to the city, I like seeing it come alive with a new energy".
Emily Cypher, Owner of Bonana Jellybeans DIY, a caravan/gallery space "I loved being a vendor and showing off the artistic talents of the north in my new caravan store. Our town is the best kept and not so kept secret heaven and it's always cool to open the doors for a bit and see what magic happens!"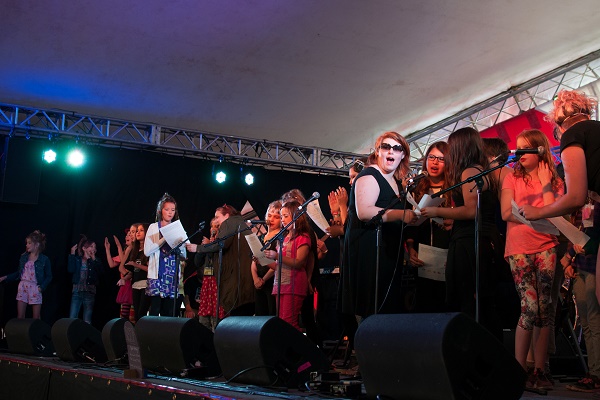 Photo Credit: Aaron Woronuik
Yukon Girls Rock Camp perform on DCMF's Mainstage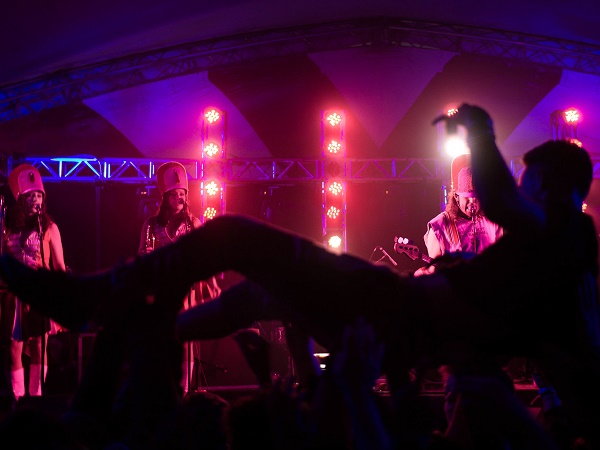 Photo Credit: Preacher Katie
The Wet Secrets from Edmonton had audience members surfing the crowd.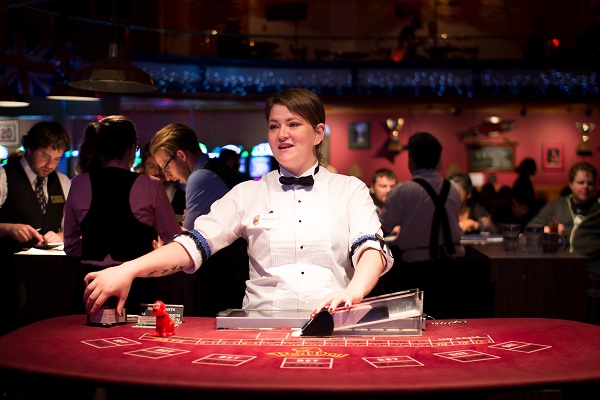 Photo Credit: Preacher Katie
A blackjack dealer at Diamond Tooth Gerties
It's hard to sleep when the sun doesn't set and you're wandering around a dim lit town drunk. The rarest part of DCMF is that when the festivities end, the town doesn't. Play blackjack at the saloon and watch Cancan dancers perform for you at Gerties Diamond Tooth Saloon, watch more music at The Pit with local bands like The Midnight Sons or do a shot with a real frost bitten toe in it at The Downtown Hotel. You will never want to leave.
De l'orteil avec une engelure de Preacher Katie:
(Traduit par Maya Keshav)
Se déroulant dans le cœur d'un mineur buveur de whiskey, La Cité de Dawson au Yukon rassemble les voyageurs, les gageurs, les radoteurs, les huskies et les artistes voisins pour célébrer le 38e Festival de Musique de Dawson City. Autrefois l'épicentre de la ruée vers l'or du Klondike, le décor de Dawson City n'a pas tellement changé. Fumer un cigare pendant que le piano est saoul parce que vous êtes dans un rêve surréel se déroulant en 1896.
Marchez de site en site sur les routes de terre dans le soleil de minuit avec en arrière plans des saloons colorés, des montagnes et le vaste Yukon. Devenez pompette et écoutez le programme entièrement Canadien du festival, soit dans une vieille église aux vitres tachées, une tente de cirque, une butte de gazon près de la rivière, ou promenez-vous aux autres scènes différentes éparpillées à travers la Cité de Dawson. Avec un spectacle familial de personnages excentriques, ce festival de musique en est un pour une bucket list rouillée.
« J'aime à quel point les vies extraordinaires sont vécues avec tant de désinvolte ici. » Mozart's Sister.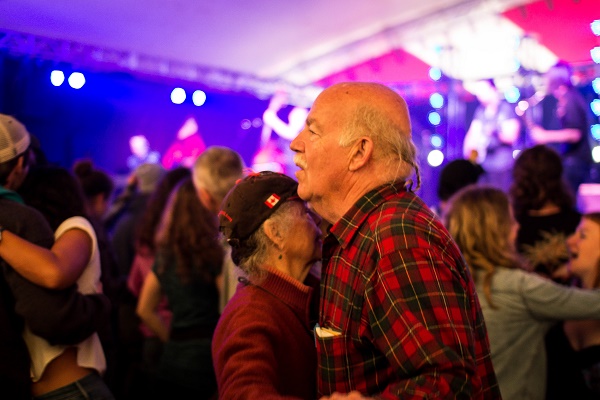 Crédit photographique: Preacher Katie
Un moment intime volé dans la zone principale de la tente de Minto Park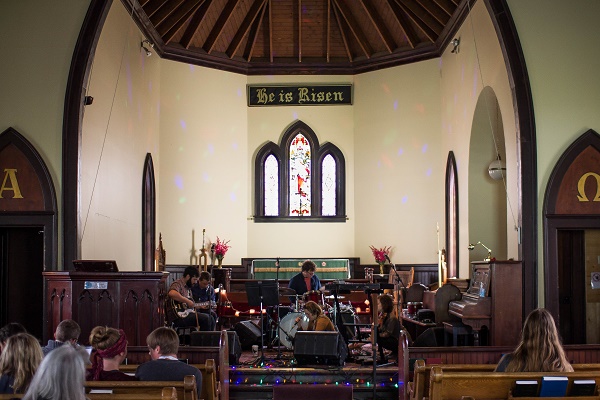 Crédit photographique : Peacher Katie
Durant une performance de Effective Effects, Merganzer, Mozart's Sister et Old Cabin ont joint leurs forces pour un ensemble expérimental où ils ont demandé à la foule de leur parlé à propos d'un rêve qu'ils ont eu, puis les musiciens ont interprété le rêve du membre de l'audience à travers des sons uniques. Cette session a résonné à travers l'église anglicane de St. Paul avec des sons acoustiques magnifiques.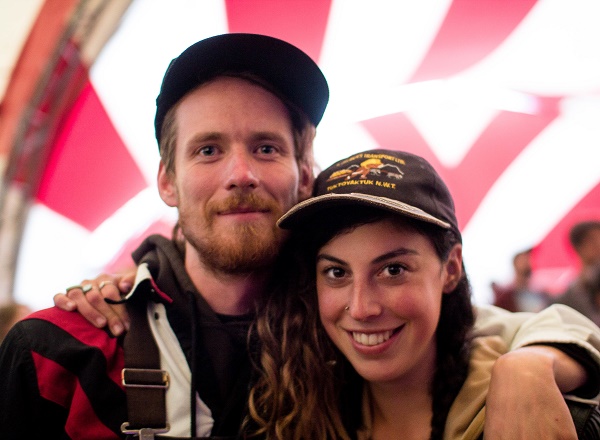 Crédit photographique: Preacher Katie
La perspective de deux locaux sur le festival, Justin Apperley (à gauche) et Emily Cypher (à droite)
Justin Apperley (participant local) « Le festival apporte toujours un flux massif de gens à la cité, j'aime les voir prendre vie avec une nouvelle énergie. »
Emily Cypher, propriétaire de Bonana Jellybeans DIY, un espace caravan/gallerie « J'aime être une vendeuse et mettre en valeur mes talents artistiques du nord dans mon nouveau magasin caravan. Notre ville est un paradis secret et bien connu en même temps et c'est toujours cool d'ouvrir les portes pour un moment et voir la magie! »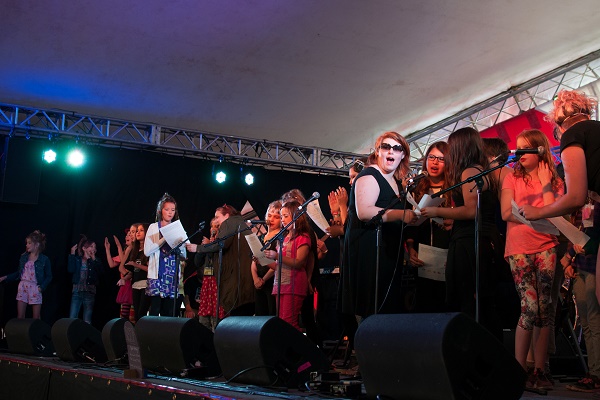 Crédit photographique: Preacher Katie
Un camp Rock Feminin du Yukon performe sur la scène principale de DCMF.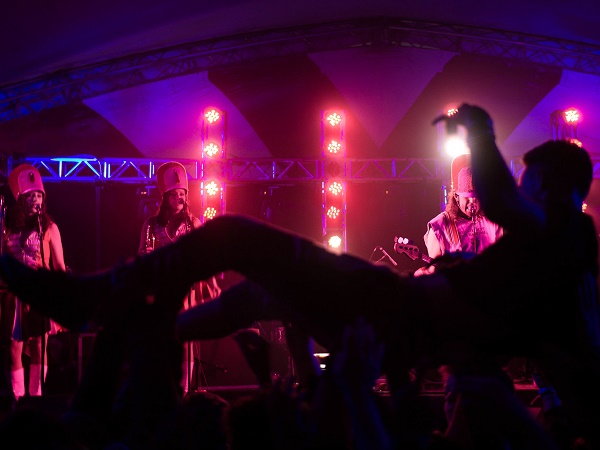 The Wet Secrets d'Edmonton avait des membres du public surfant la foule.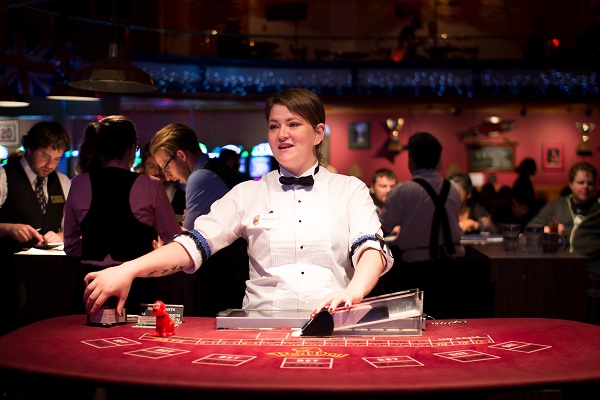 Crédit photographique: Preacher Katie
Un croupier de blackjack à Diamond Tooth Gerties
C'est dur de dormir quand le soleil ne se couche pas et que vous errez autour d'une ville faiblement éclairée, saoul. La partie la plus rare de DCMF c'est quand les festivités se terminent, la ville n'arrête pas. Jouez au blackjack au saloon et regardez les danseuses de cancan performer pour vous au saloon Gerties Diamond Tooth, regardez plus de musique au The Pit avec des groupes locaux comme The Midnight Sons ou faites un cul sec avec un orteil vraiment gelé à l'hôtel du centre-ville. Vous ne voudrez jamais partir.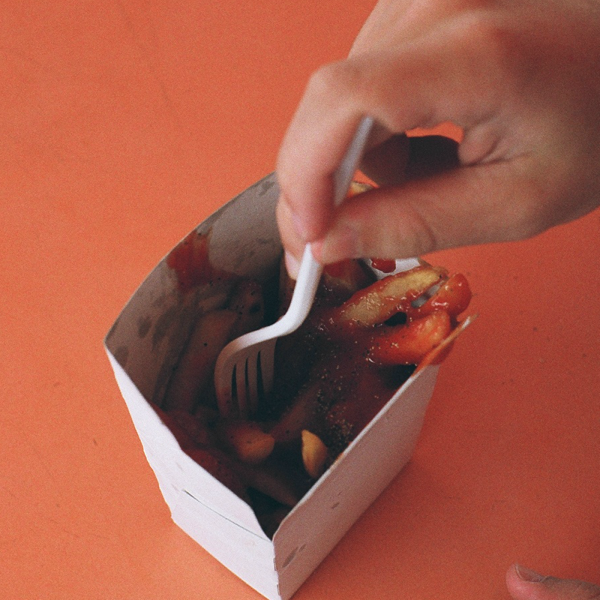 LA ROSE
lean period
(Self-Released)
Toronto, ON
From the scraped knees of Joshua Robinson:
Bedroom sophistry unfurls late-night curlicues, its lo-fi heartache screaming synthesized apologies that bounce off walls to rest, at long last, in the deepening emptiness of the space between weary ears. A catalogue of downtrodden pop-plunderphonics that bleed soft-spoken requiem; these entries are retreating voices and cigarette smoke, turning bright and polished daydreamed lovery into pale, ghostly, mournful parables. Intoned sepia dreams; clouded glasses and knees scraped against sharp pavement. The answer to the echoes that dance upon an upside down stage eyes hooked to the shadows that move across quiet ceilings.
Des genoux râpés de Joshua Robinson:
(Traduit par les roucoulades douces de Maya Keshav)
Le sophisme d'alcôve déroule des enjolivures nocturnes, pendant que son chagrin lo-fi hurle des excuses synthétisées qui rebondissent sur les murs jusqu'à ce qu'elles se reposent, enfin, dans le vide de plus en plus grand entre des oreilles fatiguées. Un catalogue des pop-plunderphonics opprimés qui dispersent le requiem doux; ces entrées sont des voix en retraite et de la fumée de cigarette qui transforment les roucoulades rêvées brillantes et bien polies en paraboles pâles, spectrales, et funèbres. Les rêves sépia entonnés; la buée sur les lunettes et les genoux égratinés par la chaussée rugueuse. La réponse aux échos qui dansent sur une scène à l'envers, les yeux rivés aux ombres qui se déplacent sur les plafonds silencieux.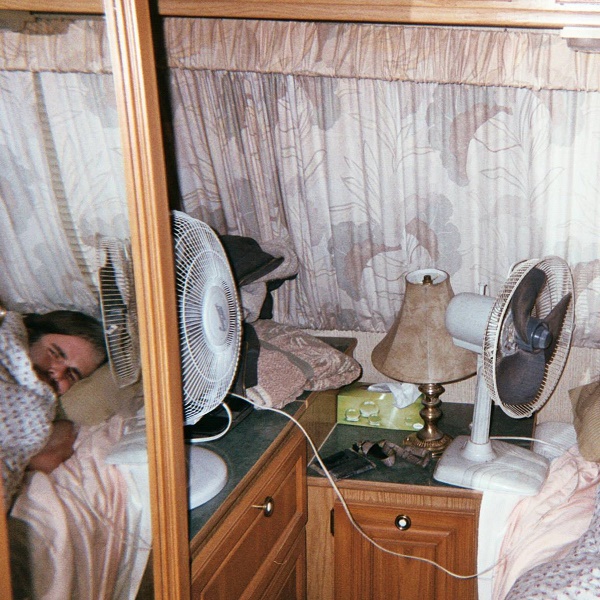 aaronke
backlight on this tablet is starting to hurt my eyes :/
(Self-Released)
Charlottetown, PEI
From the multi-dimensional resonance of Simon Petley:
You shiver from shoulder to hip as the smell of molten rubber seeping up from the tarmac mingles with memories of seawater blasting down your throat. Soon you'll have left, with a tangle of severed emotional tendrils in your wake.
You defy the course of the Trans Canada and rendezvous with solid ground five hours and five provinces later. The scene you left behind morphs beyond your field of vision.
You're left with patchwork: a zine in the mail or a 140 character morsel delineate your narrow lense. A weak connection distills these depictions down to a pixelated array, or else a single frozen frame. But the visage that remains in gleaming high fidelity assures you that this country's grand expanse isn't grand enough to keep swelling hearts from colliding. You'll be back.
De la résonance multidimensionnelle de Simon Petley:
(Traduit par le caoutchouc fondu de Maya Keshav)
Tu frissonnes de l'épaule à la hanche quand l'odeur de caoutchouc fondu qui s'infiltre du tarmac se mélange aux souvenirs de l'eau de mer qui coule dans ta gorge. Bientôt ,tu seras partie,, avec un enchevêtrement des vrilles coupées d'émotions dans ton sillage.
Tu défies le cours de la Trans Canada et te retrouves avec la terre ferme cinq heures et cinq provinces plus tard. Les paysages que tu as laissés derrière toi disparaissent au-delà de ton champ de vision.
Il ne te reste qu'une mosaïque : un zine dans le courrier ou un morceau de 140 caractères qui délimite ton angle étroit. Une mauvaise connexion distille ces représentations jusqu'à un étalage des pixels, ou sinon un seul arrêt sur image. Mais le visage qui reste en haute fidélité étincelante t'assure que la vaste étendue de ce pays n'est pas assez vaste pour empêcher les coeurs qui se gonflent d'entrer en collision. Tu reviendras.
aaronke – backlight on this tablet is starting to hurt my eyes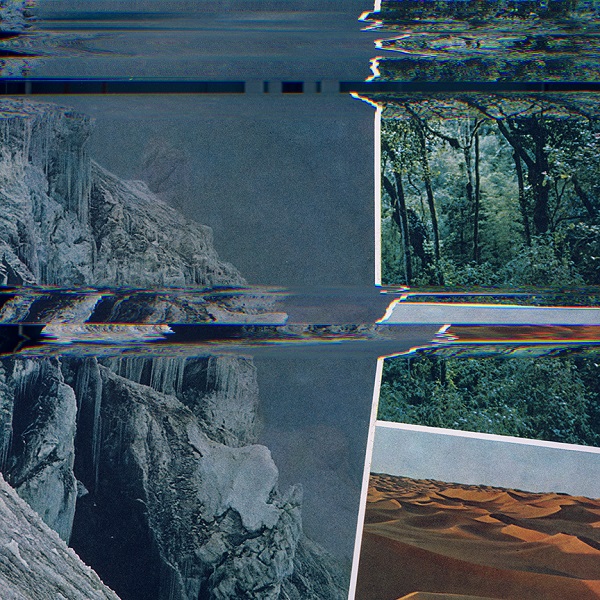 Sarah Davachi
Dominions
Vancouver, BC // Montreal, QC
From the deep chasms of Joshua Robinson:
Soft lulls nudge at the drone-ry of sinusoidal eupnea as electronic orchestration brings to light the staying power of a textured calm. The sonic palette is antiquated, but in being so is refined; the tools of bygone times exhumed to breathe once again, exhaling the fine tones of a mastered craft and the channeled voice of a resonant staticism. These compositions are as delicate as glass, as fragile as they are ethereal. Yet, they are elemental in their resonance; flowing structures and layered depths bridging chasms too deep to truly know.
Des abîmes profondes de Joshua Robinson:
(Traduit par la sérénité texturée de Maya Keshav)
Les tendres accalmies effleurent la drone-essence de la douceur sinusoïdale pendant que l'orchestration électronique met en lumière l'endurance d'une sérénité texturée. La palette des sons est vieillotte, mais en l'étant, elle est raffinée; on exhume les outils d'une époque revolue pour qu'ils respirent encore, en expirant les tons délicats d'un métier maîtrisé et d'une voix transmise, immuable. Ces compositions sont aussi délicates que le verre, aussi fragiles qu'éthérées. Mais, leur résonance est fondamentale; les structures fluides et les fonds superposés s'étendent sur les abîmes trop profondes pour vraiment les connaître.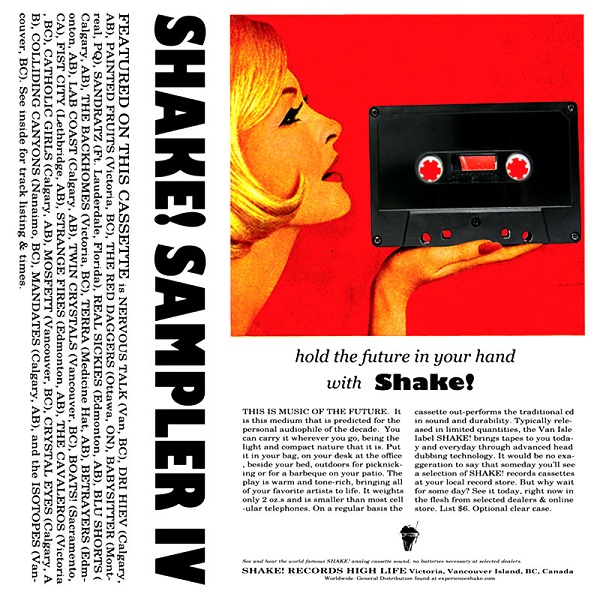 Various Artists
Shake! Sampler IV
Victoria, BC
From the curdling milk of Preacher Katie:
"Hold the future in your hand" while drinking a strawberry milkshake in your other hand that was made by a lady named Ronda from Dennys. No need to leave your lawn chair these days because Shake! Records delivers everything you need, contained into Shake!'s IV sampler cassette is 23 different bands of North America's best. So shake it, twist it, smoke it, squirt it and chug it to this sun-kissed mix tape. Make sure you remember to bring all the boys to the yard.
Du lait caillé de Preacher Katie:
(Traduit par la saveur magnifique de Maya Keshav)
« Tiens l'avenir dans ta main » pendant que de l'autre tu bois un milkshake à la fraise qui a été préparé par une dame qui s'appelle Ronda from Dennys. Pas besoin de quitter ta chaise longue ces temps-ci parce que Shake! Records fournit tout ce dont tu as besoin; la cassette IV de Shake! contient un échantillon de 23 des meilleurs groupes de l'Amérique du Nord. Alors, secoue-le, tourne-le, fume-le, injecte-le et descends-le avec cette compilation bronzée. Assure-toi de ne pas oublier d'amener tous les garçons dans la cour.
---