Tag: max mohenu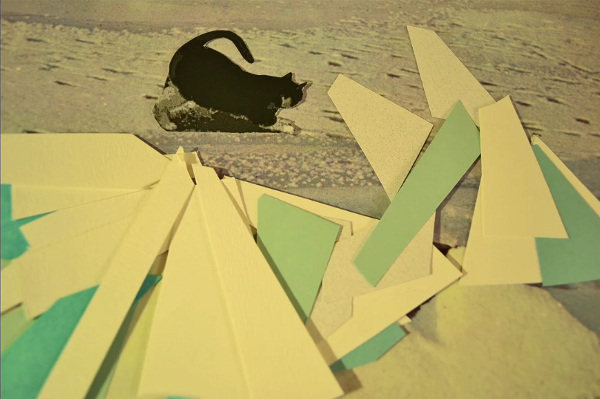 Iceberg Ferg
I Wanna Go Home
[Directed by: Zilla]
Victoria, BC
From the construction paper collection of Max Mohenu:
The geographical art-attack that is the video for Iceberg Ferg's "I Wanna Go Home" finds his feline friend all over the world in the span of three minutes. Carefully guided by a flurry of colourful cut-out shapes that form the very foundation, Socks (the cat) skips, glides and dances on. These stop-animated landscapes change at the blink of an eye, making this rad kitty's never-ending quest for milk and cuddles all the more exciting.
Du papier de construction de Max Mohenu:
(Traduit par la colle en bâton de Nicolas Coutlée)
L'assaut géo-artistique qu'est le vidéo d'Iceberg Ferg pour « I Wanna Go Home » suit un sympathique félin qui fait le tour du monde en trois petites minutes. Guidé patiemment par un florilège de formes découpées et colorées, Socks (le chat) bondit, glisse et se dandine. Les paysages animés qui se transforment en un clin d'oeil rendent le périple éternel de ce minou en quête de lait et de caresses d'autant plus excitant.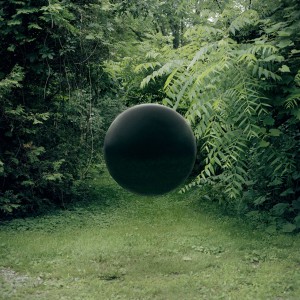 Braids
In Kind // Amends
Montreal, QC
From the bouncy castle of Max Mohenu:
The In Kind // Amends 12" showcases a much more layered sound for Braids, as they explore upbeat electronics and rich textures, pushing the atmospheric boundaries into an exciting new direction. Raphaelle Standell-Preston's poised vocals gracefully evolve into shimmering echoes, riding the subtle percussion into a realm of floating ambient pop on "Near Enough". Pushing the vocals through lush drones, the drums sweep in and out of the haze of the impending "Amends", a wistful downtempo song that finds the trio caught in an electronic bouncy castle, as the hypnotic glitches leave you caught somewhere between dance and deep slumber. The grand finale, "A Dawn In Me", is a pillar of mesmerizing white noise that soothes the subconscious and leaves you wondering what other gems lie in wait of their forthcoming LP, Flourish//Perish. Only time will tell.
Du château gonflable Max Mohenu:
(Traduit par la danse somnambule d'Andréanne Dion)
Sur In Kind // Amends, le son de Braids se révèle beaucoup plus riche et explore des univers électroniques entraînants et des textures opulentes qui repoussent les frontières atmosphériques vers un nouvel horizon fascinant. Sur « Near Enough », la voix posée de Raphaelle Standell-Preston se mue gracieusement en des échos chatoyants et attire les percussions délicates vers un royaume de pop ambiante en suspension. Menant les chants à travers des drones luxuriants, la batterie va et vient dans le brouillard de la menaçante « Amends », un morceau méditatif au tempo lent où le trio se retrouve coincé dans un château gonflable électronique, alors que les micro-sons hypnotiques vous laissent quelque part entre le plancher de danse et le sommeil profond. L'apothéose, « A Dawn In Me », est un blizzard sonore envoûtant qui apaise le subconscient et vous laisse rêver aux autres bijoux qui vous attendent sur Flourish/Perish, leur prochain album. Seul l'avenir nous le dira.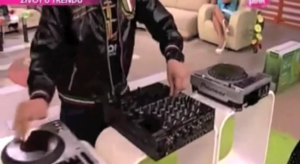 Happy Trendy
January 6
[Director: Dylan Khotin-Foote]
Edmonton, AB
From the star sign of Max Mohenu:
Happy Trendy is the moniker of Edmonton musician Dylan Khotin-Foote. This musical adventure came to an end last year, but he's still making art and providing the laughs with loljiji. In memory of one of his most divine tracks, "January 6", Happy Trendy released a "rare official video" on the titular date. The lush beats and serene harmonies couldn't be a better fit for this amazing found footage. Not sure if this is some European talk show or what, but much like this incredible tune, the video is something to be remembered. Although the Happy Trendy chapter is finished, let's hope we can celebrate the beauty of January 6 every year, all year round.
Max Mohenu is the founder of Diamond Atlas, and a contributor at Portals. He is currently working on his first zine and the relaunch of Diamond Atlas, which will feature new contributors Mystic Groove and Suburban Tours.
Du signe astrologique de Max Mohenu:
(Traduit par la courte échelle de Alex Vail et Nicolas Coutlée)
Happy Trendy est le pseudonyme du musicien d'Edmonton Dylan Khotin-Foote. Son aventure musicale a pris fin l'an passé, mais il œuvre toujours en arts et continue de faire rire avec loljiji. En mémoire de « January 6, l'un de ses plus divins morceaux, Happy Trendy a fait paraître un « rare vidéo officiel » à la date éponyme. Les rythmes lascifs et les harmonies sereines ne pourraient s'agencer mieux qu'avec ces merveilleuses images trouvées par hasard. Pas sûr si c'est une sorte de talk-show européen ou quoi, mais comme cette incroyable chanson, le vidéo est à garder en mémoire. Même si Happy Trendy est histoire du passé, espérons pouvoir célébrer la beauté du 6 janvier chaque année, toute l'année.
Max Mohenu est le fondateur de Diamond Atlas et un collaborateur pour Portals. Il travaille présentement sur son premier zine et sur le retour de Diamond Atlas, qui mettra en vedette les nouvelles contributions de Mystic Groove et Suburban Tours.
---