Tag: max cotter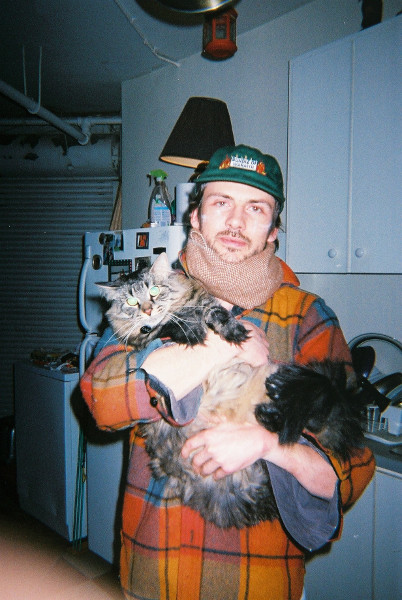 Since its first batch of releases in early 2011, Craft Singles has been steadily cultivating and curating "a series of snapshots of interrelated communities." Perpetually delving into disparate sounds and geographies, the subscription-based label educates its listeners in Canadiana through brief, single-driven cassette doses. Each meticulously orchestrated batch of releases offers a unique visual aesthetic and attention to packaging, adding collectibility to the already enticing array of singles. Weird Canada spoke to Andy March, founder of Craft Singles.
Craft Singles
Halifax, NS
From the orchestrated collectibility of Max Cotter:
Since its first batch of releases in early 2011, Craft Singles has been steadily cultivating and curating "a series of snapshots of interrelated communities." Perpetually delving into disparate sounds and geographies, the subscription-based label educates its listeners in Canadiana through brief, single-driven cassette doses. Each meticulously orchestrated batch of releases offers a unique visual aesthetic and attention to packaging, adding collectibility to the already enticing array of singles. Weird Canada spoke to Andy March, founder of Craft Singles.

The You Are Minez – Can't Question Desire

The Ether – Dead Scene Politics
Max Cotter: What are the origins of Craft Singles (CS) and how did it evolve into its current form?
Andy March: CS started as a project where I wanted to try my hand at production. I had been recording, playing in bands, and running labels, and I thought it would be a worthwhile exercise to see what I could do to put all that together and try to produce recordings. I wanted to be able to work with a lot of different artists, to do it without needing to find much money, to work quickly and release things rapidly, and to publish the output in a coherent form, as a project, in a format that was collectible. I also wanted to be able to give the bands something that they could sell, which could get reviewed, with the result of garnering some attention.
The cassette single format is one I have always liked. It made sense to me that the project as a whole could gain some momentum, even if the releases were very short, and the editions very small. I bought a cassette duplicator, a glue dispenser gun, and trained with Charles Austin at Echo Chamber Audio, reaching an agreement where I could use the studio at night for a reasonable rate. The first half-dozen or so releases followed this ethos, and I made some recordings I am really proud of. Friendly Dimension, The Ether, Special Costello, and Lantern really stand out for me as sessions where I put a lot of thought and effort into being the perfect producer for that particular group at that particular point in their career, and I think I gave them something that made sense for them that, at the time, did justice to their development and their aesthetic.
As I began to spend less time in Halifax and Montreal (where I had studio access as well), and as I became more focused on my own band, CS morphed into more of a traditional label in that bands, such as Play Guitar and Grand Trine, submitted their content for release through the label. I was still doing some recordings for bands like Bad Vibrations, but the emphasis was more on making the release process affordable, without losing quality, for bands that were near the beginning of their careers.
At this point the label began to grow in its ability to provide exposure across Canada, in part thanks to Weird Canada and campus radio. It fell into its current character; a series of snapshots of interrelated communities, a rhizome of bands and musicians and scenes.
There seemed to be a heavy focus on the Halifax scene that has slowly shifted to documenting other parts of the country. What led to this change? How has CS's relationship with the Halifax music community changed with this shift?
I am fairly nomadic so as I spent less [time in] Halifax and started exploring other parts of the country, I found relationships between cities that made it possible to expand the label to other regions. Sackville, Montreal, Toronto, and Calgary all have threads in common; dialogues of various degrees between certain threads of creativities, which was very exciting for me to realize. My relationship to the Halifax scene is still strong. I go back all the time and try to keep tabs on what is up, and I hope to be able to continue this forever.
Especially considering the aforementioned shift, how does the CS curation process work? Has it become more of a challenge to make informed release decisions when looking with a wider lens at Canada as a whole? The process of deciding on releases is pretty straight forward. I try to determine if a release is mutually beneficial for all parties involved: the band, the label, and the other bands under the label. If so, and if the band is keen, I do whatever needs done to make a tape happen. I find that the wider the scope geographically, the more cohesive the project becomes. Releasing Homebody (from Denver, Colorado) and seeing the ties with, say, Heaven For Real or You Are Minez, was really sweet.
With each round of releases featuring a different-yet-cohesive aesthetic, it seems graphic design is an important aspect of CS. How would you describe the relationship between the label/music and the visual aspects?
I spent a long time in art school in Halifax, and I decided early on that visual cohesion was vital to the sensibility of the project. Other labels–like Sacred Bones–incorporate the visual to great effect, and I get a lot of satisfaction from doing this successfully. I do feel a little strange imposing an aesthetic on a group of artists, but ultimately I think it plays a big role in making the label operate the way it does, ontologically, and no one has made a stink about it yet.
As a subscriber, I've always found each round of CS releases is like a lesson in independent Canadian music. What led to the idea of a subscription based label?
The subscription is just a way to maintain momentum as well as adding another element to the nature of the project. I think it makes it a richer project by adding to the element of collectibility, like when you wanted a complete set of baseball cards when you were a kid, and if you were really keen, maybe you would just buy the whole set at once. In this way the collector becomes a part of the project. They don't know what tape they will be getting, they are subscribing to the label, and they are really another wing of the whole thing.
How does the cassette format relate to the CS ideology and aesthetic? Is the label bound to this specific medium or do you have plans to experiment in other tangible delivery methods?
Cassettes are amazing because they are cheap, easy to duplicate, easy to package, durable, and they ship cheaply as lettermail. They also make unmastered digital recordings sound cooler, and they don't take up much space in your collection. They have a wide spine, so as a series the spines all line up to look great on your shelf.
In 2010 I bought a very large and ancient record lathe, which is a device used in manufacturing vinyl records. I modified the machine, and along with a rad online community, experimented to find a way to use it for short run manufacturing of hand-made records. At this point it is possible, for a few dollars, to produce a mono disk that does not wear out with use, that will play well, and that sounds excellent across a large frequency range, with a low noise floor, and at a decent volume, on MOST turntables. Unfortunately the Stylus that the machine uses is made of Saphire, and costs about $100, so mistakes are very expensive, and a big part of the experimentation has been getting as many copies as possible out of a stylus without wearing it out. My first release in this format was CS024-SLOW BURN for TORONTO HOMICIDE SQUAD. The run of 30 copies took me about 2 long days of work, and they came out great.
What's next for CS?
Next up are releases for Negative Rage and Un Blonde, two of the most exciting cassingles to date. Both are young, 'auteur' types and I am beside myself with excitement. I think the next wave of artists in Canada will be truly unbelievable, and everyone should be ready to have their minds blown into a million pieces. At the same time I am very pleased to see CS bands like Heaven For Real, Monomyth, Old and Weird, and others, move forward in their careers at an amazing pace, and I am thinking of ways that the label can evolve to keep up with them.
Craft Singles Discography (to date):
CS001 – Omma Cobba – Policeman
CS002 – The Ether – Dead Scene Politics
CS003 – The Friendly Dimension – Executive Koala
CS004 – Lantern – American Razorwire
CS005 – Kill Squares – Swim To Me
CS006 – Play Guitar – Majic Child
CS007 – Grand Trine – Euthanize Me
CS008 – Crosss – Bone Brigade
CS009 – Bloodhouse – Baby Butter Knife
CS010 – Transfixed – Physical Demands
CS011 – Bad Vibrations – In The Rough
CS012 – Old and Weird – Minstrel Rock
CS013 – Special Costello – Music and Image
CS014 – The You Are Minez – Can't Question Desire
CS015 – Astral Gunk – Street Level
CS016 – Yellowteeth – Repo
CS017 – Chief Thundercloud – End of August
CS018 – Quaker Parents – Rubber Match
CS019 – Quivers – Self Portrait in E
CS020 – Heaven For Real – Hero's Code
CS021 – Monomyth – Trash Day
CS022 – Homebody – Homebody EP
CS024 – Toronto Homicide Squad – Slow Burn
CS025 – Negative Rage – I'm Controlled, You're Controlled
Des collections bien orchestrées de Max Cotter:
(Traduit par Anne-Marie Papillon)
Depuis sa première fournée de sorties en 2011, Craft Singles cultive de façon régulière une série de clichés de communautés entremêlées. Fouillant perpétuellement les creusets de sons et de géographies disparates, l'étiquette qui fonctionne par abonnement éduque ses adeptes en Canadiana au moyen de doses de cassettes brèves et orientées vers le simple. Chacune des fournées de sorties méticuleusement orchestrées offre une esthétique visuelle unique et une attention toute particulière à l'emballage, ajoutant l'envie de collection aux déjà très séduisants simples. Weird Canada a conversé avec Andy March, le fondateur de Craft Singles.

The You Are Minez – Can't Question Desire

The Ether – Dead Scene Politics
Max Cotter : Quelles sont les origines de Craft Singles (CS) et comment l'étiquette a-t-elle évolué pour atteindre sa forme actuelle?
Andy March : CS a débuté par un projet où je voulais essayer de produire pour la première fois. Auparavant j'avais enregistré, joué dans des groupes et dirigé des étiquettes et je pensais que cela vaudrait la peine de voir ce que je pourrais obtenir comme résultat en combinant le tout grâce à la production. Je voulais avoir l'opportunité de travailler avec de nombreux artistes différents, de pouvoir le faire sans avoir besoin de trop de sous, de travailler et de sortir des trucs rapidement et de publier le tout de façon cohérente, dans un format facile à collectionner. Je voulais aussi être en mesure d'offrir aux artistes quelque chose qu'ils peuvent vendre, quelque chose à propos duquel on peut écrire, dans le but d'attirer l'attention sur la musique.
Le format cassette est un truc que j'ai toujours aimé. Ça avait du sens pour moi que le projet prenne de l'élan, même si les parutions étaient très courtes et le nombre de copies limité. J'ai acheté une reproductrice de cassettes, un fusil à colle et discuté avec Charles Austin de Echo Chamber Audio. On s'est entendu pour que je puisse utiliser son studio un soir par semaine, à un prix raisonnable. La première demi-douzaine de parutions a suivi cette philosophie et j'ai produit des trucs dont je suis très fier. Friendly Dimension, The Ether, Special Costello, et Lantern se distinguent particulièrement pour moi comme des sessions auxquelles j'ai consacré beaucoup de temps et d'effort afin d'être le meilleur producteur pour chaque artistes à ce point particulier de leur carrière. Je crois leur avoir donné un résultat qui avait du sens pour eux et que ce résultat rendait justice à leur développement et à leur esthétique du moment.
Lorsque j'ai commencé à passer de moins en moins de temps à Halifax et à Montréal (où j'avais aussi accès à un studio) pour me concentrer davantage sur mon propre groupe, CS s'est transformé en une étiquette plus traditionnelle; des groupes comme Play Guitar et Grand Trine ont soumis leur matériel en vue d'une parution sous l'étiquette. Je faisais toujours des enregistrements pour des groupes comme Bad Vibrations mais l'accent était plus sur la volonté de rendre le processus abordable, sans compromettre la qualité, pour des groupes qui commençaient leur carrière.
À ce moment-là, l'étiquette a commencé à développer sa capacité à faire connaître des groupes à travers le pays, en partie grâce à Weird Canada et aux radios communautaires. C'est devenu ce que c'est maintenant : une série de clichés de communautés entremêlées, un rhizome de groupes, de musiciens et de scènes.
Il semble que l'accent ait d'abord été mis sur la scène d'Halifax pour ensuite se déplacer vers d'autres coins du pays. Qu'est-ce qui a motivé ce changement? Comment est-ce que la relation de CS avec la scène musicale d'Halifax a changé de ce fait?
Je suis passablement nomade alors je passais de moins en moins de temps à Halifax et j'explorais d'autres coins de pays. J'ai trouvé des similarités avec d'autres villes qui rendaient possible l'expansion de l'étiquette vers d'autres régions. Sackville, Montréal, Toronto et Calgary ont toutes des fils en commun; des dialogues à différents degrés entre certains fils créatifs, une réalisation très excitante pour moi. Ma relation avec la scène d'Halifax est toujours très forte. J'y retourne souvent, j'essaie de me tenir au courant de ce qui s'y passe et j'espère être toujours en mesure de le faire.
Compte tenu de l'évolution qu'on vient de mentionner, comment fonctionne maintenant le processus de sélection de CS? Est-il plus difficile de prendre une décision éclairée pour une parution maintenant que vous devez tenir compte du Canada tout entier?
Le processus de décision pour les nouvelles parutions est assez simple. J'essaie de déterminer si une parution est bénéfique pour toutes les parties concernées : le groupe, l'étiquette et les autres groupes sous l'étiquette. Si c'est le cas et que le groupe en a envie, je fais tout ce qui est en mon pouvoir pour créer une cassette. Je trouve que plus l'envergure géographique est étendue, plus on retrouve de cohésion entre les projets. Faire paraître Homebody (de Denver, Colorado) et voir les liens entre par exemple Heaven For Real ou You Are Minez était vraiment sympa.
Chaque ronde de parutions présente une esthétique différente mais toujours en cohésion et il me semble que le design graphique est un aspect important de CS. Comment décrirais-tu la relation entre l'étiquette/la musique et l'aspect visuel?
J'ai passé beaucoup de temps à l'école d'art à Halifax et j'ai décidé dès le départ que cette cohésion visuelle était vitale pour la sensibilité du projet. D'autres étiquettes – comme Sacred Bones– incorporent le visuel pour un superbe effet et je trouve une grande satisfaction à réussir à faire la même chose. C'est un peu bizarre d'imposer une esthétique à un groupe d'artistes mais en fin de compte je pense que c'est important pour faire fonctionner l'étiquette comme elle fonctionne, ontologiquement. Jusqu'à maintenant cela n'a jamais été un problème avec les artistes.
En tant qu'abonné, j'ai toujours trouvé que chaque ronde de parutions par CS était comme une leçon sur la musique indépendante canadienne. D'où est née l'idée d'une étiquette qui fonctionne par abonnement?
L'abonnement est une manière de maintenir l'élan et d'ajouter un autre élément à la nature du projet. Je crois que le fait d'ajouter l'élément de collection rend le projet plus riche, comme quand tu voulais une série complète de cartes de baseball quand tu étais enfant. Si tu étais vraiment passionné, tu achetais la série au complet d'un coup. De cette manière, le collectionneur fait partie du projet. Il ne sait pas quelle cassette il va recevoir : il est abonné à l'étiquette et il est vraiment une autre composante du processus global.
Comment est-ce que le format cassette est lié à l'esthétique et à l'idéologie de CS? Est-ce que l'étiquette est limitée à ce médium ou vous avez l'intention d'expérimenter d'autres méthodes de parution tangibles?
Les cassettes sont géniales parce qu'elles ne sont pas chères, sont faciles à reproduire, faciles à emballer, durables et elles ne sont pas plus cher à expédier par la poste que les lettres. Elles rendent aussi les enregistrements numériques non masterisés plus cool et ne prennent pas une énorme place physiquement. Elles ont une tranche large, alors remplir une tablette avec une collection produit vraiment un bel effet.
En 2010, j'ai acheté un très grand et ancien tour d'usinage de disques (record lathe), un engin utilisé dans la manufacture de disques vinyl. J'ai modifié l'engin, et avec l'aide d'une super communauté internet, j'ai expérimenté une façon de m'en servir pour produire des petites quantités de disques fait-main. Présentement il est possible pour quelques dollars de produire un disque mono qui ne s'use pas, qui jouera bien et qui produit un son excellent sur un éventail de fréquences, avec un minimum de bruit de fonds et à un volume intéressant sur la plupart des tables tournantes. Malheureusement, le stylet que l'engin utilise est fait de saphir et coûte à peu près 100 $ donc les erreurs sont coûteuses et la majorité de mes expérimentations ont consisté à produire un maximum de copies avant que le stylet ne s'use. Ma première parution dans ce format a été CS024-SLOW BURN pour TORONTO HOMICIDE SQUAD. Un total de 30 copies m'a demandé deux longues journées de travail et le résultat est génial.
Qu'est-ce qui s'en vient pour CS?
Les prochaines parutions seront Negative Rage et Un Blonde, deux des plus excitants simple-cassettes jusqu'à maintenant. Les deux sont jeunes, du type « auteur » et je suis super excité. Je pense que la prochaine vague d'artistes au Canada sera incroyable et tout le monde devrait se préparer à halluciner en 10 000 couleurs. D'ailleurs, je suis vraiment content de voir des groupes de CS comme Heaven For Real, Monomyth, Old and Weird et d'autres avancer dans leur carrière à grande vitesse et je réfléchis à des moyens de faire avancer l'étiquette avec eux.
Discographie de Craft Singles (jusqu'à maintenant) :
CS001 – Omma Cobba – Policeman
CS002 – The Ether – Dead Scene Politics
CS003 – The Friendly Dimension – Executive Koala
CS004 – Lantern – American Razorwire
CS005 – Kill Squares – Swim To Me
CS006 – Play Guitar – Majic Child
CS007 – Grand Trine – Euthanize Me
CS008 – Crosss – Bone Brigade
CS009 – Bloodhouse – Baby Butter Knife
CS010 – Transfixed – Physical Demands
CS011 – Bad Vibrations – In The Rough
CS012 – Old and Weird – Minstrel Rock
CS013 – Special Costello – Music and Image
CS014 – The You Are Minez – Can't Question Desire
CS015 – Astral Gunk – Street Level
CS016 – Yellowteeth – Repo
CS017 – Chief Thundercloud – End of August
CS018 – Quaker Parents – Rubber Match
CS019 – Quivers – Self Portrait in E
CS020 – Heaven For Real – Hero's Code
CS021 – Monomyth – Trash Day
CS022 – Homebody – Homebody EP
CS024 – Toronto Homicide Squad – Slow Burn
CS025 – Negative Rage – I'm Controlled, You're Controlled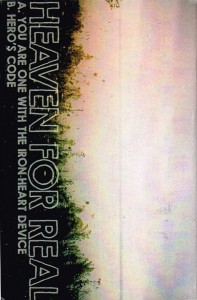 Heaven For Real
Hero's Code
Halifax, NS
From the iron heart device of Max Cotter:
Hero's Code is a mathematically calculated insurrection waged on every mediocre house show ever booked. It may be the music blowing your mind or the fact that you left your ear plugs at home. One way or another, whoever's basement this is will be going up in flames tonight while we dance to sounds as sharp as the broken glass underfoot and pop hooks as pervasive as the smell of mold and sweat. Heaven For Real's spontaneity gets straight to the point with precision and a simple message: grip this, buckle in, and groove to its meandering-yet-meticulous tidal riffs.
Du cœur d'acier de Max Cotter:
(Traduit par la pensée sinueuse mais méticuleuse de Virginie Langlois)
Hero's Code est une insurrection méthodique menée à l'assaut de toutes les soirées house pas terribles. Soit vous avez le souffle coupé par la musique, soit vous regrettez d'avoir oublié vos bouchons d'oreille à la maison. En tout cas, quel que soit le lieu choisi pour la performance, attendez-vous à ce que la salle s'embrase ce soir lorsqu'on va se mettre à danser au rythme de sonorités aussi acérées que du verre brisé sous le pied et d'accroches pop aussi puissantes que l'odeur de moisissure et de sueur. La spontanéité de Heaven For Real's va droit au but avec précision et un message simple : emparez-vous de la musique, accrochez-vous et laissez-vous porter par le raz-de-marée sinueux mais méticuleux des riffs.
Heaven For Real – You Are The One With The Iron Heart Device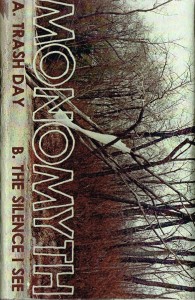 Monomyth
Trash Day
Halifax, NS
From the post-apocalyptic beer of Max Cotter:
This dystopian look at the glass half-full begs the question: Who says disenchanted youth can't throw a bitchin' party? Monomyth stand on a Halifax pier celebrating its unswimmability, diving into the toxic sludge without hesitation. They can tell the difference between mud and chocolate, but find a cause for celebration within that distinction. Each chord of "Trash Day" and "The Silence I See" ring out like a retrospective laugh over a post-apocalyptic beer amongst lifelong pals sporting shit-eating grins. The world was fun while it lasted but its desecration was inevitable, so take it in stride and song as the ending credits roll.
De la bière post-apocalyptique de Max Cotter:
(Traduit par le générique de début de Virginie Langlois)
Cette manière dystopique de voir le verre à demi-plein amène la question suivante : Qui a dit que la jeunesse désenchantée était incapable d'organiser une putain de bonne fête? Sur un quai du port d'Halifax, Monomyth célèbre le fait qu'on ne s'y baigne pas et n'hésite pas à plonger dans les boues toxiques. Le groupe sait faire la différence entre boue et chocolat, mais trouve un prétexte à la célébration au sein de cette distinction. Chaque corde de « Trash Day » et de « The Silence I See » résonne comme un rire rétrospectif autour d'une bière post-apocalyptique bue entre vieux potes arborant un rictus empreint d'arrogance. Le monde a été bien tant qu'il a duré mais sa profanation était inévitable, alors suivez bien les paroles et la musique, c'est l'heure du générique de fin.
Weird Canada Podcast – Episode #1
Produced by: Max Cotter
A covert operation for the past six months is now ready to be unleashed upon the world. The Weird Canada Podcast, lead by Max Cotter and Johnnie Regalado, will produce (approximately) bi-monthly episodes of thematic vibrations and dispatches from our New Canadian heritage.
In an effort to make this podcast as national as possible, we have an open request line. We've been visiting festivals across Canada and gathering requests from internet celebs like Old & Weird, Andrew Neville, Chad VanGaalen, Damian Abraham, and the Grundy brothers. If you have a request, please listen to our request instructions and contact us at podcast [at] weirdcanada [dot] com.
Please visit http://weirdcanada.com/podcast for recent episodes.
Episode #1 was produced and recorded by Max Cotter and is streamable below.
PS – if you are interested in syndicating our podcast, please get in touch with us here: podcast [at] weirdcanada [dot] com. We have full SOCAN-compliant playlists, college radio!
PPS – Huge thanks to Travis Bretzer for the Weird Canada podcast theme song!
The Highest Order
If It's Real
(Idée Fix)
Toronto, ON
From the bygone shores of Max Cotter:
While a lighthouse is barely discernible through low hanging rain clouds and a turbid cosmic fog, this sea-worn vessel drifts astern in a fit of slackadaisicalness. Not ready to face the certainty of land and the warmth of a real bed, the ship's world-weary crew sets course for a rocky sandbar of tumult and distortion, lost at sea between bygone and contemporary shores. The heartbreak still aches and the high E string remains broken and unstrung, but the weathered twangs of Gibsons and Jazzmasters remain a beacon of hope and navigational confidence in the night's open sea. The Highest Order's If It's Real is an asserted reminder of lost sounds and souls, a lamented memory of love songs and trap kits. Though their rural-psych haul bears formidable heft, its journey's end point of offloading remains the weightless mirage of a dreamt-up manipulation, luring all ears on deck with the its winsome siren song.
Des rivages révolus de Max Cotter:
(Traduit par le mal de mer d'Andréanne Dion)
Alors qu'un phare est à peine visible à travers les nuages de pluie bas et le brouillard cosmique trouble, ce navire dérive vers l'arrière dans un accès de nonchalance fainéante. N'étant pas préparé à affronter la certitude de la terre ferme et la chaleur d'un vrai lit, l'équipage désabusé du bateau fait cap sur un banc de sable rocailleux de tumulte et de distorsion, perdu en mer entre des rivages révolus et contemporains. La peine d'amour est encore douloureuse et la corde Mi aigu reste cassée et défilée, mais les vibrations érodées des Gibsons et des Jazzmasters restent un signal d'espoir et facilitent la navigation nocturne en pleine mer. If It's Real de The Highest Order revendique des sons et des âmes perdus, comme un souvenir regretté de chansons d'amour et de batteries. Bien que leur embarcation psych rural supporte un poids impressionnant, le déchargement qui marque la fin du voyage reste le mirage léger d'une manipulation imaginée, attirant toutes les oreilles à bord avec le séduisant chant des sirènes.
The Highest Order – Offer Still Stands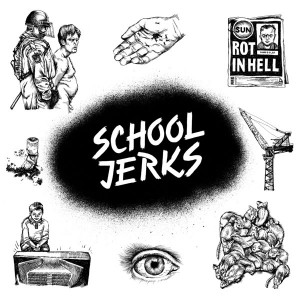 School jerks
School Jerks
Toronto, ON
From the 1980s face of Max Cotter:
School Jerks deliver a hefty punch to your 1980s face, followed by a firm stranglehold to thrash and pummel you into the modern day. As you find yourself coming back to consciousness with a bloody, broken nose in an unrecognizable, unfinished basement, all you can think is "fuck, that was cool." These fleeting waves of inundating throes will transfix with searing aural bombardment, even as teeth rot and flesh crawls. Damn, it feels good.
De la face des années 1980 de Max Cotter:
(Traduit par Catherine Vien Labaume)
School Jerks t'envoie une belle grande taloche, ça pince ta face des années 1980. Puis, une étreinte bien ferme qui te brasse juste assez pour te ramener dans les temps modernes. Le visage fraîchement ecchymosé et ensanglanté, tu reprends conscience au beau milieu d'un sous-sol austère et inidentifiable, et la première chose qui te vient en tête est : «Fuck, ça c'était cool. Les vagues fugitives et inondantes te transperceront avec des bombardements sonores brutaux, de quoi faire pourrir des dents et de la chair fraîche. Criss qu'on se sent bien.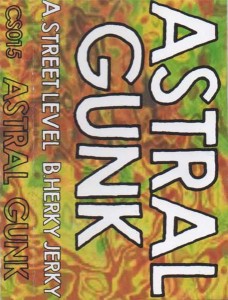 Astral Gunk
Street Level
Sackville, NB
From the aural carrion of Max Cotter:
Astral Gunk bombards the soul with unabatedly compressed frenetic surges of feral riffing pervaded by an overdriven badass attitude. Thick in the deep murky haze lurks a mesmeric and magnetic swampy delay, garbled in a feedback feast. The gnawing noise of this Craft masterpiece preys on aural carrion, teasing and embalming for just long enough to make it through this breakneck four-minute tape.
De la charogne sonore de Max Cotter:
(Traduit du grésillement médusé de Catherine Debard)
Astral Gunk bombarde l'esprit sans relâche avec de frénétiques jaillissements compressées sauvages crachés d'une attitude badass dans le tapis. Enfoui dans une brume profondément sombre, un delay hypnotique, magnétique, marécageux déformé par un festin de feedback. L'effet de tiraillement de cette œuvre ronge la charogne sonore, séduit, embaume juste assez longtemps pour passer à travers cette cassette complètement démente de quatre minutes.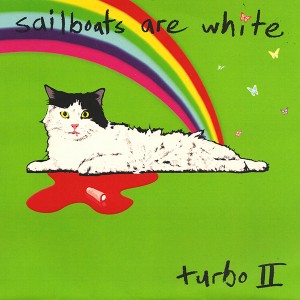 Sailboats are White
Turbo 2… The Best of
Hamilton, ON
From the hypnotic bass of Max Cotter:
A blistering and gut-churning onslaught of hypnotic bass, vociferous guitar, and perverse shrieks stagger stridently over a relentless, possessed drum machine at ungodly BPMs. Sailboats are White sear the soul with another blitz of true tinnitus toe tappers sure to split your ears. Feel the endorphins flow.
Du flétrissement de l'âme de Max Cotter:
(Traduit par les muqueuses marécageuses de Nicolas Coutlée)
Un assaut de basse hypnotique à vous en boursoufler et retourner les entrailles, une guitare vocifératrice et de stridents cris pervers oscillant au-dessus du BPM impie d'une inépuisable boîte à rythmes possédée. Sailboats Are White flétrit l'âme d'un autre vrai blitz de déchirements acouphèniques à vous faire taper du pied. Sentez les endorphines se répandre.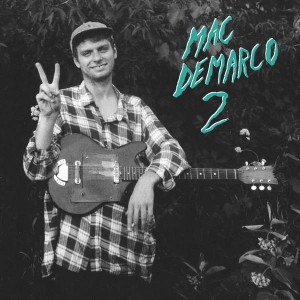 Mac DeMarco
2
Montreal, QC
From the makeout videotape of Max Cotter:
Mac DeMarco returns with sleep-deprived, drug-induced melancholic meandering, rambling and noodling through an organic dreamscape. Once again, his exposure and effortless antics run on booze and budget smokes but this time polished with a little more introspective pondering. Sincere or sardonic? Either way, Mac's melodies hang from the heartstrings in a state of lo-fi lackadaisical immaculacy.
Du vidéo de frenchage de Max Cotter:
Mac DeMarco s'aventure cette fois en terrain onirique. Vagabond somnambule, il déambule en proie à une mélancolie narcotique. À nouveau, il s'exhibe et nous livre son extravagance toute naturelle à grand renfort d'alcool et de cigarettes cheaps, mais polit ici le tout d'un peu plus d'introspection. Sincère ou sardonique? Dans un cas comme dans l'autre, les mélodies de Mac, dans toute leur pureté lo-fi désespérée, pincent les cordes du cœur.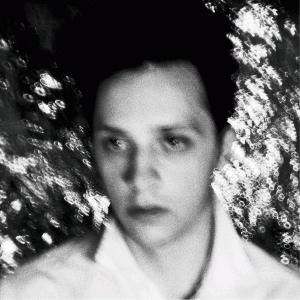 Slim Twig
A Hound At The Hem
Toronto, ON
From the discontinuous charade of Max Cotter:
Narrative machismo pop madness, horribly disfigured in a strange-yet-bewitching time machine accident. Slim Twig collides with a mine of baroque psychedelia and art-rock in the haywire patch bay of a lopsided, dusty old synth, misplaced in an opera hall's dilapidated orchestra pit. Haunting warps and warbles meld in an innocent-seeming act of sinister hypnotism. Dense and intense.
Des simulacres constants de Max Cotter:
Une pop narrative démente empreinte de machisme, puis horriblement défigurée dans un étrange mais envoûtant accident de machine à voyager dans le temps. Slim Twig exploite une mine d'or de psychédélisme baroque et d'art-rock dans la console déprogrammée d'un vieux synthétiseur poussiéreux égaré dans la fosse d'orchestre délabrée d'une salle d'opéra. Des trémolos déformés et lancinants se fondent dans un tourbillon d'hypnose sinistre. Dense et intense.
Slim Twig – Maintain The Charade
---