Tag: matty jeronimo
The New Values
The New Values
(Self Released)
Vancouver, BC
From the noizy scuzz of Matty Jeronimo:
The New Values' self-titled LP opens with a crash, like a beat up hot rod skidding to a stop on the neighbours' lawn. The nervous mania of the class of 2013 makes fast friends with the relentless power chords of classic Stooges sped up to breakneck pace while the ghost of Malcolm Owen lingers in the corner. Smoke is pouring out of the car. It could explode at any moment. The pace is ever-shifting without letting up, lingering for a minute on noizy scuzz before deftly switching to tight Televisionesque rhythm. The driver stumbles out of the car, wild-eyed and coughing. Fifteen minutes later, you're sitting in your quiet living room wondering what happened.
De la crasse bruyante de Matty Jeronimo:
(Traduit par la vitesse vertigineuse de Hugo Hyart-Dauvergne)
Le disque LP éponyme des New Values s'ouvre avec fracas, comme une hot rod cabossée dérapant sur le gazon des voisins. La manie nerveuse de la classe de 2013 s'acoquine rapidement avec les accords de puissance entêtés classiques des Stooges accélérés à une cadence folle, alors que le fantôme de Malcolm Owen lambine dans un coin. De la fumée se déverse de la voiture. Ça pourrait exploser à tout moment. Le rythme est en constante évolution sans s'adoucir, s'attardant une minute sur une crasse bruyante avant de passer habilement à un rythme Televisionesque. Le conducteur s'extirpe en titubant de la voiture, les yeux fous et toussant. Quinze minutes plus tard, vous vous retrouvez assis dans votre salon au calme et vous vous demandez ce qui s'est passé.
The New Values – Straight Line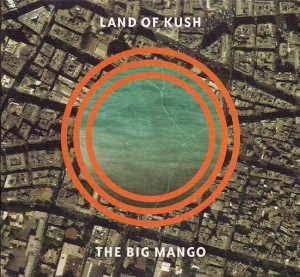 Land of Kush
The Big Mango
Montréal, QC
From the hazy alley of Matty Jeronimo:
Sam Shalabi's latest offering on Constellation Records features cascading and propulsive female vocals vying for position with a 20-person-strong orchestra, channeling the chaos of Cairo. Piano contemplation and droning eastern strings are circled by sporadically violent horns. Electric guitars surf an endless wave of jittery melodies. Western song forms furtively meet Middle Eastern and Indian harmonies and textures in a hazy alley just off Tahrir Square. At its most dramatic, The Big Mango travels the same road as Die Anarchistische Abendunterhaltung. At its grooviest, it offers parallels to (but never emulates) golden era Afro-jazz. The all-female vocals performed (and written) by various members of Montreal's indie rock scene are beamed to our planet from a parallel world where radical equality and expression rule. Throw this on the turntable and you might forget winter is looming.
De l'allée brumeuse de Matty Jeronimo:
(Traduit par Lisa Rose)
L'offrande la plus récente de Sam Shalabi au label Constellation Records est caractérisée par des chants féminins propulsifs qui luttent contre un orchestre fort de 20 personnes. Il fait penser au chaos du Caire. Un piano contemplatif et le bourdonnement de cordes indiennes sont encerclés sporadiquement par des cors violents. Les guitares électriques surfent sur une vague infinie de mélodies excitées. C'est une rencontre entre les formes du monde occidental et du Moyen-Orient dans une ruelle brumeuse près de la Place Tahrir. À son moment le plus dramatique, « The Big Mango » voyage sur les traces de Die Anarchistische Abendunterhaltung. À son plus "groovy", il offre un son parallèle (sans jamais tomber dans l'émulation) à l'afro – jazz de la grande époque. Les chants, tous féminins, sont interprétés (et écrits) par plusieurs membres de la scène indie-rock Montréalaise et rayonnent d'un monde parallèle où une égalité radicale et une liberté d'expression règnent. Si tu mets ce disque dans ta table-tournante, il se pourrait que tu oublies que l'hiver approche.
---