Tag: matthew lazenby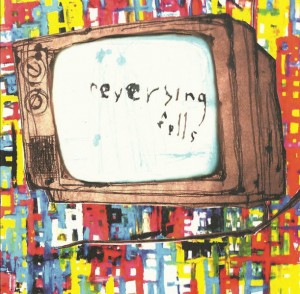 Reversing Falls
Reversing Falls
(Self Released)
Montréal, QC
From the distorted speakers of Matt Lazenby:
The self-titled release from Montreal's Reversing Falls is like the soundtrack to the best house party you've never been to. The album adds up to just under 30 minutes of immediate rock 'n' roll: hooks, anthemic choruses, and wry odes to teen angst ("Pyramid Scheme": "You've got a teenage heart, I can hear it in the hallway / It runs at 90 beats per minute"). Although released a while back, it's still helping the band gain plaudits across the country, and it's not hard to see why. Frontman Tyler Crawford refers to their sound as "riff wave", which makes sense listening to the wall-to-wall power chords and distortion that texture songs such as "Is This Thing On?", "Shitty Birthday", and "Curse This Place". Add some powerhouse percussion (courtesy of Unicorns/Islands' Jamie Thompson, plus a good old fashioned drum machine), and the production of Mark Lawson (Colin Stetson, The Luyas, et al), and it's clear Reversing Falls have something special going on here.
De la distorsion des haut-parleurs de Matt Lazenby:
(Traduit du coeur d'adolescente de Catherine Gaucher)
Cet album éponyme du groupe montréalais Reversing Falls sonne comme la bande sonore du meilleur party de votre vie, avec un peu moins de 30 minutes de rock 'n' roll sans détours : hooks, refrains hymniques et odes désabusées aux angoisses adolescentes (« Pyramid Scheme » : « Tu as un coeur d'adolescent, je l'entends dans le couloir / Il bat à 90 battements par minute »). Bien que la parution de cet album remonte à un moment déjà, il permet encore au groupe de recueillir des éloges partout au pays et il n'est pas difficile de comprendre pourquoi. À la tête du groupe, Tyler Crawford définit leur son comme étant du « wave riff », ce qui a du sens à l'écoute des murs de power chords et de distorsions qui texturent les chansons comme « Is This Thing On? », « Shitty Birthday » et « Curse This Place ». Ajoutez-y quelques percussions (offertes par Jamie Thompson des Unicorns/Islands et une bonne vieille boîte à rythmes) et la production de Mark Lawson (Colin Stetson, The Luyas, et autres.) et voilà qu'il est clair que Reversing Falls nous présente ici quelque chose de spécial.
Reversing Falls – Is This Thing On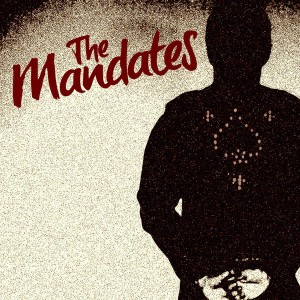 The Mandates
The Mandates
(Self Released)
Calgary, AB
From the secret cave hideaway of Matthew Lazenby:
The Mandates trade in greasy, sleazy rock 'n roll without a care in the world, yet every moment is tight and compact. Some may hear this collection of fist-pumping gems and refer to it as a throwback: three-minute tunes basking in timeless traditions of balls-out rock. And while it's true that songs like "Gotta Forget That Girl" and "Daggers Girl" get me thinking about the Dead Boys or Richard Hell and the Voidoids, the sheer pluckiness and charm of this record is pretty irresistible. "She's Walkin' Over" closes the album in style with a driving beat, trashy power chords, and infectious hooks. Simply put, the Mandates' new record is a barrage of snot-nosed guitar-laden fun.
De la cave secrète de Matthew Lazenby:
(Traduit par Catherine Gaucher)
The Mandates font dans le rock 'n' roll graisseux, mal famé, sans le moindre tracas du monde, et pourtant chaque instant qu'ils produisent est juste et concis. Percutant comme un coup de poing, certains diront de ce rassemblement de petits bijoux qu'il est une visite dans le passé : des chansons de trois minutes faites dans les traditions pures d'un rock couillu. Même s'il est vrai que des titres comme « Gotta Forget That Girl » et « Daggers Girl » me font penser aux Dead Boys ou à Richard Hell and the Voidoids, la pure bravoure et le charme de cet album sont assez irrésistibles. Dans un rythme déferlant, c'est avec style que « She's Walkin' Over » clôt cet album grâce à ses power chords trash et ses hooks contagieux. En bref, ce dernier album de The Mandates est rempli d'un plaisir chargé d'arrogance et de guitares.
Bloodshot Bill // Richard Catwrangleur
In the Graveyard b/w Little Witch
Montréal, QC // Vancouver, BC
From the graveyard haunts of Matthew Lazenby:
This is Mongrel Zine's second release, and it's a belter. The split 7 incher showcases two new tunes from Montreal greaser legend Bloodshot Bill and Vancouver Island's psych-pop garage dweller Richard Catwrangleur. "In the Graveyard" gives you exactly what you want and have come to expect from Bloodshot Bill: lo-fi rockabilly with guttural howls and grunts, twisted guitar work, and caveman rhythms. Thematically, the song is straight out of a B-horror flick, and quite rightly so for an All Hallows' Eve release. Catwrangleur's "Little Witch" is a jangly and melodic blast of garage pop; after 3 minutes, you're left clambering for more. The song was lifted from his 2010 album, House of the Spirit Wrestler, a limited edition cassette-only release that I'm now making it a mission to track down.
De la hantise de cimetière de Matthew Lazenby:
(Traduit du Goo Goo Muck de Catherine Debard)
C'est la deuxième sortie de Mongrel Zine et c'est admirable. Le 7 pouces présente deux nouveaux tubes de la légende du "Blouson noir Montréalais" Bloodshot Bill et du résidant permanant du garage psychédélique-pop de l'île de Vancouver Richard Catwrangleur. "In the Graveyard" nous donne exactement ce qu'on veut et s'attend de Bloodshot Bill : du rockabilly lo-fi avec des cris et grognements gutturaux, un jeu de guitare tortillé et des rhythmes d'homme de caverne. Thématiquement, la chanson sort directement d'un film Série B d'horreur, c'est parfait pour cette sortie d'All Hallows Eve (c'est l'origine du mot Halloween AKA "La veillée de tous les Saints" AKA la journée des revenants (merci wiki)). "Little Witch" de Catwrangleur est une explosion mélodique jangle-pop-garage; après trois minutes, vous êtes laissé sur votre faim, en quête de plus. La chanson est tirée de son album de 2010 House of the Spirit Wrestler, sorti en cassette uniquement en édition limitée. Je suis maintenant sur les traces de cette cassette, c'est ma mission.
Bloodshot Bill – In The Graveyard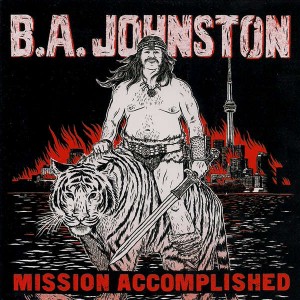 B.A. Johnston
Mission Accomplished
Barrie, ON
From the chud love of Matthew Lazenby:
Southern Ontario's slacker supreme, B.A. Johnston, returns with another helping of lo-fi scumbaggery. With subjects ranging from the splendour of GST cheques to going on bar crawls with aliens, Mission Accomplished revels in pop culture through the eyes of the great unwashed. Those who have witnessed the controlled chaos that is a B.A. Johnston live show will not be disappointed by the rambling humour of his latest offering. For anyone unfamiliar, this collection of comedic anti-folk storytelling — accompanied by a beat up acoustic guitar or 8-bit keyboard swirls — will act as the ideal introduction to one of Canada's great eccentrics.
De l'amour de la chud de Matthew Lazenby:
(Traduit avec la tête dans les étoiles par Andréanne Dion)
B.A. Johnston, l'ultime fainéant du sud de l'Ontario, est de retour avec une autre portion de saloperies lo-fi. Avec des sujets allant de la splendeur des chèques de TPS au récit de soirées arrosées avec des extraterrestres, Mission Accomplished baigne dans la culture populaire telle que vue à travers les yeux de la populace. Ceux qui ont été témoins du chaos contrôlé qu'est un spectacle de B.A Johnston ne seront pas déçus par l'humour décousu de son plus récent album. Pour tous ceux qui ne sont pas familiers avec B.A. Johnston, cette collection de récits humoristiques anti-folk accompagnée de guitares acoustiques déglinguées ou de tourbillons de clavier 8-bit sera une introduction parfaite à l'un des grands excentriques du Canada.
---