Tag: math rock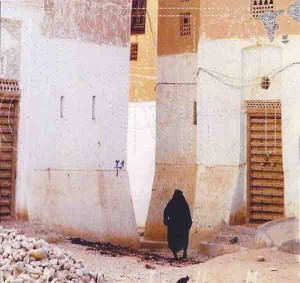 Notta Comet
Alliums
(Self Released)
Montréal, QC
From the gas cans of V. Rachel Weldon:
Imagine E-street's skronking saxman as the Pied Piper of the post rock-apocalypse. Math and poetry duke it out violently on Alliums in a show of precise, chaotic and cacophonous execution. Spoken word artist Alex Williams nails all the meaningless little rituals to the wall of a tenement Montréal kitchen that is all to familiar with containing passive explosive domestic fits. Hard to believe it's not a comet.
Des bidons d'essence de V. Rachel Weldon:
(Traduit par les petits rituels absurdes de Vincent Rondeau)
Imaginez le saxophoniste grinçant du E Street Band en joueur de pipeau de Hamelin de l'apocalypse post-rock. Les mathématiques et la poésie se livrent à un combat de géants sur Alliums dans un tourbillon de performances précises, chaotiques et cacophoniques. Alex Williams déclame ses textes en clouant tous les petits rituels absurdes de la vie quotidienne au mur de la cuisine d'un appartement montréalais qui connaît trop bien les disputes domestiques explosives. On croirait voir passer une comète.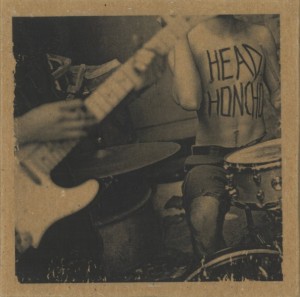 Head Honcho
Head Honcho EP
Montréal, QC
From the perfect hemisphere of Claire Marie Guimond:
I woke up to a gentle forward jerk from the deceleration of the bus seat. The doors opened and the air changed, and I was suddenly blinking out all this light coming in. Guess the sun up here hit you faster than it did in my native smog… or those windowpanes must have really been dirty. I shoved up the window and stuck my head through the rim. The outside metal part was already burning hot, which confused me because there was definitely a breeze going. That was when I noticed where we'd parked.
I had been here before, but I knew that was impossible. Anyone could say that the lake, vast and flat as Earth, was a familiar memory — but not one that was mine alone. It was clearer and more substantial, I think, than any real place that anyone had ever seen. In the middle of our lake was an island, rising green out of the water in a perfect hemisphere.
And now that I think about it, I can't remember if I got carried away and jumped straight out the window, or leaned too far and fell, or if I waited my turn to exit through the door, but right then I was sprinting head-on down the shoreline, lighter than spikes on turf, applause on the wind in my ears, and the peak of the island's knoll always on the horizon — I knew that the person I travelled for would be waiting on the other side of the crest. Adrenaline masked the fear that drove me (the secret fear that I was starting to forget what she looked like). I pumped my legs and breathed.
De l'hémisphère parfait de Claire Marie Guimond:
(Traduit par Jacinthe Laplante)
Une douce secousse vers l'avant, causée par la décélération de l'autobus, m'a réveillée. Les portes se sont ouvertes, l'air a changé, et tout à coup, cette lumière qui pénétrait me faisait cligner des yeux. On dirait bien que le soleil vous importune plus rapidement ici que dans mon smog d'origine… ou ces vitres devaient être vraiment sales. J'ai poussé la fenêtre et j'ai passé la tête à travers le cadre. La partie métallique extérieure était déjà brûlante, me laissant perplexe, car je sentais bel et bien une brise. C'était à ce moment que j'ai remarquai où nous nous étions stationnés.
Je connaissais l'endroit, mais je savais que ce n'était pas possible. Le lac, vaste et plat comme la Terre, aurait pu être un souvenir familier pour n'importe qui ? il ne m'était pas unique. C'était plus clair et plus substantiel, je crois, que tout autre endroit réel jamais vu. Au centre de notre lac se trouvait une île, un morceau vert sortant de l'eau en un hémisphère parfait.
Maintenant que j'y pense, je ne me souviens plus si je me suis laissée emportée et si j'ai bondi par la fenêtre, ou si je suis tombée en me penchant trop vers l'avant, ou si j'ai attendu mon tour pour sortir par la porte, mais aussitôt, je courais à toute vitesse vers la rive, plus légère que des crampons sur le gazon, le vent dans mes oreilles ressemblant à des applaudissements, le sommet de la butte de l'île toujours à l'horizon. Je savais que la personne que je devais rencontrer m'attendait de l'autre côté de la crête. L'adrénaline cachait la peur qui me poussait (la peur secrète de commencer à oublier à quoi cette personne ressemblait). J'ai accéléré le pas et j'ai respiré.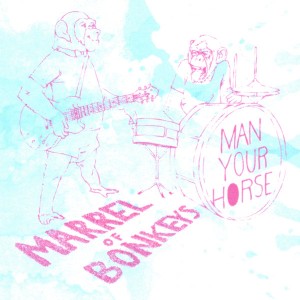 Man Your Horse
Marrel of Bonkeys
(Self Released)
Vancouver, BC
From the aural palindrome of Selina Koop:
Vancouver's energetic instrumental duo Man Your Horse feverishly induce an aural palindrome-esque experience on Marrel of Bonkeys. Julian Marrs — of Marrs Pedals fame — layers off meteoric explosions of intricate and agitated guitar lines, while hard-hitting Scott Petrie meets him in full force on the kit. This is a no-holding-back, uninterrupted puzzle of twisting and morphing tones and rhythms. A landscape riddled with animalistic peaks of distortion and dynamic exploration. Get into it.
Du palindrome auditif de Selina Koop:
(Traduit par la portée magique de Julie Forget)
Man Your Horse, l'énergique duo instrumental de Vancouver, provoque fébrilement une expérience auditive palindrome-esque sur son album Marrel of Bonkeys. Julian Marrs – de Marrs Pedals – étale des explosions météoriques de lignes de guitare complexes et agitées, pendant que le percutant Scott Petrie le rejoint en force à la batterie. Voici un puzzle ininterrompu et sans retenue de sonorités et de rythmes sinueux en transformation. Un paysage rempli de sommets de distorsion bestiaux et d'exploration dynamique. Plongez-y.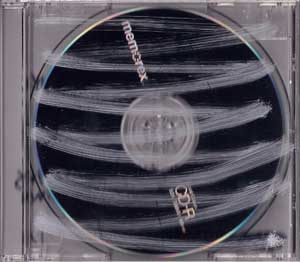 Crabe
(Self Released)
Montreal, QC
From the crustaceous courtesies of Aaron Levin:
Crabe have unleashed a totally blasted and inexplicable artifact from the Montreal underground. Forging undefined links between Archimedean power pop and wasted Ramones covers, their unreadably-titled CDR gives the briefest glimpse into basemental prog conjured by the dialectically adventurous. Quintessentially bizarre. We're not even sure if this is grippable.
Des courtoisies crustacées d'Aaron Levin: (Traduit par la bizarrerie de Maya Keshav)
Crabe ont déchaîné un artéfact complètement explosé et inexplicable de l'avant-garde montréalaise. En façonnant les liens indéfinies entre la power pop Archimedéenne et les reprises camées de Ramones, leur CDR avec un titre illisible donne le plus petit aperçu dans le prog sous-sol que les dialectiquement aventureux font apparaître. C'est essentiellement bizarre. On n'est pas même certain qu'il soit possible de l'acheter.
---