Tag: math-pop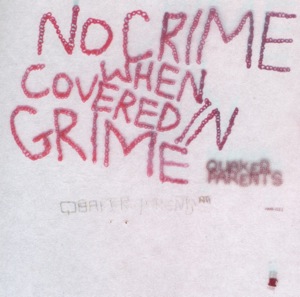 Quaker Parents
No Crime When Covered In Grime
Halifax, NS
From the grime spree of Alison Lang:
Tape number three from the brothers Grundy feels like a lyric poem that was torn into shards and taped back together again, peaking with "When You Can't Beat the Dream," a song that stutters and starts and spits, talking pretty about the edges of consciousness and old rays of light. This band excels at describing the intangible; each song's mathy meat gives the delicate lyrics weight and heft. Quaker Parents are part of a Halifax vanguard making healthy music that's good for the brain and body and soul, cleverly disguised with blink-and-you-miss-them hooks. These are songs you can hold onto and listen to over and over again, until you get older, until you smile at last in understanding.
De la série de grimes d'Alison Lang: (Traduit par les vieux rayons de Maya Keshav)
La troisième cassette des frères Grundy a l'air d'être un poème lyrique qui était déchiré en éclats et scotché ensemble encore, en atteignant un sommet avec "When You Can't Beat the Dream," une chanson qui bégaye et saute et crache, en parlant avec de beaux mots à propos des limites de la conscience et les vieux rayons de soleil. Ce groupe excelle à décrire l'intangible; le corps mathématique de chaque chanson donne l'importance et le poids aux paroles délicates. Quaker Parents sont une partie d'une avant-garde à Halifax qui crée la musique saine qui est bon pour la tête et le corps et l'âme, déguisée astucieusement avec les accroches si-tu-clignes-les-yeux-tu-vas-les-manquer. Ces sont des chansons que tu peux conserver et écouter encore et encore, jusqu'à ce que tu deviens plus vieux, jusqu'à ce que tu souris enfin en compréhension.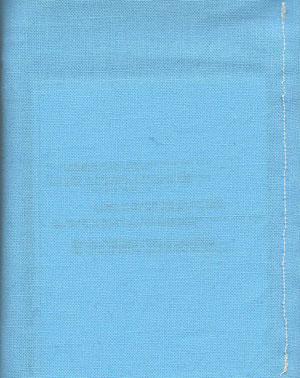 Long, Long, Long
Long, Long, Long
(Self Released)
Halifax, NS
From the loins, loins, loins of Aaron Levin:
From the ashes of York Redoubt's blitzkrieg through Canada's art-pop continuum, Long, Long, Long have emerged a deliciously sauteed phoenix. More ambitious, weird, angular, and, dare I say, funkier (maybe?) than York Redoubt, Long, Long, Long is a wild continuation of the brilliant stream of pop cognizance festering in Canada's mathematical east. Long, Long, Long is a marvel of price-per-hook insanity and is brimming with narrative, noise, and every pop sensation known to humankind. I suggest you grip. NOW. A+++(infinity).
Des lombes, lombes, lombes d'Aaron Levin:
(Traduit par le phénix sauté de Maya Keshav)
De la braise de la blitzkrieg de York Redoubt dans la gamme art-pop du Canada, Long, Long, Long est né en tant que phénix délicieusement sauté. Plus ambitieux, bizarre, anguleux, et (je peux le dire?) plus funky (peut-être?) que York Redoubt, Long, Long, Long est une continuation folle du flot brillant de connaissance pop qui suppure à l'est mathématique du Canada. Long, Long, Long est une merveille d'insanité prix-par-crochet est il déborde de narration, de noise, et de chaque sensation pop connu par l'humanité. Je te conseille de l'acheter. MAINTENANT. A+++(à l'infinité).
Long, Long, Long – Judy Chicago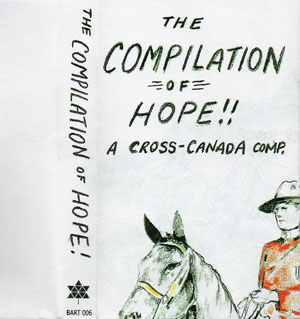 Various Artists
The Compilation of Hope!!
******, Canada
From the compiled danglings of Jesse Locke:
The Comp of Hope starts off with a serious wallop: the 1-2-3 whirligig of Vancouver's Damages, Nova Scotia's Minivan Halen (snagging the prize for Best New Band Name) and Toronto's Place Hands, three groups with distinct yet equally imposing approaches to the post- / proto- / avant- / eff-it-let's-just-get-rowdy hardcore continuum. Bart Records founder Kevin Stebner seems to favour the tuff gnarl stuff, with seven of the comp's 10 acts setting their phasers to beatdown. From the spazzy attack of Abbotsford's GSTS! to the rastafried "turbo jamz" of Edmonton's Slates, Missisauga's Whiskey Priest and unfuckwithable label faves Gift Eaters closing it off, this cassette could provide the perfect aggro soundtrack for any hesher's backyard mini-ramp sesh. The softer side of weird Canadiana is also represented with the Strokes-meet-a-blown-out-Casio addictiveness of Swwords (the former project of this very site's founder), Montreal's math-pop dangereux duo Special Noise and a live jam from the inimitable dd/mm/yyyy. Another top-notch tape release from Bart, with awesome foldout liner art (front & back) from Calgary's Heather Kai Smith.
[Levin's Note: This has the most links of any review on Weird Canada. Which means you get to virtually travel across Canada, all thanks to Bart Records. Benjoy!]
Des ballants compilés de Jesse Locke:
(Traduit par Maya Keshav)
The Comp of Hope commence avec une beigne grave: le tourniquet 1-2-3 de Damages de Vancouver, Minivan Halen de la Nouvelle-Écosse (qui gagne le prix du meilleur nouveau nom de groupe) et Place Hands de Toronto, trois groupes avec des approches distinctes mais également imposantes à la gamme post-/ proto-/ avant-/ on-s'en-fou-tombons-la-chemise hardcore. Kevin Stebner, le fondateur de Bart Records, a l'air de préférer les choses dures et affreuses, vu que sept des 10 actes du comp mettent leurs phaseurs à beatdown. De l'attaque crétine de GSTS! d'Abbotsford jusqu'au "turbo boeufs" rasta de Slates d'Edmonton, Whiskey Priest de Missauga, et terminant avec les imperturbables chéris des labels Gift Eaters, cette cassette pourrait fournir la bande-son parfaite aggro pour la session mini-ramp chez-soi de n'importe quel hesheur. Le côté plus doux du canadiana bizarre est aussi present avec l'entraînance Strokes-se-marient-avec-un-Casio-explosé de Swwords (l'ancien projet du fondateur de ce site-web lui-même), le duo math-pop dangereux de Montréal Special Noise et un boeuf live de l'inimitable dd/mm/yyyy. Un autre enregistrement cassette de premier ordre de Bart, avec une couverture fantastique (avant & arrière) de Heather Kai Smith de Calgary.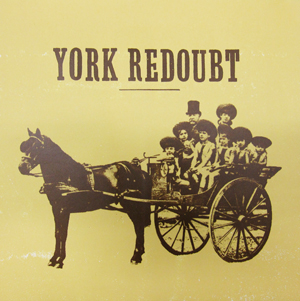 York Redoubt
York Redoubt
Halifax, NS
Aaron Levin:
Halifax is on an advanced level of pop-wizardry. For a city with less than 400,000 people, they put the rest of North American to shame with the shear volume of crafted sounds. And they all have their own Halifaxian aura to them; seemingly channelled through distinct avenues, returning home from remote adventures with presents of pop's future. York Redoubt has proven themselves a worthy flag-bearer of Halifax's bubbling underground. Their first cassette showed a brief glimpse into a future-now, and with their self-titled debut out on Hot Money Records (limited to 100 vinyl copies – screen-printed with personalized photograph (cop that!)), they've finally actualized into the math-pop behemoth we've been waiting for. Weaving complicated threads of stubborn-catchiness between time-signatures that make so-much-nonsense and vocal harmonies buried within angular distortion, it's difficult to turn your attention away from the album and it'll be no-time before you've listened to the entire thing six or seven times. It's ridiculous music to write about because it's so incredibly layered, complex, and easy. Which is where York Redoubt really shines: they've taken all this ridiculous math-pop and made it serene; like just another pop song. Listen and buy the damn record. They. Are. Next.
York Redoubt – I Said Slightly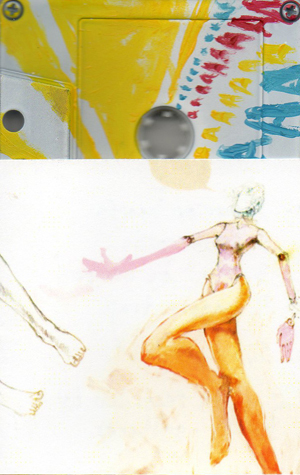 Hunter-Gatherer
Hunter-Gatherer EP
(Self Released)
Calgary, AB
I remember being young once. I would prance around my basement in pajamas playing Zelda and fighting with my brother. This one afternoon I watched all the American Ninja movies and tried to do a front-flip off a small play-coffee-table. I landed on my back and knocked the wind out of my body. I recall laying on the floor in shame as the world circled above me in a fizzy haze of creative indulgence. Had I been a better ninja I would have landed on my feet to the roaring audience of my brother. Calgary's Hunter-Gatherer is a better ninja. They skirt the challenging math-pop with a fizzy edge that puts them in a category no American Ninja dare venture; deep in the wooded grounds of dissonant-catchiness and inordinate-yet-amazing-harmonies. I've been listening to their EP repeatedly and I keep returning to that exercise of my physical limitations; as the world once spun in my childhood eyes, so will Hunter-Gatherer's whirlwind of distorted-pop ramble on in your ears. Hopefully you'll land on your feet. That metaphor makes no sense (it's a metaphor?).
Hunter-Gatherer – Carrion Hearts
Je me souviens quand j'étais jeune. Je sautillais au sous-sol en pyjama pendant que je jouais Zelda et je me battais contre mon frère. Alors une après-midi j'ai écouté tous les films American Ninja et j'ai essayé de faire un saut périlleux d'une petite table basse. J'ai atterri sur le dos et j'avais le souffle coupé. Je me souviens d'être allongé par terre ayant honte pendant que le monde a tourné autour de moi dans un brouillard flou d'indulgence créative. Si j'avais été un meilleur ninja je serais atterri sur les pieds devant le public admiratif de mon frère. Hunter Gatherer de Calgary, c'est un meilleur ninja. Il borde le math rock complexe avec une avantage floue qui le met dans une catégorie dans laquelle aucun ninja américain veut s'aventurer; dans les profondeurs des terres boisées des accroches dissonantes et les accords immodérés-mais-extraordinaires. Je suis en train d'écouter leur EP à plusieurs reprises et chaque fois il me rappelle de cet exercice de mes limitations physiques; de la même manière que le monde a tourné dans mes yeuxs d'enfant, le tourbillon de pop-déformé de Hunter Gatherer va radoter dans tes oreilles. Avec un peu de chance tu va atterrir sur les deux pieds. Cette métaphore n'a pas du sens (c'est une métaphore?).
Hunter-Gatherer – Carrion Hearts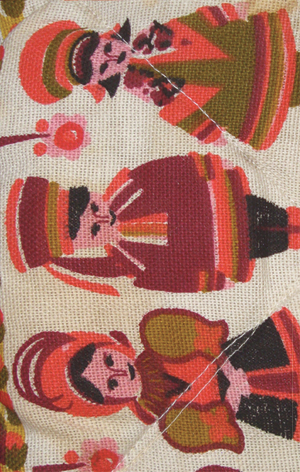 York Redoubt
Cheap Funerals
(Self Released)
Halifax, NS
From the nostalgic words of Aaron Levin:
Halifax has this propensity to insert pop into everything it produces. Maybe it's because the musical land-scape is like a giant venn-diagram with every genre-cloud fornicating until the only thing left is post-frat-orgy-remorse. Who cares? At the end of the day you end up with boundary pushing music that is incredibly accessible. York Redoubt's debut cassette, Cheap Funerals, takes the insane time-changes and chord progressions often seen in arithmetic-rock and calculates its anti-derivative (with respect to time) to produce math-pop; it's weird, it's changing, it's catchy. There are red-line vocals, noise freak-outs, songs that sound like pre-Sook-Yin-The–Wedge, panned-guitars, and more! And they've fit it all on a four-song cassette. Bravo!
York Redoubt – Guilloteens and I
Des mots nostalgiques d'Aaron Levin:
Halifax a cette tendance naturelle à insérer du pop dans tout ce qu'elle produit. Peut-être est-ce parce que le paysage musical est comme un diagramme de Venn géant avec chaque genre-nuage* forniquant jusqu'à que la seule chose restante soit des remords post orgie de fraternité. À qui ça importe? À la fin de la journée vous finissez avec de la musique qui repousse les limites et qui est incroyablement accessible. La cassette des débuts de York Redoubt, Cheap Funerals, prend les changements d'heure déments et les progressions d'accords souvent vus dans le rock arithmétique et calcule son anti-dérivée (en respect au temps) pour produire une math pop; c'est étrange, c'est changeant, c'est attirant. Il y a des chants à leur limite, des paniques de bruit, des chansons come pre-Sook-Yin-The-Wedge, des guitares qui fonctionnent et encore plus! Et ils l'ont tout fait entrer sur une cassette de quatre chansons. Bravo!
York Redoubt – Guilloteens and I
---