Tag: mark teo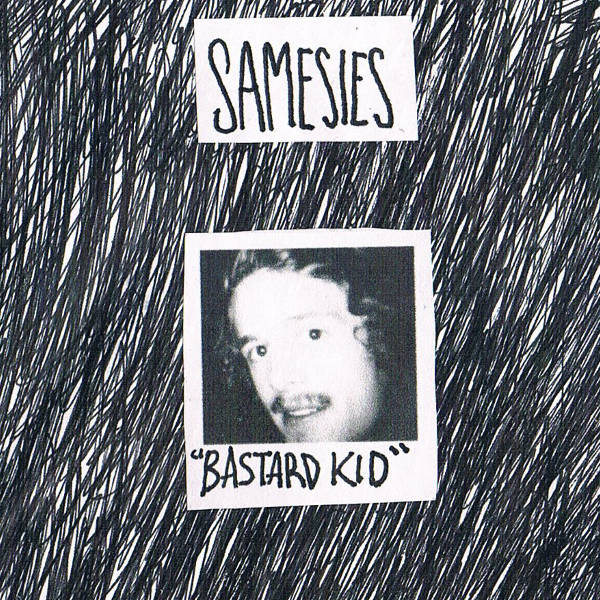 Samesies have us convinced that Rumbletowne doesn't exist in the Pacific Northwest—rather, it's alive and well in the North Atlantic. Like the RVIVR (or any of the other Latter-day saints), this St. John's outfit plays serotonin-drip pop-punk exactly the way it ought to sound: Perfectly imperfect and spilling at the seams with patchwork sing-alongs. Atop racing power chords and yelled-until-our-voice-cracks boy-girl vocals, Samesies construct music that feels unmistakably communal and refreshingly inclusive. The gang vocals on "Sad Sand Song" and "Bastard Kid" aren't the mechanized military chants of chongocore, but rather, they invite everyone to join in on the participaction. Hal and Joanne would be proud.
Samesies
Bastard Kid
(Self Released)
St. John's, NL
From the serotonin drip of Mark Teo:
Samesies have us convinced that Rumbletowne doesn't exist in the Pacific Northwest—rather, it's alive and well in the North Atlantic. Like the RVIVR (or any of the other Latter-day saints), this St. John's outfit plays serotonin-drip pop-punk exactly the way it ought to sound: Perfectly imperfect and spilling at the seams with patchwork sing-alongs. Atop racing power chords and yelled-until-our-voice-cracks boy-girl vocals, Samesies construct music that feels unmistakably communal and refreshingly inclusive. The gang vocals on "Sad Sand Song" and "Bastard Kid" aren't the mechanized military chants of chongocore, but rather, they invite everyone to join in on the participaction. Hal and Joanne would be proud.
De l'égouttement de sérotonine de Mark Teo:
(Traduit par le débordement d'adrénaline de Louis-Félix Pellerin)
Samesies nous ont convaincu que Rumbletowne n'existe pas dans le nord-ouest du Pacifique, plutôt, il prospère dans le nord de l'Atlantique. Comme RVIVR (ou n'importe lequel autre des Saints du Dernier Jour, ce groupe de St-John joue un pop-punk style sérotoninergique dégoulinant exactement comment il devrait être joué : parfaitement imparfait et débordant de chants en chœur qui traversent les coutures d'une mosaïque. À l'aide de vives power chords et d'un chant mixte puissant à en perdre la voix, Samesies fabrique une musique indubitablement communautaire qui est d'une inclusivité rafraichissante. Les passages vocaux en unissons lors de "Sad Sand Song" et "Bastard Kid" sont loin d'être les chants militaires mécanisés du chongocore, ils invitent plutôt tout le monde à prendre participaction. Hal et Joanne seraient fiers.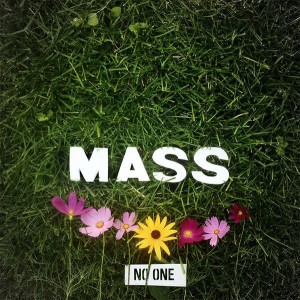 Mass
No One
(Self Released)
Toronto, ON
From the white-belted past of Mark Teo:
Mass's liturgy exists in a universe where post-grunge doesn't sound like, well, whatever it is that followed grunge. Incubated in Ottawa's post-hardcore netherworld—they boast Roads to Shiloh, Robot Kill City and Van Johnson alum—but formed in Toronto, it's clear Mass isn't buried inside their Bytown roots. Rather, these AmReptilians churn out frenetic noise that'd feel at home on Hand Drawn Dracula's Milkin' It comp. No One slithers through slimy apathetic couch-surfers ("Drugs"), overdriven fretboard freakouts ("Little Town"), and elastic post-hardcore that flashes hints of a white-belted past ("King of Fun"). While it's not the crushing stuff you'd expect from their moniker, Mass's missals are worth revisiting. And not just on Sundays.
Du passé ceinture blanche de Mark Teo:
(Traduit par les touches de Julie Forget)
La liturgie de Mass existe dans un univers où le post-grunge ne sonne pas comme, disons, peu importe ce qui a suivi le grunge. Couvé dans les enfers post-hardcore d'Ottawa — il vante les anciens Roads to Shiloh, Robot Kill City et Van Johnson — mais formé à Toronto, Mass n'est clairement pas enterré sous ses racines de Bytown. Au contraire, ces AmReptilians produisent un son frénétique qui nous ferait sentir à la maison sur la compilation Milkin' It de Hand Drawn Dracula. No One glisse à travers de vaseux couch surfers apathiques (« Drugs »), des manches de guitares surmenées (« Little Town ») et un post-hardcore élastique qui jette des touches d'un passé ceinture blanche (« King of Fun »). Bien que ce ne soit pas ce que vous attendez de son surnom, Mass propose des missels qui valent la peine d'être revisités. Et pas seulement les dimanches.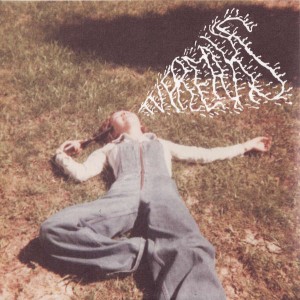 TV Freaks
EP
Hamilton, ON
From the truth-bombs of Mark Teo:
Like their hometown on Hamilton, TV Freaks possess an untameable — cough, ungentrifiable — streak. Their brand of punk is misanthropic, antisocial and, not surprisingly, devoid of art-school pretension. Beneath a Flipper-esque wall of distortion, though, lies a razor-sharp, tongue-in-cheek sense of humour. The speedy "Mall Punk," deadpans that "I wish I had convictions"; "Freelancer," atop a Male Bonding-esque lead, drops a truthbomb with the line that "I know a guy who does it cheaper"; "Identity Crisis," comes across as a brattier, crustier, Angry Samoans, and it might very well be the EP's finest offering. Call it ugly music for ugly people.
De la vérité explosive de Mark Teo:
(Traduit bras dessus bras dessous par Roxanne Navai et Nicolas Coutlée)
Comme Hamilton, leur ville d'origine, les TV Freaks ont un côté sauvage, pour ne pas dire impossible à embourgeoiser. Leur style de punk est misanthrope, antisocial et, sans surprise, exempt de la prétention caractéristique aux écoles d'art. Mais derrière le mur de distorsion Flipperesque se cache un humour ironique, tranchant comme un rasoir. Sur la frénétique « Mall Punk », le chanteur fredonne impassiblement qu'il aimerait avoir des convictions; sur l'air Male Bondingesque de « Freelancer », la vérité tombe comme une bombe : il connaît un gars qui peut le faire moins cher; sur « Identity Crisis », peut-être le meilleur morceau du EP, on croirait entendre les Angry Samoans, seulement plus aigres et effrontés. En gros, de la musique laide pour des gens laids.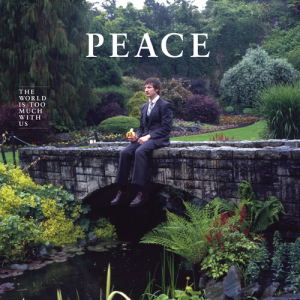 Peace
The World Is Too Much With Us
Vancouver, BC
From the withering trenchcoat of Mark Teo:
Dan Geddes is a force, plain and simple. And despite the heaps of hella-high-praise references Peace receives — to Neu!, or Orange Juice, or Edwyn Collins, or whatever — there's no substitute for experiencing their work via headphones. Peace shines not in virtuosity or violence (despite their ties to Vancouver's explosive Emergency Room scene), but in their command of tone: The World Is Too Much With Us swaps the verbosity of Peace's earlier work in favour of emotional dexterity, ranging from bombastic romancers ("Your Hand in Mine"), to menacing creepers ("Free Time"), to gleefully detached absurdist romps ("Kissed Dust"). It's subtle, eloquent and direct — all of which is why I'm so obsessed.
Du trenchcoat de Mark Teo:
(Traduit par Alexandre Vaillancourt)
Dan Geddes est une force simple et pure. Malgré les nombreuses références louangées que Peace font à NEU!, ou à Orange Juice, ou Edwyn Collins, ou peu importe, il n'y a pas de substitue à l'expérience que leur travail procure au travers d'une paire d'écouteur. Peace ne s'illustre pas dans la virtuosité ou la violence, mais plutôt dans leur commande des tons : The World is Too Much With Us change la verbalité utilisé dans les œuvres précédents pour laisser place à une dextérité émotionnelle passant de romantique emphatique (''Your Hand in Mine''), à un menaçant creep (''Free Time'') à un joyeux ébat d'absurde déconnecté (''kissed Dust''). C'est éloquent et direct — tout ce qui explique pourquoi j'en suis si obsédé.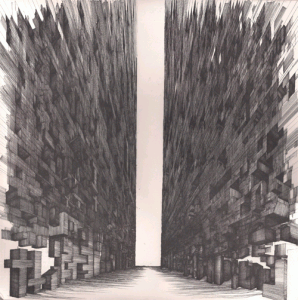 Black Walls
Acedia
Etobicoke, ON
From the crushing placidity of Mark Teo:
Acedia dives into the depths of Ken Reaume's psyche, and it's a sprawlingly gorgeous — if occasionally unsettling — place. Teenage skate-vid ephemera (see "Brian Lotti," narrated by the legend himself) intersects with finger-picked guitar cascades; sparse drum robotics, as on "Hiatus" or "Sun to Rise," underscore crushingly placid vocals, recalling Red House Painters after a three-day chemical bender; "Pines" is a blackened vocal choir for the Godless, before being washed away in whitecaps of white noise. Acedia's final chapter, "Mark's Song," is a full-blown Sunday morning existential crisis: It cracks the blinds to Reaume's sunny finger-picking, before the previous night's minor-key regrets slowly seep in. Beautiful, blackened psych-folk for the self-loathing.
De le flegme dévastateur de Mark Teo: (Traduit par la dévastation flegmatique de Maya Keshav)
Acedia saute dans les entrailles de l'âme de Ken Reaume, et c'est un endroit merveilleusement étendu— même si c'est occasionnellement perturbant. Les éphémères skate-vidéo d'ado (veuillez voir "Brian Lotti", raconté par la légende elle-même) se croisent avec les flots de guitare doigtée; la robotique rare de batterie, comme dans "Hiatus" ou "Sun to Rise", souligne le chant terriblement placide, en rappellant Red House Painters après une tornade chimique de trois jours; "Pines" est une choral noircie pour ceux qui sont sans dieu, avant qu'il soit enlevé par les crêtes de bruit blanc. Le dernier chapitre d'Acedia, "Mark's Song", est une crise existentielle véritable de dimanche matin: Il ouvert les stores aus grattements de doigt insouciants de Reaume, avant que les regrets en mode mineur de la nuit dernière gouttent lentement. Le beau psych-folk noirci pour tout le monde qui a haine de soi-même.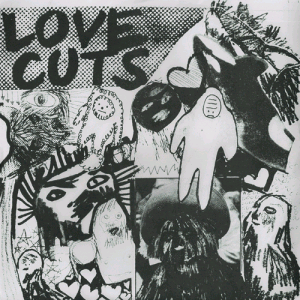 Love Cuts
Love Cuts
Vancouver, BC
From the bypassed refinery of Mark Teo:
When it comes to true-to-Olympia twee — and not the overblown, crow-footed orchestral pap that passes for it in modern eras — K Records got it right: Virtuosos need not apply. Love Cuts gets it, too. All clumsy jangle, crooked harmonies and reductive rhyme schemes, this Vancouver trio feels gleefully dilettante, creating pop confectionaries that bypass the refinery. The result? Charmingly sloppy drums give "Hi Smile Wave" the quality of a first-take track from Slumberland's early-game archives, while upbeat bouncers in "Lone Wolf" and "Mimes" hint at riot grrrl — without the grrr, of course. They hit their peak, however, on "I Will Kiss Anyone," when ambling, drive-thru chord progressions collide with middle-school dance romance. Try to repress a smile. It's impossible.
De la raffinerie évitée de Mark Teo:
(Traduit par l'évitement raffiné de Maya Keshav)
En matière du kitsch fidèle à l'Olympe— et pas les bêtises pompeuses orchestrales de l'ère moderne— K Records y est arrivé: les virtuoses sont pas bienvenues. Love Cuts y arrive, aussi. Avec le cliquetis maladroit, les harmonies tordues et les motifs réductionnistes de rime, ce trio de Vancouver a l'air joyeusement dilettante, en créant les confiseries de pop qui évite la raffinerie. Le résultat? La batterie délicieusement bâclée donne à "Hi Smile Wave" la qualité d'un morceau premier jet des débuts des archives de Slumberland, alors que les morceaux entraînants et optimistes dans "Lone Wolf" et "Mimes" puisent un peu dans les ondes de riot grrrl— sans le grrr, bien sûr. Ils atteignent leur sommet, par contre, avec "I Will Kiss Anyone", quand les séries de cordes errantes et drive percutent l'idylle d'une danse d'école sécondaire. Essayez de retenir votre sourire. C'est impossible.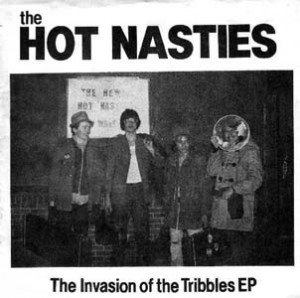 The Hot Nasties
The Invasion of the Tripples EP
(Ugly Pop)
Calgary, AB
From the official opposition of Mark Teo:
Before Warren Kinsella peacocked into a full-blown Liberal svengali he was creating hot messes at the Calgarian Hotel — one of the nation's formative punk dives — with the Hot Nasties. Like a divergent australopithecine strain, The Invasion shares many tendencies with its descendants, while dabbling in different musical genera entirely: On its A-side, it establishes its '77-proof DNA with "I am a Confused Teenager" before deteriorating into guttural discord and pre-hardcoric throat-shredding in "Invasion of the Tribbles." B-sider "The Secret of Immortality" is yet another permutation, pairing open-air drive-thru pop with pensive ruminations on morality, life, death and Catholic guilt — foreshadowing, perhaps, Kinsella's future sociopolitical explorations. True Grit, indeed.
De l'opposition officielle de Mark Teo: (Traduit par le cousin homme-singe de Maya Keshav)
Avant que Warren Kinsella est devenu un véritable vaniteux de svengali libéral, il créait les pétrins au Calgarian Hotel— un des tripots punk formateurs du pays— avec the Hot Nasties. Comme une souche australopithecine divergente, The Invasion partage plusieurs tendances avec sa descendance, pendant qu'il tâte de genres musicaux complètement différents: À la face A, il établit son ADN '77-proof avec "I am a Confused Teenager" avant qu'il se dégrade en désaccord guttural et en gorge-déchirance pre-hardcore avec "Invasion of the Tribbles". À la face B, "The Secret of Immortality" est encore une autre permutation, qui jumelle la pop drive et en plein air avec les cogitations pensives sur la moralité, la vie, la mort, et la culpabilité catholique— qui présagent, peut-être, les explorations sociopolitiques imminentes de Kinsella. Un vrai libéral, bien sûr.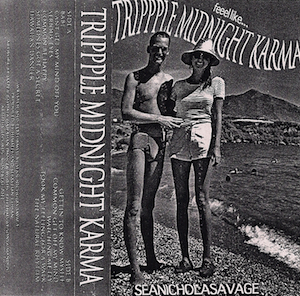 Sean Nicholas Savage
Trippple Midnight Karma
Montreal, QC
From the disco double rainbows of Mark Teo:
Caressing serotonin receptors like streetlight halos after a summertime all-nighter, Trippple Midnight Karma soothes like an Alka Seltzer before naptime. Windows-down synth weaves between wham-chk syncopation — coming off like a middle-schooler's imitation of an eras-passed softcore soundtrack — and laissez-faire Latin guitar solos, while Savage's suave falsetto provides the Halls to the Sting of a sore throat. Hailed as his return to the bedroom, Trippple Midnight Karma has Savage producing disco double rainbows with a CMYK palette — or, perhaps, the best archeological find from Bleu Nuit's coffers.
Des arcs-en-ciel doubles disco de Mark Teo: (Traduit par les trippplés de Maya Keshav)
En caressant les récepteurs de sérotonine comme les auréoles des lampadaires après une nuite blanche estivale, Trippple Midnight Karma apaise comme un alka-seltzer avant une sieste. Le synthé enthousiaste zigzague entre la syncope wham-tchk — ayant l'air d'une imitation école sécondaire d'une bande-son vintage softcore — et les solos relax de guitare latine, pendant que le fausset charmant fournit les Halls pour le Sting d'un mal de gorge. Acclamé en tant que son retour à la chambre, avec Trippple Midnight Karma, Savage produit les arcs-en-ciel doubles disco avec une palette CMYK— ou, peut-être, la meilleure découverte des caisses de Bleu Nuit.
Sean Nicholas Savage – Serious Eyes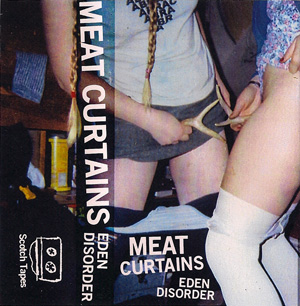 Meat Curtains
Eden Disorder
Halifax, NS
From the teenage glue-huffing of Mark Teo:
Meat Curtains exist in a Northern Atlantic alternate dimension, one where Kathleen Hanna kicked the shit out of Courtney Love in '95 (both in the alley and for popular music supremacy). All piss 'n' piss stains, the hilariously titled Eden Disorder is un-fucking-flappable. No-fi teenage glue-huffing ("Flipper Mom") collides with carnival cacophony ("Boys Are My Flowers"), while dumpster-diving guitars skid beneath stream-of-consciousness, all-in schizo rants ("Syphilis is the New Clear Pepsi"), leaving a trail of primordial ooze in its wake. By the time singer Molly Meatloaf snarls "I'm in heat!" — part declaration, part challenge — it's time to change your pants. Welcome to the new face of riot grross.
Des râlements de colle d'adolescence de Mark Teo: (Traduit par Odile Leclerc)
Meat Curtains existent dans une dimension parallèle de l'Atlantique du Nord, l'une où Kathleen Hanna a massacré Courtney Love en 95, (autant dans l'Allée que pour la suprématie de la musique populaire). Tout de tâches de pisse et de pisse, nommé de façon hilarante Eden Disorder est in-foutument-perturbable. Des râlements de colle d'adolescence no-fi (''Flipper Mom'') se heurte à une cacophonie de carnaval (''Boys Are My Flowers''), pendant que des guitares plongeuses de bennes à ordures dérapent sous des courants de conscience, des divaguements de schizo tout-compris ("Syphillis is the New Clear Pepsi''), laissant une traînée de vase primordiale dans son sillage. Par le temps que la chanteuse Molly Meatloaf gronde ''Je suis en chaleur!''—à moitié déclaration, à moitié défi—c'est le temps de changer vos pantalons. Bienvenue au nouveau visage de l'émeute dégueu.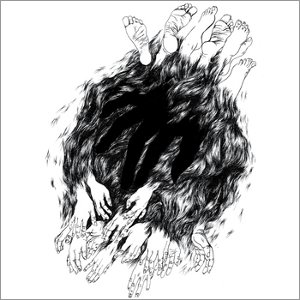 Holy Mount
Breeze Blows West
(Self Released)
Toronto, ON
From the diazepam date of Mark Teo:
Surely titled for Sleep's 1993 opus rather than Alejandro Jodorowsky's transgressive 1973 film, Holy Mount's tectonic psych plods with glacial reserve, never afraid to wallow in an especially oppressive rut. Eschewing Iommi's blues or Khanate's in-the-reds, "Breeze Blows West"'s palette is decidedly comprised of greys. Here, absentee vocals recall Cobain on a bathtub date with diazepam, while drudging guitars forgo heaven-licking stacks for the well-loved tinnitus of a blown tube amp. Still, pentimenti — the paint beneath the paint — is what counts. At times, its pounding backbeat threatens to veer into rust-belt urgency, but Holy Mount's steel-and-concrete dreariness is quintessentially Torontonian. All skyscrapers and glass ceilings, "Breeze Blows West" is best served cold.
Du rendez-vous avec le diazépam de Mark Teo: (Traduit par le gratte-ciel de Maya Keshav)
Avec un titre qui est sûrement un clin d'œil à l'opus de Sleep de 1993 plutôt qu'au film transgressif d'Alejandro Jodorowsky de 1973, le psych tectonique de Holy Mount avance avec une réserve glaciale, n'ayant jamais peur de se vautrer dans une ornière particulièrement étouffante. En évitant les blues d'Iommi ou les dans-le-rouges de Kahante, la palette de "Breeze Blows West" se compose résolument de gris. Ici, le chant absent rappelle Cobain dans une baignoire en train d'avoir rendez-vous avec le diazépam, alors que les guitares plates renoncent aux stacks paradis-léchants pour créer à la place l'acouphène bien-aimé d'un amplificateur à tubes. Pourtant, c'est le repentir (la peinture sous la peinture) qui est le plus important. Parfois, ses contretemps battants menacent de virer à l'urgence de la Rust Belt, mais la monotonie en acier et en béton de Holy Mount est Torontoise pure laine. Avec ses gratte-ciel et ses plafonds de verre, "Breeze Blows West" est un plat qu'il vaut mieux manger froid.
Holy Mount – Breeze Blows West
---