Tag: mark streeter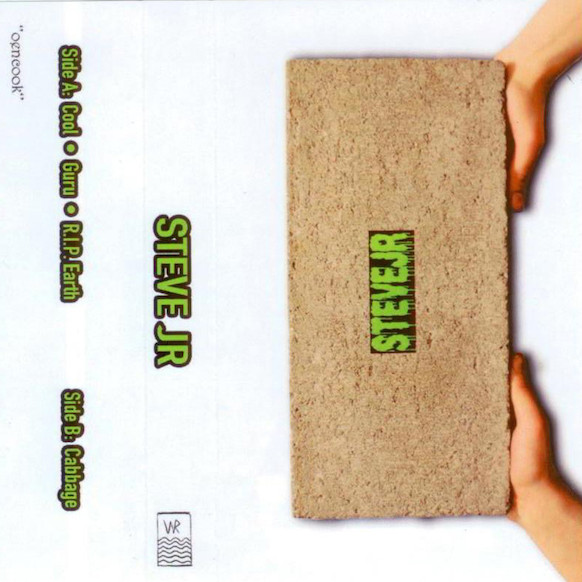 Steve Jr is heavy, but not winter-is-coming heavy or bombs-falling-overhead heavy. They are double-rainbow heavy, all-my-friends-are-here heavy, sometimes even lurching ("Cabbage") into I've-been-reborn-as-the-Starchild heavy. Live, you'll see Corbin frequently sinking to his knees as his guitar seems to take on an ever greater invisible weight while Gleb pounds the drums, shoulders hanging low, seemingly trying to tunnel into the stage toward the Earth's core. What makes you forget momentarily about every other fuzz-saturated guitar and drums duo are the irrepressible posi vibes that radiate from these songs. Steve Jr's pro tip for having a great band: write songs that are fun to play, and have fun playing them. Successful liftoff every time, rocket science not needed.
Steve Jr
Steve Jr
Montréal, QC
From the electric lettuce of Mark Streeter:
Steve Jr is heavy, but not winter-is-coming heavy or bombs-falling-overhead heavy. They are double-rainbow heavy, all-my-friends-are-here heavy, sometimes even lurching ("Cabbage") into I've-been-reborn-as-the-Starchild heavy. Live, you'll see Corbin frequently sinking to his knees as his guitar seems to take on an ever greater invisible weight while Gleb pounds the drums, shoulders hanging low, seemingly trying to tunnel into the stage toward the Earth's core. What makes you forget momentarily about every other fuzz-saturated guitar and drums duo are the irrepressible posi vibes that radiate from these songs. Steve Jr's pro tip for having a great band: write songs that are fun to play, and have fun playing them. Successful liftoff every time, rocket science not needed.
De la salade électrique de Mark Streeter:
(Traduit par Jessica Grenier)
Il y a une lourdeur chez Steve Jr, mais pas du type « L'hiver approche » ni des bombes-nous-tombent-sur-la-tête. Non. Les chansons sont lourdes d'un double arc-en-ciel, d'un tous-mes-amis-sont-présents; et elles basculent même parfois vers je-me-suis-réincarné-en-Starchild (chanson « Cabbage »). Lorsqu'on le voit en spectacle, Corbin est souvent voûté, comme si un poids invisible rendait sa guitare toujours plus lourde, et Gleb, les épaules basses, martèle sa batterie comme s'il voulait creuser un tunnel à travers la scène jusqu'au noyau terrestre. Les ondes positives irrépressibles qui émanent des chansons font oublier tous les autres duos fuzz guitare-batterie l'espace d'un instant. Les trucs de Steve Jr pour avoir un groupe génial sont : écrire des chansons plaisantes à jouer et s'amuser en les jouant. Ce n'est pas sorcier, le succès est garanti à tous les coups!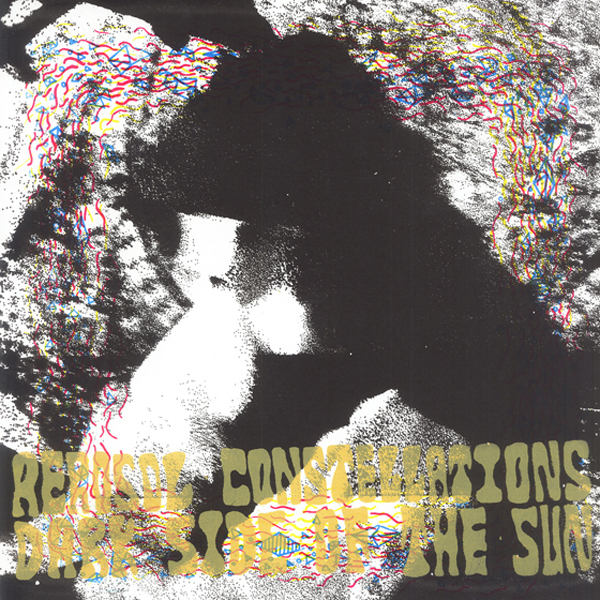 Aerosol Constellations
Dark Side of the Sun
Vancouver, BC
From the individual perceptions of Mark Streeter:
Part sculptors, part channelers, Bill Batt and Jeremy Van Wyck of Aerosol Constellations are capable of transforming the surrounding environment with just a few knob twists and harmonic scrapes. It's no small feat that this record effectively documents the sense of presence they create live. Play it repeatedly and hear it again for the first time, over and over. Play it at a party and suddenly everyone's together and alone all at once, staring into the threshold of shared consciousness and individual perception. Ships in the night tied together by a chain being dragged by the wind.
Des perceptions individuelles de Mark Streeter:
(Traduit en direct par Julie Forget)
Moitié sculpteurs, moitié channelers, Bill Batt et Jeremy Van Wyck d'Aerosol Constellations sont capables de transformer l'environnement qui les entoure en tournant simplement quelques boutons et en harmonisant quelques grattements. Le fait que cet album rende réellement la présence qu'ils manifestent dans leurs prestations live est tout un exploit. Jouez-le à répétition et entendez-le encore pour la première fois, encore et encore. Jouez-le pendant une fête et tout à coup, tout le monde est ensemble et seul en même temps, fixant le seuil de la conscience partagée et de la perception individuelle. Des bateaux dans la nuit liés par une chaîne, poussés par le vent.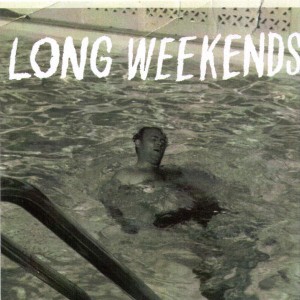 Long Weekends
Tell It To My Heart
(Self Released)
Halifax, NS
From the tremulous cadence of Mark Streeter:
True story: I jammed this EP all summer long at my bookstore job in Southern Ontario, and people were always coming up to the desk to ask what it was. That their guesses would range everywhere from — true story, remember — Arcade Fire (I suspect this has to do with Noel's slightly tremulous cadence) to the Wipers (witness the searing first minute of "Trades") says a lot about the band's versatility and its range of sonic touchstones.
Long Weekends sound as immediate and energetic as anybody's first band, but also full of the kind of craftsmanship and confidence that comes from a solid decade of playing in dozens of bands and sharing practice spaces/apartments/record collections with dozens of other people in bands. From the 'verbed out guitars to the drums thudding off the walls, and lyrics about feeling like a chump for having done the right thing, this sounds like music that is made in a part of the world where you go surfing in a full body suit, equal parts courageous and vulnerable.
There's (probably) no such thing as a "Halifax sound" — a term that is likely to strike you as insufferable if you're from there — but there's a great Walrus article yet to be written about the unique circumstances that make the city such a strong incubator of tradition. Bands like Monomyth and Moon (another Noel M project!) are getting a lot of recognition outside Halifax city limits, but the well runs so much deeper. It's unlikely that this very part-time band of guys with very full-time jobs will ever come to play your town (the band name doubles as their jam schedule) so let these recordings transport you to the coast.
De la cadence frémissante de Mark Streeter:
(Traduit par le repos complet de Catherine Gaucher)
Histoire vraie : Durant tout un été, alors que j'étais libraire dans le sud de l'Ontario, j'ai écouté cet EP et les gens affluaient à mon comptoir pour me demander ce qui jouait. Les suppositions allaient dans toutes les directions — rappelez-vous, c'est une histoire vraie — d'Arcade Fire (probablement à cause de la cadence légèrement frémissante de Noel) aux Wipers (en raison de la brûlante première minute de « Trades ») : cela en dit long sur la polyvalence de ce groupe et sur la diversité de ses références soniques.
Le son de Long Weekends est aussi immédiat et énergique que n'importe quel groupe débutant, mais aussi travaillé et rempli d'une assurance obtenue grâce à une bonne décennie à faire partie d'une dizaine de groupes et à partager des espaces de pratique/appartements/collections de disques avec une dizaine d'autres personnes dans des groupes. Des guitares retentissantes jusqu'aux imprévisibles battements sourds de tambours et grâce à des paroles évoquant l'impression de se sentir idiot pour avoir bien agi, cette musique sonne comme si elle avait été composée dans un endroit du monde où l'on surfe vêtu de la tête au pied d'une combinaison, à la fois courageux et vulnérable.
Il n'existe (probablement) pas de « son Halifax » — un terme sûrement insupportable si vous êtes originaire de là-bas — mais il y aurait un excellent article à écrire dans le Walrus au sujet des circonstances uniques qui font de cette ville un tel incubateur de traditions. Des groupes tels que Monomyth et Moon (un autre projet de Noel M!) attirent beaucoup d'attention à l'extérieur des limites de la ville d'Halifax, mais la source est loin d'être épuisée. Il est peu probable que ces groupes à temps très partiel formés par des gars ayant des emplois à temps très plein viennent jouer dans votre ville (le nom du groupe évoque leur emploi du temps très chargé), alors laissez cet enregistrement vous transporter sur la côte.
Long Weekends – The Best You Ever Had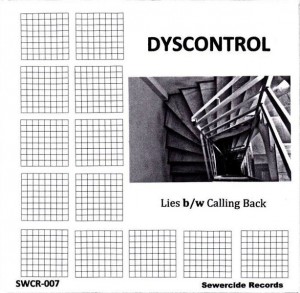 Dyscontrol
Lies b/w Calling Back
Halifax, NS
From the disapproving dirge of Mark Streeter:
Dyscontrol's songs are soaked with urgency. They grab me by the collar, pull me up to eye level and demand to know if am living my life to the best and fullest of my abilities. "Sure I am," I reply, dropping the needle on "Lies." Sweat beads on my brow as a telecaster unsheathes itself, its clear tone gleaming through the speakers. By the time the band has pummeled through to its disapproving dirge chorus, I am thinking that it's time I took a long look in the mirror about a few things.
That should be enough, but the band's not done yelling at me. "Calling Back" is all defiant resolve, rising to a gotta-go-I-got-something-in-my-eye quaver by the end. Sometimes I look back on my life and see only one set of footprints. Those are the moments when Dyscontrol is carrying me. They could've left me behind with all the other lying liars who don't call back, but they care about me and they want me to stop wasting my life right now. So many lies, indeed. I am going to the gym now.
Du chant funèbre désapprobateur de Mark Streeter:
(Traduit par Claudine Maclure)
Les chansons de Dyscontrol sont imbibées d'urgence. Elles m'attrapent par le collet, me tirent à la hauteur des yeux et me demandent si, dans ma vie, j'exploite au maximum le meilleur de mes capacités. Je réponds « bien sûr » en déposant le bras de lecture sur « Lies ». Des perles de sueur glissent sur mon sourcil quand la chaîne se dégaine; sa sonorité cristalline brille à travers les haut-parleurs. Au moment où le groupe roue de coups son funèbre refrain désapprobateur, je me dis qu'il est temps d'examiner longuement mon reflet dans le miroir pour réévaluer certaines choses.
Tout cela pourrait suffir, mais le groupe n'a pas fini de me crier après. « Calling back » est un rebelle déterminé qui soulève, vers la fin, une croche « je-dois-partir-j'ai-quelque-chose-dans-mon-œil ». Parfois, je regarde le chemin que j'ai mené et je ne vois qu'une paire d'empreintes. C'est dans ces moments que Dyscontrol me transporte. Il aurait pu me laisser derrière avec tous les autres menteurs menteurs qui ne rappellent jamais, mais il se soucie de moi et il veut que j'arrête de gaspiller ma vie. Trop de mensonges, en effet. Je vais m'entraîner au gym.
---