Tag: mark anthony brennan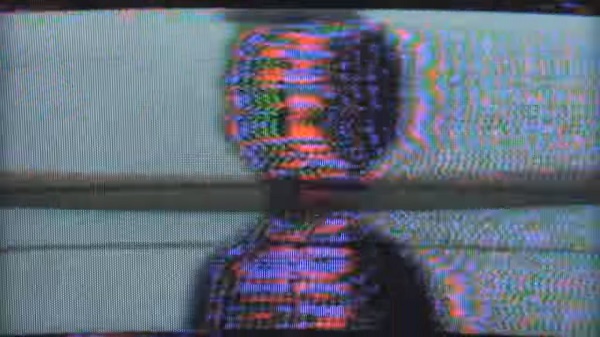 Eccinaccea & Hutchi
La Mode Des Pêches
Hamilton, ON
From the loquacious lexicon of Brian Cleveland:
Created by Liam Carlisle Eccinaccea from Montreal and Aaron Hutchinson HUTCHI from Hamilton, "La Mode Des Pêches" is a split-tape creation inspired by Depeche Mode tracks. The samples go beyond the namesake to include contributions from T-Pain, MF Doom, Lil Wayne, and Claude Debussy. Andrew O'Connor has put the cassette debate to rest by improvising with every piece of new and old technology imaginable: VHS tapes, video synthesizers, video effects, a cellphone, and mixers bred of multiple generations. Improvising the material, O'Connor performs a mashed collage as manic and temptingly indecipherable as its source material.
Du lexique éloquent de Brian Cleveland:
(De l'anti-byline de Mylène Quevillon)
Créé par Liam Carlisle Eccinaccea de Montréal et Aaron Hutchinson HUTCHI de Hamilton, "La Mode Des Pêches" est la création d'un split inspiré par différents morceaux de Dépêche Mode. Ces extraits musicaux vont au-delà de l'homonyme en y incluant des contributions de T-Pain, MF Doom, Lil Wayne, et Claude Debussy. Andrew O'Connor a clos le débat concernant la cassette en improvisant avec tous les dispositifs techniques imaginables, anciens et nouveaux, qu'il a pu trouver : cassettes VHS, synthétiseurs, effets vidéo, téléphone cellulaire et plusieurs générations de consoles de mixage. En improvisant avec ces matériaux, O'Connor réalise un collage éclaté aussi maniaque et indéchiffrable que sa matière première.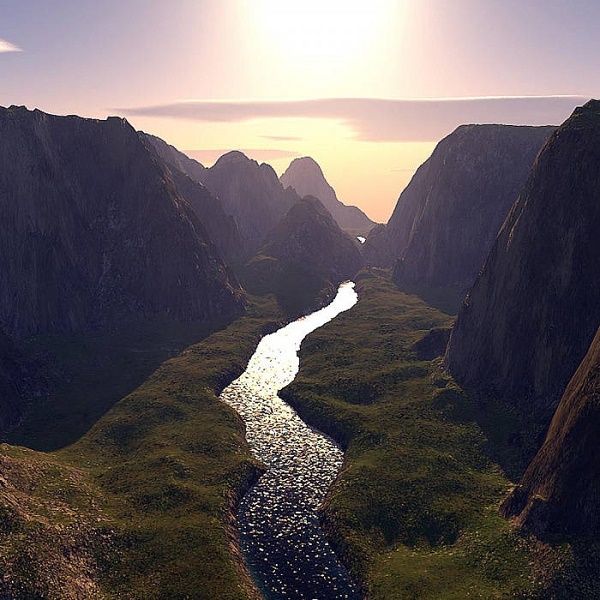 Amy Casper
One of the Lucky Ones
(Self-Released)
Victoria, BC
From the selfish selflessness of Mark Anthony Brennan:
Amy Casper is the voice of vulnerability, as her mirror self sings melodiously "Down by the River" or ghostly "Gave You My All". Down by the River is stripped down to a fish-bone skeleton, leaving Amy Casper to flesh out the compositions with her painfully human voice. She calls to us from a reedy distance, finding that there is no way to go back home "Into the Rope", and turns strange as she explores the forces around us "Silver Hands".
De l'égoïste désintéressement de Mark Anthony Brennan:
(Traduit par Mylène Quevillon)
Amy Casper incarne la voix de la vulnérabilité, alors que sa réflexion chante mélodieusement "Down by the River" ou fantomatiquement "Gave You My All". * Down by the river * est épuré, tel un squelette d'arrêtes de poisson, laissant Amy Casper étoffer les compositions avec sa voix douloureusement humaine. Elle nous appelle d'une maigre distance, réalisant qu'il n'y a aucun moyen de rentrer à la maison "Into the Rope", et elle devient bizarre alors qu'elle explore les forces qui nous entourent "Silver Hands".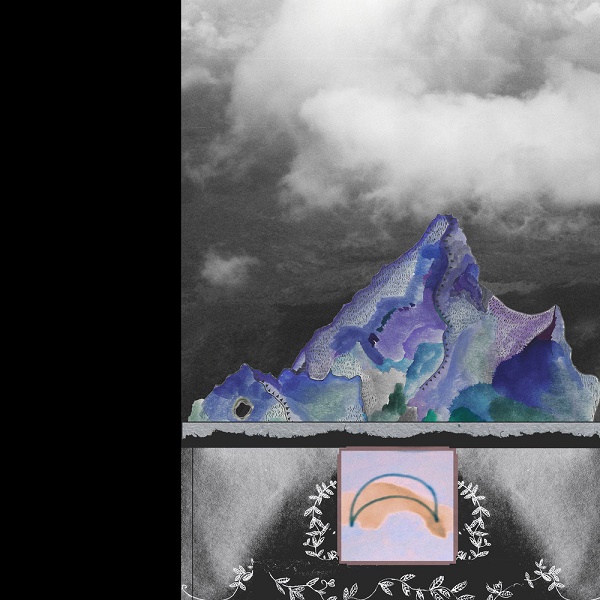 Kaine, Fili and the Believing Box
Free and Easy Wanderer
(Self-Released)
Montreal, QC
From the unwitnessed observations of Mark Anthony Brennan:
Kainé and Fili wander free and easy through a soundscape they seemingly create by magic. Unsullied by human discoloration, the experience is exquisitely primal, unblemished. The senses you've relied on become useless to you, so you allow your hand to be taken in the music's delicate grasp. It leads you, guides you. The secret of the cosmos is encapsulated in a single strident note. This mystery is further explored in a quiet conversation between violin and cello. Electronic murmurings remind you that you are indeed human, and that you are a sightless observer. Vocals echo your displacement.
Par les observations inaperçues de Mark Anthony Brennan:
(Traduit par les humeurs ensommeillées d' Émily Traichel)
Kainé et Fili vagabondent libre et aisé à travers un paysage sonore qu'ils semblent créer par magie. Non souillé par la décoloration humaine, l'expérience est exquisément primale, sans imperfections. Les sens sur lesquels vous aviez dépendu vous deviennent inutiles, alors vous vous permettez de vous faire prendre la main dans la prise délicate de la musique. Elle vous mène, vous guide. Le secret du cosmos est encapsulé dans une seule note stridente. Ce mystère est davantage exploré dans une conversation tranquille entre violon et violoncelle. Des murmures électroniques vous rappellent que vous êtes en effet humain, et que vous êtes un observateur aveugle. Les chants évoquent votre déplacement.
Kainé, Fili and the Believing Box – Crickets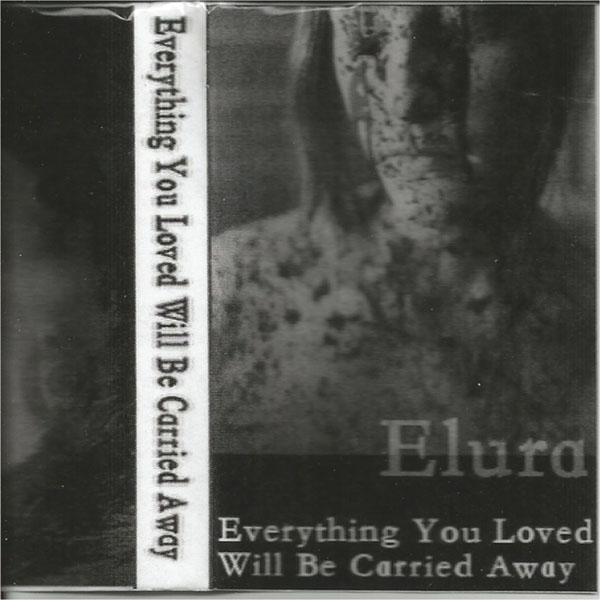 Elura
Everything You Loved Will Be Carried Away
(Midden Records)
Victoria, BC
From the icy inclinations of Mark Anthony Brennan:
The white blanket of the winter sky extends from high to low, blending into the snowy carpet. The mournful strings chill all colour of emotion out of the air, leaving just memory ghosts of things lost. The baritone voice brings the present into clear relief. Frozen in the moment. Beautiful. Untainted by any warmth that would melt the crystal clarity.
Des inclinations glacées de Mark Anthony Brennan:
(Traduit par les lettres ouvertes de Marie-Pier Chevrier)
Le manteau blanc du ciel d'hiver s'étend de haut en bas, se fondant dans le tapis de neige. Les cordes en deuil font résonner dans l'air des émotions de toutes les couleurs, ne laissant des choses perdues que des souvenirs fantômes. La voix baritone mène le présent vers un doux répit. Moment glacé. De toute beauté. Indifférent à toute chaleur capable de venir fondre cette clarté cristalline.
Elura – Statues/Alone In The Winter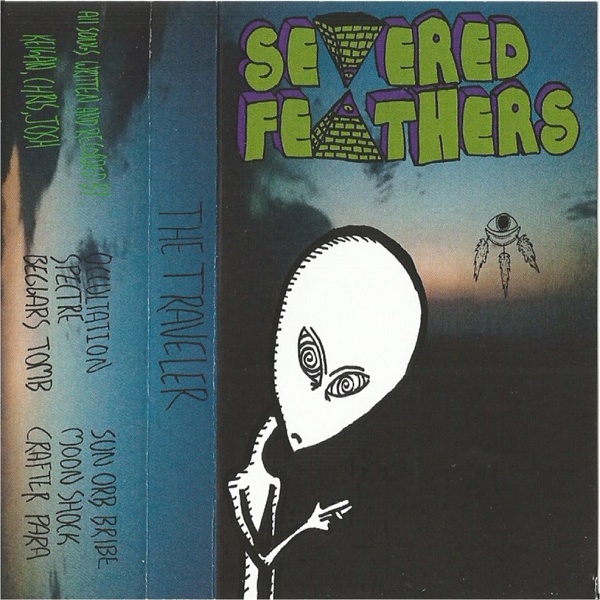 Severed Feathers
The Traveler
(Self-Released)
Peterborough, ON
From the perforated neocortex of Mark Anthony Brennan:
Chad edged the 1950 Ford Woody gingerly around the Galactic Trooper cruisers parked in orbit. His goal was the "Pie in the Sky" fast-food fly-thru. Next to him Brittany stared at her feet. "Hmm, still mourning over Kurt Cobain" he thought. "Fuck the past. Time to take grunge and rock'n'roll to the stars."
"Peace, man," said the hippie at the window, flashing the "V" sign.
"Give us two vegan burgers with gluten-free buns," said Chad. "Say, where's some good surf around here?"
"Ah, the Astral Glide is real a mind tickler. As trippy as mescaline."
"Cool."
Du néocortex perforé de Mark Anthony Brennan:
(Traduit par Sergio Calla)
Chad a manœuvré avec soins le Ford Woody de l'année 1950 autour des autos patrouilles galactiques stationnées en orbite. Son but, le rêve d'un service au vol-ant «fast-food» A côté de lui, Brittany regarda ses pieds. "Hmm, Elle fait encore le deuil de Kurt Cobain" se dit-il. "Au diable, le passé. Visons les étoiles pour le grunge et le rock 'n' roll." "Je te souhaite la paix, mon grand" a dit le hippie au kiosque en faisant signe de paix en forme de « v » avec ses doigts.
"Donne-nous deux burgers végétaliens avec du pain sans gluten" dit Chad. "Où peut-on «surfer»pas loin en passant ?"
"Ah, le « voyage astral » est une réalité qui fait chatouiller l'esprit." "Aussi euphorique que la mescaline."
"«Cool.»"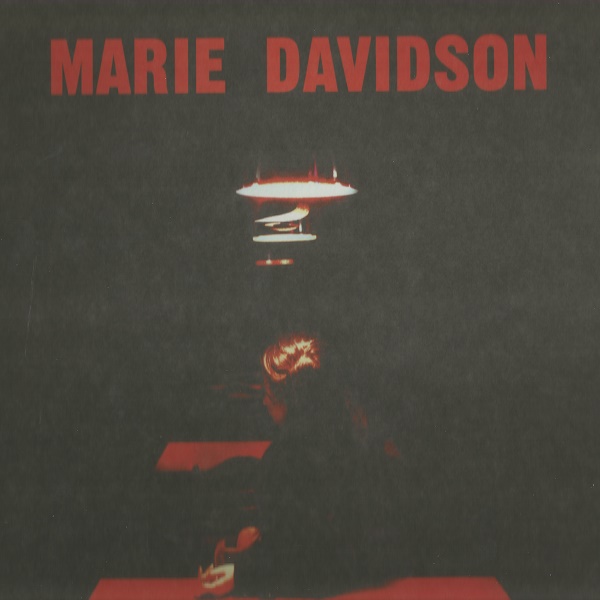 Marie Davidson
Un Autre Voyage
Montreal, QC
From the paranoid prognostications of Mark Anthony Brennan:
The city throbs with a narcotic rhythm. Her feet mark out a techno beat as she marches doggedly down the avenue. The night sky is alive with synth loops and flickering neon letters. Korean, Chinese, Japanese. Only the financial monoliths are marked in French: "Banque".
Smells reach her nose from the ground level. South Asian groceries, African coffee shops, shawarma on spits. The signs down here are less gaudy. But more compelling. Arabic, Farsi, Spanish, Hindi. Above the notes trill, sterile and clean. Below the bass notes spell danger and excitement.
A patrol car hovers above her head. "Police/Polizei". In French and English the car's loudspeaker barks out orders that go unlistened.
Her voice resounds in catechism: "What is the reality here?"
Des prédictions paranoïaques de Mark Anthony Brennan:
(Traduit par Julie Mayer)
La ville palpite à un rythme narcotique. Ses pieds battent une mesure techno tandis qu'elle descend l'avenue avec acharnement. Le ciel nocturne est animé de synthé en boucle et de lettres de néon clignotantes. Du coréen, du chinois, du japonais. Seuls les monolithes financiers sont écrits en français : Banque.
Les odeurs de la rue parviennent à son nez. Des épiceries sud-asiatiques, des cafés africains, des shawarmas à la broche. Les enseignes du coin sont moins voyantes. Mais plus captivantes. De l'arabe, du farsi, de l'espagnol, de l'hindi. Au-dessus, les notes trillent, stériles et propres. En dessous, les basses signifient danger et excitation.
Une voiture de patrouille plane au-dessus de sa tête. « Police/Polizei ». Le haut-parleur de la voiture aboie des ordres en français et en anglais, ordres auxquels on fait la sourde oreille.
Sa voix résonne en catéchisme : « Quelle est cette réalité? »
Marie Davidson – Balade aux USA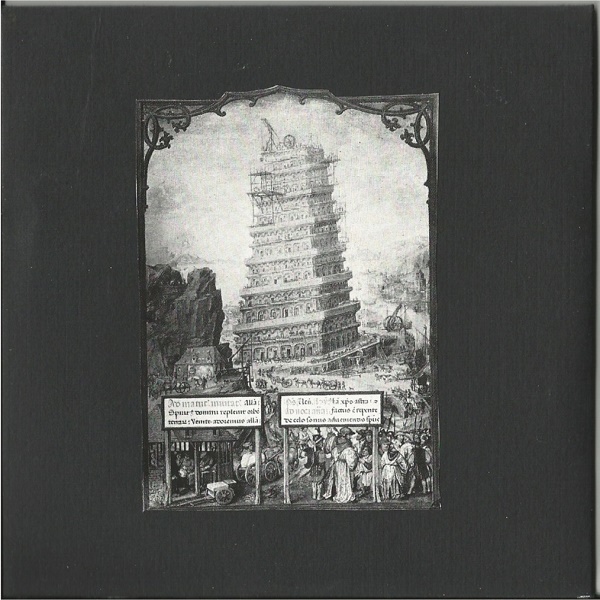 Forager
To Carthage then, I came
(Self-Released)
Calgary, AB
Des ruminations en décombres de Mark Anthony Brennan:
(Traduit par Aliké Harel)
Les cordes de guitare pincées et battues jouent un air mélancolique au milieu d'une ruine à la croisée du temps. Elles sont les feuilles qui bruissent entre les bâtiments fantômes. Souvenir d'une gloire passée.
Grondement imperceptible. La complainte sonore d'un orgue annonce un vent nouveau. La venue d'une tempête. Présage de mort et de destruction. Quelque beauté et fierté qui y persistent sont confinées à jamais derrière les décombres de ces murs.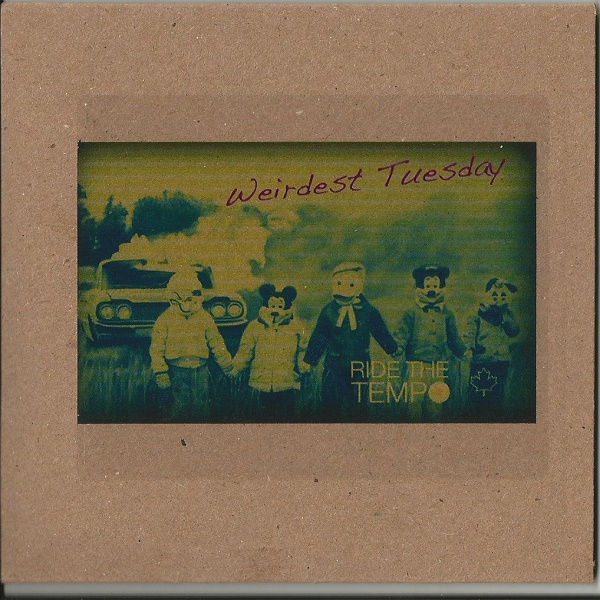 Various Artists
Ride the Tempo presents: Weirdest Tuesday
(Baffled Octopi Records)
Toronto, ON
From the deleterious delusions of Mark Anthony Brennan:
Light bounces over keyboards bringing to life a midway funhouse of irony. A beat poet feigns insult at proffered money as he fabricates a true account of lies. Everyone smirks. Screams rain down from roller coaster riders who allow themselves to be plunged into high definition hell. A thrown ball bursts through skittles, clattering them across the stall in manic discordance. Alarmed patrons feel relief at the sound of children singing. Short-lived. Not children, but wooden puppets with glass eyes. Strange, beautiful, entertaining, and terrifying.
Par les délires délétères de Mark Anthony Brennan:
(Traduit par la frénésie dissonante d' Émily Traichel)
La lumière rebondit sur les claviers donnant vie à un palais du rire ironique de mi-chemin. Un poète du mouvement Beat feint l'insulte vers de l'argent offert tandis qu'il fabrique un véritable rapport de mensonges. Tout le monde a un sourire narquois. Des cris dégringolent des passagers à bord de montagnes russes qui se permettent d'être plongés dans l'enfer haute-définition. Un ballon lancé jaillit à travers des skittles, les envoyant à l'autre bout du cabinet avec fracas, en dissonance frénétique. Des mécènes alarmés sont soulagés d'entendre des enfants chanter. Ça ne dure pas. Non pas des enfants, mais des marionnettes en bois avec des yeux en verre. Étranges, belles, distrayantes et terrifiantes.
Marie Davidson – Balade aux USA
Doomking
A Mark of Something No Longer in Existence
(Self Released)
Victoria, BC
From the reductionistic recollections of Mark Anthony Brennan:
Haziness. Clouds drifting around the mind. A dream. A taste, sweet but soured, wells up in the back of the throat and tickles the underside of the brain. A memory. A time when beauty expressed itself so much sharper. The memory of a dream. Floating in a gauzy swirl of happiness. Of undiluted love. Of confident hope. The dream of a memory.
Des souvenirs réducteurs de Mark Anthony Brennan:
(Traduit par Aliké Harel)
Nébuleux. Les nuages roulent autour de la tête. Un rêve. Une saveur, douce mais aigrie, refoule dans la gorge et titille l'arrière-cerveau. Un souvenir. Une époque où la beauté s'exprimait au grand jour. Le souvenir d'un rêve. Flotte dans un tourbillon vaporeux de bonheur. D'amour non dilué. D'espoir certain. Le rêve d'un souvenir.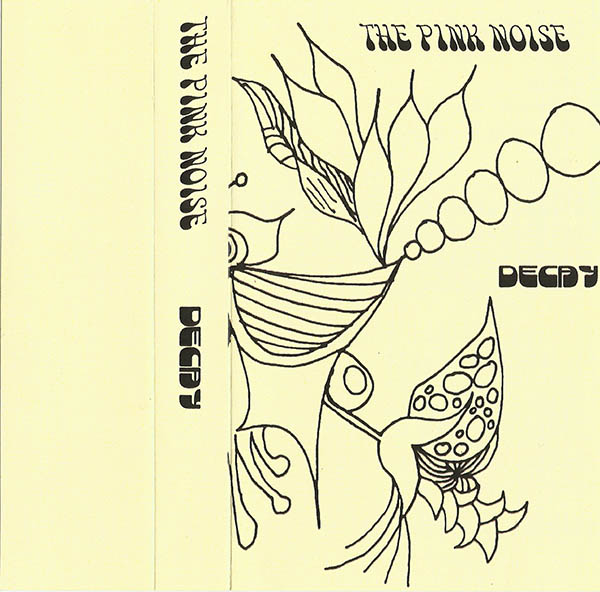 The Pink Noise
Decay
Montréal, QC
From the time-warped transgressions of Mark Anthony Brennan:
Frown. "Did it work?" "Not sure. Shifting a funk band through space-time from 1972 isn't easy, you know." Pointing finger. "But … they sound like the Velvet Underground doing Vegas." Shifting eyes, surveying panel. "Interference. Some glam got in. And British punk. And …. " "Noise. A lot of noise." Gulp. "I know, I know. There's static. We introduced some atmospheric distortion." "Something's warped. But it's brilliant. Like nothing I've ever heard." Eyes wildly darting. "Is it warped genius or temporal distortion?" Hiss. "What do we do?" "I think we should get the f&%k outta here." "I'm right behind you."
Des déformations transgressives du temps de Mark Anthony Brennan:
(Traduit par l'autoconférence tordue de Mathieu Bédard)
Froncement de sourcil. « Ça a marché? » « Pas sûr. Faire passer dans l'espace-temps un groupe de funk depuis 1972 n'est pas chose facile, vous savez. » Pointant du doigt. « Mais… ils sonnent comme le Velvet Underground à Vegas. » Mouvement rapide des yeux, sondant la table. « Interférences. Un peu de glam s'est incrusté. Et du punk britannique. Et… » « Du bruit. Beaucoup de bruit. » Déglutissement. « Je sais, je sais. Ça grésille. On a introduit de la distorsion atmosphérique. » « Il y a quelque chose de déformé. Mais c'est brillant. J'ai jamais rien entendu comme ça.» Yeux dardant follement. « C'est du génie tordu ou de la distorsion temporelle? » Sifflements. « Qu'est-ce qu'on fait? » « Je pense qu'on devrait cri%&er notre camp d'ici. » « Je te suis. »
---