Tag: marie leblanc flanagan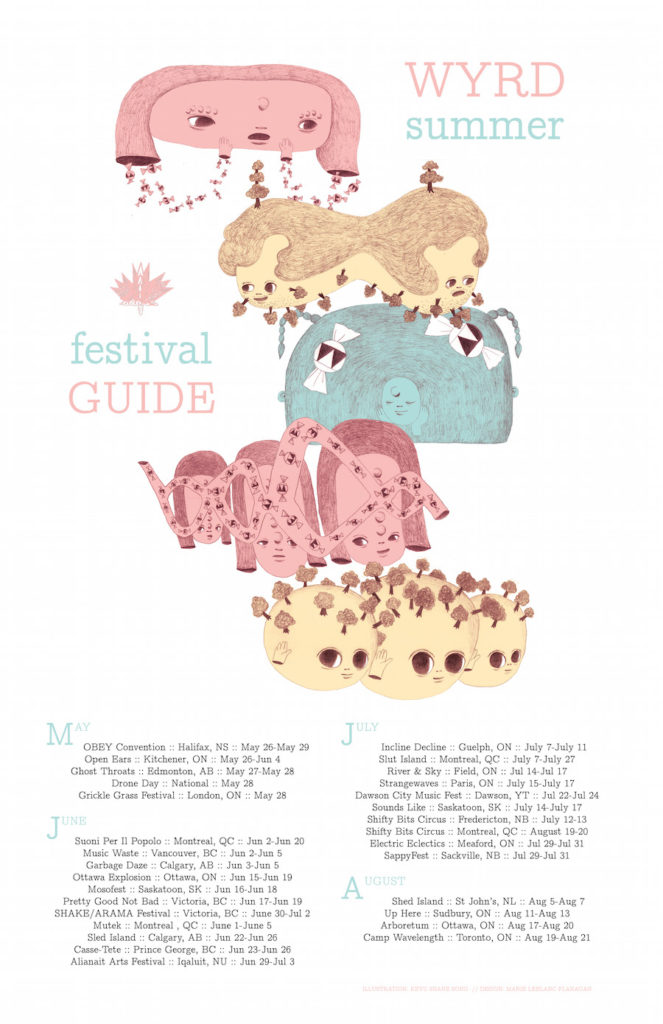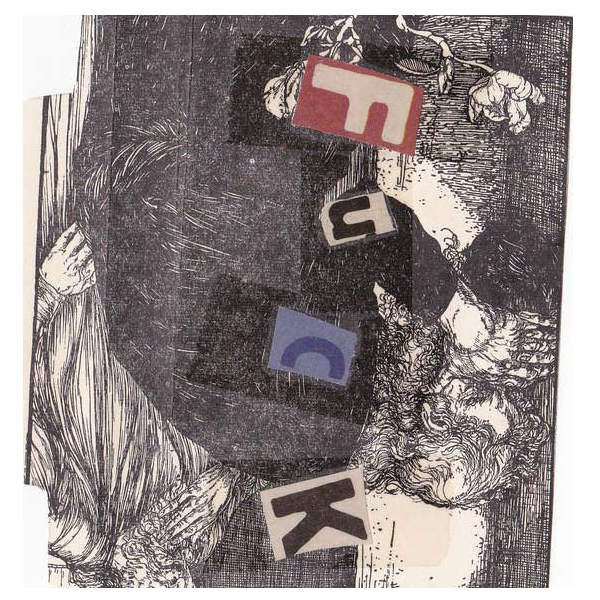 Charlotte Crow
Surrealist Bedroom
(Self Released)
Rodney, ON
From the steep incline of Marie LeBlanc Flanagan:
Soft night, sweet air, stoned harbours. There's a close aching in this small town, bite it to the quick. Warm bodies. Shimmering off strings, hips below shoulders, below eyes, below stars. Back door, fuck it, there's no one.
De la pente abrupte de Marie LeBlanc Flanagan:
(Traduit au clair de lunule par Nicolas Coutlée)
Douce nuit, air frais, port de pierres. Une douleur secrète hante ce petit village. Ongles rongés jusqu'au sang, corps tièdes. Miroitement de cordes, hanches alignées aux épaules, aux yeux, aux étoiles. Porte arrière, eh merde, il n'y a personne.
Charlotte Crow – Makeshift, Rosetint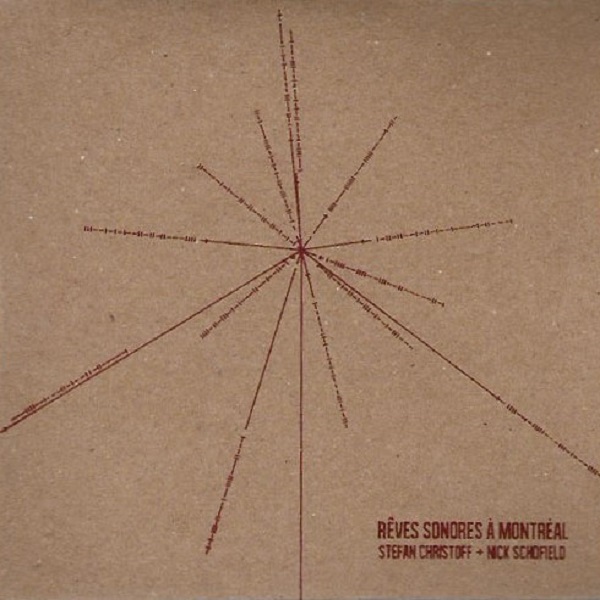 Nick Schofield & Stefan Christoff
Rêves sonores à Montréal
Montreal, QC
From the quiet desperation of Marie LeBlanc Flanagan:
Step softly to some peace where all shapes come together, precisely. The silences around each of us make up our voices. The hungry push of wind across a chasm oscillates, makes it sing. Something beneath the breath, ricocheting and forlorn, rising through the human and glitching on an icy pitch.
Du désespoir tranquille de Marie LeBlanc Flanagan:
(Traduit par les yeux écarquillés de Jessica Grenier)
Avance doucement vers une paix où tout s'imbrique, précisément. Les silences entourant chacun de nous deviennent nos voix. La poussée de vent affamée oscille en traversant le gouffre, le faisant chanter. Quelque chose plus faible qu'un murmure, un éco mélancolique, s'élève à travers l'humain, sur une tonalité glaciale, parasite.

Nick Schofield & Stefan Christoff – Generation I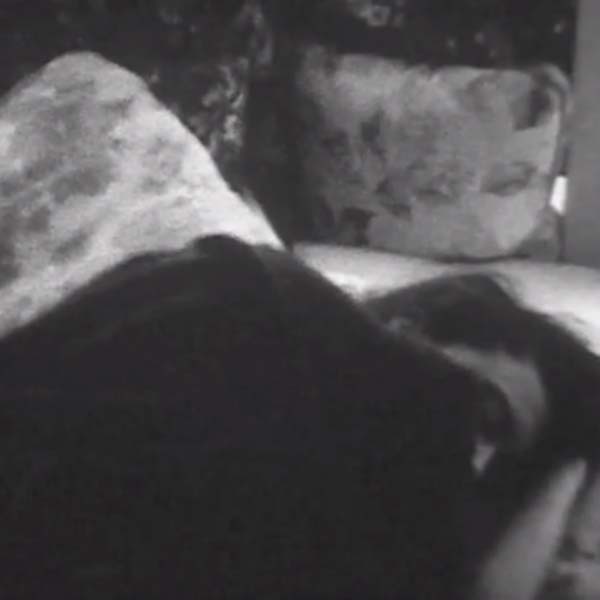 From the mellowed rhythm of Marie Leblanc Flanagan and Aaron Levin:
Been holding us underwater, ears full and throbbing. Through the concrete water beads, faded on horizons grey. Gravid vox taming drum machines unquantized. We submit.
Des rythmes moelleux de Marie Leblanc Flanagan et Aaron Levin:
(Traduit indolemment par Jessica Grenier)
Nous sommes maintenus sous l'eau, les oreilles pleines, lancinantes. Un pâle horizon gris, perçu à travers des billes d'eau bétonnée. Une voix pleine apprivoisant une boîte à rythmes inquantifiée. Nous sommes vaincus.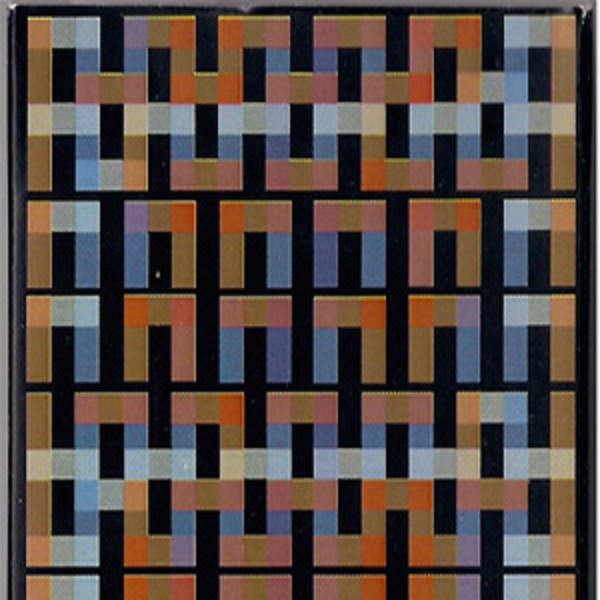 Sarah Davachi
August Harp
Vancouver, BC
From the entangled fibres of Marie LeBlanc Flanagan:
Fog ripening through fog, the sound of beginning. Passage made of living things, thickening tones pull bone slipstream. Fingerprint wave lines. You forgot the way but the muscle remembers, each forcing each to the cracks, the shifting edge, the sinking core. Outside in, keep climbing, you were always going deeper.
Des fibres emmêlées de Marie LeBlanc Flanagan:
(Traduit par Jessica Grenier)
Un brouillard qui mûrit dans un brouillard : le son du commencement. Un passage composé de choses vivantes, des sons s'épaississant en tractant le sillage des os. Des lignes ondulantes d'empreintes digitales. Tu ne connais plus le chemin, mais tes muscles se souviennent, chacun forçant l'autre jusqu'aux crevasses, aux limites mouvantes, au centre s'effondrant. De dehors vers dedans, poursuis l'ascension; tu cheminais, toujours plus profond.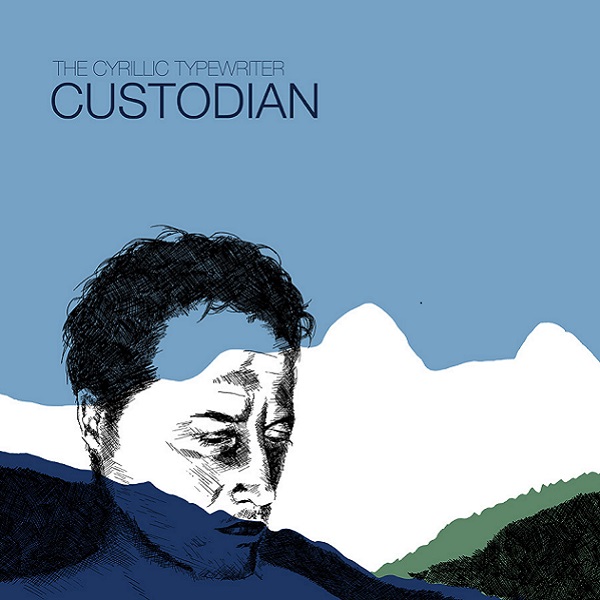 The Cyrillic Typewriter
Custodian
Vancouver, BC
From the bleeding eyes of Marie LeBlanc Flanagan:
Skies under eyelids droning. Foghorns from above, from below. We heard them clattering in the wind, they are all the same. Always the hunger. Bow pulls tight and reverses. Repeat. Dirty water and the rag. Down the hole they are clamouring. A face, no matter which way the head turns. Tight connection prevents escape. Vibration.
Des yeux ensanglantés de Marie LeBlanc Flanagan:
(Traduit par le deuxième visage de Jessica Grenier)
Un ciel infini sous des paupières bourdonnantes. D'en haut et d'en bas, nous entendons des cornes de brume qui s'entrechoquent dans le vent. Elles sont toutes identiques. La faim, toujours présente. Le nœud se serre puis se desserre, et c'est reparti. Eau sale et haillons. Tout au fond du trou, ils font du vacarme. Un visage, peu importe de quel côté tourne la tête. Des liens solides rendent la fuite impossible. Vibration.

The Cyrillic Typewriter – Lament 3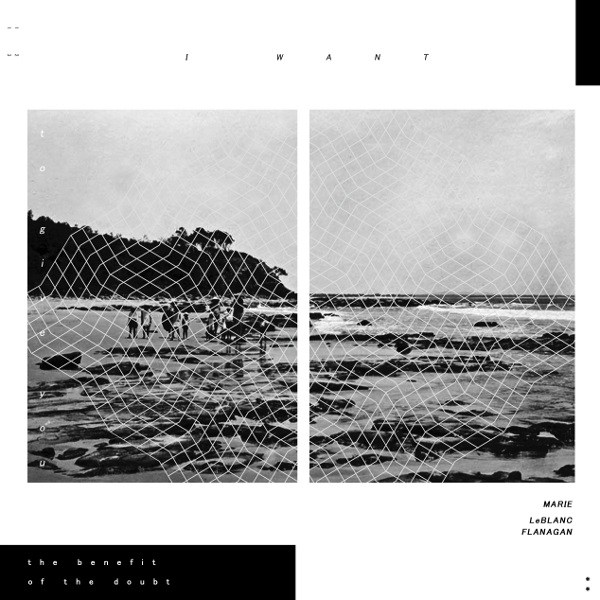 I want to give you the benefit of the doubt
Marie LeBlanc Flanagan
(Waterloo, ON)
[cover art: David Lee]
From the exploration and imagination of Marie LeBlanc Flanagan:
I want to give you the benefit of the doubt, but I feel an urgent need to set the standards of the space. I wouldn't tolerate a friend sexually harassing someone in my bathroom, or shouting racial slurs in my kitchen. In the same way, I want to make sure that Weird Canada is a space where people can feel safe. Not safe from challenge, but safe from the mundane and banal hatred that certain people face in every remote gas station and bank, in every park, and on every street. I want to make a space where the loudest voices and the biggest wallets don't make the rules.
As a curator and a leader, I am accountable to my community, both in ensuring that it is a safe and inclusive space, and in challenging our relationship to each other and the outside world.
In my last couple years of leading Weird Canada – a community that exists to encourage, document and connect creative expression across Canada – I keep asking myself, "Is this art gay-bashing, or is it irony? Is this book furthering the objectification of women, or is it third wave feminism? Is this music cultural appropriation, or is it someone trying to explore their own origins?"
Free speech has nothing to do with this. This is about asserting community-defined, community-inclusive boundaries in a very specific community space.
I would have more good faith about the whole thing if at the root of these circumstances I didn't always find a clustering of mainly straight, middle class men, wrapped in a shroud of ambiguity and confusion. There's nothing wrong with straight white men, they are just born into their bodies like the rest of us, but why are they so often at the centre of these ambiguous, problematic circumstances?
All I have to go on is the visuals, the optics. The artists I deal with rarely bother with an artist's statement. I often don't know the stories, the gender, the race or the sexual orientation of the artist. And those details matter. There is a big difference between a gay man writing a homophobic-slur-rage-anthem, and a straight man writing the same song. One is an expression of lived pain, the other an unnecessary exacerbation and extension of that pain.
It is exhausting.
Many organizations and individuals avoid this assessment fatigue and instead just assume the best, often falling into jargon and defences of free-speech when challenged. Free speech has nothing to do with this. This is about asserting community-defined, community-inclusive boundaries in a very specific community space. Spaces without intentional boundaries have boundaries as well, they are just the default: invisible, normative, and exclusive.
Artists can and should express anything and everything that emerges. Anything else will lead to stagnation and cultural suffocation. Art should be about exploration and imagination, not pandering to the hippest trends in activist etiquette.
Still: don't pilfer the choicest pieces of linkbait from other people's struggles, as if creative expression is some kind of exploitation buffet. If your art is selling parts of someone else's identity, while ignoring their current or historical struggle, you should closely examine your expression. I'm not saying "NO" I'm saying "think."
You will never see your own face. You will see photos, reflections and refractions.
There are many thoughts here that you could legitimately use as bicker bait, but I challenge you to read these words to find value rather than searching for the inevitable parts that rough your fluff. I am exhausted with being the culture police. Myself, I'm a human being dropped into this world without skin. Every speck of dust or dirt goes straight into my muscles, grinding against me every time I move. I don't want to police anyone's art, or anyone's expression. I don't want to exclude, to hurt, to offend. I want to love, to expand, to grow.
You will never see your own face. You will see photos, reflections and refractions. Listen to the world around you. Creatively express your own lived experience, practice empathy and thoughtfulness: all of our art will be stronger, and all these conversations will raise us up.
Marie LeBlanc Flanagan is the Executive Director of Weird Canada/Wyrd Arts Initiatives.
De l'exploration et de l'imagination de Marie LeBlanc Flanagan:
(Traduit Par Alexandre Allouch-Micati)
Je veux vous donner le bénéfice du doute. En fait, avant de faire ce geste, je ressens le besoin urgent d'établir les normes de l'espace. Je ne tolérerai, en aucun cas, qu'un ami viole quelqu'un dans ma salle de bains, ou crie des propos injurieux et racistes dans ma cuisine. De la même façon, je veux m'assurer que Weird Canada est un espace dans lequel on peut se sentir en sécurité. Pas des défis de la vie, mais de cette haine banale que ressentent les gens dans toute station d'essence et banque, dans chaque parc et rue. Je veux créer un espace dans lequel les plus gros portefeuilles ou les plus grosses voix ne dictent pas leurs règles.
En tant que leader et curatrice, je suis responsable de ma communauté. Je lui dois autant de m'assurer de sa sécurité et qu'elle soit un espace inclusif, que de m'assurer que nos relations entre nous et avec le reste du monde soient mises au défi.
Durant mes dernières années à mener Weird Canada – une communauté qui existe dans le but
d'encourager, de documenter et d'assurer la connexion des expressions créatives, à travers le pays – il m'est souvent arrivé de me demander : « Est-ce que telle création est homophobe ou est-ce ironique? Est-ce que tel livre renforce l'idée de la femme-objet ou est-ce qu'il fait partie de la troisième vague féministe ? Est-ce que c'est de la récupération culturelle d'une musique ou quelqu'un qui explore ses propres origines ?
La liberté d'expression n'a rien à voir avec ça. Il s'agit d'affirmer des
frontières définies par la communauté et incluant chaque membre de la communauté dans un espace communautaire très spécifique.
Si je ne voyais pas ces images d'hommes pour la plupart blancs, hétérosexuels, de la classe moyenne, enveloppés dans un linceul d'ambiguïté et de confusion, gravitant autour de ces concepts, je serais peut-être plus confiante. Je n'ai rien contre les hétérosexuels blancs – ils sont nés dans un corps, comme nous tous – mais pourquoi faut-il qu'ils soient si souvent au cœur de ces circonstances ambiguës et problématiques? Les seuls outils dont je dispose pour avancer sont le visuel, l'optique. Les artistes auxquels j'ai affaire s'occupent rarement de faire des déclarations sur leur démarche artistique. Souvent, il m'arrive de ne pas connaître l'historique, la race ou l'orientation sexuelle de l'artiste. Chacun de ces détails vaut son pesant d'or. Il y a une grande différence entre un homosexuel écrivant un hymne rageur et homophobe et un hétérosexuel écrivant le même texte. Cet hymne peut soit être l'expression d'une peine vécue ou une aggravation exagérée et inutile de cette même peine.
C'est épuisant
Beaucoup d'organisations évitent cet épuisement à l'évaluation, et tombent souvent dans le jargon et se mettent à défendre la liberté d'expression lorsqu'ils sont confrontés au problème. La liberté d'expression n'a rien à voir avec ça. Il s'agit d'affirmer des frontières définies par la communauté et incluant chaque membre de la communauté dans un espace communautaire très spécifique. Les espaces n'ayant pas de frontières intentionnelles ont aussi des frontières, celles par défaut : invisibles, normatives et exclusives. Les artistes peuvent -et doivent- exprimer toutes les choses qui émergent. Toute autre chose ne serait que de la stagnation et un étouffement culturel. L'art doit être une source d'exploration et d'imagination et ne pas être à la solde des dernières tendances liées à la bienséance activiste. Pour autant : n'allez pas piocher dans les plus beaux morceaux de la lutte d'autrui, comme si la création expressive n'était rien d'autre qu'un buffet. Si votre œuvre vend une partie de l'identité d'une autre personne, dont vous ignorez tout de ses luttes actuelles ou historiques, vous devriez réexaminer attentivement votre façon de vous exprimer. Comprenez-moi bien : je ne dis pas "NON" je dis "pensons".
Vous ne verrez jamais votre propre visage. Vous ne verrez que des photos, des réflexions ou des réfractions.
Il y a beaucoup d'idées ici qui pourraient être utilisées comme appât assouvissant une envie de querelles, mais je vous mets au défi de relire ce texte, en y trouvant de la valeur, plutôt qu'en y cherchant les inévitables passages qui ne vous caressent pas dans le sens du poil. Ce rôle de police de la culture m'épuise. Je suis moi-même un être humain, lâché dans ce monde, sans épiderme. Toute poussière ou saleté s'incruste dans mes muscles, s'abattant sur moi au fil de mes pas. Je ne veux pas censurer l'art ou l'expression de quiconque. Je ne veux pas exclure, blesser, offenser qui que ce soit. Je veux aimer, m'étendre, grandir.
Vous ne verrez jamais votre propre visage. Vous ne verrez que des photos, des réflexions ou
des réfractions. Écoutez le monde qui vous entoure. Exprimez créativement votre vécu, pratiquez
l'empathie et la considération : tout notre art sera plus fort, et toutes ces conversations disparaîtront progressivement.
Marie LeBlanc Flanagan est directrice administrative de Weird Canada/Wyrd Arts Initiatives.
The Way We Work
Illustration By: Keyu Shane Song
From the lizard cove of Aaron Levin:
Since Marie stepped up as Executive Director of our shadow-lizard government Wyrd Arts Initiatives, we've experienced hockey stick growth. Here are some stats:
– We have 200 volunteers across Canada.
– 48% of our volunteers are women.
– Our content is now bilingual (thanks to our army of volunteer translators).
– We've doubled our publishing schedule.
– We've increased our revenue (through grants) by infinity (there is no known real number whose multiplication by 0 will get you $60,000).
With our explosive growth and nationally-distributed team of fringe enthusiasts, we've had to reshape the way we work.
1. How do we manage content from submission through assignment, translation, proofing, and finally publishing?
2. How do we ensure our volunteers and writers are engaged and have a meaningful experience with Weird Canada?
3. How do we ensure our writers actually listen to the music being submitted?
4. How do we solve all of the above while retaining our identity as an organization dedicated to encouraging, documenting, and connecting creative expression?
We've come a long way from e-mail insanity. Marie has implemented a number of systems that we cannot live without. Our amazing team has adopted all of them with enthusiasm.
We tasked volunteer and illustrator Keyu Shane Song with an impossible mission: capture, in one massive infographic, the way we work, from creative expression to final publication.
We were not prepared for Shane's amazing creation.
De la crique de lézard de Aaron Levin:
(Traduit par d'Andréanne Dion)
Depuis que Marie est devenue directrice exécutive de Wyrd Arts Initiatives, on a connu une croissance en bâton de hockey. Voici quelques statistiques :
– On a 200 volontaires à travers le Canada.
– 48% de nos volontaires sont des femmes.
– Notre contenu est maintenant bilingue (merci à notre armée de traducteurs et traductrices volontaires).
– On a doublé notre horaire de publication.
– On a augmenté nos revenus (par des subventions) à l'infini (il n'y a pas de nombre réel dont la multiplication par 0 donne $60,000).
Avec notre croissance explosive et notre équipe éparpillée de passionnés de la marge, on a dû réorganiser notre façon de travailler.
1. Comment gérer le contenu depuis sa soumission, en passant par sa distribution, traduction, révision, et finalement sa publication?
2. Comment s'assurer que nos volontaires et nos rédacteurs et rédactrices sont stimulés et profitent d'une expérience significative avec Weird Canada?
3. Comment s'assurer que nos rédacteurs et rédactrices écoutent vraiment la musique qui nous est envoyée?
4. Comment résoudre toutes les questions précédentes tout en conservant notre identité en tant qu'organisation dédiée encourager, documenter et connecter l'expression créative?
On a fait un long chemin depuis la folie désorganisée des courriels. Marie a instauré des méthodes dont on ne pourrait plus se passer.
On a demandé à Keyu Shane Song, volontaire et illustrateur, d'accomplir l'impossible : capturer, dans une énorme image infographique, la façon dont on travaille, depuis l'idée d'une expression créative, jusqu'à la publication finale.
On était pas prêts pour la création incroyable de Shane.
(click for magnified view)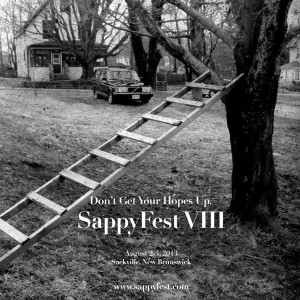 Various Artists
SappyFest VIII
(August 2-4, 2013)
Sackville, NB
From the swan pond of Jesse Locke:
Don't get your hopes up. Those humble words serve as both tagline and mantra for Sackville, NB's annual gathering, yet prove tough to follow with this year's stacked line-up! The next wave of Halifax crashes in with Monomyth, Heaven For Real, Old & Weird and hazy-brained hip-hop crew Weirdo Click. Toronto's Tranzac jazz scene is repped by Alex Lukashevsky and island-timed troupe Eucalyptus (captained by Brodie West), while the forecast for Colin Stetson shows volcanic blowouts. JFM and Karneef bring the brain-warping beats, and for softer ear-candy, catch soul sister Snowblink, Construction & Deconstruction or ol' faithful Chad. But wait… 2013's dark horse could be Sackville locals Kappa Chow, the latest project from the motley Killer Haze crew, with a name swiped from Pootie Tang. Wa da ta!
p.s. Need a pause from the music? Skip on down to Why Nowhere?, Sappy's self-dubbed 'smalltown music conference' featuring a panel from WC's own Marie LeBlanc Flanagan!
De la mare aux cygnes de Jesse Locke:
(Traduit dans la nostalgie des festivals d'été par Andréanne Dion)
N'ayez pas trop d'attentes. Ces paroles modestes sont à la fois le slogan et le mantra du rassemblement annuel de Sackville au Nouveau-Brunswick, mais s'avèrent pourtant difficiles à respecter vu l'impressionnante programmation de cette année! La prochaine vague de musiciens d'Halifax déferle avec Monomyth, Heaven For Real, Old & Weird et le collectif hip-hop des brumes Weirdo Click. La scène jazz Tranzac de Toronto est représentée par Alex Lukashevsky et Eucalyptus, la troupe aux rythmes des îles dirigée par Brodie West, alors qu'on se prépare à des éruptions volcaniques avec Colin Stetson. JFM et Karneef s'amènent avec leurs rythmes à vous tordre le cerveau, et pour vous régaler de sons plus doux, ne manquez pas Construction & Deconstruction, les reines de la soul Snowblink ou encore le bon vieux Chad. Mais attendez… la surprise de 2013 pourrait bien être le groupe local de Sackville, Kappa Chow, le plus récent projet de la bande hétéroclite de Killer Haze, avec leur nom tiré directement du film Pootie Tang. Wa da ta!
p.s. Besoin de prendre une pause de la musique? Allez faire un tour à Why Nowhere? la "conférence musicale de petite ville" de Sappy, où Marie LeBlanc Flanagan de WC animera une discussion!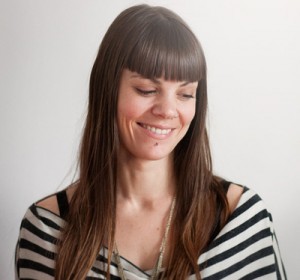 Maud Salvi
Executive Director of Sled Island
Calgary, AB
From the melting face of Marie LeBlanc Flanagan:
After conquering Pop Montreal, like all great explorers, Maud Salvi set her compass West to Sled Island. We sat down with her to discuss Sonic Bids, the best tubby dog, and teleportation.
Marie LeBlanc Flanagan: Congratulations on your new job. How did you land here at Sled Island?
Maud Salvi: After leaving POP Montreal early 2012 where I worked as Artistic Producer for 4 years, I spent months desperately looking for a new job that would fulfill me as much. One day the job post for the Sled Island Executive Director position showed up on the internet. My first reaction was "it would be great if it wasn't in Calgary", but a couple days later, after reading the job description and feeling like it had been written for me, I decided to apply and I ended up getting it. Two weeks later I moved across the country.
What is at the heart of Sled Island? What about the ethos of Sled Island is important to you?
There are two things that are essential to Sled and are really important to me: the artistic freedom and the sense of community. Sled Island's programming is very much in line with my own musical tastes and I love the fact that since Calgary isn't a logical stop on any tour itinerary, we pretty much have to fly people here anyway for the festival, so might as well fly who we want and not necessarily who's touring at the moment, who's selling well, etc.
I love that the festival gives so much room to the local scene in the overall programming (about 85 out of 280 bands this year are from Calgary, over 110 from Alberta) and that a lot of these bands get to play with people who inspired them. The community aspect makes it very special in my eyes as well. It seems like anyone new I meet is or has been involved with the festival somehow, at some point. People are always surprised to find out that we have about 400 volunteers for each edition, but what's even more incredible is that we actually have to turn people down – which is a great problem to have.
Are there events at Sled that are not music, comedy, or film?
We have a visual arts component that include exhibitions, installations and performance pieces, both in galleries and in some of the venues we use for shows. We also have panel discussions and artist talks/workshops. This year I'm really excited for a talk by Chris Swanson who is going to tell the story of Secretly Canadian since its inception and how they managed to grow that much while staying in Bloomington, Indiana.
I heard that you are updating set-times in real time at sledisland.com, so we can find out if shows are early or late (or sold out). Is that true? Tell us more about this witchery.
We're really stoked on the improvement made to our website and to the mobile version this year. Unfortunately, we didn't have time to push the real-time update as far as we wanted but our web team still came up with a pretty sweet tool that allows us to post and update messages at the top of each Day page of the schedule, that way we can inform people if a show sold out or will likely be and they should show up early, that kind of things.
Another new feature I really like is the merch section on each artist page, you can see what they will be bringing with them and you can also click on it and directly buy it online if available.
How do you (you personally) feel about Sonic bids?
I personally wish there was an efficient alternative to it, but I also understand why we are using it. Going through the hundreds of submissions we get is very time consuming since we do listen to every single band, and the platform that Sonic Bids provides makes the process easier and faster: all the data is stored in one place, it's easy to listen to all the bands, sort by genre, region, etc..It also allows us to have people outside of Calgary on the listening committee since they can access it from anywhere. I think people tend to underestimate the selection process and how much work it actually is and when your human resources are limited, sometimes you have to go with convenient and easy even if the system isn't perfect. This being said, it is something I hope to have time to think further about and explore the options that exist out there.
Why does Sled Island keep booking two amazing shows at once? (And forcing us to use our teleporter? That thing eats batteries)
Why does any festival have overlaps? Because it's inevitable when you reach a certain size. I wonder if people think we randomly put together the schedule without giving any thought to what show might conflict with another, but believe me, we do! There are just things that are out of our control, like bands availability. If two great bands can only play Sled on the same day, I would rather book them both than not at all, and unfortunately it happens quite often. We really do try to schedule them at different times but again, with 280 bands over 4 days, it's a real challenge.
What do you want the Sled Islanders to leave the festival with this year?
A handful of great memories, 2 or 3 new vinyls of bands they had never heard of before, the feeling that they just saw one of the best show of their lives (ok, maybe of their year) and overall the desire to come back and tell the whole world about it.
Fast Five
There have been rumours of a Nenshi secret set: confirm or deny? In my dreams it's confirmed.
What dog are you going to order (at the Weird Canada showcase) at Tubby Dog? Sumo, my fave.
Unofficial house shows: asset or nuisance? Asset
Who do you want us to write about on Weird Canada? Vietcong
What youtube video should we watch (right now!)? I will defer to my friend Jesse Locke for this question, he's usually better at this than I am: http://www.youtube.com/watch?v=x9J65j2GNzw
(Traduit par Alex Gauthier et Benoit Poirier)
Après Pop Montréal, Maud Salvi est venu à Sled Island. Nous nous sommes assis avec elle pour discuter de Sonic Bids, le meilleur Tubby Dog, et de la téléportation.
Marie LeBlanc Flanagan: Félicitations pour votre nouveau poste. Comment vous êtes-vous retrouvée à Sled Island?
Maud Salvi: Au début de 2012, j'ai quitté le poste de directrice artistique de POP Montreal que j'occupais depuis 4 ans, et j'ai passé de longs mois à chercher désespérément un autre emploi qui me comblerait autant. Puis, un jour, j'ai vu affiché sur internet le poste de directeur administratif à Sled Island. Ma première réaction : « Ç'aurait été génial si ce n'était pas à Calgary ». Toutefois, après avoir lu quelques jours plus tard la description du poste et avoir senti qu'elle avait été écrite pour moi, j'ai décidé de postuler et, au final, j'ai décroché l'emploi. Deux semaines plus tard, je m'installais à l'autre bout du pays.
Que se passe-t-il d'important à Sled Island? En quoi l'énergie qui s'en dégage est-elle importante pour vous?
Il y a deux choses qui sont essentielles à Sled et très importantes pour moi : la liberté artistique et un sens de la communauté.
La programmation de Sled Island s'aligne plutôt bien avec mes propres goûts musicaux et j'adore le fait que, puisque Calgary n'est une destination logique dans aucun itinéraire de tournée, on doive la plupart du temps faire venir les groupes en avion jusqu'à nous pour le festival. On invite donc qui l'on veut vraiment et pas nécessairement ceux qui vendent bien, ou ceux qui sont en tournée au moment du festival.
J'aime qu'on donne autant de place à la scène locale dans notre programmation (environ 85 groupes invités sur 280 viennent de Calgary, et plus de 110 sont d'Alberta.) et que beaucoup de ces groupes-là aient la chance de se produire avec des gens qui les ont inspirés. L'aspect de communauté fait du festival est quelque chose de très spécial à mes yeux. On dirait que chaque nouvelle personne que je rencontre s'est impliquée ou s'implique dans le festival d'une façon ou d'une autre, à un moment donné. Les gens sont toujours surpris d'apprendre qu'on reçoit chaque année l'aide d'environ 400 bénévoles, mais ce qui est encore plus incroyable c'est qu'on doive en refuser certains. Il y a pire comme problème.
Y a-t-il à Sled des événements autres que musicaux, humoristiques et cinématographiques?
On a un volet « arts visuels » qui comprend des expositions, des installations et de la performance, tant dans des galeries que dans les lieux utilisés pour les concerts. Il y a aussi des tables rondes, des ateliers et des discussions avec des artistes. Cette année, j'ai très hâte à la présentation de Chris Swanson qui va nous raconter la création de Secretly Canadian et la façon dont il a réussi à prendre autant d'expansion tout en restant à Bloomington, Indiana.
J'ai entendu dire que vous mettiez à jour et en temps réel les horaires des événements sur le site sledisland.com, de telle sorte qu'on puisse savoir à quelle heure un événement a lieu (ou s'il y a encore des billets disponibles). Est-ce vrai? Parlez-nous de cet acte de sorcellerie païen.
On est vraiment excités des améliorations apportées à notre site web et à l'application mobile cette année. Malheureusement, on n'a pas eu le temps de vraiment parvenir à des mises à jour en temps réel, mais notre équipe web a quand même créé un outil plutôt bien fait qui nous permet de publier et de mettre à jour des messages dans l'en-tête de chaque page de l'horaire. De cette manière, on peut informer les gens si un concert est complet ou est en voie de l'être, par exemple.
Une autre particularité que j'aime beaucoup est le volet marchandise présent sur la page de chaque artiste. On peut y voir la marchandise que chacun apportera et l'acheter en ligne si l'artiste le permet.
Comment vous sentez-vous (personnellement) par rapport à Sonic Bids [une plateforme internet rapprochant groupes et promoteurs.]
J'aimerais qu'il y ait une solution efficace à Sonic Bids, mais je comprends aussi pourquoi c'est utilisé. Traiter les soumissions de centaines de groupes prend énormément de temps, surtout parce qu'on écoute la musique de chacun d'eux, et la plateforme offerte par Sonic Bids nous rend la tâche plus facile et rapide : tout est au même endroit, l'écoute de chaque groupe est facilitée, regroupée par genre, région, etc. Ça nous permet aussi d'avoir dans le comité d'écoute des gens qui vivent à l'extérieur de Calgary. Je pense que les gens sous-estiment notre processus de sélection et l'ampleur du travail que cela représente. On doit parfois, quand le nombre d'employés est limité, se satisfaire de la solution pratique et facile, même si elle n'est pas parfaite. Cela étant dit, j'espère pouvoir avoir le temps de réfléchir et d'explorer les autres avenues disponibles.
Pourquoi Sled Island présente-t-il toujours deux concerts incroyables au même moment? (C'est beau la téléportation, mais ça coûte cher en électricité!)
Pourquoi ça arrive dans tous les autres festivals? Parce que c'est inévitable quand on prend de l'importance. Je me demande si les gens pensent qu'on fait les horaires au hasard sans réfléchir à quels concerts vont se chevaucher ou entrer en conflit, mais, croyez-moi, on y pense! Il y a toujours certaines choses hors de notre portée, comme la disponibilité des artistes. Si deux excellents groupes ne peuvent se produire qu'un seul jour à Sled, je préfère les avoir tous les deux plutôt qu'aucun, et malheureusement, ça arrive souvent. On fait des efforts conscients pour éviter le chevauchement, mais à 280 groupes en 4 jours, c'est tout un défi.
D'après vous, avec quoi repartiront les spectateurs du festival cette année?
Une poignée de souvenirs extraordinaires, 2 ou 3 albums de groupes qu'ils n'avaient jamais entendus auparavant, le sentiment qu'ils viennent tout juste de voir le meilleur concert de leur vie (bon, peut-être juste de l'année) et l'envie de revenir l'an prochain et d'en parler à tout le monde.
5 questions en rafale
Des rumeurs annoncent Nenshi au festival : vrai ou faux? J'ai obtenu la confirmation dans mes rêves.
Quel hot-dog mangeras-tu au Tubby Dog (durant la vitrine Weird Canada)? Le Sumo, mon préféré.
Des spectacles non officiels : atout ou handicap? Un atout.
Sur le site Weird Canada, de qui (ou quoi) voulez-vous qu'on parle? De Vietcong
Quelle vidéo YouTube doit-on visionner là, maintenant? Je reléguerai cette question à mon ami Jesse Locke; il est meilleur que moi pour ces choses-là. http://www.youtube.com/watch?v=x9J65j2GNzw
*** Sled Island 2013 Micro-Guide ***
---