Tag: marcin lasinski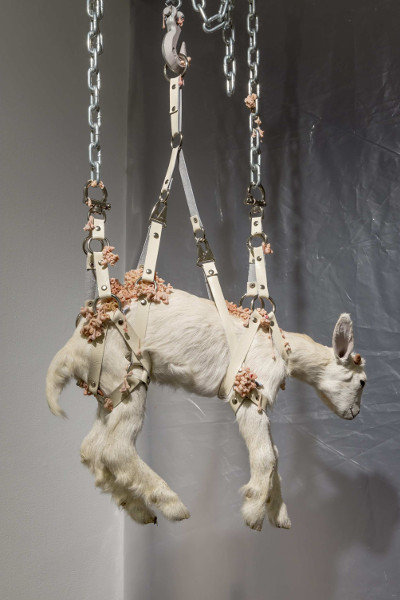 Taking pause outside the mayhem of Dundas West's Friday night bar crowds, Le Gallery acts as a portal transporting you into Rebecca Fin Simonetti's imagined world. You have made it to the afterlife, the waiting room of Fin's purgatory. Her darkly dystopic and psychedelic visions create a kind of intoxicating limbo, where myriad forms pull the viewer into an alternate reality of savage girlhood run amok.
Rebecca Fin Simonetti
Knife Play
Toronto, ON
From the memento mori of Julia Dickens:
Taking pause outside the mayhem of Dundas West's Friday night bar crowds, Le Gallery acts as a portal transporting you into Rebecca Fin Simonetti's imagined world. You have made it to the afterlife, the waiting room of Fin's purgatory. Her darkly dystopic and psychedelic visions create a kind of intoxicating limbo, where myriad forms pull the viewer into an alternate reality of savage girlhood run amok.
Prison markings scrawled on the wall create a kind of mind map of desperation. In the corner, a taxidermied goat hangs suspended from the ceiling above a cluster of objects, acting as a spirit guide that guides the viewer through a translucent doorway.
In the next room, illuminated stained glass tombstones are laid out in graveyard rows facing a suspended screen that loops Fin's haunting video for "Anin". The video, shot with military surveillance cameras, features the artist and a collection of girls moving around a darkened industrial space, climbing over top of one another, vomiting a mysterious milky fluid, spray painting the names of girls in tombstones on walls: Violet, Suyin, Anne, Amy…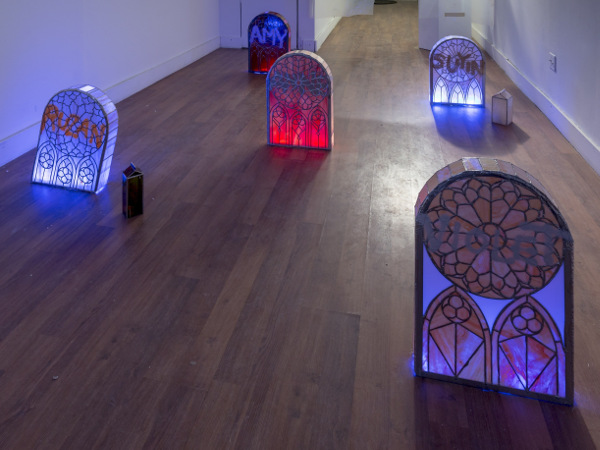 In framed drawings found past the screen, swarms of young women climb over barren landscapes and the detritus of recognizable elements from our own world: dilapidated chain-link fences, abandoned cars, a swan boat by the river bank. Black garbage bags are piled up beside an opulent princess bed; deceased animals hang from the sky or lay on the ground, covered in flowers and plant life, limbs inexplicably missing. Seeming like the haunting but not quite grisly aftermath of some war, we are left to wonder if this world is not just a projection of the characters within it. If this is meant to project a future reality, then it begs the question: what happened here?
The chiming, ghostly and indecipherable Anin moves time in multiple directions. This is the anthem to a death march that plays quietly in the back of our own minds, in waiting rooms, on solitary walks, in the moments before we fall asleep at night. Bittersweet but not saccharine, Knife Play shows us the most beautiful kind of Memento Mori. As the fiction of Fin's imagined girls remind us, well all must face our own inevitable demise. It is the vulnerability of these sickly, wild and wretched girls that makes this reminder all the more tragic.
De la memento mori de Julia Dickens:
(Traduit par Marcin Lasinski)
Juste hors du désordre des foules du vendredi soir qui fréquentent le bar de la rue Dundas Ouest, Le Gallery sert comme portail qui t'achemine à l'intérieur du monde imaginaire de Rebecca Fin Simonetti. Tu as transcendé à l'au-delà, la salle d'attente du purgatoire de Fin. Ces visions psychédéliques et sombrement dystopiennes créent un type de flou enivrant où des myriades de formes tirent le spectateur dans une autre réalité où la jeunesse d'une fille devient incontrôlable.
Des gribouillages griffonnés sur le mur d'une prison créent une sorte de carte du désespoir. Dans le coin, une chèvre empaillée est suspendue du plafond au-dessus d'un assortiment d'objets, servant de guide spirituel qui amène le spectateur à travers une porte translucide. Dans la pièce à côté, des pierres tombales en verre, tachées, sont ordonnées comme dans un cimetière, face à un écran suspendu sur lequel la vidéo troublante for « Anin » passe en boucle interminable. La vidéo, qui a été filmée avec une caméra de surveillance militaire, présente l'artiste avec un groupe de filles qui se déplace autour d'un sombre espace industriel, grimpant l'une sur l'autre, vomissant un mystérieux liquide laiteux, aspergeant de peinture à la bombe les noms des filles sur des pierrestombales peintes sur les murs : Violet, Suyin, Anne, Amy…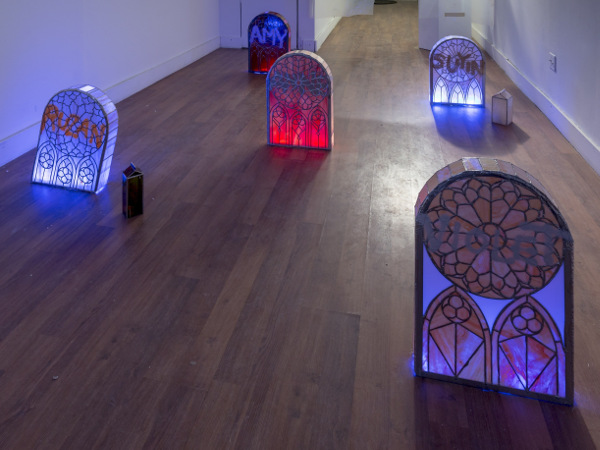 Dans des dessins encadrés trouvés passé l'écran, des masses de jeunes femmes grimpent au-dessus de paysages stériles et de détritus d'éléments qu'on reconnait de notre propre monde : des grillages délabrés, des voitures abandonnées, un bateau en forme de cygne qui s'est échoué sur la rive. Des sacs-poubelle noirs sont entassés à côté d'un lit de princesse somptueux; des animaux décédés sont suspendus du ciel ou posés sur le sol, recouvertes de fleurs et autres types de plantes, leurs membres manquants, sans explication.
Un peu comme la suite obsédante, mais pas tout à fait atroce, des conséquences d'une quelconque guerre, nous devons nous demander si ce monde n'est pas simplement la projection des personnages qui y habitent. Si ces images ont été conçues pour prévoir la réalité du futur, une question se pose : « Qu'est-ce quis'est passé ici ? »
Anin, un être fantomatique, indéchiffrable, arrive à changer le temps et à le diriger dans différentes directions. Cela devient un hymne, comme une marche funeste qui se déroule dans notre esprit, dans les salles d'attente, dans des marches en solitaires, dans les moments avant de tomber endormi. Douce-amère, mais pas sirupeuse, Knife Play nous démontre la plus belle réalisation de notre memento mori. Comme ces filles imaginées par Fin nous le rappelle, nous devons tous faire face à notre propre disparition. C'est bien la vulnérabilité de ces filles chétives, sauvages, qui rend ce rappel d'autant plus tragique.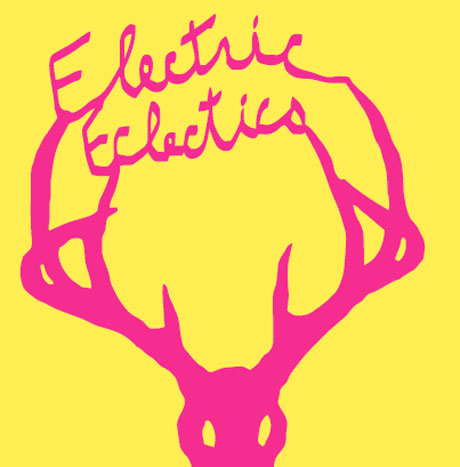 Various Artists
Electric Eclectics
(August 1-3, 2014)
Meaford, ON
From the shimmering delight of Julia Dickens:
Picture a neon soaked field rave with all of your best friends in glitter and gold, sleepy afternoons, noisy meditative drones and sheer shimmering musical delights, all within the solemn beauty of a southern ontario farm. Sweet folky sets, layering landscapes of sound evolving to clashing, smashing dissonance, wild hip shakers bringing you into a night of lysergic drenched dance jams under a sky full of stars.
Electric Eclectics, the avant garde festival of experimental music and art is upon us. Sweet warm winds off the great lakes pull freaks and dreamers away from city exhaust fumes to the quiet magic of Meaford. Absorb a smattering of off-kilter sounds and strange pop from the likes of WTCHS, Ice Cream, Hoover Party, Fresh Snow, Erin Sexton, Jef Barbara, Not the Wind Not the Flag, Loom, Blunt Chunks, and Paul Dutton.
Soak in the synaesthetic bliss of sonic installation and aural sculptures; bask in the waters of the Meaford beach; devour Nepalese treats and food truck BBQ delights. Snatch a spot at the screening of Public Slaw, a film from the wizard brains of Andrew Zukerman and Winston Hacking. In the dark shadows of the night, the glimmering DJ sets of HVYWTR, Petra Glynt and HIGHWORLD will spiral you through the fourth wall and onto the astral plane, protected under the watch of Vanessa Rieger's Nightlifeguard.
Bring camping gear and expect to sleep at sunrise.
Un aperçu d'Electric Eclectics du délice miroitant de Julia Dickens:
(Traduit des têtes ensoleillées de Catherine Debard and Marcin Lasinski)
Imaginez un rave dans un champs trempé de soleil néon avec vos meilleurs amis en costumes étincelants et baignés d'or. Des après-midis ensommeillés, du drone noise mais méditatif et des délices musicaux chatoyants, tout ça dans la beauté solennelle d'une ferme dans le sud de l'Ontario. Des prestations folk douces, des couches de paysages sonores qui évoluent et se frictionnent, dissonance magnifique, des danseuses sauvages qui vous guident vers une nuit lysergique gorgée de danse et de mouvements libres sous un ciel rempli d'étoiles.
Electric Eclectics, le festival avant-garde de musique expérimentale et d'art commence bientôt. Les vents doux et frais balayent les grands lacs et poussent les rêveurs et les weirdos hors des fumées que transpire la ville vers la magie tranquille de Meaford. Aspirez les sons détraqués et le pop étrange avec WTCHS, Ice Cream, Hoover Party, Fresh Snow, Erin Sexton, Jef Barbara, Not the Wind Not the Flag, Loom, Blunt Chunks, and Paul Dutton.
Laissez-vous baigner dans la béatitude synesthésique des installations sonores et des sculptures orales; faites-vous dorer au soleil sur les plages de Meaford; dévorez des mets népalais et des délices de BBQ de rue. Câlez-vous dans un siège à la projection de Public Slaw, un film tiré des cerveaux de mages de Andrew Zukerman and Winston Hacking. Dans les sombres ombres de la nuit, les sets de DJ étincellants de HVYWTR, Petra Glynt et HIGHWORLD vont vous aspirer dans la quatrième dimension et vous attirer dans un avion astral, protégé par la sauveteuse nocturne Vanessa Rieger. Apportez votre équipement de camping et attendez-vous à vous coucher au lever du soleil.
Electric Eclectics Preview by Wyrd on Mixcloud
Tracklist:
1. "In the province of the mind, there are no limits" – Not the Wind, Not the Flag
2. ")" – Erin Sexton
3. "We are at the fucking beach" – Gambletron and Johnny Nawarcaj
4. "Special Special For YOU" – Gambletron
5. "3" – Hoover Party
6. "Wholesome" – LOOM
7. "Pray For My Love To Find Me" – Blunt Chunks
8. "Overkilmer/Some Girls" – WTCHS
9. "Saturation Complete" – Fresh Snow
10. "Plastic" – Ice Cream
11. "I Know I'm Late" – Jef Barbara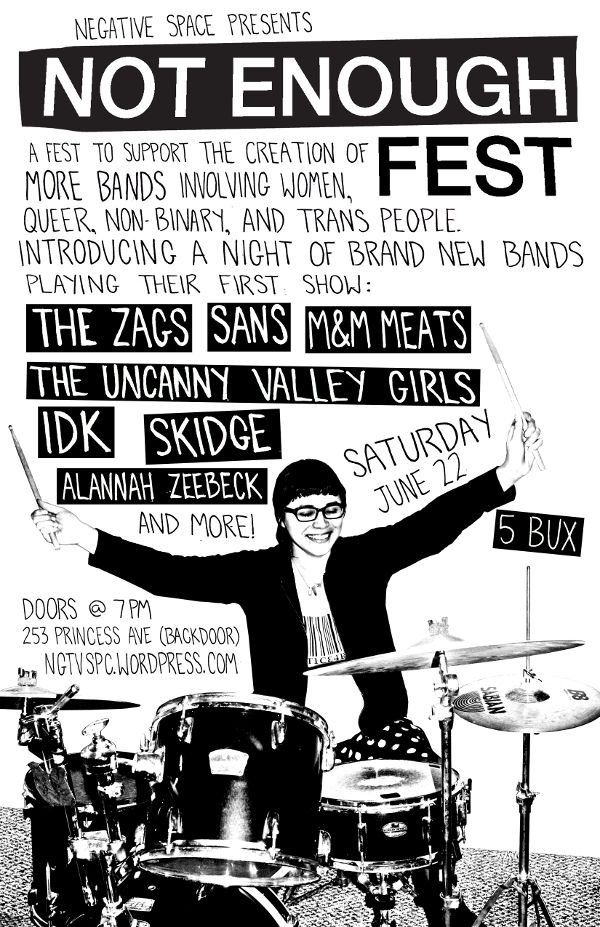 How To Host Your Own Not Enough Fest in Your City
Kara Passey
Winnipeg, MB
Photos: Warren Humeny
Piece Editor: Eileen Wennekers
From the barrier breakdown of Kara Passey:
"Hey, we should do this."
Maybe it was being ignored in music stores, or jamming with patronizing dudes, or even the ex-boyfriend who told me that girls' voices are just not fit for punk rock. Even with over a decade of music lessons under my belt, I spent a long time feeling too inadequate to play power chords. It wasn't until my early 20s that I finally met a group of people who respected this apprehension, and helped me break down some of the barriers I faced.
Recently, Winnipeg had its first Not Enough Fest (NEF). Over the last winter I had joined the Negative Space collective (a collectively run safe(r)-space venue), and stumbled across www.notenoughpdx.com while lost in the endless scroll of tumblr. In Portland, NEF was a queer/LGBTQIXYZ art, music, and performance festival. The festival was an incentive to inspire experimentation, collaboration, and to create all brand new work for the final festival date. A group called No More Fiction, based in New Orleans, did their own version with more of an emphasis on music. I got inspired to plan one in Winnipeg, and I want to share how this happened to people who are interested in doing something similar.
Here are a few things to consider if you are hoping to plan your own Not Enough Fest.
1. Actually do it.
There are a million reasons to not do something and, I won't lie, there was stress that came with doing this project. But, if I hadn't brought the idea up with Negative Space then NEF would not have happened in Winnipeg. That first step where you say, "Hey, we should do this," is really important. Don't wait for someone else to come along; you'll end up disappointed.
2. Recruit people to help you.
That being said, don't do it alone! I lucked out and had a team ready to jump to it, but maybe you don't. Approach like-minded people, tell them what you're doing, host meetings with wine and snacks.
3. Assess your resources.
Our NEF meetings involved a lot of list making. Who can we contact for press? Who can host a workshop? Who can donate equipment? The more people working on your team, the more contacts you have.
4. Write a statement.
A well-articulated statement gives a project purpose. Sure, a festival of brand new DIY bands would still be a really awesome night, but the statement we wrote for our festival really helped push forward our end goal. Having a pre-planned statement made coordinating our tone on Facebook, posters, and even in radio interviews so much easier. Also, having a meeting with organizers and hashing out everyone's feelings on the project will help get everyone's needs met and will let you work as a stronger team.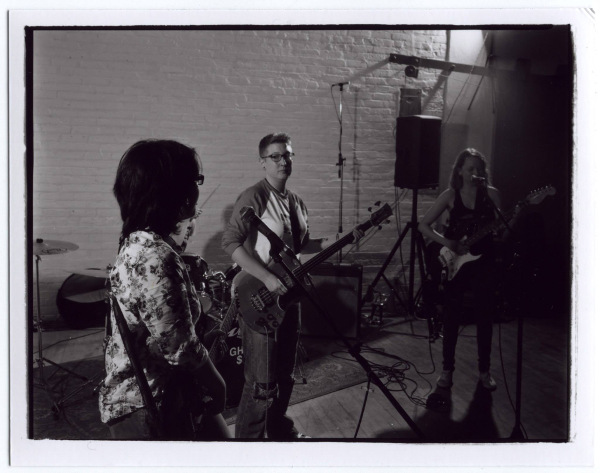 5. Be inclusive.
Negative Space had a policy that at each music show in our venue, there must be at least one female-identifying participant. But, we found that this policy only concentrated on women and decided to use NEF as a way to help break down barriers for queer, non-binary, and trans people as well. Putting the festival together helped Negative Space grow our organization's scope and potential.
Go to shows, see who is not be represented, and help create a community that they will feel welcome and safe in. This takes more than a statement and good intentions, this takes action.
6. Be supportive.
Not all participants will share the same experience. Some will need the safe(r) space to have their first show in, some will need to be shown that they are capable, some will have never have touched a guitar before, some won't be able to afford one, some might not have a place to practice it in.
7. Provide assistance.
Host a panel discussion with local musicians to create a dialogue about the issues we face and how to break them down. Host workshops to teach newcomers their instruments. Gear share and provide jam space.
8. Be approachable.
Emphasize that it is okay to ask for help, and ask people if they need help before they ask you. Keep in touch with participants and encourage them. Don't neglect their attempts to contact you.
The NEF was appealing to me because it is a project that inspires action against the issue of sexism in music. Our end result included an awesome kick-off party, a panel discussion with local female musicians, gear share, online community, and a final festival show that involved nine whole new bands! Negative Space was able to adapt the festival to meet the needs of our community, and hopefully other cities will continue this trend.
Kara Passey is a community activist and front person for the Winnipeg-based pop-punk band Ghost Hole. They enjoy long walks, pizza, and the company of dogs.
Comment organiser ton propre Not Enough Fest
Des barrières éffondrées de Kara Passey:
(Traduit par Marcin Lasinski)
"Hé, on devrait le faire!"
C'est peut-être les fois où je me suis fait ignorer dans les magasins de musique, ou celles où j'ai joué de la musique avec des mecs condescendants, ou même quand mon ex me disait que les voix de filles n'étaient pas fait pour le punk. Peu importait que j'aie eu plus qu'une décennie de leçons de musique derrière moi, j'ai passé beaucoup de temps à me sentir trop inadéquat pour jouer des accords de puissance. Ce n'est que pendant ma jeune vingtaine que j'ai finalement rencontré un groupe qui respectait cette inquiètude: ils m'ont aidé à franchir certains obstacles auxquels j'avait dû faire face.
Winnipeg a récemment accueilli son premier Not Enough Fest. Au cours de l'hiver précédent j'ai rejoint le collectif Negative Space (une salle safe(r)-space et accueillante qui est opéré collectivement), et je suis tombé sur www.notenoughpdx.com durant un autre déroulage interminable sur le site Tumblr. NEF était un festival queer/LGBTQIXYZ d'art, de musique et de performance. Le festival encourgeait l'inspiration à l'expérimentation, à la collaboration et à créer un travail tout nouveau pour le dernier jour du festival. Un groupe s'appelant No More Fiction, basé à la Nouvelle-Orléans, on fait leur propre version avec une emphase plus forte sur la musique. J'ai été inspiré d'en organiser un à Winnipeg, et je voulais partager mon expérience pour les gens qui serait intéréssé de réaliser quelque chose de similaire.
Voici quelques choses à considérer si tu veux organiser ton propre Not Enough Fest.
1. N'y réfléchis pas trop, fais-le!
Il y a un million de raisons pour ne pas faire quelque chose et, sans mentir, un certain stress est apparu en travaillant sur ce project. Mais, si je n'avais pas parlé de l'idée avec les gens de Negative Space, le NEF n'aurais pas eu lieu à Winnipeg. Ce premier pas, quand tu dis "Hé, nous devrions faire cela" est très important. N'attends pas jusqu'à quelqu'un d'autre t'accompagne; tu sera déçu.
2. Rallie des gens pour t'aider.
Ceci dit, ne le fait pas tout seul! J'avais la chance d'avoir une équipe toute prête à se montrer à la hauteur de l'occasion, mais peut-être tu n'as pas cette chance. Approche des personnes aux vues similaires, parle-leur de ce que tu fais, accueille les rendez-vous avec du vin et des snacks.
3. Déterminez vos resources.
Pendant nos rencontres, nous créeions souvent des listes. Qui pouvons-nous contacter pour la presse? Qui pourrait accueillir un atelier? Qui pourrait faire don d'équipement? Le plus de gens tu as dans ton équipe, le plus de contacts vous avez.
4. Écrivez un déclaration.
Une déclaration bien énoncée donne à un projet de la résolution. Bien sur, un festival ne comprenant que des groupes DIY flambant neuf serait comme même une soirée géniale, mais la déclaration que nous avons écrit pour notre festival a vraiment aidé à avancer plus vite sur notre but final. Avoir une déclaration préalable nous a aidé à coordonner notre ton sur Facebook, les affiches et même les interviews à la radio. De plus, avoir un rencontre avec les organisateurs et organisatrices pendant lequel tout le monde peut négocier leurs sentiments aide à s'assurer que les besoins de toutes et tous sont satisfaits et vous permet de travailler dans une équipe unie.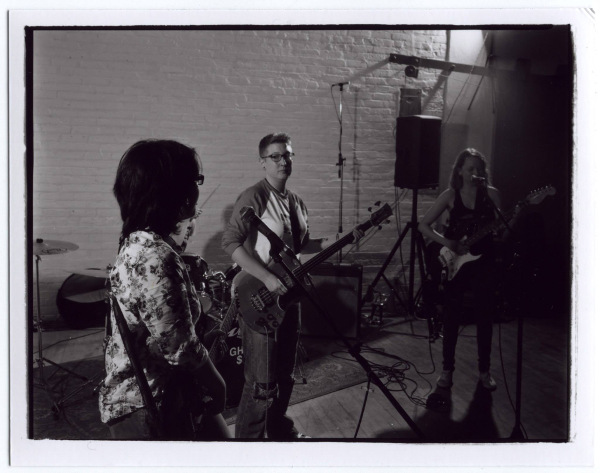 5. Soyez inclusif.
Negative Space avait un principe qu'à chaque concert, il devait y avoir au moins une participante qui s'identifie comme une femme. Cependant, nous avons trouvé que ce principe se concentrait seulement sur les femmes,et nous avons décidé d'utiliser le NEF comme une opportunité d'enfoncer les barrières pour les gens homosexuelles, non-binaire et transsexuelle aussi. Créer un festival a aidé Negative Space à déveloper le cadre et les possibilités de notre organisation.
Allez aux concerts, observez ceux et celles qui n'y sont pas representés, et aidez à créer une communauté dans laquelle ils et elles se sentiront les bienvenus. Il faut plus qu'une déclaration et de bonnes intention; il faut de l'action.
6. Apportez du soutien.
Tous les participants n'auront pas les mêmes experiences. Quelques-uns auront besoin du safe(r) space pour pouvoir faire leur première spectacle; d'autres auront besoin de mots d'encouragement pour croire qu'ils en sont capables; d'autres n'auront jamais touché une guitare; certains n'auront pas les moyens d'en acheter une ; d'autres n'auront pas d'espace pour pratiquer.
7. Fournissez de l'aide.
Tenez une discussion avec les musicien(nes) locaux pour créer un dialogue sur les questions auxquelles on doit faire face, et comment s'y adresser. Accueillez des ateliers pour enseigner aux nouveaux arrivants comment jouer de leurs instruments. Partage l'équipement et fournit un espace de répétition.
8. Soyez approchable.
Soulignez que c'est normal de demander de l'aide et demande si les gens ont besoin d'aide avant qu'ils ne vous le demandent. Restez en contact avec les participants et encouragez-les. Ne negligez pas leurs tentatives pour vous contacter.
Le NEF m'attirait parce que c'est un projet qui inspire l'action contre le problème du sexisme dans la musique. Notre resultat final a compté un coup-d'envoi génial, une discussion avec des musiciennes locales, du partage d'équipement, une communauté en ligne, et un festival qui a inclu neuf nouveaux groupes! Negative Space a été capable d'adapter le festival pour satisfaire les besoins de notre communauté et il faut espérer que d'autres villes vont poursuivre cette tendance.
Kara Passey is a community activist and front person for the Winnipeg-based pop-punk band Ghost Hole. They enjoy long walks, pizza, and the company of dogs.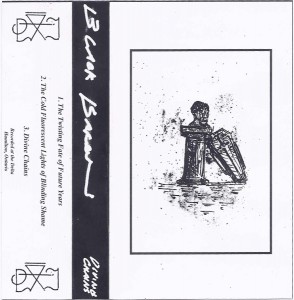 Black Baron
Divine Chains
Hamilton, ON
From the cold fluorescent light of Chizz Mbamalu:
From the second the drumsticks count the time in, you're swept into the underworld of Black Baron's Divine Chains. This tape is full of gloomy, droning vocals, atmospheric swells and thick, chunky drums that romanticize loaded subjects such as self-loathing and self-awareness. Each catchy, guitar-slathered song bleeds seamlessly into the other, as we are invited into their unspeakable journal entries. "The Cold Fluorescent Lights of Blinding Shame" combines speedy picking, barely-there bass and urgent drumming, giving a summery feel to the foreboding lyrics. The title track employs that same hornet-esque sound but slows it down, giving more priority to the dreamy guitars, passionate drumming and sombre lyrics of being trapped and trying to escape from pain.
This four-song tape ends as fast as it begins, which is incredibly necessary. Its purpose is to take you through the emotions you push deep down inside you, the ones you ignore. Black Baron reminds you that it's necessary to bring out your demons in order to understand yourself.
De la froide lumière fluo de Chizz Mbamalu:
(Traduit par Marcin Lasinski)
Dès le moment où les baguettes commencent battre la mesure, on est emporté vers le monde souterrain de Divine Chains par Black Baron. Cette cassette est pleine de chants sombres et ronronnants, de vagues d'ambiance et d'une batterie aux sonorités épaisses, idéalisant des sujets chargés comme la haine de soi et la conscience de soi. Chaque chanson entraînante est enduite de guitares qui se dissolvent les unes dans les autres pendant que nous sommes invités à consulter des extraits épouvantables de leurs journaux intimes. « The Cold Fluorescent Lights of Blinding Shame » est un mélange de picking rapide, de basse à peine audible et de batterie urgente, donnant un air estival aux paroles inquiétantes. La chanson-titre utilise le même son frelonesque mais le ralentit, donnant plus de priorité aux guitares chimériques, à la batterie passionnée et aux paroles sombres qui décrivent la sensation d'être pris au piège en tentant d'échapper à la souffrance.
Cette cassette de quatre chansons se termine aussi vite qu'elle a commencé, ce qui est absolument nécessaire. Elle a pour but de te guider à travers tes émotions refoulées, celles que tu ignores. Black Baron te rappelle que c'est nécessaire de faire ressortir tes démons afin de te connaître toi-même.

Black Baron – The Cold Fluorescent Light Of Blinding Shame
---