Tag: mammoth cave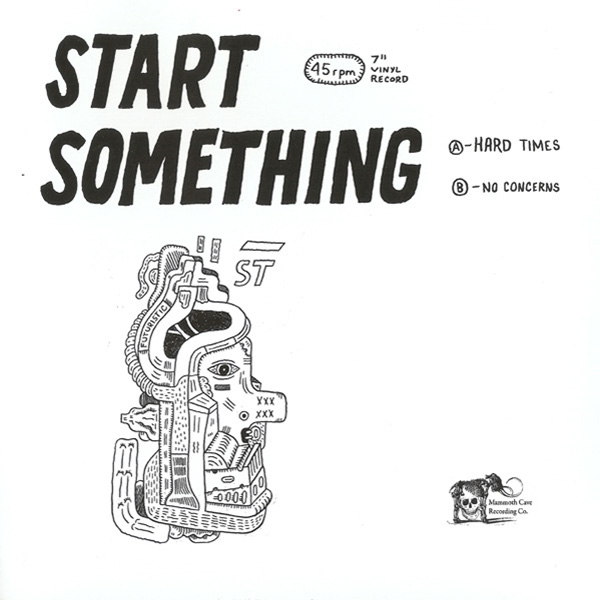 Start Something
Hard Times b/w No Concerns
Guelph, ON
From the hard rhymes of Jesse Locke:
The Hüsker Düdes in Start Something tear through their debut 7" like radical adults in search of a crowdsurf. Guelph's greatest drive time comedy duo Deaner and Dunster–plus drummer Ryan Masters–make up this econoline trio, revving up the punx with anthems of neck-vein popping intensity. Chainsaw riffs, tempo shifts, and art by Marc Bell = grip!
Des rimes brutales de Jesse Locke:
(Traduit par Jessica Grenier)
Les Hüsker Düdes de Start Something déchirent ce premier 7" comme des adultes radicaux en quête de crowdsurfing. Le drummer Ryan Masters et le meilleur duo comique – diffusé durant les heures de grande écoute – de Guelph, Deaner and Dunster forment ce trio en Econoline qui vient exalter les punx avec des hymnes à en faire exploser des jugulaires. Riffs tronçonnants, changements de tempo et illustrations de Marc Bell = fou!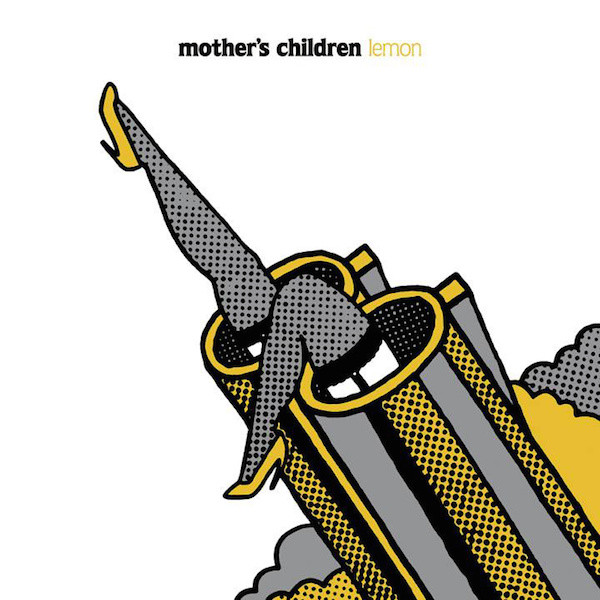 Following their debut by four years, the second full-length from Mother's Children is determined to make snarling yet sweet power-pop everybody's business. Underneath the ripping solos and a rhythm section that thunders louder than your ex-girlfriend's motorcycle are four endearing dudes happy to pose as teenage rebels, blazers and DIY razored haircuts included. Songs of androgyny, mystery and lust, with just enough palm muting to raise drunken fists excitedly in the air. Instant happiness, now in stereo.
Mother's Children
Lemon
Ottawa, ON
From the lipsticked blazer collar of Alanna Yaraskavitch:
Engines rev. Teens yell. Power chords. Following their debut by four years, the second full-length from Mother's Children is determined to make snarling yet sweet power-pop everybody's business. Underneath the ripping solos and a rhythm section that thunders louder than your ex-girlfriend's motorcycle are four endearing dudes happy to pose as teenage rebels, blazers and DIY razored haircuts included. Songs of androgyny, mystery and lust, with just enough palm muting to raise drunken fists excitedly in the air. Instant happiness, now in stereo.
Du collet de veston taché de rouge à lèvres d'Alanna Yaraskavitch:
(Traduit par Jacinthe Laplante)
Des moteurs vrombissent. Des ados crient. Cordes électriques. Quatre ans après son entrée en scène, Mother's Children revient avec un album déterminé à intéresser tout le monde à la power-pop grinçante, mais adorable. Derrière les solos déchirants et la section rythmique qui gronde plus fort que la moto de ton ex-blonde, on trouve quatre mecs attachants et heureux de jouer les ados rebelles, blazers et coupes de cheveux faites maison compris. Des chansons à propos d'androgynie, de mystère et de luxure qui ont juste assez de palm mute pour faire lever les poings enivrés dans les airs. Bonheur garanti, maintenant en stéréo.

Mother's Children – Break It To Me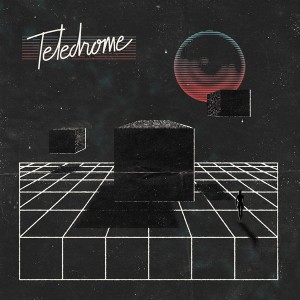 Teledrome
Teledrome
Calgary, AB
From the ultra instant of Nivedita Iyer:
This virtual galactic domain has suddenly grown hot. The cybernated neutron star is pulsing in binary code to distant nebulae and the data overload has begun, succumbing to computer-generated gravity. Critical density has been reached, and Teledrome is a digital collapsar with hyper-momentum made angular and hexagonal. The pathway to the 12th dimension is now bona fide. You will be absorbed into their stellar black hole, and the spatio-temporal fabric will distend, but time was never real anyway.
De l'ultra-instant de Nivedita Iyer:
(Traduit par le tissu spatio-temporel de Vincent Rondeau)
Le domaine galactique virtuel se réchauffe soudainement. L'étoile à neutrons cybernétisée émet une pulsation binaire en direction des nébuleuses lointaines. Les données s'accumulent en un raz-de-marée, succombant à la gravité synthétisée numériquement. Nous avons atteint une densité critique : Teledrome est un collapsar informatique rendu angulaire et hexagonal par l'hyper-mouvement. Le chemin vers la douzième dimension est dorénavant authentique. Vous serez absorbés dans le trou noir stellaire, le tissu spatio-temporel se distendra – qu'importe? Le temps n'a jamais vraiment existé.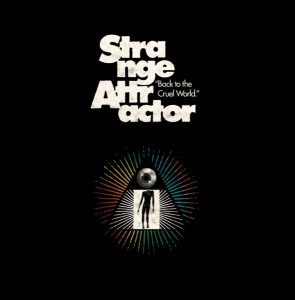 From the akashic record of Brendan Lehman:
From only the finest of decrepit driveways and dingy, rock-filled basements of Sudbury come the latest wonder from Strange Attractor. This garage punk trip hits you in the best of strange ways, like somebody fiddled with the knobs on the way out of the time machine, freaking out as the jams swirl in a sweaty haze of indignant distortion. Throw the Stooges out into the woods for a while and this is what you'll get. That, or it'll just make you want to get naked and climb the rafters. Loud, capricious, and making bad decisions. Mammoth Cave said it's too bad nobody will listen to this record. Prove them wrong.
Des annales akashiques de Brendan Lehman:
(Traduit par les griffes Joannie Pharand)
C'est uniquement sortie des plus belles entrées délabrées et des sous-sols défraîchis remplis de roches de Sudbury que la plus récente merveille de Strange Attractor surgit. Ce voyage garage punk vous frappe d'une façon des plus étranges et agréables à la fois, comme si quelqu'un avait manipulé les poignées en sortant d'une machine à voyager dans le temps, paniquant, pendant que les jams tourbillonnent en une brume moite de distorsion indignée. Jetez les Stooges dans les bois pour un certain temps et voilà le résultat. Soit ça, ou vous aurez une envie de vous dénuder et de grimper sur les chevrons. Bruyant, capricieux et prenant de mauvaises décisions. Mammoth Cave a dit que ce sera bien dommage que personne n'écoute cet album. Prouvez-leur qu'ils ont tort.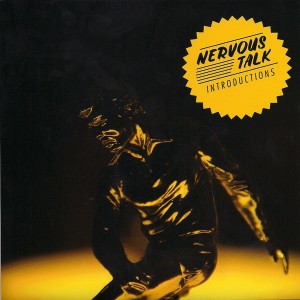 Nervous Talk
Introductions
Vancouver, BC
From the buzzing brain-bin of Alex Hamlyn:
After delightfully fraying nerves and chasing the white whale that is perfect garage pop, Joel Butler has rounded up a new crew of lean, mean West Coast rock 'n' roll veterans. Guitars chug, toms pound and the gang will have you joining in with their "ah ah"s before you know it, but the lyrics come straight from the grand punk tradition of the airing of grievances. These lads are too wise to take any crap, and they want to "introduce you/ to a fist/ that's just been waiting to meet you", so be glad they're on the side of good.
De la poubelle cérébrale d' Alex Hamlyn:
(Traduit par les oeufs catapultés de Nicolas Coutlée)
Après nous avoir délicieusement tapé sur les nerfs et chassé la baleine blanche qu'est la parfaite chanson garage pop, Joel Butler s'entoure d'une redoutable bande de vétérans rockeurs de la côte Ouest. Leurs guitares haletantes et leurs rythmes martelés auront tôt fait de vous faire entonner en choeur leurs « ah ah », même si les paroles s'inscrivent plutôt dans la grande tradition punk d'expression de doléances. Ces gars-là ne se laissent pas marcher sur les pieds et veulent « vous présenter / un poing / qui se meure de faire votre connaissance », alors soyez reconnaissant qu'ils se trouvent du côté des gentils.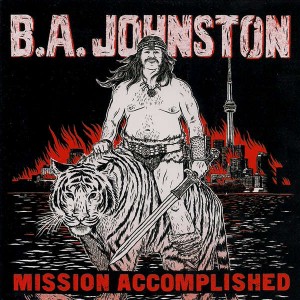 B.A. Johnston
Mission Accomplished
Barrie, ON
From the chud love of Matthew Lazenby:
Southern Ontario's slacker supreme, B.A. Johnston, returns with another helping of lo-fi scumbaggery. With subjects ranging from the splendour of GST cheques to going on bar crawls with aliens, Mission Accomplished revels in pop culture through the eyes of the great unwashed. Those who have witnessed the controlled chaos that is a B.A. Johnston live show will not be disappointed by the rambling humour of his latest offering. For anyone unfamiliar, this collection of comedic anti-folk storytelling — accompanied by a beat up acoustic guitar or 8-bit keyboard swirls — will act as the ideal introduction to one of Canada's great eccentrics.
De l'amour de la chud de Matthew Lazenby:
(Traduit avec la tête dans les étoiles par Andréanne Dion)
B.A. Johnston, l'ultime fainéant du sud de l'Ontario, est de retour avec une autre portion de saloperies lo-fi. Avec des sujets allant de la splendeur des chèques de TPS au récit de soirées arrosées avec des extraterrestres, Mission Accomplished baigne dans la culture populaire telle que vue à travers les yeux de la populace. Ceux qui ont été témoins du chaos contrôlé qu'est un spectacle de B.A Johnston ne seront pas déçus par l'humour décousu de son plus récent album. Pour tous ceux qui ne sont pas familiers avec B.A. Johnston, cette collection de récits humoristiques anti-folk accompagnée de guitares acoustiques déglinguées ou de tourbillons de clavier 8-bit sera une introduction parfaite à l'un des grands excentriques du Canada.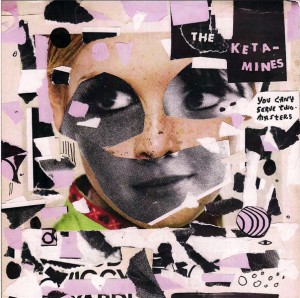 From the lonesome kite of Christopher Laramee:
Eleven songs shot straight to yer heart in the time it takes to make a well done cheese pizza. That's my real time summation of the newest Ketamines platter. Cleaner guitar tones than in the past, lots of fancy panning, a real classy affair and, above all, a step forward. TUNES, dude! The folks really stepped up the melodies and manicured some freaking grand pop confections this time. "Everybody Gets Down" has some horny Motown bump and snotty Archies snarl. Is that a thing? Well, it is now. The 'verb has been stripped back, letting the sunshine in. Lots of high points here, and it takes a few listens to horn it all into your noggin. Not cuz it's a prog-tastic burble-fest – quite the opposite, in fact. Brevity is the order of the day here, in and out, real sneaky-like. A ripped Paul Revere and the Raiders has words with Johnny Ramone lookalikes behind the 7-Eleven (DOUBLE ELEVENS). "Thank Me Forever" ends the whole enterprise with a nice kiss on the lips and some alligator tears raining down a neon street. Unexpected. Fun. Honest. Light a smoke and get out there. It's happening. Y'know what I mean? (Oh yeah, and I like my pizza WELL DONE).
Du cerf-volant esseulé de Christopher Laramee:
(Traduit à travers les larmes de crocodile d'Andréanne Dion)
Onze chansons tirées droit au cœur, dans le temps qu'il faut pour faire une pizza au fromage bien cuite. C'est la durée du nouvel album des Ketamines, en temps réel. Des tons de guitares plus définis que par le passé, beaucoup de panning extravagants, un truc qui a vraiment de la classe, et surtout, un pas en avant. De la musique, man! Cette fois, ils ont vraiment mis le paquet sur les mélodies et ont perfectionnés des confections pop vraiment grandioses. "Everybody Gets Down" a des rythmes cors Motown et les grognements prétentieux des Archies. Est-ce que ça du sens? Ça en a maintenant. Le verbe a été réduit à l'essentiel pour faire place au soleil. Il y a beaucoup de points culminants ici, et ça prend quelques écoutes avant de tout assimiler. Pas à cause de l'avalanche de jacassements prog-tastique – c'est en fait plutôt le contraire. La brièveté est à l'ordre du jour ici – c'est sournoisement rapide. Paul Revere and the Raiders qui discutent avec des sosies de Johnny Ramone derrière le 7-Eleven ("DOUBLE ELEVENS"). "Thank Me Forever" finit le tout avec un baiser sur la bouche et des larmes de crocodile qui pleuvent sur une rue éclairée aux néons. Inattendu. Agréable. Honnête. Allumes une cigarette et sors. Tout est en train de se passer. Tu sais ce que j'veux dire? (Oh, et j'aime ma pizza BIEN CUITE).
The Ketamines – Double Elevens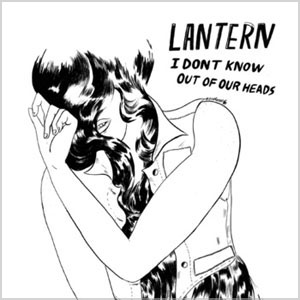 Lantern
I Don't Know b/w Out of Our Heads
Halifax, NS // Montreal, QC // Philadelphia, PA

Cheaper than a
leather jacket
but equally effective at scaring your parents, Lantern's new single takes them to new levels of speaker-blowing oblivion. "I Don't Know" resurfaces from
this summer's tape
on Night People, jabbed with adrenaline by drummer Sophie White's
Maclise
-via-hambone beat. But B-side "Out of Our Heads" is the true highlight—nearly five minutes of relentless bass-as-extra-tom-tom, high pitched smears of sneers, and a final solo of
celestial murk
. For Cuban heels only.
[audio:http://weirdcanada.com/wp-content/uploads/2012/02/04-I-Dont-Know.mp3|titles=Lantern – I Don't Know] Lantern – I Don't Know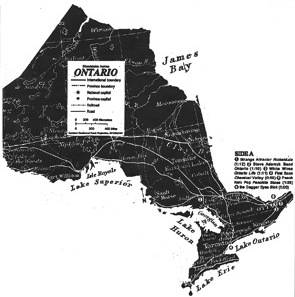 Various Artists
Bloodstains Across Ontario
Various, ON

Mammoth Cave's tribute to my recently adopted province and the third entry in its
Bloodstains series
is a rapid-fire bombardment of ON's finest hook-smugglers. Like speed dating at
Gaga Weekend
. it's a blur of faces young and old that spins by before you can decide if they're a creeper or a keeper. From the scummy sugar rush of Strange Attractor to White Wires' pogo-punk and the starry eyed twee of Peach Kelli Pop, side A spills over with jams. The flip sees Young Guv channel his inner Ric Ocasek, Slim Twig sprout up twice with shred-heavy side-project Tropics, and the unreleased cut from Shadowy Men on a Shadowy Planet jolt from idyllic to jugular-ripping. Of course,
Tonetta
steals the show with effortless elevator sleaze, urging Toronto residents to "clean it up, yeah, all the shit." Wooly bully bang for the buck grip.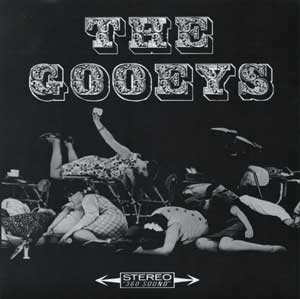 The Gooeys
Scary Black Cherry Nap
Calgary, AB

Craig Storm
and his seasick sailors of the good ship Gooey bob, surf and wooze through puddles of organ-fried carnival candy paisley-pop puke on this cavity-rotting platter from the
Cave
. Moving past deadpan and directly onto dead, Storm sounds like he'd rather be
filing his T4s
than fronting this squadron of subterranean vets, roping in past and present card carrying members of
Gaye Rage
,
Grown Ups
and the mammy slappin'
Topless Mongos
. Whether flipping herky jerk tempos like BBQ burgers or dipping scuba dive keys like the B-52s, this is the dictionary definition of quintessential, kiddies.
[audio:http://weirdcanada.com/wp-content/uploads/2011/07/01-Scary-Black-Cherry-Nap.mp3|titles=The Gooeys – Scary Black Cherry Nap] The Gooeys – Scary Black Cherry Nap
[audio:http://weirdcanada.com/wp-content/uploads/2011/07/03-Lay-Down-and-Die.mp3|titles=The Gooeys – Lay Down and Die] The Gooeys – Lay Down and Die
---