Tag: mammoth cave recording co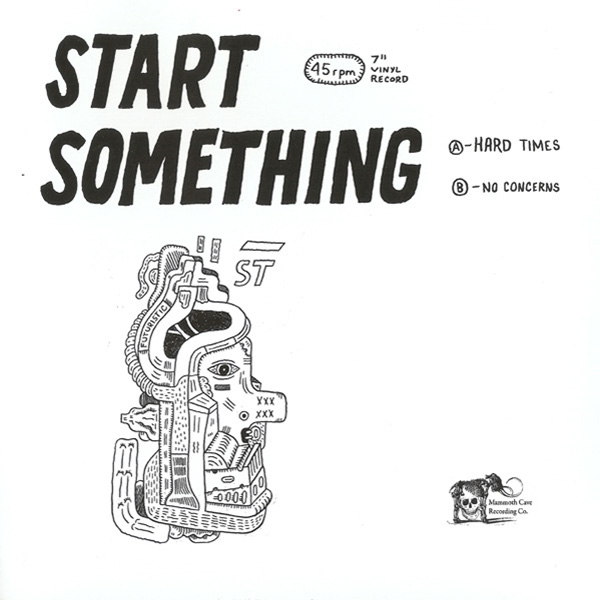 Start Something
Hard Times b/w No Concerns
Guelph, ON
From the hard rhymes of Jesse Locke:
The Hüsker Düdes in Start Something tear through their debut 7" like radical adults in search of a crowdsurf. Guelph's greatest drive time comedy duo Deaner and Dunster–plus drummer Ryan Masters–make up this econoline trio, revving up the punx with anthems of neck-vein popping intensity. Chainsaw riffs, tempo shifts, and art by Marc Bell = grip!
Des rimes brutales de Jesse Locke:
(Traduit par Jessica Grenier)
Les Hüsker Düdes de Start Something déchirent ce premier 7" comme des adultes radicaux en quête de crowdsurfing. Le drummer Ryan Masters et le meilleur duo comique – diffusé durant les heures de grande écoute – de Guelph, Deaner and Dunster forment ce trio en Econoline qui vient exalter les punx avec des hymnes à en faire exploser des jugulaires. Riffs tronçonnants, changements de tempo et illustrations de Marc Bell = fou!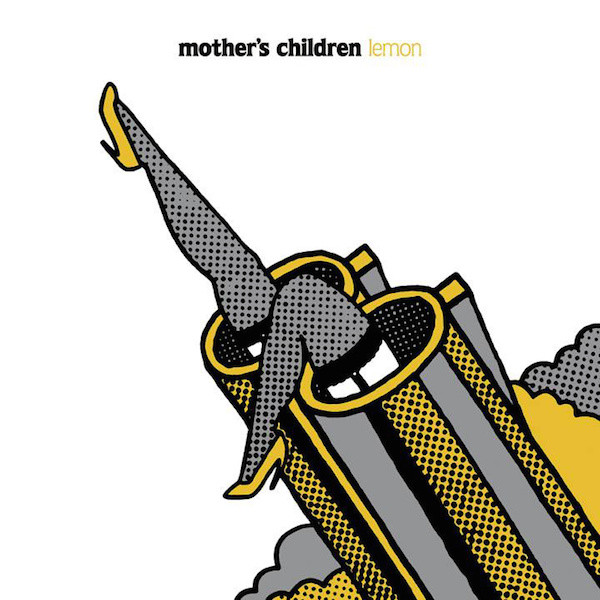 Following their debut by four years, the second full-length from Mother's Children is determined to make snarling yet sweet power-pop everybody's business. Underneath the ripping solos and a rhythm section that thunders louder than your ex-girlfriend's motorcycle are four endearing dudes happy to pose as teenage rebels, blazers and DIY razored haircuts included. Songs of androgyny, mystery and lust, with just enough palm muting to raise drunken fists excitedly in the air. Instant happiness, now in stereo.
Mother's Children
Lemon
Ottawa, ON
From the lipsticked blazer collar of Alanna Yaraskavitch:
Engines rev. Teens yell. Power chords. Following their debut by four years, the second full-length from Mother's Children is determined to make snarling yet sweet power-pop everybody's business. Underneath the ripping solos and a rhythm section that thunders louder than your ex-girlfriend's motorcycle are four endearing dudes happy to pose as teenage rebels, blazers and DIY razored haircuts included. Songs of androgyny, mystery and lust, with just enough palm muting to raise drunken fists excitedly in the air. Instant happiness, now in stereo.
Du collet de veston taché de rouge à lèvres d'Alanna Yaraskavitch:
(Traduit par Jacinthe Laplante)
Des moteurs vrombissent. Des ados crient. Cordes électriques. Quatre ans après son entrée en scène, Mother's Children revient avec un album déterminé à intéresser tout le monde à la power-pop grinçante, mais adorable. Derrière les solos déchirants et la section rythmique qui gronde plus fort que la moto de ton ex-blonde, on trouve quatre mecs attachants et heureux de jouer les ados rebelles, blazers et coupes de cheveux faites maison compris. Des chansons à propos d'androgynie, de mystère et de luxure qui ont juste assez de palm mute pour faire lever les poings enivrés dans les airs. Bonheur garanti, maintenant en stéréo.

Mother's Children – Break It To Me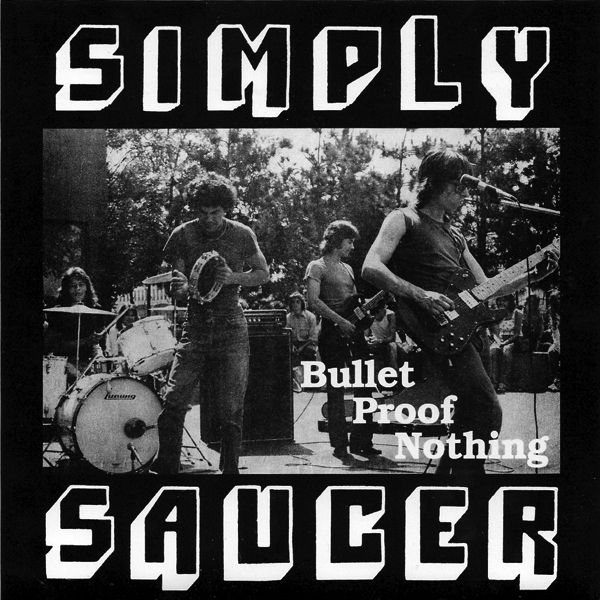 Simply Saucer
Bullet Proof Nothing
Hamilton, ON
From the point blank target of James Lindsay:
Here's a fantasy 7" that never was, but should have been, from Hamilton's once lost but now found golden sons, Simply Saucer. This song and its notorious chorus, from the group's legendary posthumous LP Cyborgs Revisited, finds the Steeltown cosmic-punks phasing out of their usual MC5 interstellar overdrive and basking in the warm glow of a big star. The b-side delivers a revved up live version that makes you want to add a date to your time machine's itinerary. Many thanks to Mammoth Cave for making this happen, and to Ugly Pop for coming up with the "what if" single concept.
De la cible à bout portant de James Lindsay:
(Traduit avec la plume enchantée de Geneviève Simard)
Voici un disque vinyle 7 pouces qui n'a jamais été fantasmé, mais qui aurait dû l'être, de la part des précieux fils d'Hamilton Simply Saucer, autrefois perdus, mais maintenant retrouvés. Cette chanson des membres célèbres du légendaire LP posthume Cyborgs Revisited montre les punks cosmiques de Steeltown qui abandonnent leur habituel MC5 interstellar overdrive pour se délecter de l'éclat chaleureux de Big star. La face B comprend une version en spectacle survoltée qui donne envie d'ajouter une date à l'itinéraire de sa machine à remonter le temps. Un grand merci à Mammoth Cave pour avoir permis à ce vinyle de voir le jour, et à Ugly Pop pour avoir trouvé le concept du single « what if ».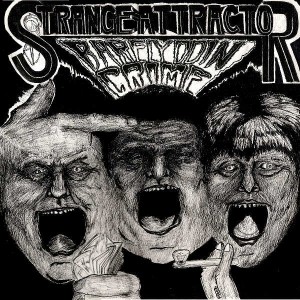 Strange Attractor
Barely Doin' Crime
Sudbury, ON
From the personal cheque of Brendan Lehman:
With the coals of Back To The Cruel World still warm, Strange Attractor gas the fire again with an equally raucous EP. Probably cooked in the same lab as the infamous Noise Tape, these six jams crammed into a 7" run the gamut from a dangerous trip to a dangerous trip and a press release. Mental corruption runs thick through these driving bangers, rife with breach of trust and altered documents: the seedy underbelly of a drunken façade. We're burning down the walls of conservative values, one screaming riff at a time. Sounds like my kind of party.
Du chèque personnel de Brendan Lehman:
(Traduit par le doux murmure d'Anaïs Njike)
De la braise encore chaude de Back To The Cruel World, Strange Attractor rallume le feu avec un EP tout aussi tapageur. Probablement conçu dans le même labo que la notoire Noise Tape, cet ensemble de 6 morceaux condensés sur un 7 po vous fait voyager d'un danger à l'autre en passant par un communiqué de presse. La corruption mentale tourne à fond dans ces débris à roulettes, blindés d'abus de confiance et de faux documents : la face cachée miteuse d'un ivrogne. On fait tomber les barrières du conservatisme, un riff criant après l'autre. Ça c'est mon genre de fête.

Strange Attractor – I Need to Kill My Neighbours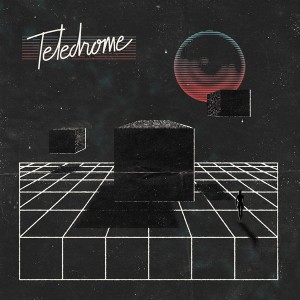 Teledrome
Teledrome
Calgary, AB
From the ultra instant of Nivedita Iyer:
This virtual galactic domain has suddenly grown hot. The cybernated neutron star is pulsing in binary code to distant nebulae and the data overload has begun, succumbing to computer-generated gravity. Critical density has been reached, and Teledrome is a digital collapsar with hyper-momentum made angular and hexagonal. The pathway to the 12th dimension is now bona fide. You will be absorbed into their stellar black hole, and the spatio-temporal fabric will distend, but time was never real anyway.
De l'ultra-instant de Nivedita Iyer:
(Traduit par le tissu spatio-temporel de Vincent Rondeau)
Le domaine galactique virtuel se réchauffe soudainement. L'étoile à neutrons cybernétisée émet une pulsation binaire en direction des nébuleuses lointaines. Les données s'accumulent en un raz-de-marée, succombant à la gravité synthétisée numériquement. Nous avons atteint une densité critique : Teledrome est un collapsar informatique rendu angulaire et hexagonal par l'hyper-mouvement. Le chemin vers la douzième dimension est dorénavant authentique. Vous serez absorbés dans le trou noir stellaire, le tissu spatio-temporel se distendra – qu'importe? Le temps n'a jamais vraiment existé.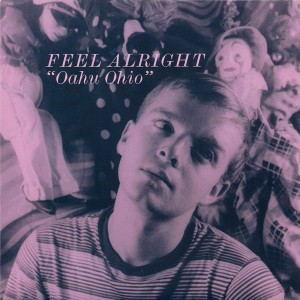 Feel Alright
Oahu Ohio
Calgary, AB
From the fevered dance of Javier Fuentes:
The thermostat may be telling you to drag out your warmest attire, but one spin of this Feel Alright 7" will start the search for your palm printed shirts and sand soaked shorts. Memories of winter goths get cast to the side under the melting vocal spells of Craig Fahner. Giddy guitars tickle you out of your static stance and into a fevered dance. Take your sled out for a spin on the snowy hill and watch as it turns into a slick surfboard. Shorter days call for an action plan to get the most of your time, so take these songs as your first step.
De la danse fiévreuse de Javier Fuentes:
(Traduit par le thermomètre de Catherine Gaucher)
Même si votre thermostat semble vous indiquer qu'il vous faut revêtir vos vêtements les plus chauds, une seule écoute de ce 7 pouces de Feel Alright déclenchera en vous la recherche pour retrouver vos chemises aux imprimés de palmiers et vos shorts couverts de sable. Sous les sorts vocaux envoûtants de Craig Fahner, les souvenirs de Winter Goths sont mis de côté. Des guitares vertigineuses vous balancent en dehors de votre statisme et vous jettent dans une danse fiévreuse. Sortez votre traîneau pour une glissade sur une colline enneigée et voilà que ce dernier se transforme soudainement en une belle planche de surf. Parce que les journées écourtées exigent un plan d'action pour tirer le meilleur parti de votre temps possible, prenez ces chansons comme une première étape.
Feel Alright – Dark Incantations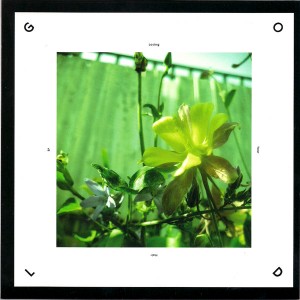 Gold
Losing Your Hair
Calgary, AB
From the gossamer yearnings of David Ferris:
When it's cold as fuck, put the top down and make a sojourn to a place which is beautiful, bittersweet and sepia-toned. The cymbals wash on forever and the almost-psychic interplay of guitars and harmonies chase each other, intertwining all plaintive and beautiful-like — all of this cast under a towering, sublime shadow.
In 2012, Kaelen Ohm and Rena Kozak, along with Chris Reimer and Matt Swann, recorded four excellent and affecting songs, and the context of the EP may be familiar to many of you.
The reason there are no proper synonyms for "bittersweet" is because these things seem obvious and natural to us until we attempt to nail them down. Breaking them up into smaller, more articulable components, we can never seem to capture it in the least, and all we are left with are gobbledygook fragments (like this very write-up). Let's just leave this for now with "Drugs" being a straight-up perfect pop song: the right people in a room at the right time.
Des aspirations étoffées de David Ferris:
(Traduit de la trajectoire douce-amère de Catherine Gaucher)
Lorsqu'il fait foutrement froid, descendez votre toit ouvrant et dirigez-vous vers un endroit magnifique, doux-amer teinté de sépia. Une ombre sublime imprègne le microcosme où des cymbales s'effacent éternellement et où une interaction quasi-psychique s'établit entre guitares et harmonies qui se pourchassent, s'entrelacent, toutes aussi plaintives et belles qu'elles soient.
En 2012, Kaelen Ohm et Rena Kozak, accompagnés de Chris Reimer et Matt Swann, enregistrent quatre excellentes et émouvantes chansons. Certains d'entre-vous êtes familiers avec le contexte du EP en question.
Aucun synonyme ne peut exprimer l'exactitude symbolique du mot «doux-amer» parce que les choses ne nous semblent évidentes et naturelles qu'avant que nous ne tentions de précisément les définir. Même en les subdivisant en composantes plus petites, plus précises, nous n'arrivons jamais à les capturer le moins du monde et au final, nous nous retrouvons avec des fragments de charabia (comme cette critique). Laissons cela de côté pour l'instant avec « Drugs », une parfaite chanson pop sans détour : être avec les bonnes personnes, au bon endroit, au bon moment.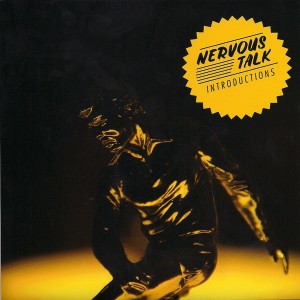 Nervous Talk
Introductions
Vancouver, BC
From the buzzing brain-bin of Alex Hamlyn:
After delightfully fraying nerves and chasing the white whale that is perfect garage pop, Joel Butler has rounded up a new crew of lean, mean West Coast rock 'n' roll veterans. Guitars chug, toms pound and the gang will have you joining in with their "ah ah"s before you know it, but the lyrics come straight from the grand punk tradition of the airing of grievances. These lads are too wise to take any crap, and they want to "introduce you/ to a fist/ that's just been waiting to meet you", so be glad they're on the side of good.
De la poubelle cérébrale d' Alex Hamlyn:
(Traduit par les oeufs catapultés de Nicolas Coutlée)
Après nous avoir délicieusement tapé sur les nerfs et chassé la baleine blanche qu'est la parfaite chanson garage pop, Joel Butler s'entoure d'une redoutable bande de vétérans rockeurs de la côte Ouest. Leurs guitares haletantes et leurs rythmes martelés auront tôt fait de vous faire entonner en choeur leurs « ah ah », même si les paroles s'inscrivent plutôt dans la grande tradition punk d'expression de doléances. Ces gars-là ne se laissent pas marcher sur les pieds et veulent « vous présenter / un poing / qui se meure de faire votre connaissance », alors soyez reconnaissant qu'ils se trouvent du côté des gentils.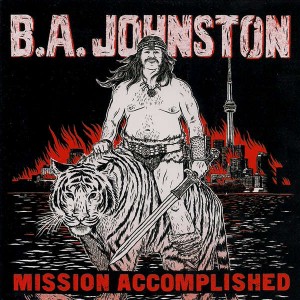 B.A. Johnston
Mission Accomplished
Barrie, ON
From the chud love of Matthew Lazenby:
Southern Ontario's slacker supreme, B.A. Johnston, returns with another helping of lo-fi scumbaggery. With subjects ranging from the splendour of GST cheques to going on bar crawls with aliens, Mission Accomplished revels in pop culture through the eyes of the great unwashed. Those who have witnessed the controlled chaos that is a B.A. Johnston live show will not be disappointed by the rambling humour of his latest offering. For anyone unfamiliar, this collection of comedic anti-folk storytelling — accompanied by a beat up acoustic guitar or 8-bit keyboard swirls — will act as the ideal introduction to one of Canada's great eccentrics.
De l'amour de la chud de Matthew Lazenby:
(Traduit avec la tête dans les étoiles par Andréanne Dion)
B.A. Johnston, l'ultime fainéant du sud de l'Ontario, est de retour avec une autre portion de saloperies lo-fi. Avec des sujets allant de la splendeur des chèques de TPS au récit de soirées arrosées avec des extraterrestres, Mission Accomplished baigne dans la culture populaire telle que vue à travers les yeux de la populace. Ceux qui ont été témoins du chaos contrôlé qu'est un spectacle de B.A Johnston ne seront pas déçus par l'humour décousu de son plus récent album. Pour tous ceux qui ne sont pas familiers avec B.A. Johnston, cette collection de récits humoristiques anti-folk accompagnée de guitares acoustiques déglinguées ou de tourbillons de clavier 8-bit sera une introduction parfaite à l'un des grands excentriques du Canada.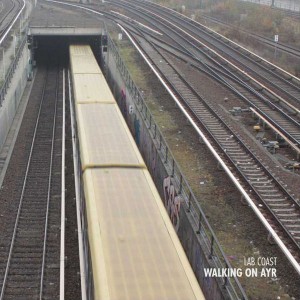 Lab Coast
Walking on Ayr
Calgary, AB
From the tea cozy cupboard of Joseph Stephenson Taylor:
Where are our cats? We need a furry purr by our side to accompany this twee cacophony. Real and reliable, this is a sure-fire remedy to break the monotony of an extended prairie drive or expel the anxious comedown of a lively sock hop. The broken glasses croon and slapback delayed axe give us warm fuzzies, while the thump-thump of the bass and the dust storm from the drums keeps it punk rock enough for us to consider stealing cigs from our boss's backpack. All the teacups are sitting in the sink and it's too hot for a colourful sweater, but we know they belong here with us, our fat tabbies and Lab Coast's Walking on Ayr.
Du douillet placard à thé de Joseph Stephenson Taylor:
(Traduit par le ronron à fourrure tigrée de Hugo Hyart-Dauvergne)
Où sont nos chats ? Nous avons besoin d'un ronron à fourrure sur les genoux pour accompagner cette adorable cacophonie. Réel et fiable, ceci est un remède parfait contre la monotonie d'un trajet prolongé en voiture à travers les prairies ou pour calmer l'anxiété d'un après-bal de fin d'année animé. Les verres cassés chantent et une guitare à long retardement réchauffe nos jolis coeurs, tandis que le dum-dum de la basse et la tempête de sable de la batterie garde le tout assez punk rock pour nous donner l'idée de voler les clopes dans le sac à dos de notre patron. Toutes les tasses sont dans l'évier et il fait trop chaud pour mettre un pull bariolé, mais nous savons qu'ils ont leur place ici avec nous, nos gros chats tigrés et Walking on Ayr de Lab Coast.
Lab Coast – Don't Wanna See You
---