Tag: maans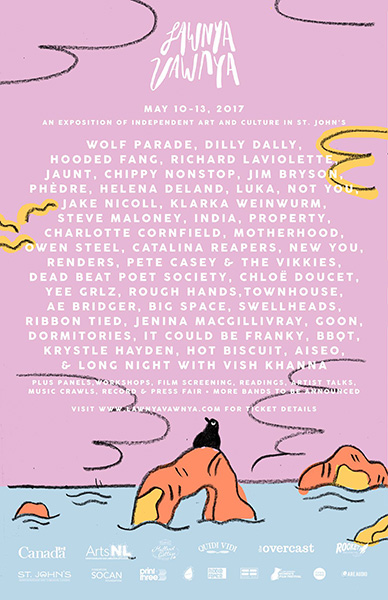 Lawnya Vawnya
May 10th – 13th, 2017
Various Artists
St. John's, NL
From the endless waves of Marie LeBlanc Flanagan:
Spring creeps over the most sacred rock in Canada, and on her back she carries Lawnya Vawnya. A community huddles together and breathes to bloom after another long cold winter on the Atlantic Ocean.
All hail the glorious Lawnya Vawnya!
LV sprawls over the city like your favourite lanky teenager. Visit The Ship Pub, Club One, The Fat Cat, The Rock House, Peter Easton Pub, Factory, Rocket Room (all-ages), and the Eastern Edge Gallery (all-ages). Don't miss the music crawls to strange nooks and magical spaces: the Mallard Cottage Restaurant, Afterwords Bookstore, Model Citizens, Rocket Bakery, The Quidi Vidi Brewery, TVal Skincare and more. Pop up shows can happen anywhere, anytime.
Oh you'll have a good time. Your belly will be full of the best eats, your ears will be joyous, and we'll party with you until the sun comes up. Oh and there's usually icebergs and whales too.
Des vagues sans fin de Marie LeBlanc Flanagan:
(Traduit par cet efflanqué de Mathieu Bédard)
Le printemps recouvre peu à peu le rocher le plus sacré du Canada, et sur son dos il transporte Lawnya Vawnya. Une communauté se rassemble pour humer l'air frais, après un autre long hiver passé sur l'océan Atlantique.
Viva la glorieuse Lawnya Vawnya!
LV s'étend sur la ville tel votre adolescent efflanqué favori : visitez The Ship Pub, Club One, The Fat Cat, The Rock House, Peter Easton Pub, Factory, Rocket Room (tous les âges) et la Easter Edge Gallery (tous les âges). Ne manquez pas les « tournées musicales » qui passent par des recoins bizarres et des endroits magiques : le restaurant Mallard Cottage, la librairie Afterwords, Model Citizens, la boulangerie Rocket, la brasserie Quidi Vidi, TVal Skincare et plus encore. Des concerts impromptus peuvent aussi survenir n'importe où, n'importe quand.
Oh, vous passerez du bon temps! Votre bedon sera plein de la meilleure chère, vos oreilles seront en joie et on fera la fête avec vous jusqu'au lever du soleil. Oh : et il y a habituellement des icebergs et des baleines aussi.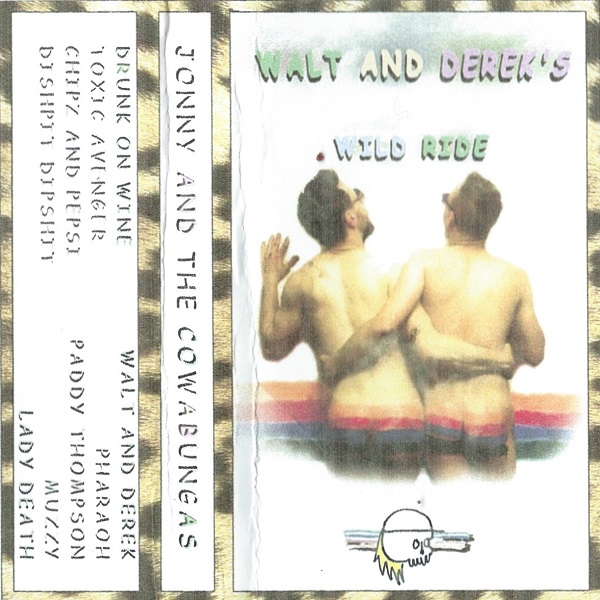 Jonny and the Cowabungas
Walt and Derek's Wild Ride
(Lawnchair Records)
St. John's, NWLD
From the endless summer of Mike Roy:
Born in a vat of b-movie superheroes, jangly guitar chords and surf age nostalgia, Jonny and the Cowabungas are St. John's latest export for a good time. Under the recording guidance of Micah Brown (MAANS), Walt and Derek's Wild Ride effortlessly drift over a wave of mostly instrumental garage rock, with swells of influences like Spaghetti Western soundtracks ("Paddy Thompson") to '60s heartbreak pop ("Muzzy"). The result is both energetic and electrifying, and surely leaves you sun-kissed long into those cold winter months.
De l'été sans fin de Mike Roy:
(Traduit par la coupure à l'annulaire droit de Julie Mayer)
Nés dans une cuve de super-héros de série B, d'accords de guitare cliquetants et de nostalgie du temps où le surf avait la cote, Jonny and the Cowabungas sont la toute dernière exportation de St. John depuis un bon moment. Sous la direction de Micah Brown (MAANS) à l'enregistrement, Walt and Derek's Wild Ride dérive sans effort sur une vague de garage rock surtout instrumental, accompagnée d'une foule d'influences allant du western spaghetti (« Paddy Thompson ») à la heartbreak pop des années 60 (« Muzzy »). Le résultat est à la fois énergique et électrisant, et ensoleillera sans aucun doute nos froids mois d'hiver.
Jonny and the Cowabungas – Drunk On Wine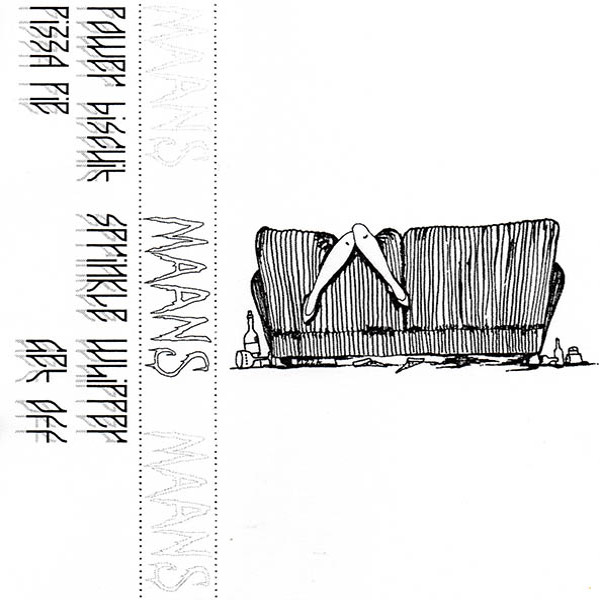 MAANS
MAANS
St. John's, NL
From the kitchen party of Mark Gillis:
Newfoundland isn't typically regarded as a sunny summer destination, but MAANS make it feel that way with their boisterous brand of pizza-pop. Confetti-laced guitars sharply weave their way in-between drums that smear ice cream across your face with every punch. These sun-baked celebrations quickly bleed into chilly long-john-wearing, homemade wine-soaked kitchen parties where the palpable stench of boiled trout leaves a haze, much like the early morning fog as dawn hits. Of course now there's nothing left to do but clean up from the night before and repeat the cycle. Sure as hell sounds like paradise.
De la fête de cuisine de Mark Gillis:
(Traduit par Jessica Grenier)
Terre-Neuve n'est généralement pas perçue comme un endroit où passer des vacances d'été, mais le style pizza-pop plein d'entrain de MAANS en donne l'impression. Des guitares remplies de confettis se tressent rapidement un chemin entre les batteries qui vous étendent à chaque coup de la crème glacée sur le visage. Ces fêtes brûlées par le soleil s'éteignent rapidement en une soirée fraîche invitant le port de combines et les fêtes de cuisine imbibées de vin maison sous la buée nauséabonde de la truite bouillie, comme le brouillard matinal qui accompagne l'aurore. Il ne reste évidemment rien d'autre à faire que de nettoyer les vestiges de la soirée d'hier pour mieux recommencer ce soir. Ça sonne salement comme le paradis.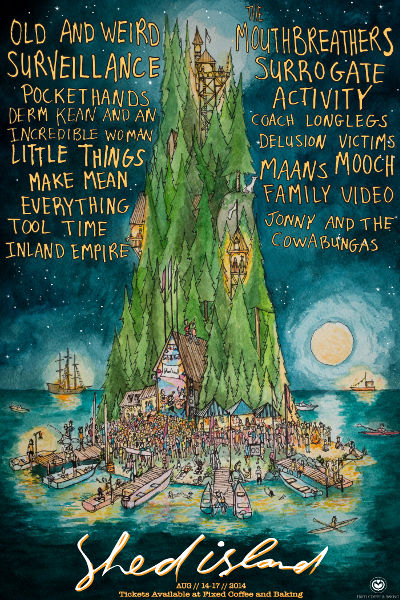 Shed Island
St. John's, NL
From the motivational transition of James Colin Graham:
Shed Island is a music festival running in St. John's this summer from August 14th to 17th. It features some familiar East Coast faces, as well as a delectable local presence, and even a contingent from Massachusetts. Here's what we needed to know about it:
What's motivating your transition from booking small shows for those you know to booking a festival for the population at large?
A) We get to expose local bands that we think are often undersung to a broader audience, both locally and nationally. B) We get to bring in bands, both old and new, who we enjoy and would like to meet (but can't wait until they tour eastwards (nobody ever tours eastwards). C) The thrill of creating something and seeing how people respond.
One advantage of small, self-promoted shows is the intimacy between the artists, the promoters, and the audience. How do you plan on scaling up what you enjoy about DIY culture for this bigger setting?
Instead of feeling like a movement away from DIY culture, the whole process of putting together a music festival of this nature hasn't felt out of touch with the way we normally promote shows. Aside from some logistical stuff that we've never done before (such as producing tickets), we're still just attempting to put off a show using our regular frame of reference as to what makes for a fun show. The larger nature of a music fest just means it's possible that more people than normal might come out and enjoy themselves. Scaling up just means reaching out and making space for those new people.
You organized a series of shows/events to raise funds to get Shed Island off the ground. Why not seek out government funding or sponsorship like many other music festivals?
It just seems easier to ask the people that might be interested in your festival to help you support its creation, rather than a disengaged party. It's not that we oppose grants or sponsorship, it's that we don't see them as necessary facets of what we want to do. Plus, government grants are uncertain and take time (we organized this festival in a couple months), while any local business that would support our festival probably deserves some compensation for their money. At least in looking to our local music scene to raise funds, we can recompense with even more music and shows. Which is the whole point of doing this in the first place.
Lightning Round: Many potential festivalgoers haven't heard any of Shed Island's performers before. Give us a synopsis of what people can expect from every artist. Only five words apiece. Get us excited!
The Mouthbreathers: Hooky guitar rock with punk backbeats.
Surveillance: Lo-fi + noisy but not unmelodic.
Old and Weird: Kinda makes you wanna dance/cry.
Coach Longlegs: "Children's music" for adults. Fun.
Tool Time: Five words can't describe genius.
Surrogate Activity: Seminal fest reunion band. Stoked.
Family Video: So many emotions at once.
Make Mean Everything: Super tight mathy pop tunes.
Pockethands: Never stopped listening to lifetime.
Little Things: Cathartic blend of emo and pop.
Mooch: Find yourself inexplicably headbanging. Hard.
Derm Kean and an Incredible Woman: Mesmerizing performers, trance-inducing jamband.
Delusion Victims: Sweet and sour riff rock.
MAANS: Power pop that incites to dance.
Inland Empire: Shoegazey rock two piece outfit.
Jonny and the Cowabungas: Stoned and surfy, also bongos.
De la transition motivatrice de James Colin Graham:
(Traduit par Andréanne Dion)
Shed Island est un festival de musique qui aura lieu à St-John cet été du 14 au 17 août. Le festival nous présente des visages familiers de la côte Est, ainsi qu'une délicieuse présence locale, et même un contingent du Massachusetts. Voici ce que vous devez savoir au sujet de Shed Island:
Qu'est-ce qui motive votre transition entre booker des petits spectacles pour vos amis et booker un festival pour la population en général?
A) Ça nous donne la chance de promouvoir des groupes locaux qui sont souvent méconnus par le public, autant au niveau local qu'international. B) On peut faire venir des groupes, vieux ou nouveaux, que nous aimons et que nous aimerions rencontrer (on ne veut pas attendre qu'ils viennent en tournée dans l'Est, personne ne fait jamais de tournée dans l'Est). C) Le plaisir de créer quelque chose et de voir comment les gens y répondent.
Un des avantages des petits spectacles dont vous faites la promotion vous-même est l'intimité entre les artistes, les promoteurs et le public. Comment avez-vous l'intention d'adapter ce que vous aimez de la culture DIY dans un cadre plus grand?
Nous n'avons pas l'impression de nous éloigner de la culture DIY, l'organisation d'un festival de musique comme Shed Island ne nous semble pas très différente de la façon dont on fait habituellement la promotion de spectacles. À part quelques trucs logistiques que nous n'avions jamais fait avant (comme produire des billets), on tente de mettre sur pied un spectacle en utilisant nos références habituelles quant à ce qui donne un bon spectacle. La grosseur d'un festival de musique veut simplement dire que c'est possible pour plus de personnes de venir s'amuser avec nous. Ça veut simplement dire qu'on doit faire de la place pour accueillir ces nouveaux spectateurs.
Vous avez organisé une série de spectacles et d'évènements pour collecter des fonds afin de faire de Shed Island une réalité. Pourquoi ne pas chercher à avoir des subventions gouvernementales ou des commandites comme bien d'autres festivals de musique?
Ça semblait plus facile de demander à ceux qui s'intéressaient à notre festival de nous aider à soutenir sa création, plutôt que de demander à des gens indifférents. Ce n'est pas qu'on s'oppose aux subventions ou aux commandites, c'est plutôt qu'on ne les considère pas comme un aspect essentiel de ce que l'on veut faire. De plus, les subventions gouvernementales ne sont pas sûres et elles prennent du temps (nous avons organisé ce festival en quelques mois), et les entreprises locales qui seraient intéressées à commanditer notre festival mériteraient probablement un dédommagement pour leur argent. En se tournant vers notre scène locale pour collecter des fonds, on peut leur donner encore plus de musique et de spectacles. C'était ça l'objectif en premier lieu.
Ronde éclair: Beaucoup de festivaliers potentiels n'ont jamais entendu parler des artistes qui seront à Shed Island. Donnez-nous un aperçu de ce à quoi l'on peut s'attendre de chacun des artistes. Donnez-nous envie!
The Mouthbreathers: Guitares accrocheuses avec un fond punk.
Surveillance: Lo-fi et bruyant, mais mélodique.
Old and Weird: Ça vous donne envie de danser/pleurer.
Coach Longlegs: De la musique pour enfants, pour adultes. Amusant.
Tool Time: Cinq mots ne suffisent pas à décrire leur génie.
Surrogate Activity: Un groupe fondateur se réunit.
Family Video: Tellement d'émotions à la fois.
Make Mean Everything: Des chansons pop super tight.
Pockethands: Jamais arrêté d'écouter Lifetime.
Little Things: Mélange cathartique de emo et de pop.
Mooch: Vous vous secouez la tête. Violemment.
Derm Kean and an Incredible Woman: Des interprètes hypnotiques, des jams qui vous font entrer en transe.
Delusion Victims: Du rock aigre-doux.
MAANS: Du power pop qui fait danser.
Inland Empire: Un duo de rock shoegaze.
Jonny and the Cowabungas: Surfeurs défoncés, et aussi bongos.
---