Tag: lysergic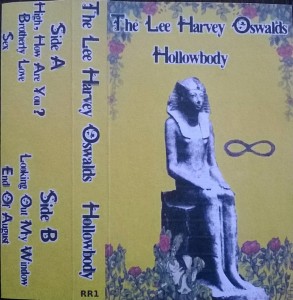 The Lee Harvey Oswalds
Hollowbody
(Runk Records)
Fredericton, NB
From the blitzed second sight of Nick Smith:
Wandering around different cities can sometimes give you a lysergic impression of déjà vu, where the space-and-time train seems to have momentarily jumped the rails onto another track. Places almost familiar, but steeped in a light gauzy haze of otherness, are also comfortingly foreign, like a good acid flashback. Transcendent moments like these dot the horizon of Hollowbody, where melodies and harmonies tumble together against sitar drones, backwards guitars and reverse freak-outs echo alongside steady percussions. At once familiar and off-set, we're bird's-eye view zooming through the sky with a tether to the ground. Featuring a cover of lo-fi Haligonian songster Craig Currie, this nugget's worth the trip, captain.
De la seconde vue bombardée de Nick Smith:
(Traduit par le paysage urbain de Julie Forget)
Errer dans différentes villes peut parfois donner une impression lysergique de déjà vu, où le train espace-temps semble avoir momentanément sauté des rails pour se diriger dans une autre voie. Des endroits presque familiers, mais remplis d'une légère et vaporeuse brume d'altérité, sont aussi étrangers de façon réconfortante comme un bon flashback d'acide. Des moments transcendants comme ceux-ci parsèment l'horizon de Hollowbody, où les mélodies et les harmonies tombent ensemble contre des bourdonnements de sitar, des guitares renversées et flips inversés résonnent à côté de percussions constantes. À la fois en terrain connu et à l'écart, nous zoomons dans le ciel comme l'œil d'un oiseau avec une attache au sol. Comprenant une reprise du chanteur haligonien lo-fi Craig Currie, ce bijou vaut le détour, capitaine.
The Lee Harvey Oswalds – High, How Are You?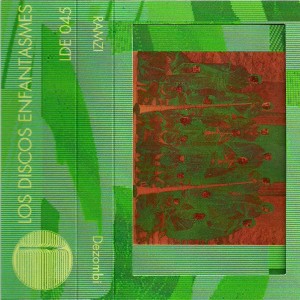 Ramzi
Dezombi
Montreal, QC
From the chop and dub slicer of Mann Durian:
On her first release for Los Discos Enfantasmes, Montreal's Ramzi revitalizes her sound with a glass of Tubby citrus. Her worldly schizo meditations stretch and bump in a psilocybin blender set at the lowest speed, at times sounding like DJ Screw soundtracking Rez.
Dancehall influences peak through on "Byouwa Twopikal," but the lackadaisical, lysergic pop-and-lock under the song's surface makes the whole ship rock in angular momentum. Penultimate banger "Ti-Ponch Moun Yo" paints a freaky nightclub where Shangaan electro and Pharoah Sanders are commonplace. Like the best moments of LA's tropical pop-trippers Sun Araw, Dezombi occupies a similar space where genres are blended, arranged, and melted down into a potent chemical confection that tastes as sweet and spicy as floating over a volcano must feel.
De la machine à découper et à émincer de Mann Durian:
(Traduit par la décoction épicée de Virginie Langlois)
Pour sa première sortie sur le label Los Discos Enfantasmes, la montréalaise Ramzi perfectionne le son qui la caractérise grâce à un verre de jus d'agrumes à la sauce Tubby. Ses méditations schizo s'étirent et heurtent un mélangeur de psilocybine réglé à la vitesse minimale; à certains moments ça ressemble à DJ Screw jouant Rez.
Les influences de la piste de dansesont les plus évidentes sur « Byouwa Twopikal » mais le pop-and-lock languissant et trippant qui affleure à la surface de la chanson permet au navire tout entier d'atteindre une dynamique saccadée. L'avant-dernière détonation « Ti-Ponch Moun Yo » nous transporte dans une boîte de nuit bizarre où Shangaan electro et Pharoah Sanders sont monnaie courante. Comme aux meilleurs moments des pop-trippers tropicaux de LA Sun Araw, Dezombi est ce type de lieu où les genres sont mêlés, arrangés, fondus pour aboutir à une décoction puissante à la fois sucrée et épicée, proche de ce qu'on doit ressentir en flottant au-dessus d'un volcan.
Viet Cong
Cassette
(Self Released)
Calgary, AB
From the unconscious melody of Claire Marie Guimond:
The elevator doors ring at the end of the countdown, and you couldn't have been kept any longer. You get out of there before the exit is wide enough, dragging it open – you land on one foot and are off sprinting with a half-stumble. Don't let yourself think about how close they are behind you, just pray that your head start will be enough. Grazing a corner you hear something fall, but you can't worry about that now. It's so very vital that you're absolutely focused. Then the sun hits — you've reached the outside — and you're much higher than you thought. A siren creeps in from somewhere and your stomach sinks, but it passes: this one's not for you. Concentrate. Steel ramparts are rushing by. Are you sure that you've been the one running away? It doesn't matter, just don't get interrupted, and don't get scared. The heat of your target is blinding — and now everything is silent. You feel absolutely nothing, which is exactly what you need. There's a wall coming up fast ahead. You're going straight through it. All this energy is only generated inside you. These serrated bricks are going to shatter and you must be powerful enough, you were designed to break walls.
The name of this band is Viet Cong; they are the finish line of Calgary's race to overtake the postpunk eruption building within itself through the past six years. Members of Women, the Chad VanGaalen band, Sharp Ends and Feel Alright have crafted something so gripping that they will clearly soon be Canada's favourite new band. Pass it around.
De la mélodie inconsciente de Claire Marie Guimond:
(Traduit de la chair de poule de Catherine Debard)
Le compte à rebours prend fin et l'ascenseur sonne; vous n'auriez pu attendre plus longtemps. Vous sortez dès que possible en ouvrant la porte de force. Ne pensez surtout pas à eux, qui se rapprochent de plus en plus, mais priez pour que votre longueur d'avance tienne. Effleurant le coin d'un mur, vous entendez quelque chose tomber, mais impossible de s'en inquiéter maintenant. Toute votre attention se focalise en ce moment crucial. Soudain, le soleil cogne —- vous êtes à l'extérieur, beaucoup plus haut que vous ne l'auriez cru. Une sirène retentit au loin, une crampe vous saisit au ventre, mais disparait aussitôt : celle-là n'était pas pour vous. Restez concentré. Les remparts d'acier défilent à toute allure. Êtes-vous certain que c'est bien vous qui vous sauvez? C'est sans importance, ne vous laissez pas interrompre, et surtout n'ayez pas peur. Votre objectif vous aveugle, et maintenant tout est silencieux. Vous ne sentez absolument rien, exactement ce qu'il faut. Un mur se rapproche rapidement. Vous vous dirigez droit sur lui. Toute cette énergie est générée à l'intérieur de vous. Ces briques dentelées vont voler en éclats, mais vous devez être assez puissant, car vous êtes né pour briser des murs.
Le groupe s'appelle Viet Cong et il couronne cette course qui perdure depuis six ans au sein de la scène post-punk toujours grandissante de Calgary. Des musiciens de Women, du groupe de Chad VanGaalen, de Sharp Ends et de Feel Alright ont créé quelque chose de si saisissant qu'ils deviendront bientôt le groupe favori du Canada. Passez le mot.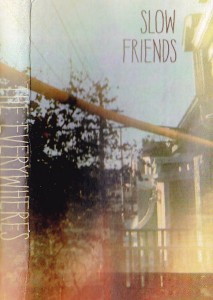 The Everywheres
Slow Friends
(Self Released)
Halifax, NS
From the tonal geography of Joshua Robinson:
Canada's East Coast is the proverbial breeding ground for music born in basement bedrooms scarred by the Atlantic's erosive salty air, sleepy skins cracked and hardened by freezing rain. In the same way that the Maritime environment marks the exteriors of its inhabitants, the locales' expressive climate is also marked by unique idiosyncrasies. Lo-fi tape hiss and minimalist production are the marks of Nova Scotia's indie enclave, and Halifax's The Everywheres are an embodiment of the province's tonal geography. Slow Friends exudes an analog warmth, painting the seasons in the shades of comfort found between bodies packed into small basements for the sake of experiencing something akin to the Bay of Fundy's high tide.
De la géographie tonale de Joshua Robinson:
(Traduit par les marées changeantes d'Andréanne Dion)
La côte est du Canada est un terreau fertile pour la musique conçue dans des chambres de sous-sols, marquée par l'air salé érosif de l'Atlantique, et les peaux endormies fendues et endurcies par la pluie glacée. Tout comme l'environnement des Maritimes marque l'aspect extérieur de ses habitants, leur climat expressif est aussi composé de particularités uniques. Le sifflement lo-fi des cassettes et la production minimaliste sont les signes distinctifs de l'enclave indie de la Nouvelle-Écosse, et le groupe d'Halifax The Everywheres est l'incarnation de la géographie tonale de la province. Slow Friends suinte une chaleur analogique, colorant les saisons avec les teintes réconfortantes que l'on retrouve entre les corps qui remplissent des sous-sols minuscules pour vivre quelque chose qui s'apparente à la marée haute dans la baie de Fundy.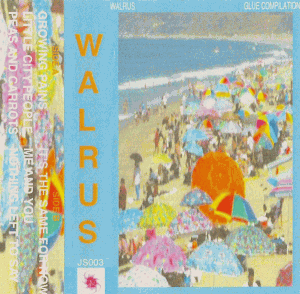 Walrus
Glue Compilation
Halifax, NS
From the martian sunrise of Aaron Levin:
Wrapped in a soupy gauze of slow-pitched delirium, Walrus' sophomore summertime creeper unravels the dormant fantasies deep within all of us. It's easy to waver within their cosmic surreality as you percolate through bubbling pop warbles and disparate vocals rooted deeply within the school of Brave Radar and the drug-ladled Amos & Sara. A superb beach-side jammer for the fantasian sunrise.
Du levé de soleil martien d'Aaron Levin:
(Traduit par Odile Leclerc)
Enveloppé dans une gaze liquide de délire en balle lente, le grimpeur d'été de deuxième année de Walrus dévoile les fantaisies dormantes profondément enfouies en chacun d'entre nous. C'est facile de vaciller dans la surréalité cosmique alors que vous pénétrer à travers des gazouillis de pop bouillonnant et de chants disparates enracinés profondément dans l'école de Brave Radar et d'Amos & Sara en louchées de drogue. Une superbe jammeur de bord de plage pour un levé de soleil de fantaisie.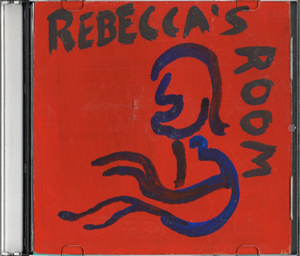 Rebecca's Room
The Burned CD II
(Self Released)
New Waterford, NS
From the glass menageries of Aaron Levin:
With wild strokes of coloured psychedelia, Rebecca's Room return with another lazer-graphed tome brimming with pop-lysergia. Languishing within their popular bedlam, the bedroom-laced mono-pop sizzles with uncanny waves of Eastern abandon; Dylonian moves displaced by a wicked array of tabla pounding beneath the devil's anvil. A ridiculously curious leap forward for the New Waterford native. Deft grippage, please.
De la ménagerie de verre d'Aaron Levin: (Traduit par Odile Leclerc)
Avec de furieux coups de psychédélie colorée, Rebecca's Room revient avec un autre tome tracé au laser débordant de lysergie pop. Se languissant dans leur pagaille populaire, le mono-pop entrelacé de chambre grésille d'ondes mystérieuses d'abandon de l'est; des mouvements Dylonien déplacé par une gamme malade de battement de tabla sous l'enclume du diable. Un saut ridiculement curieux vers l'avant pour le natif de New Waterford. Attrapage agile, s'il-vous-plaît.
Rebecca's Room – Happiness Rings
---