Tag: lungbutter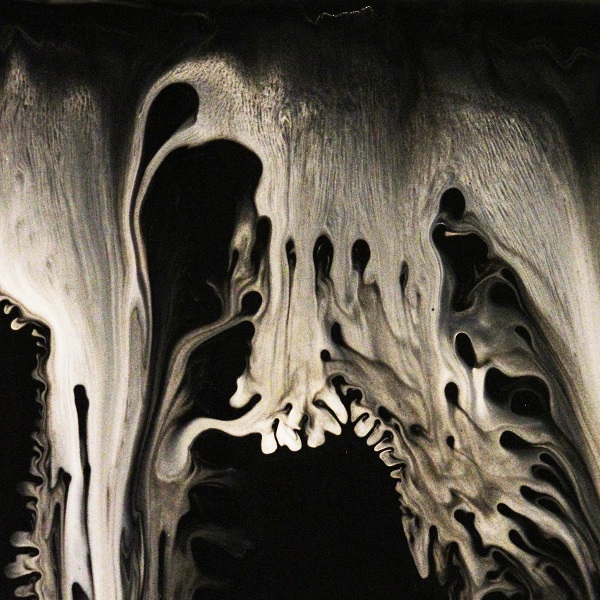 Lungbutter
Extractor
(Self-Released)
Montreal, QC
From the past wanderings of of Scott Brown:
Déjà Vu hits as I walk the snow-pummeled streets of Sackville, N.B. listening to Lungbutter. I'm reminded of doing the same as a 15 year-old, Sonic Youth storming through my headphones for the first time. In both instances the soundtrack is confident, artful, intense – Unlike what came before it and sure to prove influential. Lungbutter are at the forefront of a Montreal scene full of sounds that shows no sign of slowing down or becoming stagnant.
Des pérégrinations antérieures de Scott Brown:
(Traduit par Mylène Poumons Quevillon)
Une impression de déjà vu m'envahit alors que je déambule dans les rues enneigées de Sackville, au Nouveau-Brunswick, en écoutant Lungbutter. Je me rappelle avoir fait la même chose à l'âge de 15 ans, avec la musique de Sonic Youth qui se déchaînait dans mes écouteurs pour la première fois. Dans les deux cas, la piste sonore est précise, habile et intense – contrairement à ce qui se faisait avant et qui aura certainement de l'influence. Lungbutter est à l'avant-plan d'une scène montréalaise pleine de sonorité qui ne présente aucun signe de ralentissement ou de stagnation.
Lungbutter
Vile, or The Colours of a Memory
Montréal, QC
From the ethereal mind of Mailis Rodrigues:
Cycles. Memories that repeatedly pop up in our mind making us ramble as bodies with no direction. Repetitions. Bodies hypnotised by this voice constantly questioning us. Memories. Colours that fade over old pictures. Circles. What are we searching for? We don't know, no one knows probably, but we keep moving in circles until we get there.
De l'esprit aérien de Mailis Rodrigues:
(Traduit par Jessica Grenier)
Un cycle. Des souvenirs qui ne cessent d'apparaître dans nos esprits, en nous faisant divaguer comme des corps sans but. Répétitions. Des corps hypnotisés par les questions constantes de cette voix. Souvenirs. Des couleurs s'effaçant sur de vieilles photos. Ronds. Que cherchons-nous? Nous l'ignorons, personne ne le sait, probablement, mais nous continuons de tourner en rond, jusqu'à y être arrivés.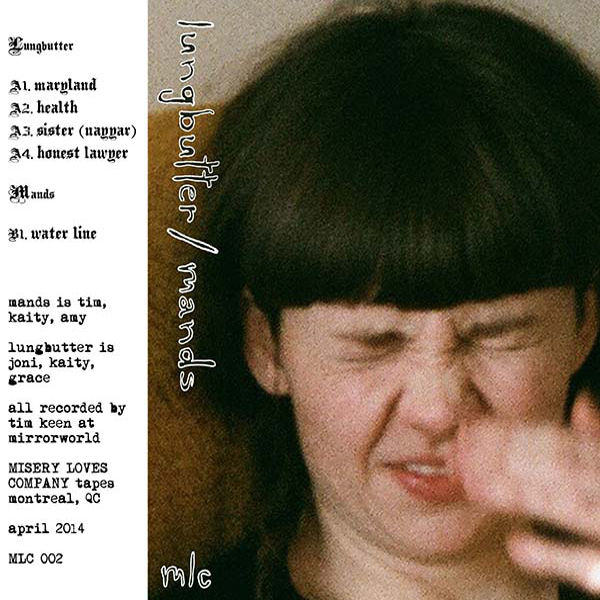 Lungbutter // Mands
Split
Montréal, QC
From the anger of Joshua Robinson:
'Danger', said the tangle of warped fabric, chortling cautionary tales as basement-flames of thump 'n thunder swallow curtains and corrode the heavy ground upon which we efface our mammalian symmetry. The second in a long line of a monstrous barrage, this edifice destroys the interstitial silence that hangs as misted breath in the chill of the loud, loud night. 'Danger', says the late evening, as we explode to reemerge as damaged beings; distorted hunger and the end of everything.
De la colère de Joshua Robinson:
(Traduit par Jessica Grenier)
« Danger », de dire l'enchevêtrement de tissus tordu, gloussant des mises en garde alors que des flammes souterraines de tonnerre fracassant avalent les rideaux et corrodent le sol lourd sur lequel nous effaçons notre symétrie mammalienne. Cet édifice, le deuxième de la longue ligne d'un barrage monstrueux, détruit le silence interstitiel qui flotte comme un souffle embué dans la fraîcheur d'une nuit assourdissante. « Danger », de dire la soirée tardive, alors que nous explosons avant de renaitre en tant qu'êtres endommagés; faim distendue, la fin de toute chose.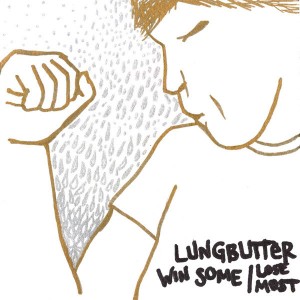 Lungbutter
Win Some / Lose Most
(Self Released)
Montréal, QC
From the back of the throat of Johnnie Regalado:
Two Femmaggots and the gatekeeper of CKUT's music library offer up a collection of tunes that you can try to swallow, but will inevitably get stuck in the back of your throat. These tracks effectively smash small talk into punk rock: grandma's health, a good friend's career path, the shitty winter. Lungbutter's twee-metal strikes with the ruthless precision of whacking bugs with rolled up newspaper.
Du fond de la gorge de Johnnie Regalado:
(Traduit de la cage thoracique de Catherine Gaucher)
Deux des Femmaggots et le gardien de la bibliothèque musicale de CKUT nous livrent une collection de chansons, lesquelles vous pourrez tenter d'avaler, mais qui se coinceront inévitablement au fond de votre gorge. Ces chansons brisent efficacement le banal, le transformant en punk rock : la santé de grand-maman, la carrière d'un bon ami, l'hiver de merde. Le métal twee de Lungbutter frappe avec la précision impitoyable d'un journal enroulé servant de tapette à mouche.
---