Tag: Lull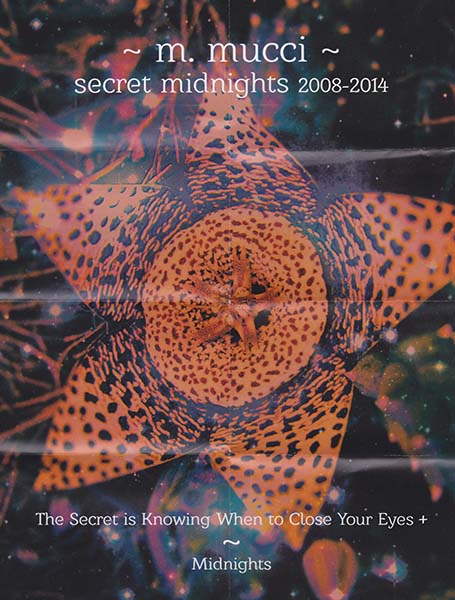 M. Mucci
Secret Midnights
Guelph, ON
From the mesmerized apertures of Joshua Robinson:
Side B of this release was previously written about here.
Slowly, ever so slowly, thought takes form. Nadirs of fleeting melody particulate, each fleck of minute detail whisking away from its source; whisking away from itself. Slowly, ever so slowly, these details coalesce and emerge just as they fray at the seams and come to rest as tablatures too delicate to decipher. The re-release of this material is not only an acknowledgment of its quality, it is the recognition of how fragile permanence (as memory) can be. Incarnate tones tiptoe over themselves, their brittleness that which indentures their longevity. For all that is young and quiet, grow old and fond. For all that is fleeting and transient, stay still.
Des ouvertures ensorcelantes de Joshua Robinson:
(Traduit par Mylène Quevillon)
Lentement, toujours plus lentement, les pensées prennent forme. Les nadirs des particules d'une mélodie fugace, chaque détail minuscule qui passe transporté loin de sa source; transporté loin de son centre. Lentement, toujours plus lentement, ces détails s'amalgament et se décomposent, se déposent en tablatures trop petites pour être déchiffrées. La réédition de ces oeuvres n'est pas seulement un gage de leur qualité, c'est aussi la reconnaissance de la fragilité de la permanence et de la mémoire. Les tonalités incarnées s'entrechoquent, créant une fragilité qui diminue leur longévité. Étant donné que tout ce qui est jeune et tranquille vieillit et se gâte. Étant donné cette fugacité éphémère, restez immobile.
M. Mucci – The Secret is Knowing When To Close Your Eyes
Chad Munson
Albedo
Saskatoon, SK
From the terribly homesick Joshua Robinson:
The sound of fright and might: looped calm speaking to the gleaming infinity of what draws us to the sound of our own breath against a frozen windowpane. These are the sounds of our silence creaking underfoot; servience to the seasonal might that shatters, tears, lulls, and dispels. For every atomic confluence there is an identic marriage of waveforms breathing sempiternity; subtle to-and-fros pleading unto the frozen night that there is in fact a whispered mistral as gentle as it is sprightly. Unto the wind, 'thank you'; unto the chill, 'be still'. Unto the day, both heavy and quiet, 'be as you are, forever as you can be'. Drone on.
Du terrible mal du pays Joshua Robinson:
(Traduits par les matins frissons de Marie-Pier Chevrier)
Le son de la frayeur et de la puissance : un discours calme mis en boucle sur l'infinité miroitante de ce qui nous attire dans le son de notre propre respiration contre la vitre. Ainsi résonnent les silences grinçants sous nos pieds, soumis à la puissance saisonnière qui fragmente, déchire, berce et éparpille. Chaque confluence atomique crée un identique mariage d'ondulations sempiternelles; de subtiles vas-et-viens clamant dans la nuit glacée qu'il existe un mistral, chuchoté, aussi doux que vif. Dans le vent, «merci»; sous la fraîcheur, «ne bouge plus». Avec le jour, aussi lourd que serein, «sois toi-même, aussi longtemps que tu le peux». Et bourdonne.
---