Tag: Love Nation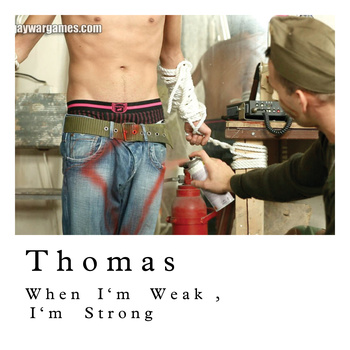 THOMAS
When I'm Weak, I'm Strong
(Love Nation)
Toronto, ON
From the lifted mellow of Aaron Levin:
Moved through space by permutations of silence and groove, THOMAS' first utterance in prime years resounds within receptors serotonin. Disrupting the brooding continuum of minor-key reverence, When I'm Weak, I'm Strong soars through lifted new-jack euphoria into the commanding heights of nirvanic dance. An offering worthy of clurb deities and future Desposyni. Grip.
De la détente transcendante d'Aaron Levin:
(Traduit par l'exaltation rationnelle de Jessica Grenier)
La première exclamation de THOMAS – en années tripartites – résonne dans la sérotonine des récepteurs en cheminant à travers l'espace par permutation de silence et de rythme. Troublant le sombre continuum de la vénération du ton mineur, When I'm Weak, I'm Strong monte en flèche depuis l'euphorie du new-jack transcendant jusqu'aux hauteurs du dance nirvanique. Une offrande digne des divinités de clurbs ou de descendance davidique. Agrippez-vous.

THOMAS – So Many Dreams About You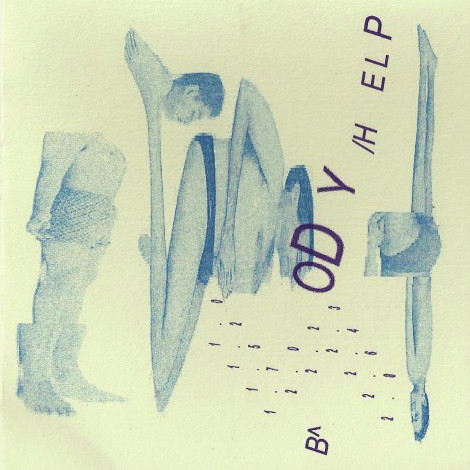 Body Help
Body Help
(Love Nation)
Toronto, ON
From the élan vital of Javier Fuentes:
Transcendent glimmers push back fading shadows on the streets of Toronto. The trio of Kieran Adams, Josh Cole, and Colin Fisher burns through the unwarped mind, leaving a scorched trail of smooth havoc. Self-help books crumple on the ground as the instrumental hums in the back make their way to the foreground. Profound exercises of consciousness descend on our bodies to the sounds of lysergic energy being drained from the spirit of each instrument. They give back as much as they take, leading flight patterns into places beyond our radar. There's nothing left to do but head further into the noise. Another crucial grip from Love Nation.
De l'élan vital de Javier Fuentes:
(Traduit par les ombres de Julie Forget)
Des miroitements transcendants font reculer les ombres qui s'effacent dans les rues de Toronto. Le trio de Kieran Adams, Josh Cole et Colin Fisher brûle dans l'esprit redressé, laissant une trace noircie de doux chaos. Des livres de développement personnel s'effondrent au sol pendant que les fredonnements instrumentaux en arrière-plan se rendent vers l'avant. Des exercices profonds de conscience descendent sur nos corps au son de l'énergie lysergique drainée de l'esprit de chaque instrument. Ils donnent autant qu'ils reçoivent, dirigeant leurs déplacements en vol à des endroits qui vont au-delà de notre radar. Il ne reste plus qu'à se rendre plus loin dans le bruit. Voici une autre fascination déterminante de la part de Love Nation.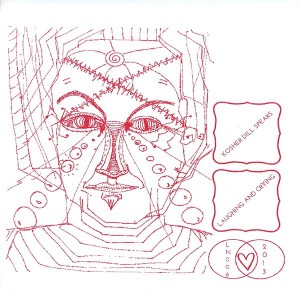 Kosher Dill Spears
Laughing and Crying
(Love Nation)
Toronto, ON
From the party platter of Chris Sayer:
Toronto's Kosher Dill Spears (a.k.a. Jesse Levine) has created a monster of an album with the pairing of percussive samples, organs and synth. His work as Victor Frankenstein builds from the body parts of musical genres, stitching soul ("What You Do to Me" ft. Maylee Todd) to psychedelic rock ("Rocorgan") to hip-hop ("Brinin'" ft. Peet Moss). The sounds combine like a prometheus posse conversing in their own tongues.
Des plateaux de fêtes de Chris Sayer:
(Traduit par les ballons roses de Joannie Pharand)
Le Torontois Kosher Dill Spears (c'est-à-dire Jesse Levine) a créé un album monstre en jumelant des échantillons de percussions, d'orgues et d'un synthétiseur. Son oeuvre à la Victor Frankenstein se construit à partir de pièces détachées de différents genres de musique, en assemblant du soul (« What You Do to Me » avec Maylee Todd), du rock psychédélique (« Rocorgan ») et du hip-hop (« Brinin » avec Peet Moss). Ces sons se mélangent comme une petite troupe de prométhéens qui se parlent dans leur propre langue.

Kosher Dill Spears – Couch Mode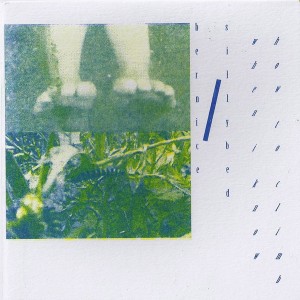 Bernice
When I Know How To Climb
(Love Nation)
Toronto, ON
From the lost frequencies of Javier Fuentes:
The latest offering from Bernice weaves pristine vocals and electronics around the natural frequencies of neighbourhood voices and urban noise. Robin Dann's vocals float seamlessly and soulfully over each layer of synth and percussion. The summertime sound collage guides a meditation amongst vibrant visuals. A new body emerges, tuned to the lost frequencies outside.
Des fréquences perdues de Javier Fuentes:
(Traduit par les sensibilités supranaturelles de Louis Warnock)
Le dernier effort de Bernice combine des chants purs et des sons électroniques autour de fréquences naturelles tirées des voix du voisinage et de la cacophonie urbaine. La voix de Robin Dann flotte de manière homogène et sentimentale par-dessus chaque couche de synthétiseur et de percussions. Ce collage de sons d'été vous guide dans une méditation au milieu d'images vibrantes. Un nouveau corps naît, à l'écoute des fréquences perdues au-dehors.
---