Tag: louis-felix pellerin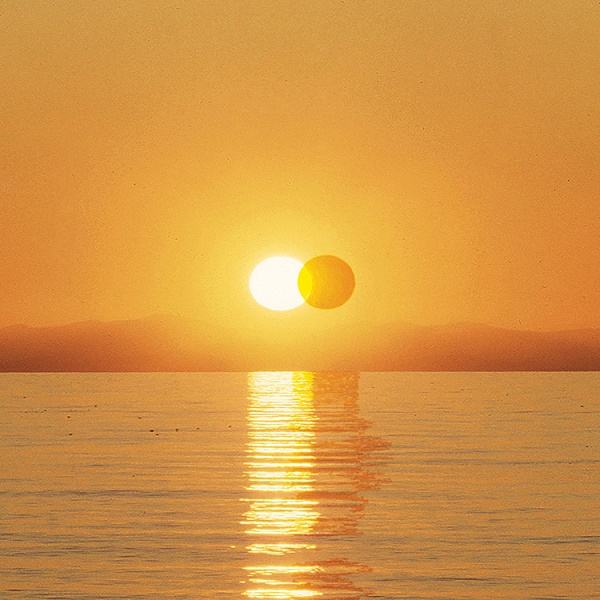 The Backhomes
Tidalwave
(Self-Released)
Victoria , BC
From the receding shoreline of Johnnie Regalado:
Before a tidal wave can come crashing down, the water must retreat from the shore. There is just enough time for the dual guitars of Aimée van Drimmelen and Kees Dekker to hit the sand and strum some beach fire anthems. The crackle of a drum machine embers extra warmth. These songs are an incantation calling the tide back home, bringing with it a chill wave of electrically serene ambience.
De la rive dégarnie de Johnnie Regalado:
(Traduit par l'intempérie décoiffante de Louis-Félix Pellerin)
Avant qu'un raz-de-marée puisse se fracasser contre la rive, le niveau d'eau doit d'abord baisser. Ça laisse juste assez de temps aux guitaristes Aimée van Drimmelen et Kees Dekker pour descendre à la plage et nous jouer des hymnes autour du feu. Le crépitement d'une boîte à rythmes vous tient bien au chaud. Ces morceaux sont une incantation qui rappelle la marée au bercail avec une vague d'ambiance relaxante et électriquement sereine.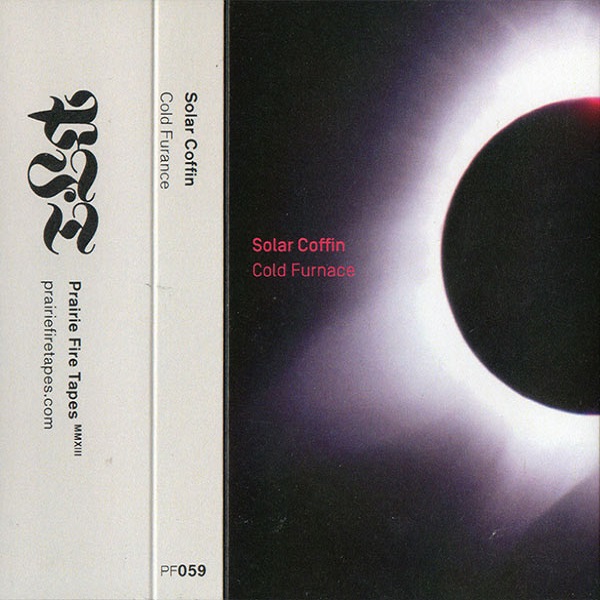 Solar Coffin
Cold Furnace
Winnipeg, MB
From the space funeral of Kevin Hainey:
You know you're going to get something worthwhile when Winnipeg's multi-disciplinary sonic experimenter Fletcher Pratt steps up to the recorder, and his latest analog synth obsessed project with Erik Larsen is no slouch on delivering the creeped out alien soundscape goods. In true Tangerine Dream and outsider electronic composition form, Solar Coffin's elongated tracks for future vehicles often begin in free-form stasis before drifting away to let some sequenced rhythms take over and provide airy beds for further wind-fuelled exploration. The duo dig deep into the moon's terrain and keep their cosmic vehicles moving along freshly oiled and analog enough that they certainly stand amongst the tallest heads and shoulders. Solar Coffin will surely uncover many bold new worlds as they continue astral travelling.
Des funérailles spatiales de Kevin Hainey:
(Traduit par le journal de rêves de Louis-Félix Pellerin)
Tu sais que tu peux t'attendre à quelque chose qui en vaut la peine quand l'expérimentateur sonique multidisciplinaire de Winnipeg Fletcher Pratt s'amène en studio. En collaboration avec Erik Larsen, son dernier projet fou du synthé-analogue ne lésine pas sur les paysages sonores étrangers troublés. Empruntant la forme de composition de Tangerine Dream et d'outsider électronique, les morceaux allongés de Solar Coffin pour les véhicules de demain commencent souvent en stase libre avant de partir à la dérive pour laisser place à des rythmes séquencés, procurant des lits aérés afin de mettre du vent dans les voiles et continuer l'exploration. Le duo s'enfonce profondément en terrain lunaire en s'assurant que ses véhicules cosmiques continuent leur périple sans manquer d'huile et qu'ils sont assez analogues, prouvant qu'ils font certainement partie des plus brillantes étoiles de notre époque. Solar Coffin continuera sûrement de découvrir de nouveaux mondes pleins d'aventures au cours de son voyage astral.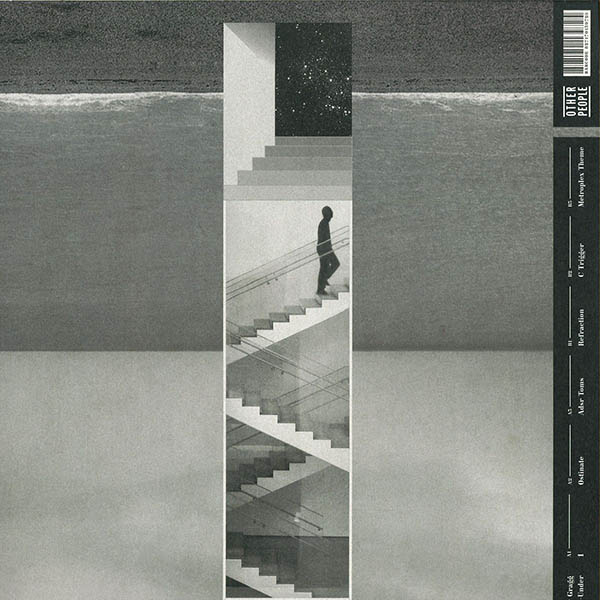 Drew Gragg
Over/Under
Montréal, QC
From the obsessive artifact of Javier Fuentes:
Rhythmic signals sounding off via sonar radars. Dancefloors portals submerged beneath the surface and brought to life in the way of fragile imaginations. The mind of Drew Gragg sees careful compositions gather depth and movement as they progress from melancholic recollection to futuristic expression. An air of introspection remains throughout each track while the sound itself becomes the artifact of our obsession, distracting us from further investigation. If you're feeling burnt from the long weekend but are hesitant to give up your dancefloor dreams, take this as your best alternative for recovery.
De l'artefact obsessif de Javier Fuentes:
(Traduit par la relique mexicaine du sud du Sri Lanka de Louis-Félix Pellerin)
Des signaux rythmiques retentissent par la voie de radars sonars. Sous la surface, des portails submergés qui mènent aux planchers de danse naissent sous la forme d'imaginations fragiles. Dans l'esprit de Drew Gragg, des compositions prudentes gagnent en profondeur et en mouvement alors qu'elles passent d'un souvenir mélancolique à une expression futuriste. On ressent un air d'introspection tout au long de l'album alors que la musique elle-même devient l'artefact de notre obsession, une distraction qui obstrue notre investigation. Si vous êtes à court d'énergie à cause du long week-end, mais que vous hésitez à mettre fin à vos rêves de piste de danse, considérez ceci comme votre meilleure option pour récupérer.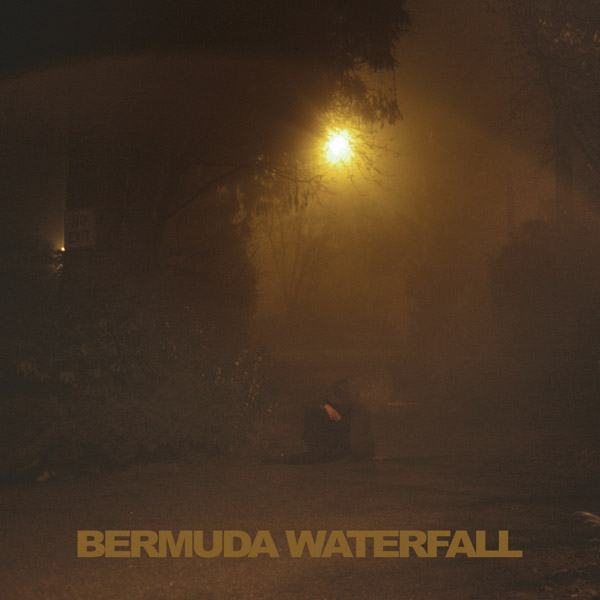 Sean Nicholas Savage
Bermuda Waterfall
Montréal, QC
From the graveyard tan of Michael Deane:
It's been a year, so let's talk about Sean again. He's back as the humorous, sad romantic; the anything-goes poet-pop motivator of the highest level; a man lost and found and still moving on. From pop to post-funk to hip-moving chanteur to drunk philosopher to wise and savage sage. He's back. And though we all know the best way to experience this is just to sit with it and listen for a week straight, here's the play-by-play in case you need further convincing.
"Boogie Nights" kicks things off with a Moroccan air, full of Flamenco guitar plucking while battling falsettos create the mood of tanning in a graveyard while some emaciated crooning ghouls try to obscure your sun. Want vocals? Tough luck, you gotta wait for "Naturally", kicking in with no drums, spare percussion, and wavering quivering quavering synths and guitars pouring out all over each other while King Sean sadly sings, then powerfully swingingly utters the downer but hopeful melody that is, by now, a staple in Seannie's sound stable. The ascending guitar riff that defines the pre-chorus almost steals the show from Sean's perfectly annunciated "Naturally" chorus.
Next comes "The Rat", which sounds nothing like "The Rat", and is instead full of pre-programmed synth beats, bordering on corny and still pushing it all forward – you know, it's Sean! Brilliant vocal melodies take over, while the stiff pre-programmed synths sound like '80s Cohen in a discotheque in Tangiers. Things burn out soon after ignited. Strange ways. Then he's back with this gem I've been waiting 18 months to hear a proper recording of: "Heartless" – nice guitars, stilted Duran Duran electro drums, pulsing programmed bass, but none of that really matters, because the vocals are what count on this (and most everything Savage). Lyrics are on point, vocal progression is beautiful, timeless and confusing, back-ups are sweet and thick and touching. Jungle metaphors run deep and obscure. Don't ever expect anything less.
"Empire" is up next, with the smoothest and most no-holds-barred '80s cornball-sounding verse yet, in a good way. This just makes the bed for the chorus to tear up. The pre-chorus has some THOMAS flavour, then the vocal ascension comes to a crushing conclusion – Empire of my soul, right on – with enough whoo-ooos and off-kilter vocal magnificence that will make you feel those real things.
Then we hit the midway point, breaking it up with "Hangin' On" – which is good, and actually kind of sounds like ex-Edmonton compatriot, Mac DeMarco. Then things return to perfect form with the title track, getting all minor key, while still owning this laid back lounging soft-rock. Take out Cohen's '80s brooding rumble, keep the form and add more hooks, and you've got "Darkness." "Hands Dance" takes a very hard left, sounding almost happy and optimistic, with some Muppets on the back-up chorus. It's a land that Savage has not yet ventured into, and makes this reviewer even more excited for what this man still has to write and record.
"Please Set Me Free" is a return to form – '80s drum triggers, references to Chinatown, asking to be set free, awesome and off-putting back-up vocals on the chorus. A sweet and slow burn, with rain sound effects, and talk of ordering rice. The boy knows and the boy knows it. Next up is a song that sounds like "Benny and The Jets" , but instead of being confident and anthemic, it takes a step back, gets very self-conscious and critical, and destroys the form with vulnerability. Storytelling at its most Savage. Finishing things off, there is a breezy '80s Lover's Rock R&B number, bringing in some early UB40 vibes, and Sean sounds happy for maybe the only time on the whole album. Sean is a natural national treasure. He is as exciting as it gets, and I can't wait for more.
Du bronzage funèbre de Michael Deane:
(Traduit par le teint macabre de Louis-Félix Pellerin)
Ça fait un an, alors revenons donc sur Sean. Il reprend son rôle de sentimental humoristique, mais triste; un motivateur poète pop du plus haut calibre pour qui tous les moyens sont bons; un homme perdu, mais retrouvé qui continue sa lancée. Après un long parcours, passant de chanteur polyvalent, que ce soit de pop, de post-punk ou simplement de musique qui fait déhancher, à philosophe poivrot, puis à sage sauvage, il est de retour. Et même si on sait déjà que la meilleure façon de ressentir son oeuvre est de se canter et de l'écouter sans arrêt pendant une semaine, voici une récapitulation morceau par morceau au cas où vous n'êtes pas encore convaincus.
« Boogie Nights » débute avec un air marocain plein de pincements de guitare style flamenco accompagnés de faussets luttant les uns contre les autres, créant une ambiance de bain de soleil au cimetière en compagnie de goules émaciées qui fredonnent et bloquent vos rayons de lumière. Vous voulez des paroles? Pas de chance – va falloir attendre « Naturally » qui commence sans batterie, percussion de réserve, le tremblotement des synthés et des guitares s'enterrant mutuellement, tandis que King Sean chante tristement avant de proférer avec une force virevoltante cette mélodie triste, mais pleine d'espoir qui est maintenant une partie fondamentale de son oeuvre. Le riff de guitare montant qui définit le préchoeur vole presque la vedette aux paroles parfaitement chantées de Seannie dans « Naturally ».
S'ensuit « The Rat », qui diffère totalement d'un morceau du même nom et qui déborde plutôt de beats synthés préprogrammés qui frôlent le cucul, mais qui arrivent quand même à faire bouger les choses – du Sean tout craché, quoi! De superbes mélodies vocales prennent le dessus alors que les synthés lourds sonnent comme du Cohen des années 80 jouant dans une discothèque à Tanger. Les choses s'éteignent peu après avoir été allumées. Étranges façons. Puis, après 18 mois à attendre un vrai enregistrement, il me revient avec ce petit bijou : « Heartless »; de la bonne guitare, du Duran Duran guindé, de la batterie électrique, de la basse bien rythmée; mais rien de ça n'est vraiment important parce que les paroles sont ce qui compte ici (et Savage encore plus). Elles sont à point; la progression vocale magnifique, éternelle et laissant perplexe; la chorale, elle, est douce, dense et touchante. Les métaphores sur la jungle sont ancrées profondément en plus d'être assez obscures. Ne vous attendez jamais à rien de moins.
L'album enchaîne avec « Empire » et ses doux couplets qui vont chercher le plus cucul (dans le bon sens du terme) des années 80. Cela n'est qu'une préparation pour la chorale, car ça va déchirer! On peut ressentir du THOMAS dans la préchorale avant que l'ascension vocale n'atteigne une conclusion écrasante : Empire of my soul, oh ouais. Cette toune est remplie de wouhous et d'une magnificence vocale un peu tordue qui va vous faire ressentir les vraies choses.
On arrive à la moitié de l'album avec « Hangin' On », qui en plus d'être bien, sonne un peu comme Mac DeMarco, ancien camarade d'Edmonton. C'est alors que la chanson éponyme fait son entrée, ramenant le tout à sa forme parfaite, tombant en mode mineur tout en conservant un son soft-rock bien décontracté. Abandonnez les grondements maussades des années 80 de Cohen, gardez la forme, ajoutez plus de crochets, et vous voilà avec « Darkness ». « Hands Dance » vous prend à revers avec son ton optimiste et joyeux et sa chorale composée de Muppets. C'est un territoire encore inconnu pour Savage, ce qui ne fait qu'attiser mon anticipation pour les oeuvres futures de cet homme.
« Please Set Me Free » effectue un retour aux formes avec des déclencheurs de batterie des années 80, des références à Chinatown, une soif de liberté ainsi qu'une chorale qui est à la fois époustouflante et perturbante. Une combustion douce et lente accompagnée du tambourinement de la pluie et d'intentions de commander du riz. Il s'y connaît, le gars et il. Le prochain morceau est similaire à « Benny and The Jets », mais au lieu d'évoquer la confiance et d'avoir un air hymnesque, il prend du recul, devient très timide et critique de lui-même et détruit la forme avec vulnérabilité. Du récit à son plus Sa(u)vage. Le tout se termine avec une performance R&B enjouée de Lover's Rock des années 80 qui amène une ambiance qui rappelle UB40 à ses premiers jours. C'est peut-être le seul moment dans tout l'album où Sean semble joyeux. Il est un véritable trésor national. Il n'y a pas plus excitant, et je suis impatient d'entendre ce qui va suivre.

Sean Nicholas Savage – Heartless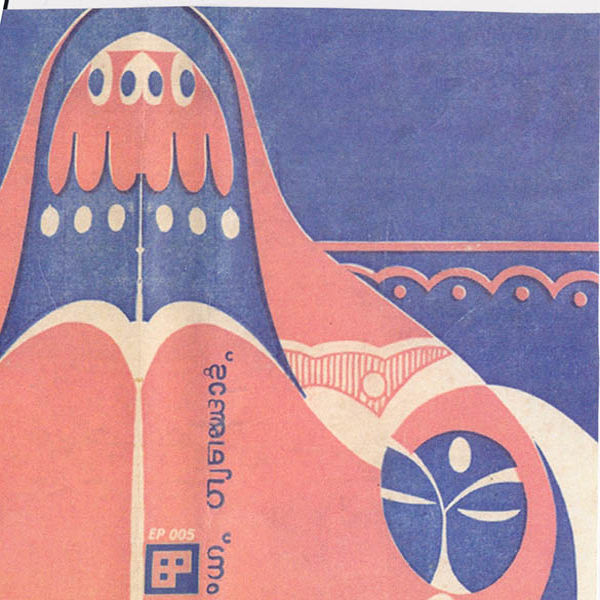 Dories // Telstar Drugs
Split
Montréal, QC
From the net.art of Josh Silver:
Side one. An energy from the beginning that wastes no time building up. The in media res of the Dories draws you in immediately. Concealing and revealing a series of tempo modulations; running then walking then running again. Instrumentation weaved into careful flows, melodic lines evolving through iterations.
Side two. A total rhythm pervades Telstar Drugs' exercise in instrumental weaving. Guitar riffing ceases to ornament the music, but becomes a partner to the drums: another layer of beat meaning. Each instrument's frenetic movement is grounded by the central vocal, outside the structure but at once central. If the Dories create music of evolutionary motives, then Telstar Drugs are its antithesis, creating a motive that evolves within itself.
De l'art.net de Josh Silver:
(Traduit par le réseau artistique de Louis-Félix Pellerin)
Côté A. Une énergie qui dès le début s'accumule sans perdre de temps. L'In medias res des Dories vous accroche immédiatement, dissimulant d'abord puis révélant une série de modulations de tempo; d'abord au pas de course, puis en marchant, puis accélérant le pas encore une fois. Une instrumentation qui forme des flux travaillés, avec des lignes mélodiques qui évoluent avec chaque itération.
Côté B. Un rythme total se répand dans l'exercice de tissage instrumental de Telstar Drugs. Les riffs de guitare cessent d'agrémenter la musique pour aller s'agencer à la batterie, ajoutant une autre épaisseur au sens du beat. Les mouvements frénétiques de chaque instrument sont maintenus en place par un chant qui est à la fois central et hors structure. Si les Dories créent une musique à but évolutionnaire, Telsar Drugs est alors leur antithèse, créant un but qui évolue au sein de lui-même.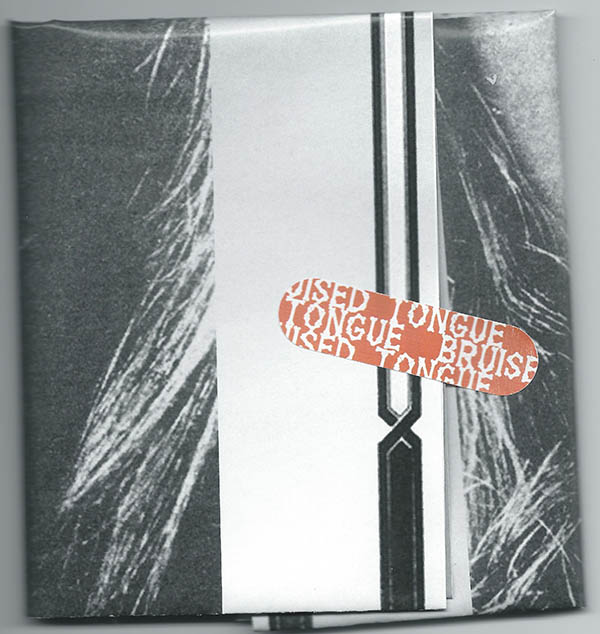 Various Artists
Afterburners Vol. 4
Ottawa, ON
From the free lunch stamp card of Alanna Yaraskavitch:
The fourth instalment of Bruised Tongue's post-Ottawa Explosion comp kicks off with a phone call from The Yips: Can you do dinner tonight at an inter-provincial, all-you-can-listen buffet of sonic delicacies? Call the sitter and clear your schedule, it's time to sip dandelion homebrew with Boyhood and sample wild game with Mark Alexander McIntyre. Look over there in the corner! Neck's eating mashed potatoes with their hands down their pants while Bonnie Doon devour $2 slices. It's time to pay, but the price is free – my compliments to the chef.
De la carte à tampon pour lunch gratuit complément d' Alanna Yaraskavitch:
(Traduit par la carte de fidélité certifiée Louis-Félix Pellerin)
Le quatrième tome de la compé post-Ottawa Explosion de Bruised Tongue commence avec un appel téléphonique de The Yips: Pouvez-vous vous occuper du souper ce soir, à un fin buffet sonique à volonté interprovincial? Appelez la gardienne et libérez-vous, c'est le temps d'aller siroter de la liqueur de pissenlit artisanale avec Boyhood et de déguster du gibier sauvage avec Mark Alexander McIntyre. Mais regardez qui est dans le coin! Neck se gavent de patates pilées les mains dans les pantalons tandis que Bonnie Doon dévorent des pointes à 2$. Il est venu le temps de payer l'addition, un gros GRATUIT est inscrit à la place du montant final; mes compliments au chef.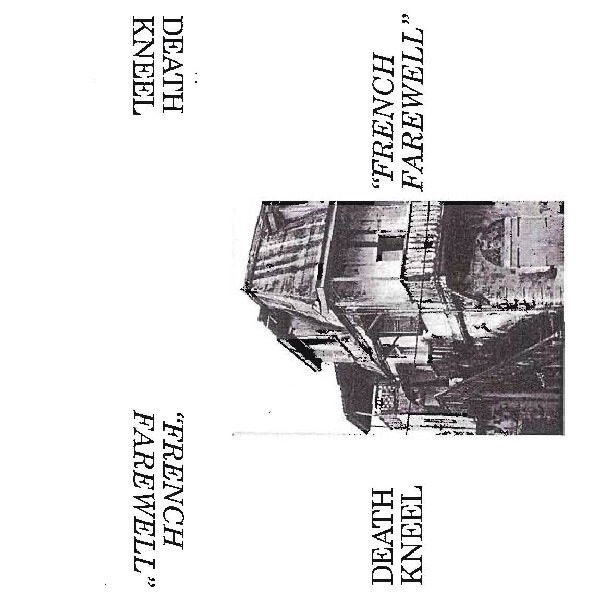 Death Kneel
French Farewell
Toronto, ON
From the cold, naked body of Griffin Martell:
There is a suffocating sense of abandon that pervades the power noise Max Klebanoff crafts as Death Kneel. 'French Farewell', the first release on Klebanoff's newly inaugurated Summer Isle label, encloses you in a chamber of predatory drones before abruptly thrusting your cold, naked body up to the panoptic surface. Not far off from the harsh industrial pummelings of early Tesco Organization releases, the A-side's throbbing low-end frequencies evoke the bracing spectacle of a precarious helicopter landing. On the B-side, Klebanoff douses the throaty vociferations he howls with New Armour in an acid wash of prickly noise. As this chaos subsides and you re-orient your senses, a somber send-off reminds you that someone's always watching.
Du corps nu et glacial de Griffin Martell:
(Traduit par le lavage de cerveau zombificateur de Louis-Félix Pellerin)
Il y a un sens de l'abandon suffocant imbibé dans le power noise que crée Max Klebanoff à travers Death Kneel. "French Farewell", la première sortie de Summer Isle, le label nouvellement-inauguré de Max Klebanoff vous enferme dans une chambre remplie de drones menaçants de avant de pousser soudainement votre corps froid et dénudé vers la surface panoptique. Non loin des martèlements industriels des premiers temps de Tesco Organization, les fréquences rythmiques bas de gamme du côté A évoquent toutes les sensations fortes qui viennent avec un atterrissage d'hélicoptère risqué. Sur le côté B, Klebanoff arrose ses vociférations rauques d'un torrent acide de bruit épineux à la New Armour. Alors que le chaos s'estompe et vous réorientez vos sens, un adieu sombre vous rappelle qu'il y a toujours quelqu'un qui vous observe.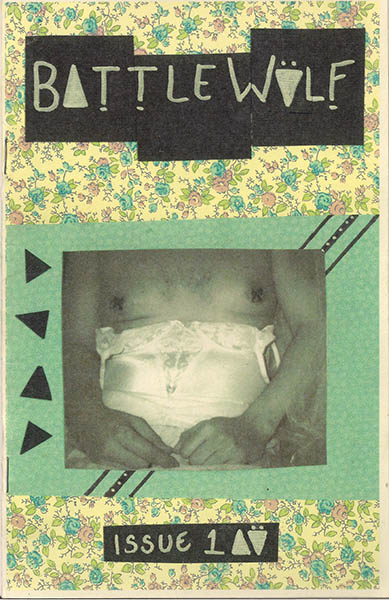 BattleWülf
Just Do What You Do & Never Look Around the Others
(Self Released)
Waterloo, ON
From the Oregon trail of Javier Fuentes:
Waterloo, for better or for worse, is an unpredictable city. It's a place where the local symphony plays Dan Deacon songs and the Mongolian Grill has a house band. It's also a place where a garage-pop group can be a leading candidate for the most left-field recording I've heard this year. Diluting the typically heavy waters, BattleWülf channel a recent influx of touring Haligonian bands into unassuming but immediately exciting songs. While it may not be the best aesthetic representation of the local scene, the spirit embodied here couldn't be closer to that ideal.
De la piste de l'Oregon de Javier Fuentes:
(Traduit par la caravane mal-huilée de Louis-Félix Pellerin)
Pour le meilleur et pour le pire, Waterloo est une ville imprévisible. C'est un endroit où l'orchestre local joue du Dan Deacon et où le resto Mongolian Grill a son propre band. C'est aussi l'endroit où un groupe de garage pop est en tête de liste pour rafler la palme de l'enregistrement le plus surprenant que j'ai entendu cette année. Diluant les flots typiquement torrentiels, BattleWülf canalise un influx récent de groupes haligoniens en tournée pour faire des chansons modestes, mais excitantes. Bien qu'il ne soit peut-être pas la meilleure représentation esthétique de la scène locale, l'esprit de la chose ne pourrait pas être plus près de ces idéaux.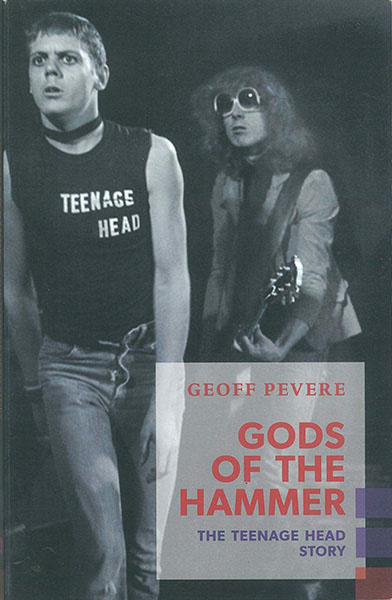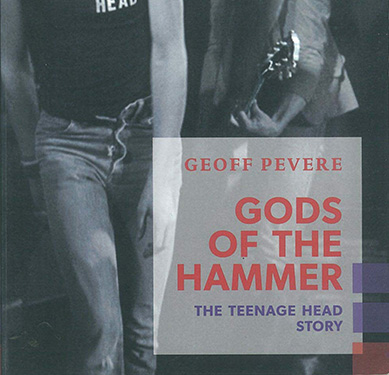 Gods of the Hammer: The Teenage Head Story
Geoff Pevere
136 pages, soft-cover, perfect bound
Toronto, ON
From the hormone-addled mind of Brian Fauteux:
From Hamilton to Toronto and beyond, Gods of the Hammer is a journey through the ups and downs of Teenage Head. With a basement-born work ethic Teenage Head emerged in the late 1970s with an urge to react against the "old ways of making noise". This reaction was propelled by sites that helped build a scene around the band. The Ontario College of Art, the basement of the Colonial Tavern on Yonge Street, and the Horseshoe Tavern.
Pevere is present in the story of Teenage Head, as a fan both then and now. He cuts in with thoughts on and memories of the band then and now. We experience the release of Teenage Head in 1979 when the recorded album was though to not match the intensity of the band's live show. Today, Pevere tells us that the album has reached "classic status." His "ears hear it differently now than they did back then."
Punk's place in popular music history is full of stories about sounds and scenes in New York and the U.K. but Canada remains fairly undocumented and under-appreciated. This is changing for the better with the help of Gods of the Hammer.
De l'esprit sous l'influence des hormones de Brian Fauteux:
(Traduit par la froideur logique de Louis-Félix Pellerin)
De Hamilton à Toronto et plus loin encore, Gods of the Hammer est un périple à travers les hauts et les bas de Teenage Head. Avec une déontologie qui a vu le jour dans un sous-sol, Teenage Head a émergé dans les années 70 avec une forte envie d'aller à l'encontre des "anciennes méthodes de création du son". Cette réaction a été amorcée par des sites qui ont contribué à créer une scène autour du band comme l'Université de l'École de l'art et du design d'Ontario, le sous-sol de la Colonial Tavern sur la rue Yonge et la Horseshoe Tavern.
Pevere est un fan, alors et maintenant, avec une présence intégrale dans l'histoire de Teenage Head. Il s'interpose avec les pensées et les souvenirs du groupe, alors et maintenant. On revit [la sortie de Teenage Head en 1979] (https://www.youtube.com/watch?v=v45OxMvZOpQ, lorsqu'il était dit que l'album studio n'accotait pas l'intensité des représentations en direct du groupe. Selon Pevere, l'album est aujourd'hui considéré comme un "classique". Ses "oreilles l'entendent différemment qu'ils l'entendaient dans le temps."
La place du punk dans l'histoire de la musique populaire est abondante d'histoires de sons et de scènes provenant de New York et du Royaume-Uni, mais le Canada reste non documenté et sa vraie valeur échappe à plusieurs. Mais, avec l'aide de Gods of the Hammer, la situation est en train de changer pour le meilleur.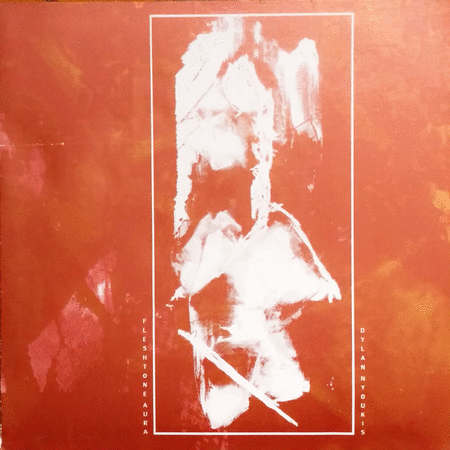 Fleshtone Aura // Dylan Nyoukis
Split
Toronto, ON // Brighton, UK
Fleshtone Aura
AREA
Toronto, ON
From the freed mind and followed ass of Kevin Hainey:
Two oceans-apart aural collage masters team up to flambe their best dashes of spice across this pair of tenderized and marinated beef steaks. Toronto's resident evil Fleshtone Aura (a.k.a. Andrew "No C" Zukerman) has been summoning strange sensations for over a decade now with duo du jour Gastric Female Reflex. He's undergone a plethora of personality crises with memorable recording identities like Various Artists, Untitled (to which his previous Chocolate Monk CDR was accredited), DJ Longhorn Grille and Charles Balls, but since Fleshtone was coloured in 2011, this has been Zukerman's most ambitious project.
The Beniffer LP is marbled clear, black and green and comes in an ornately silkscreened cover. It is a split with Brighton, UK scene survivor Dylan Nyoukis (Blood Stereo, Prick Decay), whose influence has been tantamount in experimental areas of modern composition since the early '90s. The two have been supporters of each other for many years now so a split LP makes perfect sense given their similar visions. Nyoukis also runs the envelope-pushing (albeit one full of psychedelic drugs) Chocolate Monk label which released the amazing AREA. This is music arranged to be chaotic, heavily inspired by ideas commissioned during 20th century composition's heyday rather than pop and rock's obsessions with keeping time and marching to repetition. If anything, this is music that aims to break down those conditioning influences.
De l'esprit libéré et du cul captivant de Kevin Hainey:
(Traduit par l'âme vagabonde de Louis-Félix Pellerin qui est inexplicablement attirée vers les arrière-trains)
Ces deux maîtres de la ratatouille musicale s'associent pour flamber cette paire de steaks marinés à l'aide de leurs meilleures épices, malgré les océans qui les séparent. Depuis plus d'une décennie, le démon local de Toronto, Fleshtone Aura (alias Andrew « No C » Zukerman), invoque d'étranges sensations avec le duo du jour Gastric Female Reflex. Il a traversé de nombreuses crises d'identité et est passé d'une personnalité mémorable à l'autre, notamment Various Artists, Untitled (c'est sous ce nom qu'il a sorti son dernier CD, Chocolate Monk, DJ Longhorn Grille et Charles Balls, mais Zukerman entreprend son projet le plus ambitieux depuis la mise en couleur de Fleshtone en 2011.
Son LP Bennifer, d'un marbré clair, noir et vert, vient dans une pochette dont la couverture est richement sérigraphiée. C'est un split avec Dylan Nyoukis (Blood Stereo, Prick Decay), un vétéran de la scène brightonienne dont l'influence est omniprésente dans le secteur expérimental de la composition moderne depuis le début des années 1990. Puisqu'ils s'encouragent mutuellement depuis des années et qu'ils partagent une vision similaire, un album split est la suite logique des choses. De plus, Nyoukis est à la tête du label discographique innovateur (innovations sans aucun doute influencées par la drogue psychédélique) Chocolate Monk qui était derrière l'incroyable AREA. C'est de la musique arrangée dans le but d'être chaotique, en plus d'être grandement influencée par la composition musicale du début du XXe siècle plutôt que par l'obsession à maintenir le rythme et marcher au pas des répétitions amenée par le pop et le rock. En fait, si on y pense, ce qu'on retrouve sur ce split, c'est le genre de musique qui vise à démolir les conventions modernes.
Fleshtone Aura – Level 2 [Split]
---