Tag: loud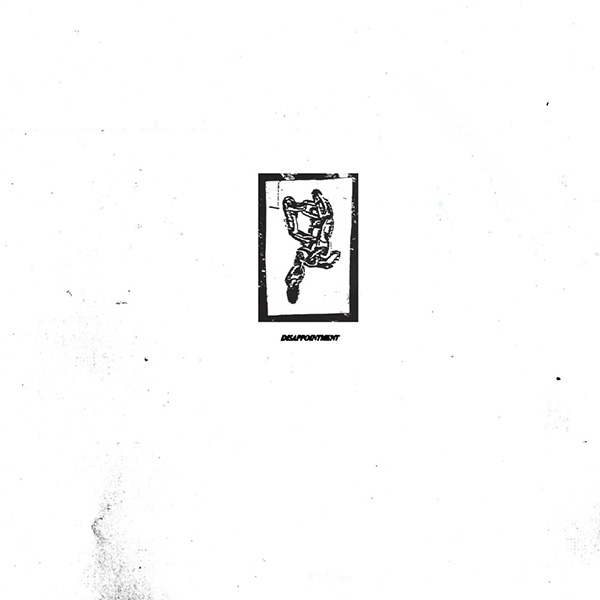 Tunic
Disappointment
Public Tone
Winnipeg, MB
From the constant disappointment of Josh Rohs:
Winnipeg's Tunic roll up their sleeves on their 7" debut, a tetra-pack of knuckle-dragging noise-punk as exothermic (and ephemeral) as an arc flash. These Manitoban noisemongers scrape and claw through tracks like adderall-fueled Liz-kids. Got an itch you can't scratch? Can't get no satisfaction? Here's a dose of *Disappointment*.
Du désappointement constant de Josh Rohs:
(Traduit par la chambre noire de Julie Mayer)
Le groupe Tunic de Winnipeg retrousse ses manches sur son tout premier super 45 tours, un Tetra Pak de punk noise primitif aussi exothermique (et éphémère) qu'un arc électrique. Ces sonoriers manitobains égratignent et griffent à travers les chansons comme de jeunes lézards roublards nourris à l'Adderall. Tu n'peux pas te *scratcher* pour soulager ta démangeaison? T'es pas satisfait? Voici une dose de *Disappointment*.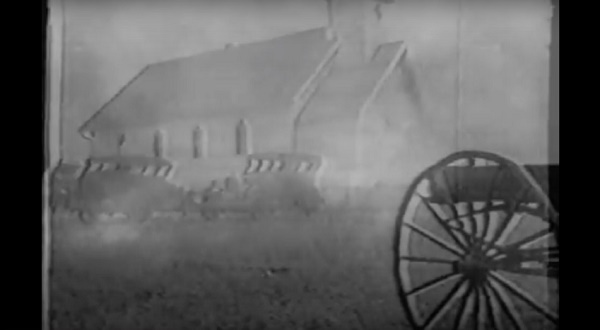 Black Tremor
Impending
(Directed by: Peter Grier)
Saskatoon, SK
From the prodding madness of Joshua Robinson:
The arid dystopianism creeps in underneath my door. The wind, carrying granules of parched earth, taps against my cheek:
——-'Shhhhhhhhhhhh'——–: the sound of a madness prodding my brain.
"What is this?", it asks, knowing full well that I could not speak as dust filled my mouth.
——-'Shhhhhhhhhhhh'——-: the sound of walls giving way to prairie cyclones.
"The broken earth," speaking with my eyes yet insinuating with my hand as I reach for the cracked glass sitting on my bedside table. Water rolls down my forearm, reaching my chapped lips and meeting the grime in my mouth as I choke on my first taste of mud.
Des petits coups de folie de Joshua Robinson:
(Traduit par les lèvres gercées de Julie Mayer)
Le dystopianisme aride s'insinue en dessous de ma porte. Le vent, porteur de granules de terre asséchée, tape contre ma joue :
——-'Shhhhhhhhhhhh'——–: le son de la folie frappant mon cerveau à petits coups.
« C'est quoi ça?», demande-t-il, sachant très bien que je ne pouvais parler alors que la poussière remplissait ma bouche. ——-'Shhhhhhhhhhhh'——-: le son des murs qui cèdent sous les cyclones des prairies.
La « terre brisée » parle avec mes yeux, mais se lie d'amitié avec ma main alors que je tends le bras pour prendre le verre craquelé posé sur ma table de chevet. L'eau coule le long de mon avant-bras, atteint mes lèvres gercées et rejoint la crasse de ma bouche alors que je m'étouffe à mon premier goût de boue.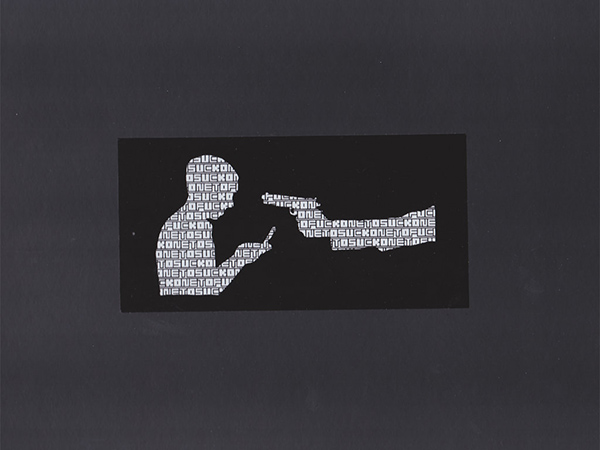 b.burroughs // justin scott gray // the One (family)
ONE TO SUCK, ONE TO FUCK
Toronto, ON
From the confusing paroxysms of Joshua Robinson:
A horde of demarcated stingers and sweetness. Little are we to know that one is the other is the other. All things equal?
Indexicality: smoke and fire, thunder and torn veneer, a closing eye and embezzled light. If patterns were constant and form immutable, we would all be the same. Ergo the change; the inevitability of gyre; tempering, nothing constant. Janus-faced. Austere in their words, but origins the same.
Des paroxysmes confus de Joshua Robinson:
(De l'hémispère gauche de Diane Beaupré)
Tout et son contraire. Difficile de savoir que l'un est l'autre et l'autre. Tout est pareil? Indexicalité : la fumée et le feu, le tonnerre et le contre-plaqué arraché, un œil qui se ferme et la lumière diffuse. Si les motifs étaient constants et les formes immuables, nous serions pareils. D'où le changement, l'inévitable tourbillon; en mouvement, jamais constant. Visages de Janus. Austère dans leur propos, mais fidèles à eux-mêmes.
the One (family) – nounverbnoun
justin scott gray – Drone Strike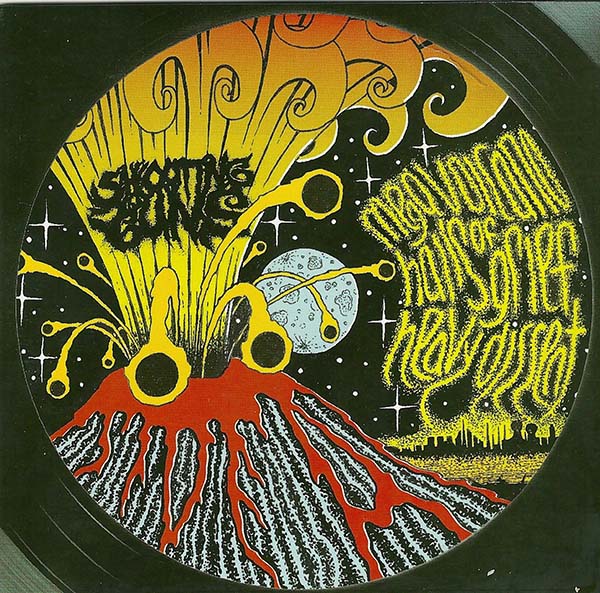 Shooting Guns // Hawkeyes
Brothers of the Nod
Saskatoon, SK // Waterloo, ON
From the bawkwind hootleg of Josh Rohs:
You've been lied to. Observe your compass needle. Magnetic declination nods to the truer north: the exact midpoint between Waterloo and Saskatoon. There stands a megalith, coloured obsidian and cloaked in undulating fuzz fraternal. A loudspeaker spews out Brothers of the Nod's outerstellar overdrive, seeping more booze than a Hawkwind bootleg. Doom-kosmische dirtbags of the world, unite.
De l'enregipirement strate présentant Hawkwind de Josh Rohs:
(Traduit par l'aurore boréale de Julie Mayer)
On t'a menti. Observe l'aiguille de ta boussole. La déclinaison magnétique fait un clin d'oeil au nord plus vrai que le nord vrai: le point milieu exact entre Waterloo et Saskatoon. À cet endroit se dresse un mégalithe, une obsidienne colorée enveloppée dans un ondoyant fuzz fraternel. Un haut-parleur crache la suractivité hors-stellaire de Brothers of the Nod et suinte plus de gnôle qu'un enregistrement pirate présentant Hawkwind. Marginaux doom-kosmische, unissez-vous!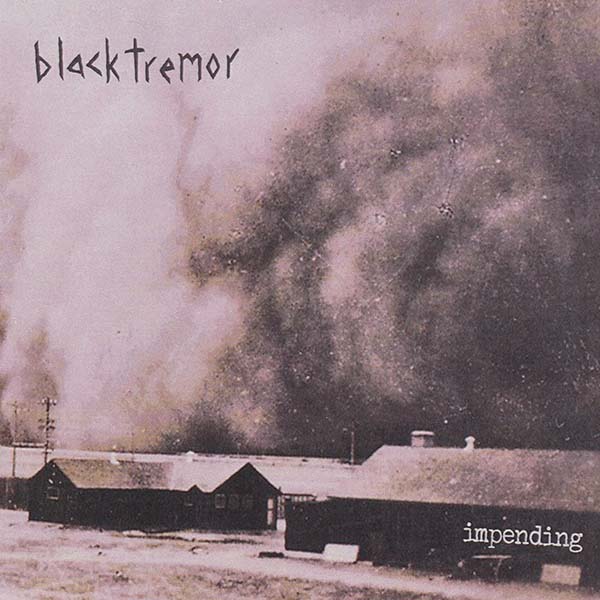 Black Tremor
Impending
(Self Released)
Saskatoon, SK
From the heavy, heavy light of Joshua Robinson:
Like older siblings, they are flame. Dancing at the mouth of the end of it all. Cracks in the welkin overhead; impending kismet. Noumena in mirrors. Siimilar yet singular, gaining reverence for a rapture forced rather than happened upon; conjured rather than readily given; spliced, destroyed and put back together again, all while calamity whispers unto itself that the break in the storm is the end of the beginning of the end. The blackening tremors below allude to the baser animism in us all; rattled, reckoned; the chasm is all that matters. We are all heavy in the light.
Par la lourde, lourde lumière de Joshua Robinson:
(Traduit par la tête animale d' Émily Traichel)
Comme les aînés de la famille, ils pètent le feu. Dansant là où la fin de tout débouche. Des fentes dans la voûte céleste; le destin imminent. Noumènes dans les miroirs. Semblables, mais singuliers, gagnant une révérence pour une extase forcée plutôt que tombée dessus; conjurée plutôt que donnée; épissée, détruite et à nouveau reconstruite, tandis que la calamité se chuchote que l'éclaircie après l'orage est la fin du début de la fin. Les tremblements noircissant d'en bas font allusion à l'animisme infâme à l'intérieur de nous tous; secoué, calculé; le gouffre est tout ce qui compte. Nous sommes tous lourd dans la lumière.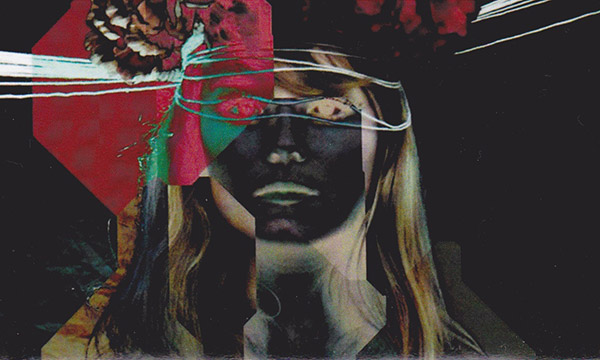 The Yips
Air Loom
Ottawa, ON
From the distorted parapets of Joshua Robinson:
Ouija words spill across distorted distances. Sound waves imbued with garage spirits that once stood so still now force their way through the parapets that keep their potential energy at bay. Air Loom is a staggering edifice of sound; a source of the waves that emanates from the eye of the storm , intorting its breath to the point of becoming the heavy dissonance that turns calm to clamour; 'yeah yeah yeahs' that reverberate across the northernly compass.
Des garde-fous tordus de Joshua Robinson:
(Traduit par Jessica Grenier)
Des mots de Ouija s'étendent sur un horizon déformé. Des vagues de son imprégnées d'esprits de garage, qui jadis restaient si immobiles, essayent de défoncer les garde-fous tenant à distance leur énergie potentielle. Air Loom est un édifice de son vertigineux; c'est la source de ces vagues qui émanent de l'œil de la tempête en tordant sa respiration intérieure, au point de devenir une lourde dissonance changeant le calme en cacophonie. Les « yeah yeah yeah » se répercutent à travers l'étendue nordique.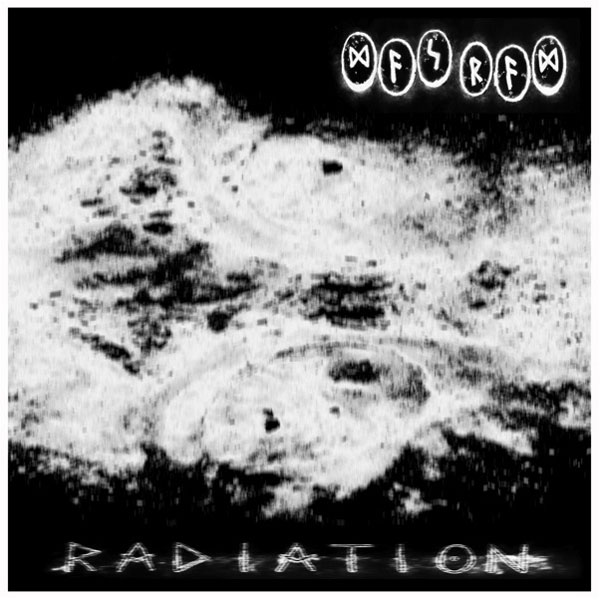 Das Rad
Radiation
Toronto, ON
From the drummed ears of Andy Clark:
The first two times I turned on Radiation, I immediately turned it down. After the initial blast of feedback subsided, the music became a wild expression of fuzz destruction: a truck driver drives their truck into the fog, later waking to find that they've arrived in a town where they are not the only visitor. "1331", "Sake of Sound" and "Afterbang" play like a gekiga comic: unassuming at first, until deep evil threads itself into reality. Beware the fog… was it a self-inflicted manifestation of guilt after all?
Des oreilles martelées d' Andy Clark:
(Traduit par Jessica Grenier)
Les deux premières fois que j'ai voulu écouter Radiation, j'ai immédiatement baissé le son. Mais une fois que la première explosion de feedback est passée, la musique devient l'expression sauvage d'un fuzz destructeur. Un camionneur conduit dans le brouillard, il est réveillé plus tard par la découverte qu'il est arrivé dans une ville où il n'est pas le seul visiteur. « 1331 », « Sake of Sound » et « Afterbang » ressemblent à un manga gekiga : des débuts sans prétention jusqu'à ce qu'une profonde noirceur se superpose à la réalité. Méfiez-vous du brouillard… est-ce qu'il s'agissait finalement depuis le début d'une culpabilité auto-infligée?
From the smoke-drenched greasy hair of Eddie & Alexis:
(Translated by Eddie & Alexis)
Dionysos is considered the first Québécois rock band with a full repertoire of originals. Proof may still be required, but they sure didn't need any covers! A bunch of stoner drifters from Valleyfield fuelled by Deep Purple and Mexican Gold took over the studio of Donald Lautrec, the king of yé-yé pop in Québec. There they recorded six heavy psychedelic progressive monsters, tightly wrapped in blues. Through the hypnotic organ spirals ("L'âge du Chlore") and bursts of fuzzed-up guitar ("Narcotique") singer Paul-André Thibert delivers a roaring worker's poetry on "Suzie," a song with lyrics always rhyming with its title. Yet we can't ignore P-A's performance on flute and harmonica. Most of the time, awkward, out of breath or flaky aren't great terms when it comes to music, but P-A gets to the core of these concepts as a raw, free, back-of-the-bus poet. Tripping way over the known parts of Québec rock at the time, Dionysos transcends Black Sabbath and Aut'Chose to become a revolted god who will fall into oblivion after its time.
Eddie & Alexis:
Dionysos serait le premier groupe rock québécois à avoir un répertoire entièrement francophone et formé de compositions. On ne sait pas si c'est complètement vrai, mais c'est tout un groupe rock et ils n'ont en effet pas besoin de faire de reprises. Une bande de zonards stoneurs de Valleyfield carburant au Deep Purple et au Mexican Gold ont pris d'assaut les studios de Donald Lautrec, le roi du yé-yé au Québec, avec un éventail de morceaux progressifs et psychédéliques solidement ancrés dans le blues. À travers des spirales d'orgues Hammond hypnotiques (L'âge du Chlore) et des déflagrations de guitare électrique (Narcotique), le chanteur Paul-André Thibert nous délivre une performance rugissante de poésie ouvrière. Notamment, dans Suzie, leur premier single, où il s'évertue à faire rimer toutes les lignes en i et laisse donc place à des phrases mémorables. On s'en voudrait également de ne pas donner une mention honorable à toutes les apparitions de flûte à bec et d'harmonica. En temps normal, les termes essoufflé, hésitant et mal à l'aise ne sont pas très bien vus pour parler d'instruments de musique, mais c'est mal connaître Thibert. En ses qualités de poète cru et libre, il réussit à en tirer le maximum et à puiser l'essence même de ces concepts. Voyageant bien au-delà des terres connues du rock québécois de l'époque, Dionysos transcende Black Sabbath et Aut'Chose et devient un dieu révolté qui tombera pourtant dans l'oubli.
Dionysos – Narcotique [extract]
---