Tag: loner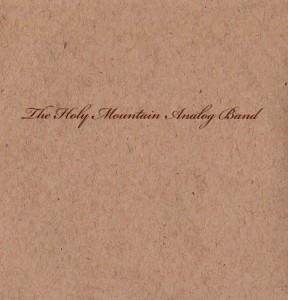 The Holy Mountain Analog Band
The Return To Lonely Mountain
(Self Released)
Victoria, BC
From the barometric upthrusts of Joshua Robinson:
Somewhere along the path to Lonely Mountain, the Holy Mountain Analog Band found themselves trapped and blinded in the haze of their harrowing ascent to the summit of these tectonic tales. This Lonely Mountain, this monster riding the abridged back of the horizon, stabs its vitrified solemnity through the stomach and out the back of the loosely hanging clouds above. These fragile escarpments, these songs of stone and glass, these winding sojourns through the rough and the wild, emerge undaunted by their barometic upthrusts. What are these nomads of the travelling heart returning to? What have they left behind? So much remains unanswered by these parables of soft travels through rolling divides. That their folk could be so lachrymose yet so palpably optimistic makes this ascent to the Mountain's balding head instantly nostalgic; nomadic folk for the helplessly landlocked.
Des sursauts barométriques de Joshua Robinson:
(Traduit lentement par l'orégénèse estomaquée de Hugo Hyart)
Quelque part sur le chemin de Lonely Mountain, le Holy Mountain Analog Band s'est retrouvé piégé et aveuglé par la brume de sa poignante ascension vers le sommet de ces contes tectoniques. Cette Lonely Mountain, ce monstre chevauchant le dos abrégé de l'horizon, poignarde sa solennité vitrifiée dans l'estomac et ressort par le dos des nuages accrochés nonchalamment au-dessus. Ces escarpements fragiles, ces chansons de pierre et de verre, ces séjours sinueux dans le rude et le sauvage, émergent vaillamment par leurs sursauts baromètriques. Où retournent donc ces nomades au coeur voyageur ? Que laissent-ils derrière eux? Tant de choses restent sans réponses par ces paraboles de voyage doux à travers des divisions roulantes. Que leur peuple puisse être si morne et pourtant si manifestement optimiste rend cette ascension vers le sommet dégarni de la Montagne instantanément nostalgique; peuple nomade pour les désespérés enclavés.
The Holy Mountain Analog Band – Return to Lonely Mountain
The Holy Mountain Analog Band – The Cheerup Boy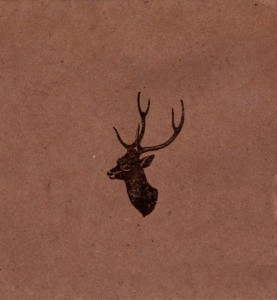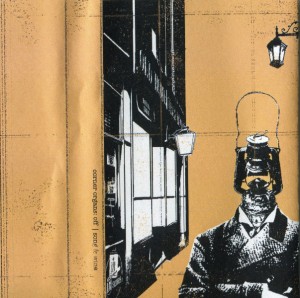 Corner Organs: Off
Songs & Wine
(Veverzay)
Halifax, NS
From the hazy fog of Joshua Robinson:
Rich with the warmth of unencumbered DIY, Nova Scotia's Corner Organs: Off rein in the damp chill of the Atlantic breeze with a basement alt-folk sound pushing these songs over cold sand, under grey skies, and through the hazy early morning fog. The minimalism of Songs & Wine is perhaps what renders it most captivating: a handful of discernible sounds bound together with threads of tape hiss soundscapes and whispered vocals begging for a reprieve from the overwhelming power of the Eastern shoreline. This juxtaposition of minimalist sounds with abstractions of austerity marks this as music not bound by geography, politics, or appropriated sentiment. This is truly Canadian gruff, with beards sweeping wood chips and dead leaves from cold cement floors. Yet the sternness and sorrow give way to a glowing pride in the knowledge that Nova Scotia's heart lies as much in its scenery as it does in the creative endurance of its inhabitants.
Du brouillard trouble de Joshua Robinson:
(Traduit par Jacinthe Laplante)
Débordant de chaleur faite maison et sans contrainte, le groupe néo-écossais Corner Organs: Off règne dans la brise fraîche et humide de l'Atlantique, avec un son alt-folk de sous-sol qui pousse ces chansons au-dessus du sable froid, sous un ciel gris et à travers le brouillard trouble de l'aube. Ce qui rend Songs & Wine si captivant, c'est peut-être son minimalisme : une poignée de sons distincts, liés par le paysage sonore du sifflement des cassettes et par les chants chuchotés qui implorent un répit de la force accablante du littoral de l'est. Cette juxtaposition de sons minimalistes et d'abstractions d'austérité révèle une musique qui n'est pas limitée par la géographie, la politique ou les sentiments appropriés. C'est de la vraie rudesse canadienne, avec des barbes balayant les planchers de ciment froids de leurs copeaux de bois et de leurs feuilles mortes. Et pourtant, l'austérité et le chagrin cèdent leur place à la fierté rayonnante de savoir que le cœur de la Nouvelle-Écosse réside autant dans son paysage que dans l'endurance créative de ses habitants.
Corner Organ: Off – All There Is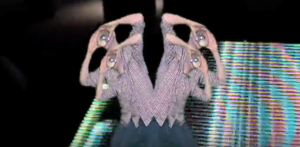 Phil Console
Loneliness
(Directed By: Phil Console)
Montreal, QC
From the brevity of Aaron Levin:
File under: Weird Canada. Taking the (already) incredibly strange anthem to desolation made non-famous by The Residents, Phil Console's take on Loneliness is a time dialated haze of warbled bummertude. The video's wave of VHS-static masking Phil's prophetic dancing brings a whole new level of melancholy to the already barren emotional wasteland. RAD.
De la brièveté d'Aaron Levin:
(Traduit par les habitants de Maya Keshav)
Classification: Weird Canada. Avec l'hymne (déjà) incroyablement bizarre au désespoir qui est devenu non-célèbre par The Residents, la reprise de Phil Console de Loneliness est un brouillard dilaté par le temps de loosertude gazouillée. La vague de larsen VHS du vidéoclip qui masque la danse prophétique de Phil apporte un tout nouveau niveau de mélancolie à la terre déjà en friche emotionnelle. GENIAL.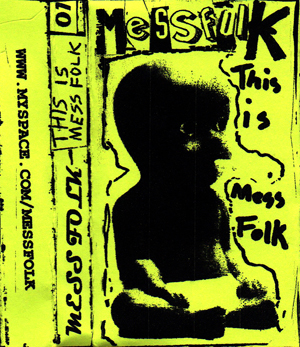 Mess Folk
This is Mess Folk
(Self Released)
Sydney, NS
From the vaguely fluorescent Aaron Levin:
File-under: cassettes blaring from Master Blaster's tape-deck while executing a '64 impala drive-by. So get your leather chaps, crawl on the hood of your mom's minivan and run drive. Mess Folk has grown into a fierce teenager fighting against Canada's industrial wasteland (read: Sydney) and unleashing their terrifying Salmagundi of adjective-garbage in the process. It's scary, chaotic, brutal, and extremely poppy. Every song an anthem for derelict dogs, chimney sweepers, knitting factory women, P.O.Ws, Trotskyists, and any victim of industrial pillaging. This is Mess Folk is the ugly side of capitalism; the underbelly of mutant-punk; the smegmatic 9mm pocket-protecting vomit gun. It's nine songs of unfuckwittable pain and anguish; an anthemic veneration for the depressed and lonely; the product of a forgotten city, time, and existence. On the East coast everything is missing. But we have this tape. Twelve songs. Every one of them a winner. I told my friend Jazzowita the other day: "the new Mess Folk cassette is good." He agreed.
D'Aaron Levin qui est vaguement fluo:
(Traduit par les oreilles contentes de Maya Keshav)
Classe comme: les cassettes qui beuglent du magnétophone de Master Blaster en éxecutant un drive-by d'un impala de '64. Alors retrouve tes jambières de cuir, rampe sur le capot du minivan de ta mère, et courir conduis. Mess Folk est devenu un ado féroce qui combat le terrain vague industriel du Canada (ça veut dire: Sydney) et il déchaîne son salmigondis terrifiant d'adjectif-déchets dans le processus. C'est effrayant, chaotique, brutal, et extrêmement pop. Chaque chanson est un hymne aux chiens délabrés, aux ramoneurs, aux femmes tricotantes des usines, aux prisonniers de guerre, aux trotskystes, et toutes les victimes des pillages industriels. Mess Folk c'est le côté hideux du punk-mutant; le flingue de vomi étui-protège-poche smegmatique de 9mm. Il y a neuf chansons de la douleur in-fou-lontaire et de l'angoissse; une vénération incontournable pour les déprimés et les seuls; le produit d'une ville oublié, un temps, une existence perdue. Sur la côte Est, tout nous manque. Mais on a cette cassette. Douze chansons. Chacune est une gagnante. J'ai dit à mon ami Jazzowita l'autre jour: "la nouvelle cassette de Mess Folk est bien." Il était d'accord.
Mess Folk- You're Too Pretty (I Wanna Kill You)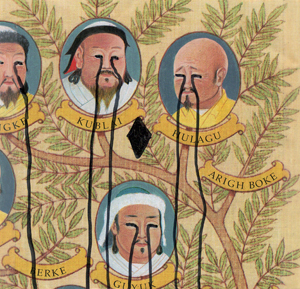 Arron
Untitled
(Self Released)
Sudbury, BC
There are pockets of exciting, creative energies hidden all over Canada. I can't find them all, so credit for this discovery goes to Jenni from Illfit Outfit. She e-mailed me to the effect of "I like your blog. There is this guy that makes great music in his basement." Fairly typical story I thought, until I landed on his myspace page and was immediately wooed by the triumvirate of bursting lo-fi pop, sensitive-and-sweet basement loner folk, and scattered noisescapes. A few convincing MySpace messages later and I get a CD in the mail that (very quickly) peels my wig back (to use the parlance of mid-90s rap gangstery). Aaron Read, performing under Arron, has a sweet, boyish, and endearing voice suited well for his combination of frenetic pop lonertude and campfire folk. Lyrically, he crafts narratives and hooks with a psychedelic edge, keeping us immersed in his own personal snow-globe. It's the kind of CD I expect to come from Calgary, an artifact left in the wake of bands like Women and Hunter-Gatherer; thankfully, these streams of ingenious melodies seem to pop up everywhere.
Il y a des bulles d'énergies formidables et créatives qui sont cachées partout au Canada. Je peux pas les découvrir tous, alors cette découverte est grâce à Jenni d'Illfit Outfit. Elle m'a écrit grosso-modo "J'aime ton blog. Il y a ce gars qui fait de la musique spectaculaire dans son sous-sol." Une histoire assez typique j'ai pensé, jusqu'à ce que j'ai trouvé son page myspace et j'ai tombé immédiatement en amour avec le triumvirat de pop lo-fi explosant, trad solitaire sensible-et-doux du sous-sol, et les paysages sonores éparpillés. Après quelques messages persuasifs sur MySpace j'ai reçu un CD dans le courrier qui a (très rapidement) "épluché ma perruque" (si on utilise le jargon anglais des gangsters des années 90 ensuit traduit en français). Aaron Read, dit Arron, a une voix douce, enfantine, et attachante qui est bien adaptée pour sa combinaison de solitude pop-frénétique et trad de feu de camp. Lyriquement, il crée des récits et des accroches avec un style psychédélique, en nous immergeant dans sa propre boule à neige personnelle. C'est le genre de CD que je m'attends de venir de Calgary, un artéfact laissé par le sillage des groupes comme Women et Hunter-Gatherer; heureusement, ces flots des mélodies brillantes ont l'air d'apparaître partout.
---