Tag: london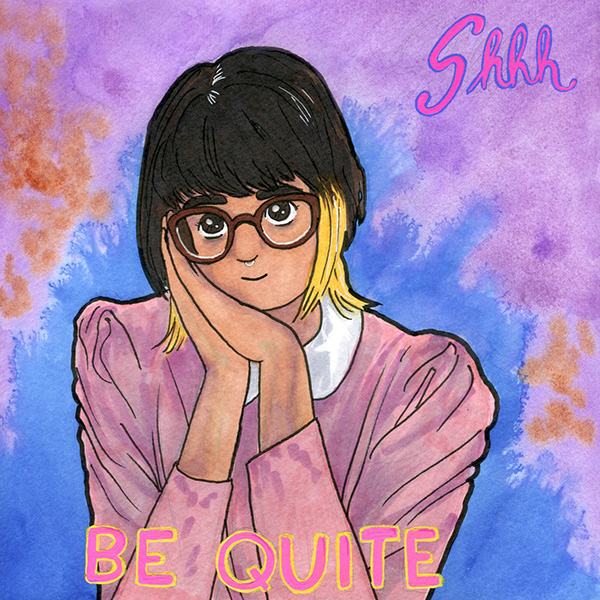 Shhh
Be Quite
Self-released
London, ON
From the tiniest lights of Eleanor Wearing:
Standing alone in a crowd, you close your eyes and search for a softer space. You find a bed, but is it yours? It is kind and strange, like an outgrown friendship or a childhood toy. Is it possible to feel this tired and still be alive? Cotton blankets scratch your skin, but you forgive them. Accept them. Their worn peaks and folds lay illuminated by flickering incandescent lights tacked against a velvet wall. A restless feeling floats in amongst the buzzing glow. It's time to leave. Back in the crowd, you are alone, but at peace.
Des lumières les plus petites d'Eleanor Wearing:
(Traduit par Alison McReynolds)
Debout seul(e) dans la foule, tu fermes les yeux en recherche d'un espace doux. Tu trouves un lit, mais est-il le tien? Il est gentil et étrange, comme une amitié passée ou un jeux d'enfance. Est-il possible d'être aussi fatigué et encore vivant? Couvertures en coton gratte ta peau, mais tu les pardonnes. Accepte-le. Leurs sommets et plis érodés pose illuminé par le vacillation des lumières incandescentes punaise sur un mur en velours. Une sensation sans cesse flotte parmi un lueur bourdonnant. C'est temps de partir. Retournant dans la foule, tu es seul(e), mais en paix.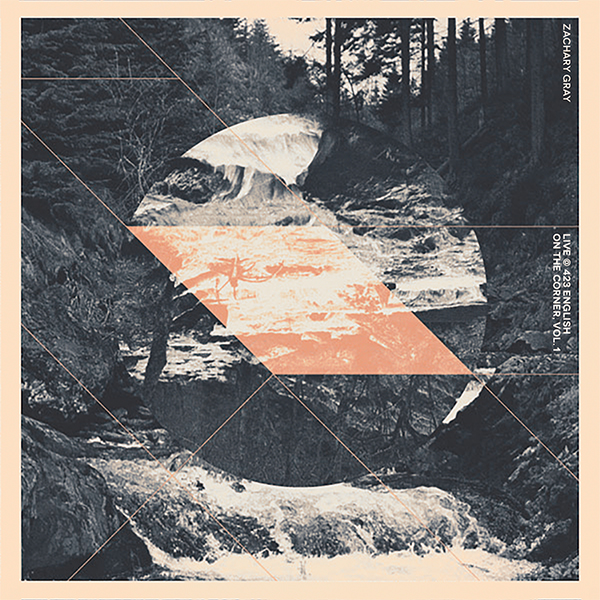 Zachary Gray
Live @ 423 English EP
Self-Released
London, ON
From the mental-pictures of Griffin Martell:
In an unassuming east end abode, Zachary Gray sits "cross-legged" on the floor, painting mental-pictures of the pastoral beyond. High-flying frequencies carry into the vacant lot next door where the legacy of the speed city went up in flames. Still, the warm glare of the horizon beckons us forward. Sepia-tinted scenes flicker in and out of consciousness while layers of modulated soundwaves envelop the room. For a moment no one stirs and time collapses into the present.
Des images mentales de Griffin Martell:
(Traduit par les yeux archi-secs de Julie Mayer)
Dans une humble demeure située dans l'est de London, Zachary Gray, assis « jambes croisées » sur le plancher, est en train de peindre les images mentales d'une pastorale d'antan. Des fréquences de haut vol se portent jusqu'au studio vacant d'à côté où l'héritage de la ville du *speed* est parti en fumée. Pourtant, la lumière vive et chaleureuse de l'horizon nous fait signe d'approcher. Des scènes vacillantes couleur sépia entrent et sortent de la conscience alors que des couches de vagues sonores modulantes enveloppent la pièce. L'espace d'un instant, personne ne bouge tandis que le temps s'écroule dans le présent.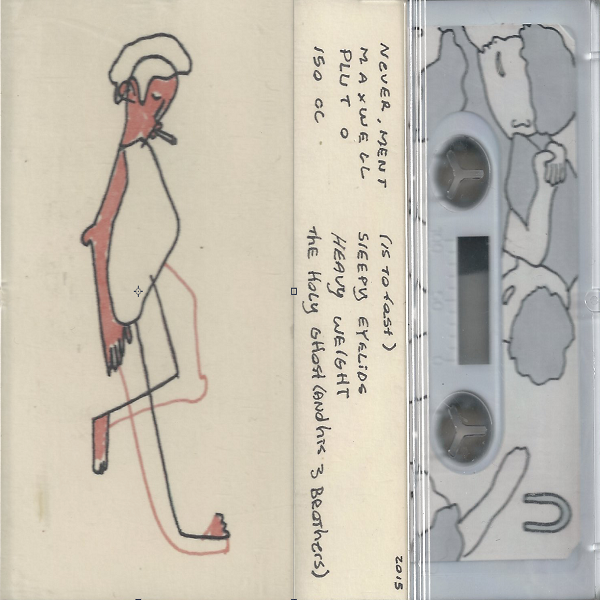 Fish Food
For Mortimer
(Self-Released)
London, ON
From the slack jaw of Rachel Bellone:
Small town Southwestern Ontario is a place with time to kill between house shows. Fish Food fills up the time by mashing hands against instruments and writing lyrics for a brother, a partner, a friend, and even the mean drunk guy, while having big big plans in a small small pond. For Mortimer is homespun and hard hitting, like the smell of cookies in your childhood home which you gobbled for granted. When creativity in this age hits fast and slick, Fish Food reminds us there's still time for new friends, handmade cassettes, and songs with throwback indie vibes and topical beats.
De la mâchoire détendue de Rachel Bellone:
(Traduit par Julie Mayer)
Le sud-ouest de l'Ontario est une petite ville où il y a du temps à tuer entre les spectacles faits main. Fish Food remplit ces temps morts en frappant ses mains contre des instruments de musique et en écrivant des paroles de chansons pour un frère, un partenaire, un ami et même le méchant type saoul, tout en ayant de grands, grands plans dans un petit, petit étang. For Mortimer est fait maison et percutant tout comme l'odeur des biscuits que vous engloutissiez pour acquis quand vous étiez petits. Malgré cette ère dans laquelle la créativité ne fait que passer, Fish Food nous rappelle qu'il est encore temps de se consacrer aux nouvelles amitiés, aux cassettes artisanales, aux rythmes tropicaux ainsi qu'aux chansons composées d'ondes indie qui retournent aux sources.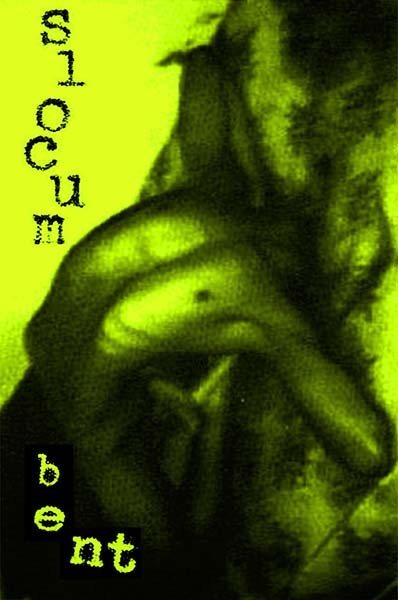 From the unwavering trajectory of Griffin Martell:
Composure will drain the color from your cheeks. Nevermind, stand up straight, tighten the lips and maintain eye contact. Endurance is validation in itself. As the body heaves with the lurch of instinctive dread, the intellect must not flinch. Pure cognitive inertia forms the basis of a superior being. It is only when this law is broken that the unravelling begins. Sink into the viscera and you will find the residue of decomposing visions. To be bent is to be forsaken.
De la trajectoire sans écarts de Griffin Martell:
(Traduit par la vieille âme de Julie Mayer)
Le sang-froid drainera la couleur de tes joues. T'inquiètes, tiens-toi droit, serre les lèvres et maintiens le contact visuel. Conserver les apparences le plus longtemps possible est une validation sociale en soi. Alors que le corps se soulève sous le vacillement que provoque la terreur instinctive, l'intellect ne doit pas flancher. L'inertie cognitive pure forme la base d'un être supérieur. C'est seulement lorsque cette loi est enfreinte que débute le dévoilement. Enfonce-toi dans tes propres viscères et tu y trouveras des résidus de visions en décomposition. Être plié revient à être abandonné.
Slocum – Science Will Bring Me Back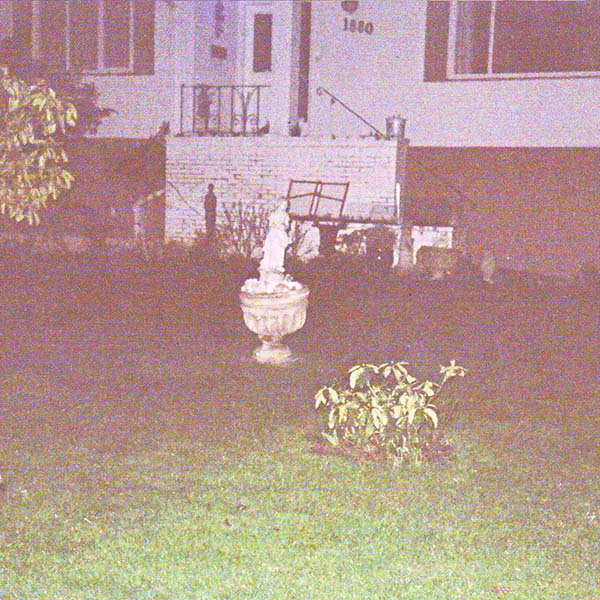 ACAB Rocky // Molly Drag
Split
Victoria, BC // London, ON
From the hoop and holler of Kyle Mytruk:
Sitting alone, staring out a window while it rained. Walking down a rain soaked street thinking of loves lost. Victoria's ACAB Rocky and London's Molly Drag pull out songs with a quality that's beyond beautiful. Echoing, atmospheric music that will envelope you. Listen over and over again.
Du Hoop and Holler de Kyle Mytruk:
(Traduit par Jessica Grenier)
Regarder la pluie qui tombe, solitaire. Marcher sur une route détrempée en pensant à nos amours perdus. ACAB Rocky de Victoria (C.-B.) et Molly Drag de London (Ont.) nous offrent des chansons surpassant toute beauté, l'écho enveloppant d'une musique atmosphérique. À écouter encore et encore.
Molly Drag – Devils Night 1998
Some Men
Some Men
(Self Released)
London, ON
From the nervous shredding of Eileen Wennekers:
All signifying form is in hysterics so we might as well have a good time with it. Some Men perform the symptom, jam the circuit structure of their songs, repeat only what pulses at the back of destabilized moods – the rhythm of signal breakdown. From underneath the space where we pretend to conduct ourselves with civility comes the insistence of the incivility of the configuration, pastiched into the soundtrack to nerves grated beyond remembrance of a time when thinking was not intolerable. Is this carnivalesque memento-mori a simulacra of the melodic or a resistant stain disrupting the hypocrisy of our composure or a meat-waltz dancing ten stories around a raging plague? "Are you living? Check your pulse."
De l'égrugeage neveux d' Eileen Wennekers:
(Traduit par Aliké Harel)
Toute forme pourvue de sens traduit l'hystérie, alors pourquoi ne pas s'amuser avec elle? Some Men incarne le symptôme, engorge le circuit structural de leurs chansons et reproduit seulement les pulsions qui couvent sous une humeur instable, tel le rythme d'un signal défaillant. Sous la surface, l'espace où nous nous habillons de civilités, se trouve la persistance de l'incivilité des configurations, pastiche entubé jusqu'aux nerfs, grattés pour en extraire le souvenir d'une époque où penser n'était pas intolérable. Est-ce que ce mémento carnavalesque de la mort est un simulacre du mélodieux, ou une tache récalcitrante qui souille la tenue d'apparats de l'hypocrisie, ou, encore, une valse de chairs tournoyant à dix lieues d'une violente peste? « Êtes-vous en vie? Prenez votre pouls. »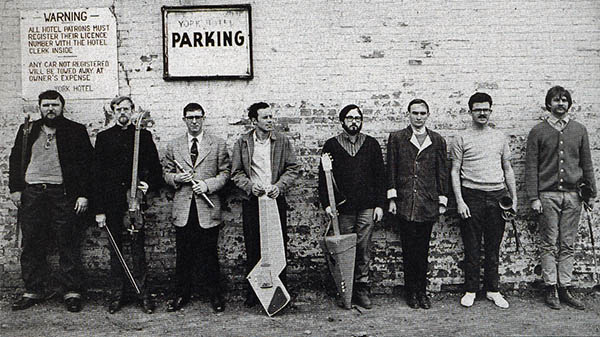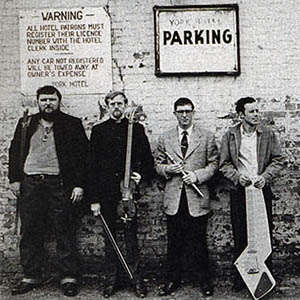 The Nihilist Spasm Band
(Photos by: C

ameron McDonald [top] & Ian MacEachern [bottom]

)
London, ON
From the old world of Kevin Hainey:
The Nihilist Spasm Band have been playing every Monday night in London, Ontario for 50 years, but you won't find them receiving any star spangled celebrations on television for their lifetime achievements. This is because the NSB were the first band in Canada (and, as it's generally accepted, the world) to consistently and intentionally play the hated music, the despised music, the music of torture, and the music of alienation: noise music. To this day, they continue to play that lovely noise the same way they always have – spasmodically, nihilistically, together as a band.
It couldn't be more appropriate that The NSB joined forces with their longtime collaborator, free jazz legend Joe McPhee, who joined them in a trio of shows in Toronto, London and Guelph: noise has always been the evil cousin of free jazz. You couldn't find two more hated spawns of modern sound in a room of musical movements and genres than free jazz and noise rock. Not even uncle avant-garde could inspire so much reactionary despising. It could be said that the NSB has always thrived on negativity as much as realism and humility, but they're not angry. "We were not angry in the '60s and we are not angry now," says Art Pratten, the NSB's de facto spokesman and one of its founders. "We were all having a good time. The Nihilist Party we were members of took the party aspect very seriously."
Music historians are hard pressed to pin down other groups tapping similar musical veins as far back as 1965, and even early Canadian innovators such as multi-disciplinary artist Michael Snow and Toronto avant-garde group Intersystems were still a few years away from making their marks in sound at this early crest of the '60s subcultural tidal wave. "We were all greatly influenced by kindergarten rhythm bands and Guy Lombardo," admits Pratten, when I ask him what they were listening to at the time.
The bleak, hopelessly disparate sounds of The NSB are not for the faint of heart. During their time, they've offended a lot of unsuspecting audiences with their heady cacophony and staunch nihilism. Pratten recalls one show in particular where concertgoers were driven into an angry uproar that got brought up onto the stage once the show had commenced. "Guelph, back in the late '60s," remembers Pratten. "We were booked as the final and professional act at Guelph University. Amateur Night."
On the other hand, there have been countless good times along the way. "Playing Europe for the first time in 1969. Playing Japan. Any of the No Music Festivals," which the NSB organized in London. "Jamming with R.E.M.," lists Pratten.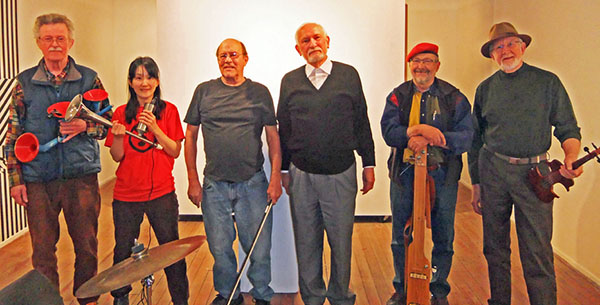 Michael Stipe endorsements notwithstanding, the NSB have never let themselves become preoccupied with petty ideas of capitalist success. "If we have played this Monday and are going to play next Monday night, all is well," says Pratten. "The NSB has a short attention span, so all we ever plan to do is play next Monday night and that has carried us for 50 years."
Du vieux monde de Kevin Hainey:
(Traduit par les convulsions linguistiques de Mathieu Bédard)
Le Nihilist Spasm Band joue chaque lundi soir à London (Ontario) depuis 50 ans; mais on ne les verra jamais participer à une cérémonie télévisée pour recevoir un prix – remis par une célébrité – en l'honneur de l'ensemble de leur carrière. Pourquoi? Parce que le NSB a été le premier groupe au Canada (et, d'après l'opinion générale, dans le monde) à jouer invariablement et intentionnellement cette musique de torture et d'aliénation haïe et méprisée qu'est la musique noise. À ce jour, ses membres continuent de jouer de ce doux bruit comme ils l'ont toujours fait : spasmodiquement, nihilistement et ensemble, en tant que groupe.
Rien de plus approprié pour le NSB, donc, que d'allier ses forces à celles de son collaborateur de longue date, la légende du free jazz Joe McPhee, qui l'a rejoint pour un trio de concerts à Toronto, à London et à Guelph – le noise a toujours été le cousin démoniaque du free jazz. Vous ne pourriez trouver deux rejetons de la modernité sonore plus détestés dans le spectre des courants et des genres musicaux. Même tonton avant-garde ne pourrait inspirer autant d'aversion réactionnaire. Or, on pourrait dire que le NSB s'est toujours épanoui dans la négativité, au moins autant que dans l'humilité et le pragmatisme, toutefois ses membres ne sont pas en colère. « Nous n'étions pas fâchés dans les années 60 et nous ne le sommes toujours pas maintenant », déclare Art Pratten, un des fondateurs du NSB et son porte-parole de facto. « On se payait du bon temps. Le Parti nihiliste dont nous étions membres prenait le volet party très au sérieux. »
En étudiant des groupes puisant dans une veine musicale similaire, les historiens de la musique peuvent difficilement remonter plus loin que 1965 – et à ce stade précoce du raz-de-marée sous-culturel des années 60, même les premiers innovateurs canadiens tels que l'artiste multidisciplinaire Michael Snow et le groupe d'avant-garde torontois Intersystems ne feraient leur marque sonore que quelques années plus tard. « Nous étions grandement influencés par les groupes rythmiques d'écoles maternelles et par Guy Lombardo », admet Pratten, lorsque je lui demande ce qu'ils écoutaient à l'époque.
Les sons mornes et désespérément disparates du NSB ne sont pas pour les cœurs sensibles. À travers son histoire, il a offensé un grand nombre d'auditoires mal préparés avec son nihilisme fervent et cette cacophonie entêtante. Pratten se souvient d'un concert en particulier où, une fois le spectacle commencé, le public s'est transformé en un tollé furieux qui s'est rendu jusque sur la scène. Pratten se rappelle que c'était à « Guelph, à la fin des années 60. Nous étions engagés en tant que numéro final et professionnel pour clore la soirée amateur de l'Université Guelph. »
D'un autre côté, il y a eu d'innombrables bons moments tout au long du chemin : « Jouer en Europe pour la première fois en 1969. Jouer au Japon. N'importe quel festival No Music, que le NSB organisait à London. Jammer avec R.E.M. », énumère Pratten.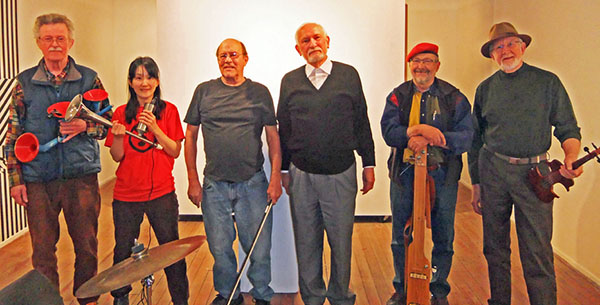 Malgré le soutien de Michael Stipe, le NSB n'a jamais été intéressé par l'insignifiante idée d'une réussite capitaliste. « Si on a joué ce lundi soir et qu'on jouera lundi prochain, tout va bien, affirme Pratten. Le NSB a une capacité d'attention courte, donc tout ce qu'on planifie, c'est de jouer le prochain lundi soir, et ça nous a porté pendant 50 ans. »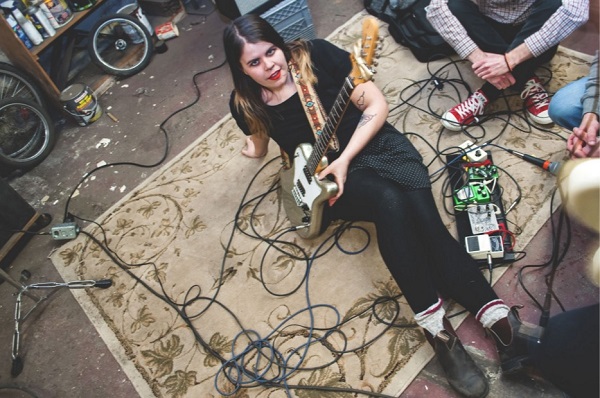 Paterson Hodgson
London, ON
Photos by: Brittney Robbins at Kpod Media
From the Atlantic brain of Mailis Rodrigues:
Paterson Hodgson fronts London, ON rock band So Young, but she has much more on her plate than that. An outspoken feminist and an organizer of London Girl's Rock Camp, she's a real inspiration. She's an artist, is responsible for the Rag Bag Bazaar craft fair, and her work has always aimed to engage and include the community. "Come as you are" never sounded more true.
You were part of the Open House Arts Collective. Is the project still running? How does it work?
Everyone was kinda moving on and it stopped, but we did exist for 3 years. It was pretty fun! We had a record label where we put out local bands. We printed the CDs and covers ourselves, and then we had a music festival called OH! Fest which happened for 3 years. I was the artistic director of the festival. I booked most of the bands for that and for the shows that we put on.
What happened to OH! Fest? Why did it end?
We had OH! Fest twice in the spring. Open House Arts Collective actually disbanded right before the third one, but it still happened because there was a partnership with some other people. That one was bigger; it was outside and it was in the Fall. I really like putting on shows, but I sort of stopped doing that. I didn't have my band at the time I was doing Open House, so I would focus more on my visual art, where I do illustration and posters and stuff.
What is the importance for you of this connection with community?
I like being involved in community, especially Canada-wide. It's awesome and exciting bringing bands to London that are from other places, that are interesting. I love touring to other scenes and seeing what's happening there. I was more involved in the music scene as a promoter, and now I'm more involved as a band and it's super different. As an artist I feel like I'm in the backseat, sort of, but I'm still part of a lot of different things. I run a craft fair here in London called the Rag Bag Bazaar. I started thinking about different kinds of people in London who are interesting and cool, but maybe don't wanna go to a concert, so I started researching a thing called day culture. It's a pretty simple idea, but it felt kinda radical to me. I thought, "Oh! Events during the day? That's really cool!" so I started the Bazaar three years ago. I realized that I could reach a lot more people. The music scene really caters toward people who like drinking and staying up late, who maybe don't have family, or who are able-bodied. There aren't many venues in London that are wheelchair accessible, and so all of the Rag Bag Bazaars have been in wheelchair accessible places. As a result, I get tons of different people out to those events, people that are all differently abled and all different ages, and that's really cool.
Your lyrics have very strong messages. Do you see writing music as a way to make a statement?
I don't think songs work as a medium to get a message out. I don't think a song about something is as important as an activist or somebody working to change laws. But I do try to write about things that are not necessarily written about a lot. Things that are important to me. I do like the idea of inspiring. It sounds kind of arrogant, but I like the idea of inspiring other women. I think it's cool that I'm a girl in a rock band, but when I write songs that are also about my lived experience I think I have more of a connection to other women. My songwriting changed a lot in the last few years. I guess it went from more cute or fun songs to now, where I'm trying to be sort of sarcastic.
How do you see London's art and music scene?
London is always kind of up and down; it's always in a wave. Everywhere is, but maybe it's a little more extreme in London. Sometimes I feel like I'm not gonna get any time to do anything in a month except go to shows, but then there will be months where nothing happens. Right now it feels exciting to be in London. There are a lot of cool bands and there are a lot of people putting on shows, which I feel is one of the things that really makes a scene. The bands are great and can put on their own shows, but as soon as you start getting regular people booking gigs (instead of promoters that are into money), you end up with a way better music scene.
How do you see the situation of women in Canadian music and arts at the moment?
There are more girls in bands all the time, and I always feel like the more girls there are in bands, the more girls who start bands. Once a cool new band starts with a girl in it, three more crop up. It happens all the time, and it kind of comes in waves. I think girls are doing awesome in Canada right now; there's so much solidarity. There are ingrained attitudes in every aspect of societies, so it's not just in music. It's everywhere. If the education, business, and arts worlds are still sexist, then so is the music world. There are these small pockets where it's a lot better: some really amazing punk scenes that are super inclusive and really good at dealing with all different kinds of oppressive behavior. I think as it becomes easier to be a woman in music there's going to be more women in music. It's hard to call out sexism when you're by yourself. Maybe no one else will recognize it. But when there's a bunch of you, it's way easier to say "this happened," and someone will back you up. I can't imagine what it would be like to be a person of color when something happens and there's just a bunch of white people around. So as scenes get more diverse, it does get better: everyone becomes more accountable because there's less of an imbalance.
What are your projects for the future?
They mostly involve my band, So Young. Our founding guitar player moved to New Brunswick, and so the lineup changed a bit. I'd like to record as soon as possible now that we have the new line up nailed down. I've planned on changing the sound a little bit, going slightly heavier. I wouldn't say punk, but maybe a little bit more punk? I don't know, but I can see it happening, so I'd like to record that soon.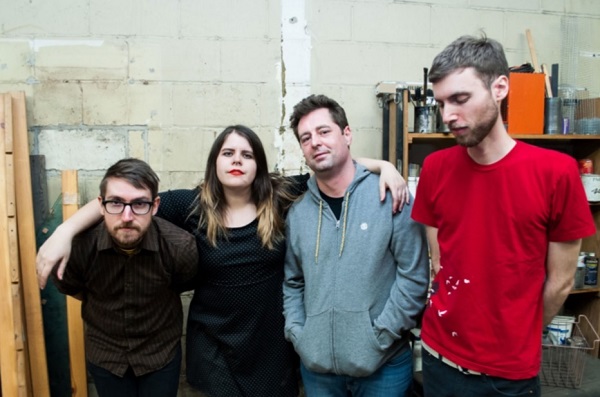 Par la cervelle atlantique de Mailis Rodrigues:
(Traduit par les blues conservateurs d'Émily Traichel)
Paterson Hodgson est à la tête du groupe rock So Young de London (Ontario) mais elle s'occupe aussi de bien d'autres choses. Féministe qui ne mâche pas ses mots et coordinatrice du London Girl's Rock Camp, elle est une vraie inspiration. Elle est artiste, responsable de la foire artisanale Rag Bag Bazaar, et ses oeuvres ont toujours cherché à mobiliser et à inclure la communauté. « Come as you are » n'a jamais sonné aussi authentique.
Tu faisais partie du Open House Arts Collective. Le projet est-il toujours actif? Comment ça marche?
Tout le monde est un peu passé à autre chose et ça s'est arrêté, mais nous avons en fait existé pendant 3 ans. C'était pas mal le fun! On avait un label grâce auquel on faisait la promotion de groupes locaux. On imprimait les CD et les pochettes nous-mêmes. Ensuite on a eu un festival de musique appelé OH! Fest qui a eu lieu pendant 3 ans. J'étais la directrice artistique du festival. Je programmais la plupart des groupes pour le festival et pour les spectacles que nous organisions.
Qu'est-ce qui est arrivé à OH! Fest? Pourquoi a-t-il pris fin?
Nous avons organisé OH! Fest deux fois pendant le printemps. Les membres d'Open House Arts Collective se sont en fait séparés juste avant le troisième, mais il a quand même eu lieu parce qu'il y avait un partenariat avec d'autres gens. Celui-là était plus grand; il s'est passé en plein air et durant l'automne. J'aime beaucoup organiser des spectacles, mais j'ai un peu arrêté ça. Je n'avais pas mon groupe à l'époque où je me suis impliquée au sein de Open House, ce qui fait que je me concentrais davantage sur mon art visuel qui me permet de faire de l'illustration, des affiches et d'autres choses.
Quelle est l'importance pour toi de cette connexion avec la communauté?
J'aime être impliquée auprès de la communauté, surtout au niveau pan-canadien. C'est trippant de faire venir des groupes à London qui viennent d'ailleurs, qui sont intéressants. J'adore faire la tournée d'autres scènes et de voir ce qui se passe là-bas. J'étais plus impliquée dans la scène musicale en tant que promotrice, et maintenant je suis davantage impliquée en tant que membre d'un groupe musical et c'est très différent. En tant qu'artiste j'ai un peu l'impression d'être au second plan mais je fais toujours partie de nombreux projets différents. Je dirige une foire artisanale ici à London appelée le Rag Bag Bazaar. J'ai commencé à réfléchir aux différents types de gens à London qui sont intéressants et cool, mais que ça ne tente pas forcément d'aller à un concert. J'ai commencé à faire des recherches sur un truc qui s'appelle la culture du jour. C'est une idée pas mal simple, mais ça me semblait un peu radical. J'ai pensé, « Oh! Des activités pendant la journée? C'est vraiment cool ça! » alors j'ai commencé le Bazaar il y a trois ans. Je me suis rendue compte que je pouvais atteindre beaucoup plus de monde. La scène musicale sert vraiment les intérêts de ceux qui aiment boire et veiller tard, qui n'ont peut-être pas de famille, ou qui sont valides. Il n'y a pas beaucoup de salles à London qui sont accessibles en fauteuil roulant, alors tous les Rag Bag Bazaars ont eu lieu dans des sites accessibles en fauteuil roulant. En conséquence, je reçois un tas de gens différents à ces évènements, des gens qui ont tous des habiletés différentes et de tous les âges, et ça c'est vraiment cool.
Tes paroles véhiculent des messages puissants. Vois-tu la composition musicale comme une façon de faire une déclaration?
Je ne pense pas que les chansons servent de médium pour transmettre un message. Je ne crois pas qu'une chanson à propos de quelque chose soit aussi importante qu'un activiste ou quelqu'un qui travaille pour changer les lois. Mais j'essaie en effet d'écrire au sujet de choses qui ne sont pas nécéssairement souvent abordées. Les choses qui me sont importantes. J'aime l'idée d'inspirer. Ça a l'air arrogant, mais j'aime l'idée d'inspirer d'autres femmes. Je trouve ça cool d'être une fille dans un groupe de rock mais lorsque j'écris des chansons qui sont également au sujet de mon vécu, je trouve que j'ai davantage une connexion avec d'autres femmes. Ma composition a beaucoup changé au cours des dernières années. On est passé de chansons plutôt cute ou l'fun à mes chansons actuelles, où je tente d'être du genre sarcastique.
Comment trouvez-vous la scène artistique et musicale de London?
London est toujours un peu fluctuante avec des hauts et des bas. C'est comme partout, mais peut-être que c'est un peu plus extrême à London. Des fois j'ai l'impression que je n'aurai pas le temps de faire quoi que ce soit en un mois si ce n'est aller voir des spectacles, mais ensuite il y aura des mois pendant lesquels il ne se passe rien. En ce moment, je me sens excitée d'être à London. Il y a de nombreux groupes cool et il y a beaucoup de gens qui montent des spectacles, ce qui je crois est essentiel à ce qui constitue une scène. Les groupes sont superbes et peuvent monter leur propres spectacles, mais dès que des gens ordinaires (plutôt que des promoteurs qui s'intéressent à l'argent) se mettent à programmer des spectacles, on se retrouve avec une bien meilleure scène musicale.
Comment vois-tu la situation des femmes dans la musique et les arts canadiens en ce moment?
Il y a de plus en plus de filles dans des groupes et je trouve que, plus il y a de filles dans des groupes, plus cela donne envie à d'autres filles de faire partie d'un groupe. À chaque fois qu'un nouveau groupe cool voir le jour avec une fille comme membre, il y en a trois autres qui surgissent. Ça arrive tout le temps, et ça vient un peu par vagues. Je crois que les filles réussissent très bien au Canada présentement; il y a tellement de solidarité. Il y a des attitudes enracinées dans tous les domaines de la société, pas juste en musique. C'est partout. Si les mondes de l'éducation, des affaires et des arts sont toujours sexistes, alors le monde de la musique l'est aussi. Il y a des petites poches où les choses vont beaucoup mieux : certaines scènes punk vraiment extraordinaires qui sont hyper inclusives et vraiment bonnes pour faire face à toutes sortes de comportements oppressifs. Je crois qu'au fur et à mesure que cela deviendra plus facile d'être une femme en musique, il y aura plus de femmes en musique. C'est difficile de critiquer le sexisme quand on est toute seule. Peut-être que personne d'autre ne le reconnaitra. Mais lorsqu'on est plusieurs, c'est beaucoup plus facile de dire « voilà ce qui est arrivé » et quelqu'un te soutiendra. Je ne peux pas imaginer à quoi ça ressemblerait d'être une personne de couleur lorsqu'il arrive quelque chose et il qu'il n'y a qu'une foule de blancs présents. Alors au fur et à mesure que les scènes deviennent plus diversifiées, les choses s'améliorent : chacun devient plus responsable parce qu'il y a moins de déséquilibre.
Quels sont tes projets pour l'avenir?
Ils impliquent surtout mon groupe, So Young. Notre guitariste fondateur a déménagé au Nouveau-Brunswick, ce qui fait que notre line-up a un peu changé. J'aimerais enregistrer dès que possible maintenant que nous avons le nouveau line-up dans la poche. J'ai prévu changer un peu notre son, de virer légèrement plus heavy. Je ne dirais pas punk, mais peut-être un peu plus punk? Je ne sais pas, mais je peux l'imaginer, alors j'aimerais enregistrer ça bientôt.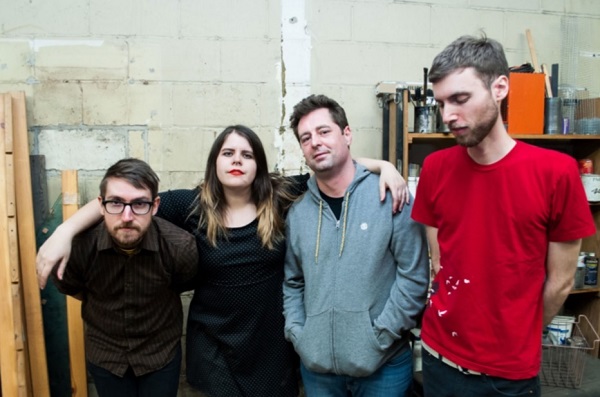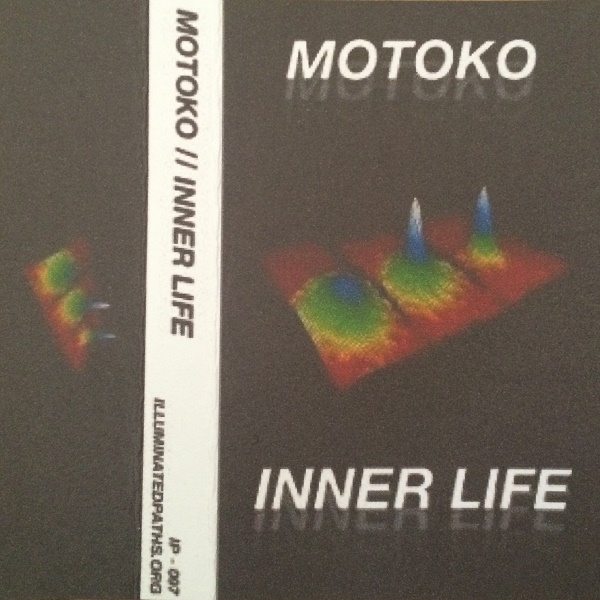 Motoko
Inner Life
(Self-Released)
London, ON
From the drip dry eyes of Julia Dickens:
This instrumental output from the keyboard of Jordan Pearson is the soundtrack to a synthesized contemplative dream state. If your computer screen saver was a shifting stream of consciousness, this current is drifting into a tropical journey, driving top-down down a coastal highway, lounging poolside while a gentle breeze rustles pixilated palms. Wipe your drip dry eyes as you watch phosphorescent waves swell and recede underneath the shimmering cosmos. The scene dissolves into a hazy landscape whizzing by on your sunset drive into the technicolour abyss and reflected on all sides by the shapes and sounds of your own softly aching heart.
Des yeux à séchage spontané de Julia Dickens:
(Traduit au cycle délicat par Julie Mayer)
Cette production instrumentale sortie du clavier de Jordan Pearson est la piste sonore parfaite pour atteindre un état de rêve contemplatif synthétisé. Si l'écran de veille de ton ordinateur était un flux de conscience changeant, ce courant virerait en voyage tropical au cours duquel tu roules avec la capote abaissée sur une autoroute côtière et où tu te détends au bord de la piscine pendant qu'une douce brise bruisse dans des palmiers pixellisés. Essuie tes yeux à séchage spontané pendant que tu regardes des vagues phosphorescentes enfler et refluer sous le scintillement du cosmos. Le tableau, qui se dissout dans un paysage brumeux filant à toute allure lors de ta virée au soleil couchant vers l'abysse technicolor, se reflète de tous côtés par les formes et les sons de ton propre cœur légèrement endolori.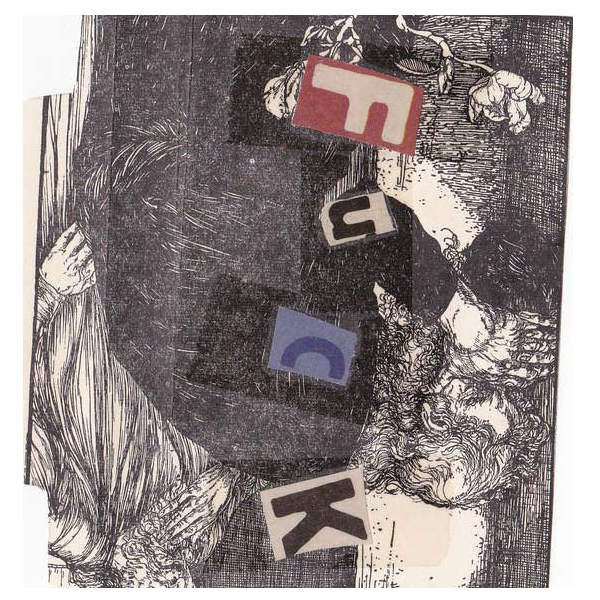 Charlotte Crow
Surrealist Bedroom
(Self Released)
Rodney, ON
From the steep incline of Marie LeBlanc Flanagan:
Soft night, sweet air, stoned harbours. There's a close aching in this small town, bite it to the quick. Warm bodies. Shimmering off strings, hips below shoulders, below eyes, below stars. Back door, fuck it, there's no one.
De la pente abrupte de Marie LeBlanc Flanagan:
(Traduit au clair de lunule par Nicolas Coutlée)
Douce nuit, air frais, port de pierres. Une douleur secrète hante ce petit village. Ongles rongés jusqu'au sang, corps tièdes. Miroitement de cordes, hanches alignées aux épaules, aux yeux, aux étoiles. Porte arrière, eh merde, il n'y a personne.
Charlotte Crow – Makeshift, Rosetint
---