Tag: Laura Stanley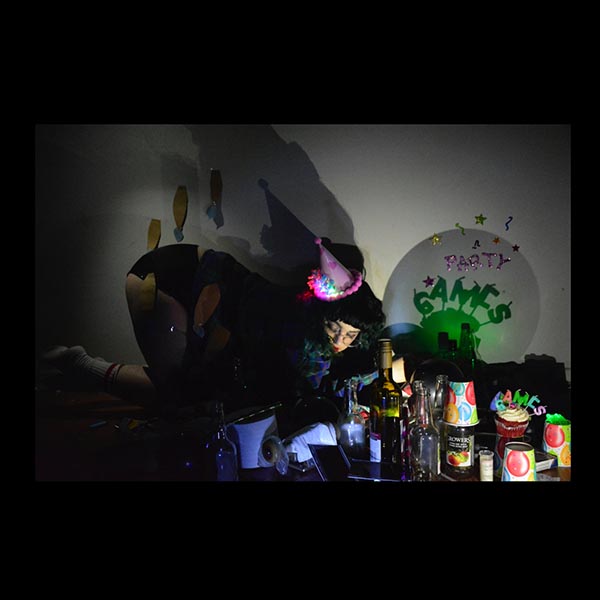 Caity Fisher
Party Games
(Self-Released)
Edmonton, AB
From the empty red cup of Laura Stanley:
There's a stain in the carpet, a drink in your hand, and out of someone's crappy computer speakers Caity Fisher plays her Party Games. Her pop has enough power to rise above the din of the drunken party goers; her fuzzy licks match the fuzz on your tongue. As Fisher croons about feeling good, you drink more and the room begins to spin. She convinces you to dance. At first you're alone but then others join in. You lock eyes with someone on the other side of the room…
The party ends and you don't go home alone. A cruel hangover, puke, and a stranger greet you in the morning, but the next round of Party Games is not too far away.
De la coupe rouge vide de Laura Stanley:
(Le lendemain de veille cruel d'Odile Leclerc)
Il y a une tache sur le tapis, un verre dans ta main et venant des haut-parleurs merdiques de l'ordinateur de quelqu'un, Caity Fisher joue sa Party Games. Sa pop a assez de puissance pour s'élever au-dessus des gens saouls qui font la fête, ses rythmes flous correspondent au duvet sur ta langue. Alors que Fisher roucoule à propos du fait qu'elle se sent bien, tu continues à boire et la pièce commence à tourner. Elle te convainc de danser. Au début, tu es seul, mais ensuite d'autres te rejoignent. Tu croises le regard de quelqu'un à l'autre bout de la pièce… La fête se termine fin et tu ne rentres pas seul chez toi. Un lendemain de veille cruel, de la vomissure et un étranger t'accueillent au matin, mais la prochaine partie de Party Games n'est pas trop loin.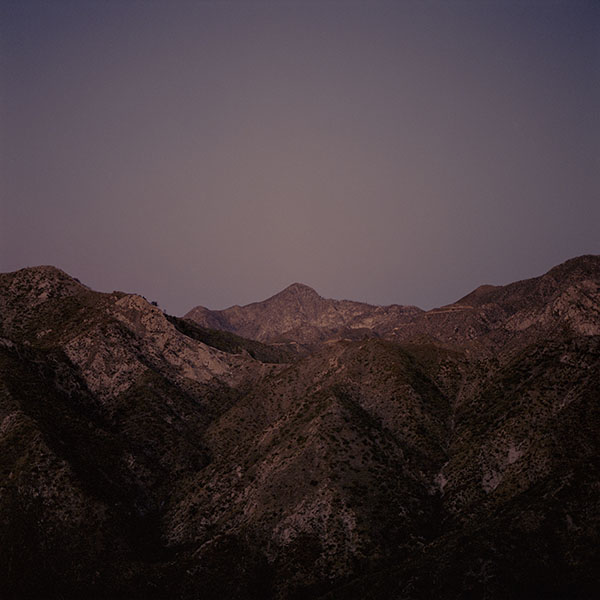 Nennen
Two Mountains
(Self-Released)
Montréal, QC
From the dreams of Laura Stanley :
Reach the summit of Nennen's Two Mountains and feel at ease. The harshness of a breakup ("Anger Cure"), unfulfilled desires ("4.5"), or unwelcomed conversations ("Villeray"), are muted and washed by a slumber filter. Hatred crawls out of the body like molasses, thick and slow but with dutiful purpose. Amy Macdonald (Nennen) has built her record with such deliberation it's only right to take the same care in oneself. Sit a spell and breathe. What amiable peace.
Des rêves de Laura Stanley:
(Traduit par la sereine mélasse de Mathieu Bédard)
Parvenez au sommet des Two Mountains de Nennen et détendez-vous. L'âpreté d'une rupture (« Anger Cure »), les désirs inassouvis (« 4.5 ») ou les conversations inopportunes (« Villeray ») y sont assourdis et délavés par un filtre « slumber ». La haine se glisse hors du corps, épaisse et lente comme de la mélasse, mais au service de son but. Amy Macdonald a construit son album si délibérément qu'il paraît juste de s'occuper de soi avec autant de soin en retour. Assoyez-vous un moment et respirez : quelle paix à l'amiable.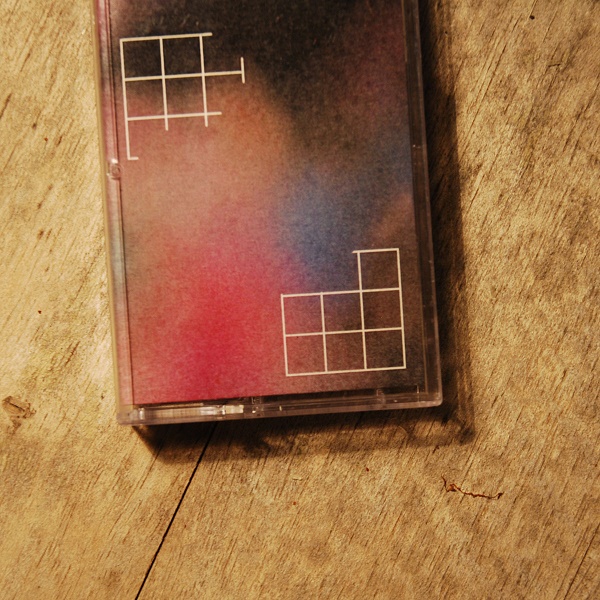 Philippe Vandal
Frag
Montreal, QC
From the splintered mind of Laura Stanley:
Our hearts once beat together. Their united sound displaced the loneliness that lived inside me for so long. But now, the loneliness has returned and I hear the ghosts of our former life: our fights, our joy, your favourite jazz record, the clatter of our dishes, the static from the TV when we forgot to pay our cable bill. In Frag, Montreal's Philippe Vandal summons distant discordance with forgotten feelings. Like us, these memories are fragmented and atonal. Together they sound as fearful of the future as I am.
De l'esprit fragmenté de Laura Stanley:
(Traduit par la mentalité capricieuse de Louis-Félix de Chevigny)
Nos cœurs ont autrefois battu à l'unisson. Ce battement synchronisé a repoussé la solitude qui vivait en moi depuis si longtemps. Maintenant, elle est de retour et je peux entendre les spectres de notre vie d'auparavant : nos chicanes, notre joie, ton disque de jazz favori, le bruit de nos assiettes, les parasites de notre télé la fois où nous avions oublié de payer notre facture de câble. Dans Frag, le Montréalais Philippe Vandal invoque, par des sentiments oubliés, une discordance lointaine. Comme nous, ces souvenirs sont fragmentés et atonaux. En les écoutant, on pourrait penser qu'ils sont aussi effrayés par le futur que je le suis.
Nighttime
Summer EP
(Self-Released)
Montreal, QC
From the summer haze of Laura Stanley:
Summer Sadness is a common affliction. Under the long shadows of July, idleness leaves too much room for thought and anxiety. In peeling, blistered skin, the heat of August is suffocating. After eyes spend too long on parts exposed, time passes in recovery. The romance of the season finally burns out when freshets of autumn wind revive and sing farewell to misery.
Des brumes d'été de Laura Stanley:
(Traduit par l'audace citronnée de Marie-Pier Chevrier)
La tristesse estivale est une affliction commune. Sous les ombres longues de juillet, l'oisiveté laisse trop de place à la réflexion et l'anxiété. Les ampoules font lever la peau; la chaleur d'août est suffocante. Après que les yeux aient trop regardé les parties exposées, le temps passe en convalescence. La romance de la saison s'éteint finalement lorsque les crues venteuses d'automne reviennent et chantent adieu à la misère.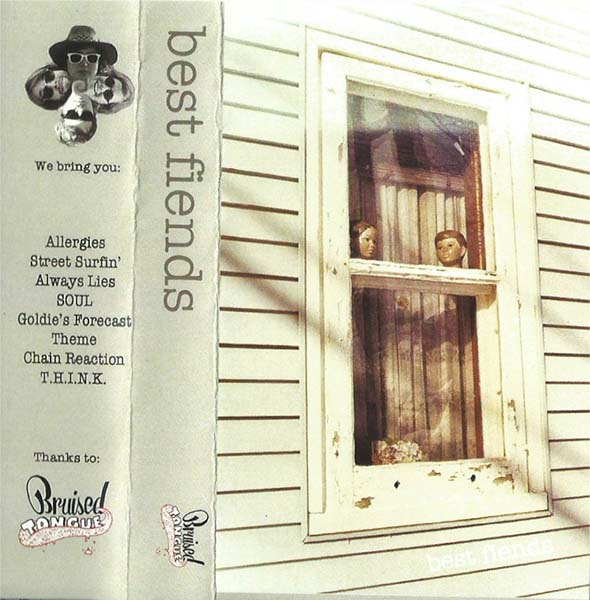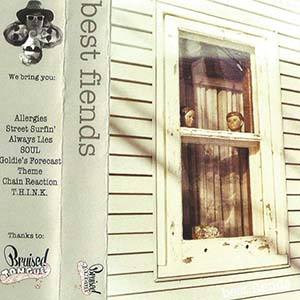 Best Fiends
Best Fiends
Halifax, NS
From the fiendish heart of Laura Stanley:
Beware the heart of Best Fiends. It is not blackened with hate or eroded by bitterness, but it beats in frantic measure; always in bright hues of red and pink. Wrapped in a panoply of anxiety and ardor, it surfs, has SOUL, and is desperate to get outside. But be sure Best Fiends are no villains, these fiends are out for friends.
Du cœur monstrueux de Laura Stanley:
(Traduit par Julie Mayer)
Prenez garde au cœur de Best Fiends. Ce dernier n'est pas noirci de haine ou érodé par l'amertume, mais il bat à un rythme effréné, toujours en teintes vives de rouge et rose. Enveloppé dans une panoplie d'anxiété et d'ardeur, ce cœur surfe, a une âme et veut à tout prix aller dehors. Mais soyez assurés que les Best Fiends ne sont pas méchants, ces monstres sont à la recherche d'amis.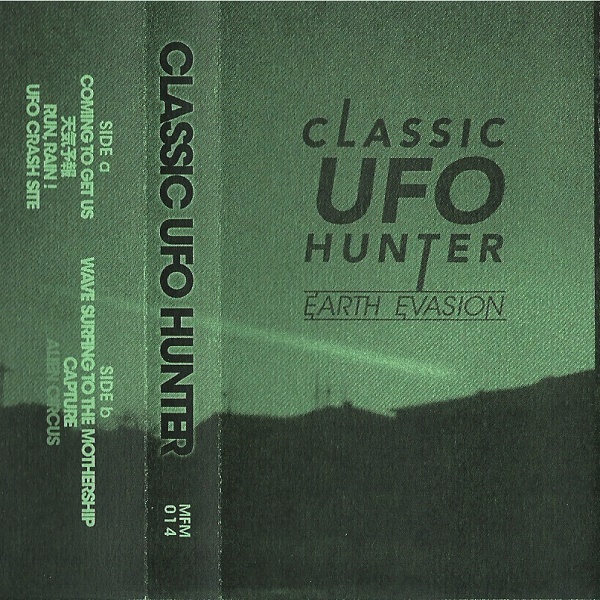 Classic UFO Hunter
Earth Evasion
Quebec, QC
From the spooky mind of Laura Stanley:
Stand on the bridge that spans reality and possibility. There's water on Mars. We are not alone in the universe. Look into the abyss or let the abyss look into you. There's nothing. Their pace quickens and unearthly bodies are out for blood. Do they avoid us because they have seen what we do to others? Can you hear their voices or are they, in unrecognizable tones, our own? Only Classic UFO Hunter knows the truth.
De l'esprit épeurant de Laura Stanley:
(Traduit par l'alunissage de Julie Mayer)
Tenez-vous sur le pont qui enjambe réalité et possibilité. Il y a de l'eau sur Mars. Nous ne sommes pas seuls dans l'univers. Cherchez dans l'abysse ou laissez l'abysse chercher en vous. Il n'y a rien. Leurs rythmes s'accélèrent et leurs corps surnaturels sortent en quête de sang. Nous évitent-ils parce qu'ils ont vu ce que nous faisons aux autres? Peux-tu entendre leurs voix, ou sont-elles, sous des tons méconnaissables, les nôtres? Seul Classic UFO Hunter connaît la vérité.
Classic UFO Hunter – Coming To Get Us
Dead Beat Poet Society
Induction
(Self Released)
Sackville, NB
From the Dead Beat mind of Laura Stanley:
Captains! my Captains! our fearful trip has just begun. We're drunk and high, lost in the perpetual agitation brought on by our responsibilities. We're generation Y warriors, wool pulled over our eyes, pretending everything's alright. Our yawp is not savage, but pointed, and matches the fire in our restless bones.
Walk the path where Kay Moon and Zakary Slax stand. Energized and alert.
De l'esprit irresponsable de Laura Stanley:
(Traduit par Aliké Harel)
Ô, Capitaines! Mes capitaines! Notre voyage effroyable ne fait que commencer. Soûls, nous planons, perdus dans le tumulte perpétuel entretenu par nos responsabilités. Nous sommes les guerriers de la génération Y, au regard masqué d'un lainage, affectant un air béat. Notre cri n'est pas sauvage, mais ciselé et aux couleurs du feu, fébrile jusqu'à la moelle. Prenez le chemin où se tiennent Kay Moon et Zakary Slax. D'aplomb et alerte.
Dead Beat Poet Society – Coming of the Age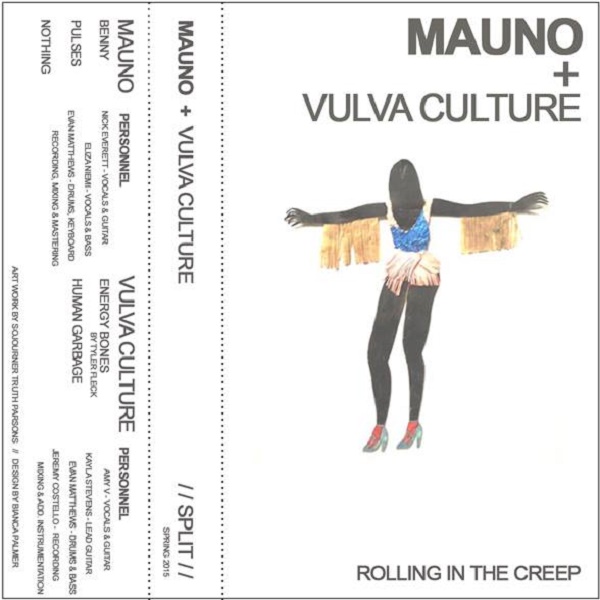 Mauno // Vulva Culture
SPLIT TAPE
(Self-Released)
Halifax , NS
From the rusted car of Laura Stanley:
Buzzy Halifax bands Mauno and Vulva Culture are worth the din. Their SPLIT TAPE of unromantic pop tunes are meant to drip from the exact places they were crafted in; rusted cars, mouldy garages, and musty basements. Mauno's mistakes make them move while Vulva Culture choose to stew in them. The affable bass in Mauno's "Nothing" and Vulva Culture's satisfyingly sad sack "Human Garbage" show that both bands have sat in the sun long enough to start being sweet.
De la bagnole rouillée de Laura Stanley:
(Traduit à grands coups de klaxon par Julie Mayer)
Les vibrants groupes d'Halifax, Mauno et Vulva Culture, en valent le boucan. Leur SPLIT TAPE est constitué de chansons pop peu romantiques censées dégoutter à même les lieux où on les a confectionnées : les bagnoles rouillées, les garages moisis et les sous-sols qui sentent le renfermé. Les erreurs de Mauno les fait avancer alors que Vulva Culture choisit de se complaire en elles. « Nothing » de Mauno et « Human Garbage » (d'une dolence satisfaisante) de Vulva Culture, porteuses d'une basse affable, montrent que les deux groupes se sont assis au soleil assez longtemps pour commencer à être doux à l'oreille.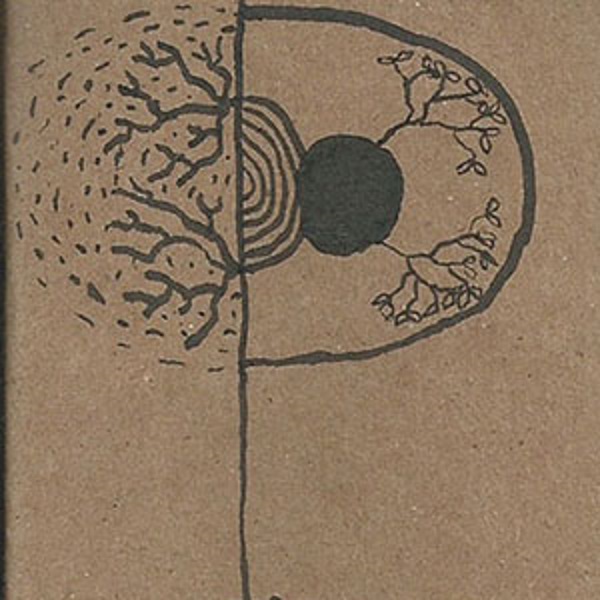 Prairie Fang
Flux/Dust
(Self-Released)
Bashaw, AB
From the fluxed mind of Laura Stanley:
We will all die, decay, and turn to dust. Alone in the cosmic darkness, we long to stop thinking about the end. Prairie Fang pays attention to our cries of "I'm alone, I'm alone" and tells us to rise and fall with the tides. To exist and to fear no more.
De l'esprit en mouvement de Laura Stanley:
(Traduit par l'hémispère gauche de Diane Beaupré)
Nous allons tous mourir, nous décomposer et devenir poussière. Seul dans la noirceur cosmique, nous avons envie d'arrêter de penser à la fin. Prairie Fang nous entend crier « Je suis seul, je suis seul » et nous dit de nous lever et de suivre la marée. D'exister et de ne plus avoir peur.
Prairie Fang -A Void at the Beach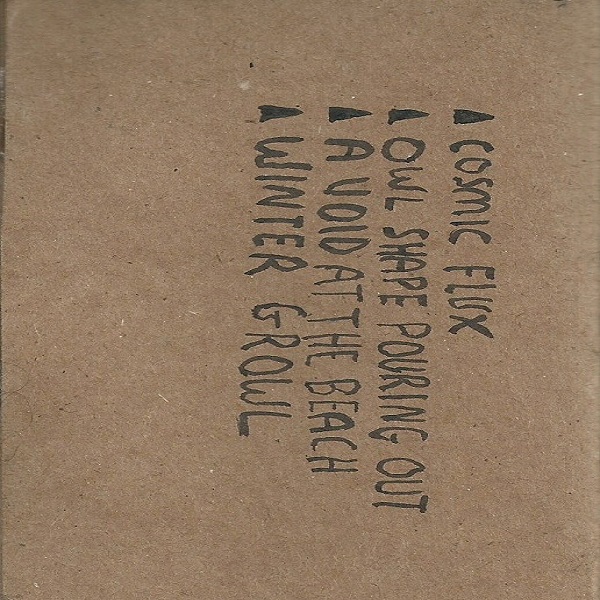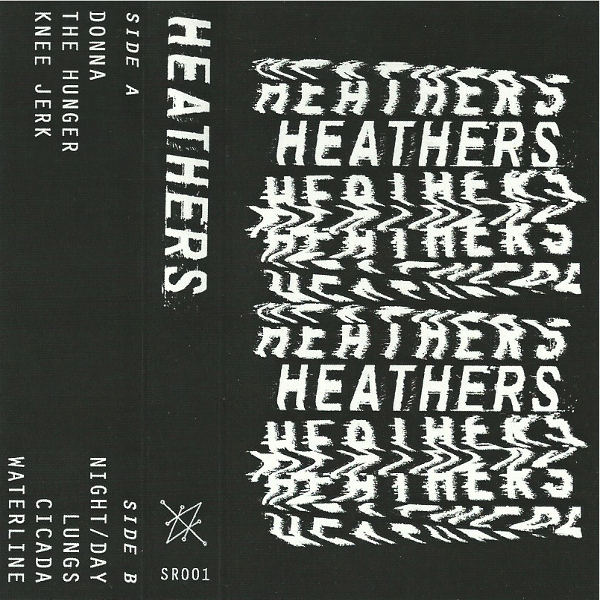 Heathers
Heathers
Montréal, QC
From the how very mind of Laura Stanley:
With fierce determination, Heathers pluck their well-worn feelings out from within and offer them to us. We are their protectors. Nothing accidentally spills out but rather, propelled by a wave of relentless fuzz and attitude, it is shoved in our faces. To ask, "what's your damage?" seems futile. We already know.
De l'esprit « c'est tellement » de Laura Stanley:
(Traduit par Jessica Grenier)
Heathers déterrent leurs émotions usées pour nous les offrir avec une détermination féroce. Nous devons les protéger. Rien n'est déversé par accident, c'est plutôt propulsé par vagues d'attitude et de fuzz impitoyable, puis écrasé sur nos visages. Demander « quelles sont tes blessures? » est inutile : nous les connaissons déjà.
---