Tag: lathe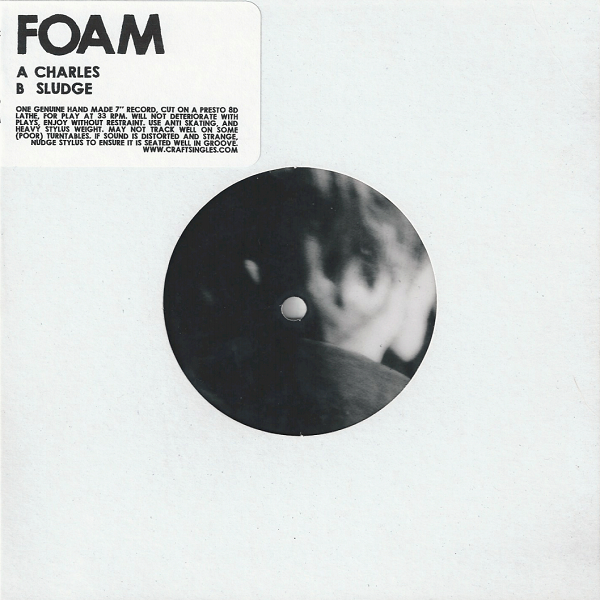 Foam
Charles (Craft Single)
London, ON
From the bloody gullet of Rachel Bellone:
Foam, a boisterous three piece that emerged from an angry gaggle of notable punk bands from London, Ontario. The Out of Sound-ers carry on a legacy of the DIY punk stomping grounds in the "city of opportunity". The opening track, "Charles" evokes a violent encounter between your big toe and an otherwise non confrontational coffee table. "Sludge" could be the soundtrack to a nosebleed you've woken up with after a fever dream. Though it's perfectly normal for similar acts to make you drool, inform your doctor if these tracks cause foaming of the mouth.
De l'œsophage sanguinolent de Rachel Bellone:
(Traduit par la brosse à cheveux édentée de Julie Mayer)
Foam est un trio chahuteur sorti d'un troupeau colérique d'éminents groupes punk originaires de London, en Ontario. Les Out of Sound-eurs perpétuent dans la city of opportunity l'héritage des milieux punk DIY. Le premier morceau, « Charles », évoque une violente confrontation entre votre gros orteil et une table basse qui autrement ne cherche pas la bagarre. « Sludge » pourrait être la trame sonore d'un saignement de nez avec lequel vous vous êtes réveillés à la suite d'un rêve fiévreux. Bien qu'il soit tout à fait normal que de telles situations vous fassent baver, si vous avez l'écume aux lèvres après avoir écouté ces pistes, parlez-en à votre docteur.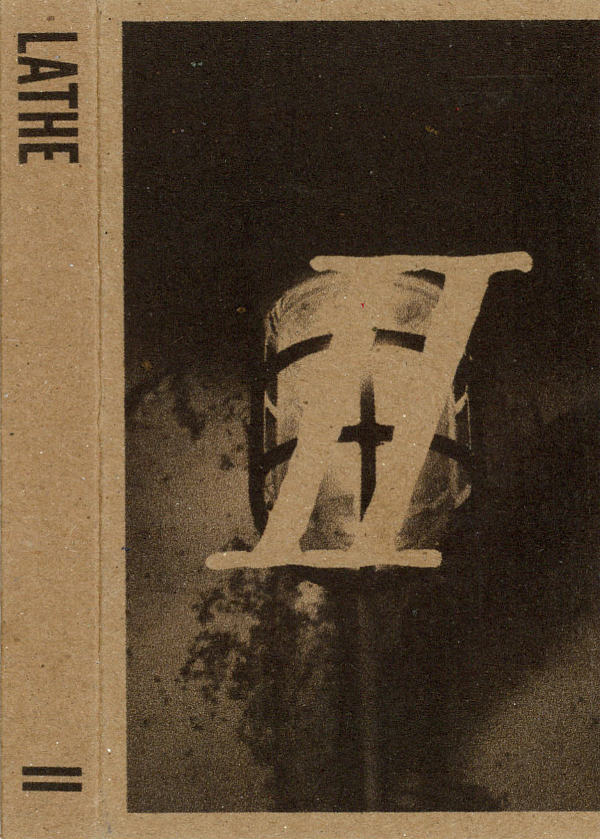 LATHE's two-song cassette takes its time warming up to you, never trying to overwhelm with its sparse, string-bending riffs and subdued drums, hazily evocative of latter-day Earth
LATHE
II
(Self Released)
Kingston, ON
From the power tower of Doreen Girard:
This live, two-song cassette takes its time warming up to you, never trying to overwhelm with sparse, string-bending riffs and subdued drums, hazily evocative of latter-day Earth. That's not to say it hangs back in the shadows, too timid to communicate with strangers. It listens patiently, is comfortable with silences, chooses its words thoughtfully. And anyway, once the ice is broken, it's clear that Lucas Huang (guitar/voice) and Liam Cole (drums) are deep in fervent conversation, and would rather not be disturbed.
De la tour électrique de Doreen Girard:
(Traduit par Andréanne Dion)
Cette cassette de deux chansons enregistrées live vous réchauffe lentement, sans jamais essayer de vous submerger avec ses riffs épars qui tordent les cordes et sa batterie feutrée, qui évoquent vaguement les derniers jours de Earth. Cela ne veut pas dire qu'elle se tient dans l'ombre, trop gênée pour approcher les étrangers. À l'aise dans le silence, elle écoute patiemment et choisit ses mots avec soin. Et de toute façon, une fois la glace brisée, il devient clair que Lucas Huang (guitare/chant) et Liam Cole (batterie) sont absorbés par une conversation passionnante et qu'ils préféreraient ne pas être dérangés.
Violent Gorge // Sete Star Sept
Split 5.5"
Winnipeg, MB // Tokyo, Japan
From the 9-5.5 grind of Kevin Strang:
Imagine everything meant to damage your ears melted down and poured onto wax. The results would resemble this 5.5" record. The Violent Gorge side Rhinocerebal Stampede is a combination of fast, raw and demented grind with harsh Merzbow-style noise interludes. The Sete Star Sept side Victim of Capitalism features five short songs of their signature free-jazz blast beats and crazy pitch-shifted female vocal growls. This split came out just in time for Violent Gorge and Archagathus to head to Japan to play some shows with Sete Star Sept this fall. Listen to the full Violent Gorge side below, and get the record quick through Mass Deadening.
Du grind de 9 à 5,5 de Kevin Strang:
(Traduit par la surdité d'Andréanne Dion)
Imaginez tout ce qui est censé endommager vos tympans, fondu et moulé pour en faire un vinyle. Le résultat serait semblable à ce disque de 5,5 pouces. La face de Violent Gorge, Rhinocerebal Stampede, est la combinaison de grind rapide, brut et dément, et d'intervalles noise dans le style râpeux de Merzbow. La face de Sete Star Sept, Victim of Capitalism, présente cinq courtes chansons dans leur style caractéristique d'explosions de rythmes free-jazz et de grognements féminins délirants variant en intensité. Ce split sort au bon moment, alors que Violent Gorge et Archagathus s'apprêtent à aller jouer quelques spectacles au Japon avec Sete Star Sept cet automne. Écoutez la face complète de Violent Gorge ici, et dépêchez-vous d'acheter le disque sur le site web de Mass Deadening.
Violent Gorge – Rhinocerebral Stampede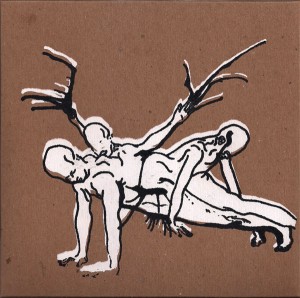 WTCHS // Das Rad
Split Lathe
(Perdu)
Hamilton, ON // Toronto, ON
From the brooding darkness of James Lindsay:
It's been a big year for Hamilton's WTCHS, whose mournful post-hardcore could be a soundtrack for Steeltown in decay. On "Overkilmer/Some Girls" they have a chilly, haunted echo like the members of Fugazi holding a séance to channel the spirit of young Robert Smith. This contrasts their live performances, where the lights go off, the bottom drops out, and all the shadows nod their heads in agreement with the brutish monster that broods in the dark. They're never afraid to share their releases with kindred souls, but hopefully there's a solo LP looming just over the horizon.
On the flipside, Toronto's morticians of rock 'n' roll, Das Rad, exhume their strongest work to date. Like a deranged surgeon sewing bits of bodies together, they graft the Cocteau Twins' romantic moods and non-lyrical vocalizations with Black Sabbath's cloak and cross wearing proto-metal. Surprisingly, the Promethean they create is anything but dour, loving life as it reenacts Saint Vitus's dance around the room, even though it dresses only in black.
Des ténèbres rampantes de James Lindsay:
(Traduit par la danse de Saint-Guy désapprise de Nicolas Coutlée)
Grosse année pour le groupe WTCHS de Hamilton, dont le post-hardcore mélancolique pourrait servir de bande sonore à la ville de l'acier en déclin. L'écho paisible et fantomatique de « Overkilmer/Some Girls » résonne comme si les membres de Fugazi tenaient une séance de spiritisme pour entrer en contact avec le jeune Robert Smith. Cette ambiance contraste avec leurs concerts, où les lumières s'éteignent, quelque chose se brise, et soudain les ombres se mettent à hocher de la tête à l'unisson avec la bête sauvage qui rôde dans les ténèbres. Le groupe ne craint pas de partager la vedette avec des âmes compatibles, mais heureusement un album solo point à l'horizon.
De l'autre côté, les croque-morts du rock and roll, les Torontois de Das Rad, exhument leurs meilleures pièces à ce jour.Tels des chirurgiens fous couseurs de bouts d'organe hétéroclites, ils greffent au romantisme et aux vocalisations sans paroles des Cocteau Twins le proto-métal à croix et tunique de Black Sabbath. Surprenamment, la créature prométhéenne qui voit le jour n'a rien d'effrayant, mais incarne plutôt l'amour de la vie alors qu'elle réinterprète [la danse de Saint-Vitus] tout de noir vêtue.Grosse année pour WTCHS de Hamilton dont le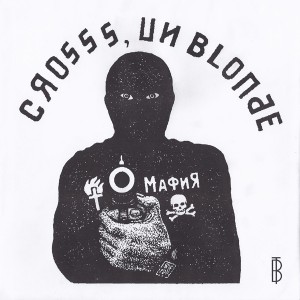 Un Blonde // Crosss
Split
Calgary, AB // Hamilton, ON
From the obsidian blues of Javier Fuentes:
Night-time rituals conducted inside obsidian caverns. Crosss play on with trembling rhythms and buzzing guitars that challenge and guide the uninitiated to the psychedelic unknown. The haunted six string melodies of a prolific Calgarian echo deep into the walls. Un Blonde's ceremonial chants delivered like a prairie druid leading us into rock and roll revival. This is transformation through reverberation.
Du cafard d'obsidiennes de Javier Fuentes :
(Traduit par les chants religieux de Julie Forget)
Des rituels nocturnes sont menés à l'intérieur de cavernes d'obsidiennes. Crosss continue à jouer avec des rythmes tremblants et des guitares bourdonnantes qui défient et guident les non-initiés vers l'inconnu psychédélique. Les mélodies hantées à six cordes d'un Calgarien prolifique résonnent dans la profondeur des murs. Les chants cérémoniels d'Un Blonde sont émis comme un druide des Prairies qui nous mène vers un renouveau rock and roll. Voici une transformation par la réverbération.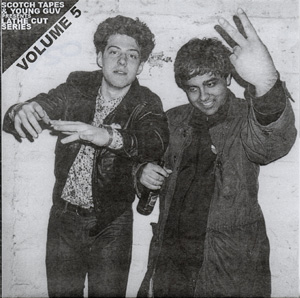 From the Latonic vibes of Aaron Levin:
Actual Water return with flourishing pop familiarity. A veritable anthem for teen lovers (and burnt, middle-aged adults yearning for a sip from the fountain of popular youth), "Latoya" is an instance source of vibronic sensation, driving romantic conviction through your ectoplasm into the eternal core of your quad-valve palpitator. Steady twelve-string madness, insatiable marimba, and a hilariously rad back-up vocal bonanza complete the ridiculously summery attitude, granting this fifth lathe the title of "infinite jam."
Des ondes latoniques d'Aaron Levin: (Traduit par Maya Keshav)
Actual Water est de retour avec la familiarité florissante de pop. Un hymne véritable pour les amoureux adolescents (ainsi que les adultes d'âge mûr fatigués qui ont envie de siroter de la fontaine de jouvence populaire), "Latoya" est une source immédiate de sensation vibronique, en poussant ta conviction romantique à travers ton ectoplasme dans le fond eternel de ton cœur. La folie stable de douze cordes, le marimba insatiable, et une fête absolument hilarante de chant finissent l'attitude ridiculement estivale, en donnant ce cinquième morceau le titre de "bœuf infini".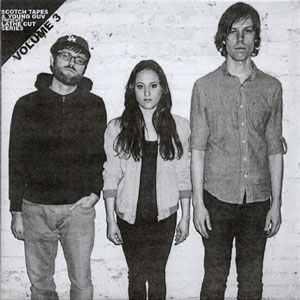 Bruised Knees
Badwater & Holy See's Horror
Toronto, ON
From the tainted caps of Aaron Levin:
Yet another face-melting insertion within the Scotch Tapes and Young Guv lathe series. Two slabs of soylent plastic were necessary to capture the wikked vibrations emerging from Toronto's Bruised Knees. Eerie, synthetic mellowtones are sandwiched between cultic clamor and shattering shimmer, spinning psychedelic sinusoids around our sonic horizon. The Huckleberry influence runs deep within the wincing metal and triplic drummery; thud, thud, thud, thud, burn burn burn burn. What else lay dorment in Guv's lair? Grip before the patina groweth.
Des casquettes tâchées d'Aaron Levin: (Traduit par Odile Leclerc)
Encore une autre insertion fondeuse de face avec la série de tour de Scotch Tapes et Young Guv. Deux tranches de plastique soylent furent nécessaires pour capturer les violentes vibrations émergeant de Bruised Knees de Toronto. De sinistres tons veloutés sont pris en sandwich entre la clameur culte et le fracassant chatoiement, tournant des sinusoïdes psychédéliques autour de notre horizon sonique. L'influence Huckleberry est profondément ancrée dans le métal tressaillant et le triple tambourinement; tap, tap, tap, tap, brûle, brûle, brûle, brûle. Quoi d'autre reposent endormi dans la tanière de Guy? Attrapez avant que la patine croît.
Bruised Knees – Holy See's Horror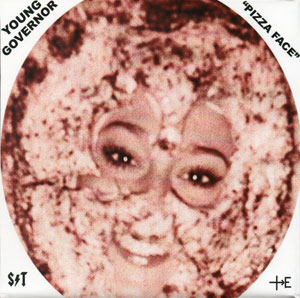 Young Governor
Pizza Face
Toronto, ON
From the ate too many chocolate bars of Aaron Levin:
Young Governor soars to anthemic heights on this six minute post-pizza buffet. Its jangly rhythm bursts with gusto, jamming the radio glam treachery of cult heros into a reverb-soaked elucidation. This day-time special is crafted for all your teenage fantasies; let it seep into your pores and shake the foundation of your pubescent ethos. A fantastic voyage into 80s pop-punk anthemy. Hand-cut lathe on "pizza glass" by Scotch Tapes. Sounds rad at both speeds. Eat it up!
Du "j'ai mangé trop de chocolat" d'Aaron Levin: (Traduit par le pizza fantastique de Maya Keshav)
Young Governor s'envole aux hauteurs anthemiques avec ce buffet post-pizza de six minutes. Son rythme cliquetant éclate avec enthousiasme, en tassant la traîtrise radio-glam dans l'élucidation trempée de réverbération. Cette émission spéciale est construite pour tous vos fantasmes adolescents; laissez-la s'infiltrer dans vos pores et secouer la base de votre philosophie adolescente. Un voyage fantastique aux hymnes du pop-punk des années 80. Un tour coupé à la main sur "la verre pizza" par Scotch Tapes. Il est génial à les deux vitesses. Mangez-le!

Young Governor – Pizza Face
---