Tag: la part maudite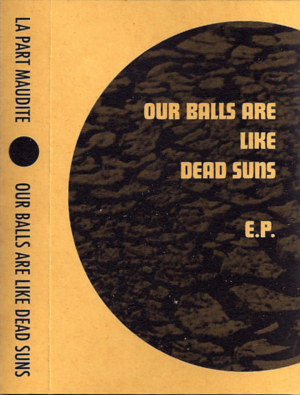 La Part Maudite // Dios Mio!
Our Balls Are Like Dead Suns EP //
Leçon practique d'hypnotisme
Montréal, QC

POTT
004 est au-delà de toute description. Chaque face révèle les travaux d'un groupe qui repousse les limites du genre, de la musique, et même du son. Dios Mio, en utilisant une guitare, un clavicorde, un theremin et un magnétophone à bobines crée la bande sonore pour un film qui n'existe pas. C'est le 115ième cauchemar de
Franz Anton Mesmer
. Sur la seconde face, La Part Maudite crée cet espèce assez rare —
une fusion agéable
à écouter. Il se produit une synthèse qui emprunte également au thrash-punk et au jazz. Imprimé en édition limitée, ceci est une cassette qu'il faut gripper immédiatement.
From the 115th nightmare of James Goddard:
POTT 004 is beyond description. Each side reveals the work of a group who is pushing the boundaries of genre, music, and even sound. Dios Mio, using guitar, clavier, theremin and a reel-to-reel, creates the soundtrack for a film that doesn't exist. It's the 115th nightmare of Franz Anton Mesmer. On the flip side, La Part Maudite finds that rare breed — a palatable fusion, synthesizing equally from thrash-punk and jazz. With only a limited edition reissued, this tape must be gripped immediately.
[audio:http://weirdcanada.com/binary/Weird_Canada-Dios_Mio-Leçon_practique_d_hypnotisme_(excerpt).mp3|titles=Dios Mio! – Leçon Practique D'Hypnotisme (excerpt)] Dios Mio! – Leçon Practique D'Hypnotisme (excerpt)
[audio:http://weirdcanada.com/wp-content/uploads/2011/05/Weird_Canada-La_Part_Maudite-Boxerblood.mp3|titles=La Part Maudite – Boxerblood] La Part Maudite – Boxerblood
---