Tag: killer haze records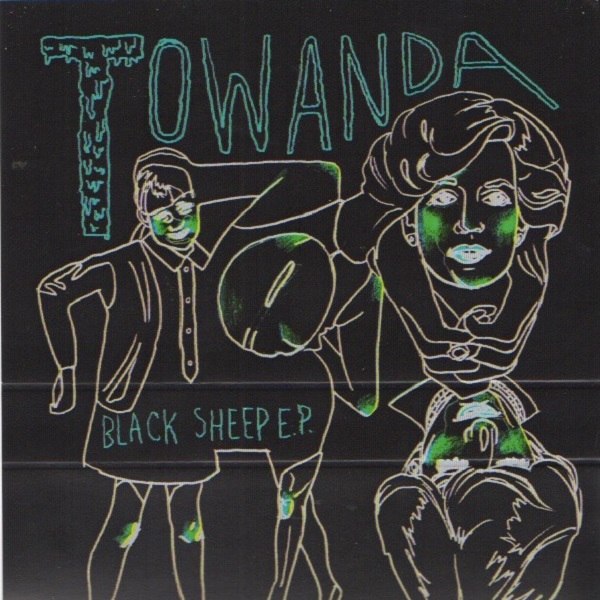 Towanda
Black Sheep
Montreal, QC
From the visual reveries of Simon Provencher:
Evoking rich gouache painted by the best preschoolers in the class, Black Sheep is lively, rich, energetic and almost naïve in its simplicity. This album gives us a powerful brushstroke of vocals that resonates through textured distortions, creating impressive feline rhythms. Without a doubt, there is a ton of creative genius behind and inside the haze of Towanda.
Des rêveries plasticiennes de Simon Provencher:
(From the Bescherelle of Zoë Christmas)
Rappelant une gouache épaisse, peinte par le plus talentueux des enfants de la garderie, Black Sheep est vif, immédiat, énergique et presque naïf par sa simplicité. On obtient, dans la galette, un puissant coup de pinceau vocal étoffé par des distorsions aux textures de carton mouillé et des rythmes fauves redoutables. Un génie créatif indéniable est évident derrière et dans le fuzz!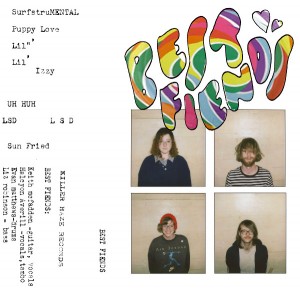 Best Fiends
Best Fiends
Halifax, NS
From the Micron 05 of Josh Silver:
Lo-fi Haligonians Best Fiends are straight from the garage, one located squarely on a beach. The masterful blending of surf riffs with rugged instrumentation creates a distinctively East Coast sound, embodying the laid back but resilient Maritime attitude. This six-song cassette carries an energy that is second to none, leaving the listener grooving in an ecstatic frenzy.
Du Micron 05 de Josh Silver:
(Traduit par la boîte de crayons feutres de Catherine Gaucher)
Les Haligoniens lo-fi Best Fiends sortent tout droit du garage, un garage situé carrément sur une plage. Le mélange magistral de riffs surf combinés à une instrumentation robuste créent un son distinctement Côte Est incarnant l'attitude relax mais résistante des Maritimes. Cette cassette de six chansons transporte une énergie surpassant tout et laissant l'auditeur plongé dans une frénésie extatique.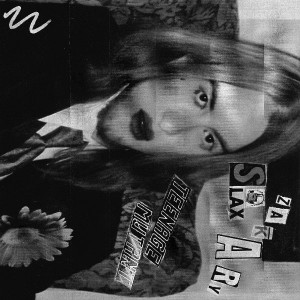 Zakary Slax
Teenage Mutant
Montréal, QC
From the Gemeinschaft of Josh Silver:
Despite the claims that rock and roll is dead, it remains alive and well in the multivalent work of Zakary Slax. This unhinged one-man multi-instrumentalist reinvigorates garage moves with a contemporary and relevant quality; combining cross-genre techniques from metal guitar gallops to funk-style drumming. The bass-heavy mosaic of musical styles proves that rock's still charged with soul!
De la Gemeinschaft de Josh Silver:
(Traduit par la dichotomie de Catherine Gaucher)
Malgré les détracteurs qui affirment que le rock and roll est mort, son existence perdure et il est bien vivant dans le travail polyvalent de Zakary Slax. Ce multi-instrumentiste dément revigore le genre garage en y apportant une sensibilité contemporaine et pertinente. Il y combine des techniques d'entrelacements de genres, des galops de guitares métal aux percussions funk. Cette mosaïque de styles musicaux à la basse lourde prouve que le rock est toujours rempli d'âme!
Zakary Slax – Get Yr Shit Together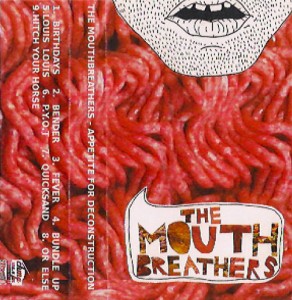 The Mouthbreathers
Appetite for Deconstruction
Sackville, NB
From the swamp magic of Alison Lang:
This time of year, as winter approaches, as the days lurch into longer, darker, heavier nights, it can be hard to keep your head up. It can be hard to care. Deep from the land of swamp magic come the Mouthbreathers, with nine joyful tunes that will worm their way into the sour core of your heart. These guys are preternaturally wise and yet sweetly raw, with a warm vitality thrumming beneath the surface. The lyrics are funny and friendly and wayyy too smart, and each song snaps like a whip, peppered with crunchy guitars and oddly heartfelt bon mots. It's true, as singer/wordsmith Lucy Niles confesses on "Bender", that some of us prefer songs about stuff, but it's the deceptively simple stuff that feels like it matters — getting a crush and being a goof, loving your small town, yet dying to get out, getting baked and talking too much about your feels. The band says all of this is fine, and you will be fine. So stay here. Sit longer. Cherish the sweet, warming glow.
Du marais magique de Alison Lang:
(Traduit par le solstice de Catherine Gaucher)
En cette période de l'année, comme l'hiver approche, les journées se transforment en nuits plus longues, plus sombres, plus lourdes et il peut être difficile de garder le moral. Il peut être difficile de se soucier de quelque chose. De la terre lointaine du marais magique nous arrive Mouthbreathers avec neuf joyeuses chansons qui se faufileront droit vers le noyau aigre de votre cœur. Ces gars sont prématurément sages, encore doucement bruts et possèdent une vibrante et chaleureuse vitalité. Leurs paroles sont drôles, amicales et beaaaaucoup trop intelligentes. Claquant comme le fouet, chacune de leurs chansons est parsemée de guitares croustillantes et de bons mots étrangement sincères. Il est vrai, comme l'avoue la chanteuse/parolière Lucy Niles sur « Bender », que certains d'entre nous préfèrent les chansons qui racontent quelque chose, mais ce sont les petites choses en apparence si simple qui finissent par nous parler le plus — tomber en amour et faire l'imbécile, aimer son patelin tout en rêvant de partir, se défoncer et parler trop de ses sentiments. Le groupe nous assure que tout cela est très bien, et que nous aussi nous irons bien. Alors restez ici. Installez-vous. Chérissez cette lueur, douce et chaleureuse.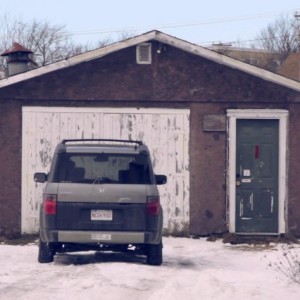 From the noise hounds of Jesse Locke:
This 12-minute doc on the modest but madcap community of Sackville, NB and its yearly Stereophonic Festival is a feel-good blast of East Coast inspiration. Set against a lulling dronescape from Mike Smith, the narration is provided by prime movers from the Killer Haze crew, Julie Doiron and other recognizable Maritime musical faces. Lensman Colin Medley shines a light on the town's current hotspots with the same subtle yet striking composition of his photographs and previous films. Everybody knows this is now here.
Stereophonic 11 runs from Wednesday, January 14 to Saturday, January 18, 2014 in various venues throughout Sackville, NB. For more info, visit the festival's website.
Des *noise hounds* de Jesse Locke Jesse Locke:
(Traduit par les images floues de Julie Forget)
Ce documentaire de 12 minutes sur la modeste mais folle communauté de Sackville, N.-B. et son festival annuel Stereophonic est un jet d'inspiration de la côte Est qui réchauffe le cœur. Accompagnée de l'apaisante musique drone de Mike Smith, la narration est assurée par les principaux membres de l'équipe de Killer Haze, Julie Doiron et d'autres visages connus de la scène musicale des Maritimes. Colin Medley, l'homme derrière l'objectif, met en lumière les endroits les plus fréquentés de la ville avec la subtile mais frappante composition déjà présente dans ses photographies et ses films précédents. Tout le monde le sait, c'est maintenant ici.
Le festival Stereophonic 11 se déroule du mercredi 14 janvier au samedi 18 janvier 2014 dans différents lieux de Sackville, N.-B. Pour plus d'informations, visitez le site du festival.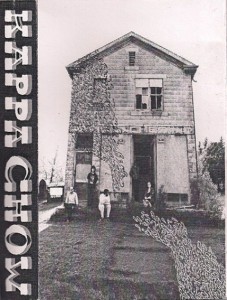 From the shred shed of Jesse Locke:
The turnt minds behind Astral Gunk split the sides of this cassette with paired off-the-floor sessions from Kappa Chow's Sackville and Montreal incarnations. The former packs a sax blurt that shimmies like a ramshackle Shrines, while the slow churn of "Bang Bang" is positively Flipperesque. The backside brings some more gospel yeh-yeh to its buzzsaw garage, yet the fidelity drops down to boombox-in-a-trash-can levels of grizzle. Boss tunes from both line-ups, and any band with a name borrowed from Pootie Tang gets a lifetime thumbs up.
De la cabane en lambeaux de Jesse Locke:
(Traduit par Joannie Pharand)
Les esprits frénétiques derrière Astral Gunk divisent les faces de cette cassette par la combinaison de sessions hors-de-ce-monde de Kappa Chow, des incarnations provenant de Sackville et de Montréal. Le premier laisse échapper un son de saxophone qui se dandine comme les Shrines délabrés, alors que le doux bouillonnement de « Bang Bang » est véritablement Flippant. Du dos de la cassette, on amène encore plus de gospel yeh-yeh au son garage bourdonnant de scie mécanique, et pourtant, la fidélité décline à un niveau de pleurnichement ghetto-blaster-de-poubelle. Boss s'accorde aux deux programmes et tout groupe portant un nom emprunté à Pootie Tang est approuvé à vie.
Kappa Chow – Save Your Opinion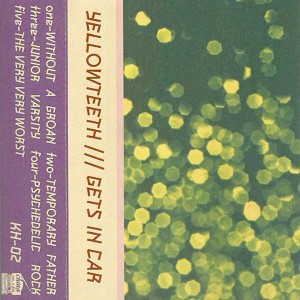 Yellowteeth
Gets In Car
Sackville, NB
From the dream cage of Lyndsey Browne:
On stage or in your mouth, Yellowteeth demand attention. We can hear all the desires to drive around fast with your friends, drink too many cups of coffee, smoke cigarettes and not to worry about the labels on the pack, on the cup, on yourself. This foursome has the truthful lyrics of young lives, "You wanted a boy, you wanted a party too" with a mean pop-punk howl. Get it while it's hot, because Sackville is popping off like it's Diwali, speed-balling in front of Guru Nanak. José Caron's guitar leads off this stellar Killer Haze release and kicks the '80s back where they belong.
De la boîte à rêves de Lyndsey Browne:
(Traduit sur les speedballs par Dominic Mpilé)
Quand on se rend compte qu'on a les dents jaunes, on sait que ça ne date pas d'hier. Même chose lorsqu'on aperçoit Yellowteeth sur scène pour la première fois. On entend tout le désir de rouler à toute vitesse avec ses amis, les trop nombreux cafés, cigarettes et on se fout de la marque ou de ce qu'on projette. Ce quatuor sait écrire des paroles authentiquement jeunes : «Tu voulais un chum, tu voulais faire le party aussi» lâche-t-on dans un cri pop-punk féroce. Saute dessus pendant qu'il est temps, car Sackville vibre comme si c'était Diwali sur les speedballs devant Guru Nanak. La guitare de José Caron mène cet album stellaire signé Killer Haze et renvoie les années 1980 aux oubliettes.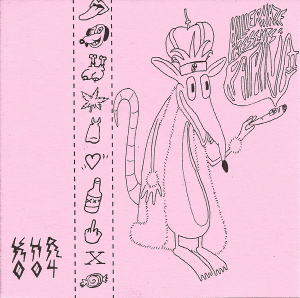 Various Artists
Rat King II
Sackville, NB
From the bubblegum grunge of Gregory Pike:
Aliens ruled. So did Terminator 2: Judgment Day. Heck, even D2: The Mighty Ducks proved that a sequel can surpass its predecessor. And while the first Rat King was great, Rat King II totally kills it. With twice the variety of bands than the last comp, déjà vu only intensifies while strolling down Bubblegum Grunge Lane, staring at the mirror until River Phoenix finally appears. Grippage times two to the power of two.
Du grunge gomme-balloune de Gregory Pike: (Traduit par Maya Keshav)
Aliens déchirait. Terminator 2: Judgment Day, aussi. Tabarnouche, même D2: The Mighty Ducks démontait qu'une suite peut dépasser son prédécesseur. Et même si le premier Rat King était grand, Rat King II déchire grave. Avec deux fois la variété de groupes qu'on a vu dans la dernière compilation, le déjà-vu s'intensifie quand tu marches dans la rue de grunge gomme-balloune, en regardant le miroir jusqu'à ce que River Phoenix apparaisse enfin. Il faut il faut il faut l'acheter.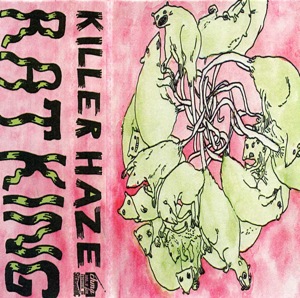 Various Artists
Rat King
Sackville, NB

The
Rattenkönig
phenomenon has been most closely associated with Germany since the 16th century. That is, until Sackville recently knocked Deutschland from their claim to the rat daddy throne. Like vermin fused at the tail by knots, blood, and excrement, this compilation showcases a set of bands that shares everything from
drummers
to
drugs
,
mattresses
,
oxygen
and even
toothpaste
. They all practice and record in the same cluttered shed, not unlike the cramped spaces beneath floorboards where the discovery of rat kings is said to have presaged the Great Plagues of Medieval Europe. If this comp augurs an epidemic on the marshes of New Brunswick, somebody
call the doctor
because I may already be infected.
And I like it
.
---