Tag: khyber compilation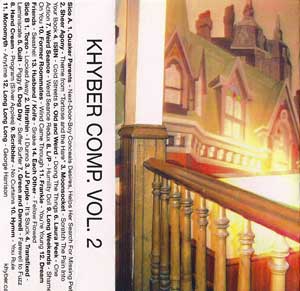 Various Artists
Khyber Compilation II
(Self Released)
Halifax, NS

Halifax's most endearing/enduring art space, the
Khyber
, has once again been feted with a compilation of tape tunes from local artists and musicians, most of whom have played/jammed/come of age under the archways, the ballroom, the turret. As with last year's comp, this is a love letter to something fragile and beautiful and important – moreover, it's massive (27 songs!), thoughtfully curated and brilliant. There are so many meaty, gorgeous gems here –
Monomyth
's "Anytime" is soaring sweetgaze, while scene vets Scribbler reach achingly fuzzed-out heights with "No Curtains." The winsome youngsters of ISBN donate a slice of grainy, brainy twang-pop and there are similarly tasty outings from the now-defunct Long Long Long and its ashes,
Each Other
, risen in Montreal to smile and destroy. There's a ripper
Dog Day
track too, and a song from local supergroup Green and Darnelle that nods at the city's 90's ghosts and then gnashes them to shreds. Look, I could go on for fucking pages about this tape, I really could, but in the end, I'll leave with some words from a particular standout, the haunting lament "Wind Came Through" by Former Roommates (who, I think, actually are former roommates): The Khyber needs your love, always, and these songs do too. Listen and linger: this is a sound of a scene piled with riches.
[audio:http://weirdcanada.com/wp-content/uploads/2012/04/05-Cold-Streets.mp3|titles=ISBN – Cold Streets] ISBN – Cold Street
[audio:http://weirdcanada.com/wp-content/uploads/2012/04/15-Fellow-Flowed.mp3|titles=Each Other – Fellow Flowed] Each Other – Fellow Flowed
[audio:http://weirdcanada.com/wp-content/uploads/2012/04/22-Farewell-to-Fuzz.mp3|titles=Green and Darnelle – Farewell to Fuzz] Green Darnelle – Farewell to Fuzz
[audio:http://weirdcanada.com/wp-content/uploads/2012/04/26-Anytime.mp3|titles=Monomyth – Anytime] Monomyth – Anytime
---